7 Dresses That Define Thierry Mugler, From Cardi B to Kim K
Remember Beyoncé's Mugler motorcycle bustier?
No other fashion designer has turned women into fembots and glamazons quite like Thierry Mugler. The French designer is finally getting the retrospective he deserves—Couturissime, which runs at the Montreal Museum of Fine Arts in Montreal until September 8. Featuring 150 outfits from 1977 to 2014, the rare pieces are shown alongside photos by Guy Bourdin, Karl Lagerfeld and David LaChapelle and Helmut Newton.
It's perfect timing, considering Cardi B. recently wore Mugler's 20th anniversary dress from 1995 at the Grammy Awards, making history as the first woman to win Best Rap Album. She joins the ranks of artists like Beyoncé, Lady Gaga and David Bowie, who have worn iconic pieces from the Mugler archive. "Mugler wanted to stage the daily life of people through fashion, that's what attracted so many celebrities," said the curator Thierry-Maxime Loriot. "They love him because he's one of the few designers who can help celebrities become characters and stage their acts."
Lady Gaga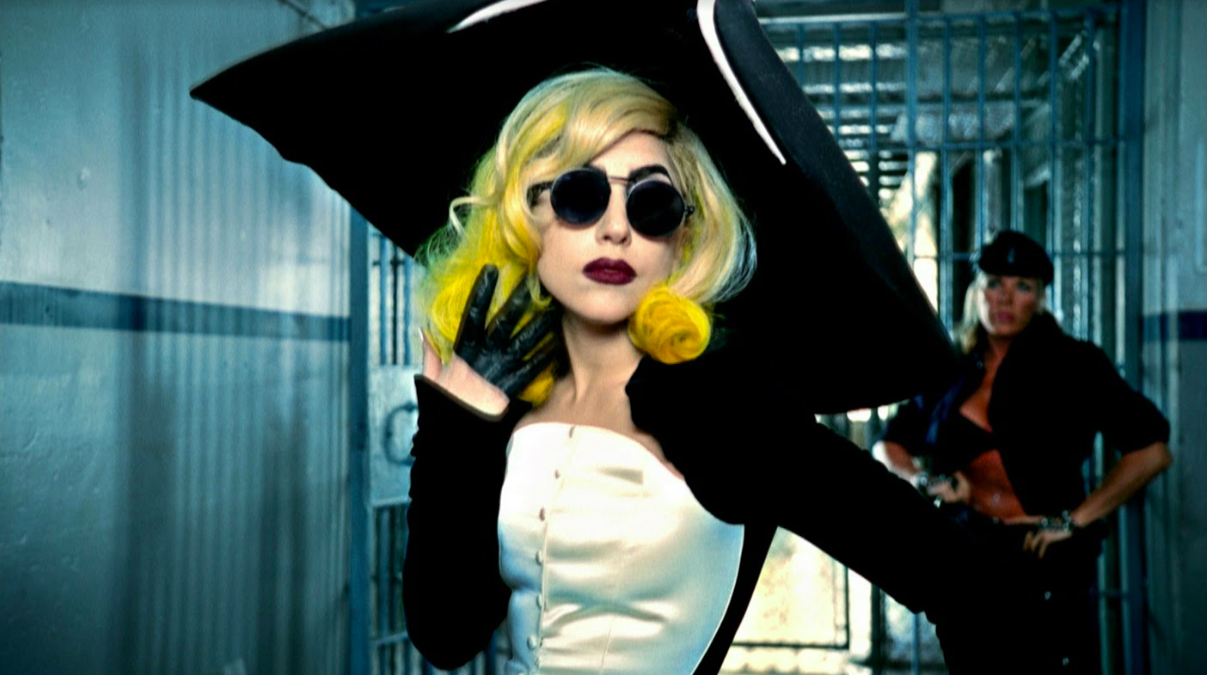 Lady Gaga was the first to dig into the Mugler archives and pull out pieces for her music video for Telephone from 2010's Fame Monster album. Wearing prêt-à-porter pieces from Mugler's 1995 collection—a suit, jacket and a hat—as well as one of his robot suits, she worked on the looks with her then fashion director Nicola Formichetti (who would then work as the director of Mugler until 2013). The square shoulder look is a trademark to Mugler, who "reinvented the modern silhouette," said Loriot. "It was meant to celebrate the women's body but also to give them shape and presence, as if the street was a stage for them. Some were afraid of it being reductive, I think quite the opposite. Mugler always makes women sexual subjects who are in control."
Beyoncé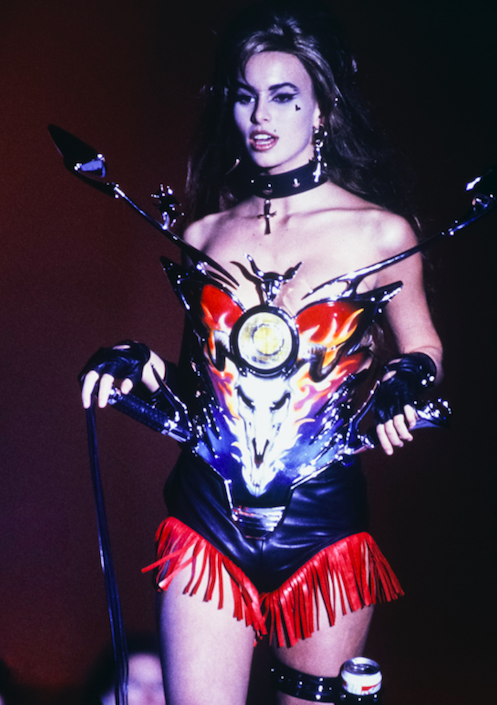 After Gaga dug from the Mugler archives, Rihanna, Katy Perry and Beyoncé followed. The Harley Davidson corset was first worn in the George Michael music video for Too Funky in 1990, "one of the leading pieces in the exhibition, the most photographed and expected," said Loriot. Bey brought it back for her "I Am…" tour in 2009, where she had Mugler design endless stage lewks. "Mugler really pushed the boundaries of haute couture," said Loriot. "Like Jean Paul Gaultier and Comme des Garcons, he belongs to the real generation of fashion; he revolutionized fashioned it and opened doors for Alexander McQueen and John Galliano. Now, we're talking more about styling, being liked, selling perfume, sneakers and accessories. Using fashion as a laboratory is what Mugler did. That's how he revolutionized the industry, but that's also why he left it."
Jerry Hall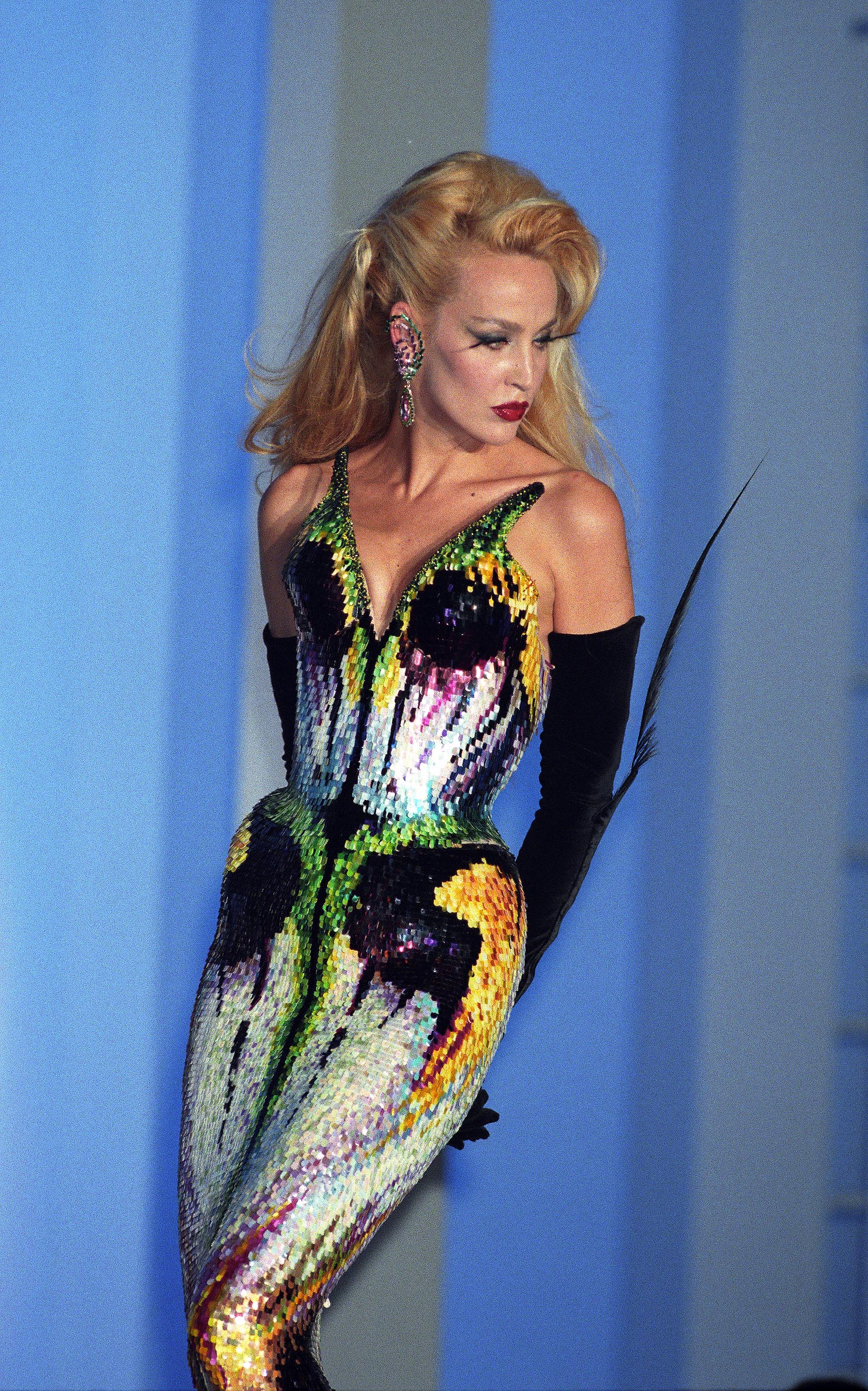 The famed 1980s supermodel Jerry Hall, who was also the former partner of Mick Jagger, was key inspiration to Mugler. "She was probably the most important muse to Mugler, along with Iman," said Loriot. The exhibit features the strapless butterfly wing sheath dress she wore from Mugler's Les Insectes collection from 1997, which is on view. "What attracted Mugler to Jerry was that she was able to really act on the catwalk; she was a Hollywood actress and a vamp." Since Mugler has always loved over-the-top comics like Spiderman and Batman, he was also a big fan of femme fatale characters. "It was powerful women that were able to kill people in these comic books," he said. "Jerry Hall was a femme fatale, she always stayed in control."
David Bowie
The British pop star was known for pushing boundaries, but nothing shocked the mainstream quite like wearing a Mugler dress on national television for his Boys Keep Swinging performance with Klaus Nomi and Joey Arias on Saturday Night Live in 1979. After Bowie handed his stylists $10,000 cash, these Mugler outfits were bought on sale at Henri Bendel for $100 each. The performance is remembered as 'an artistic fuck you to conventions.'
"Bowie was the best ambassador of Mugler who wore him his entire career, even with his wedding with Iman and his end of his career, both were really showmen," said Loriot. "The whole idea of having Bowie in drag, it shows Mugler invented a whole new way of presenting fashion that was total art."
Kim Kardashian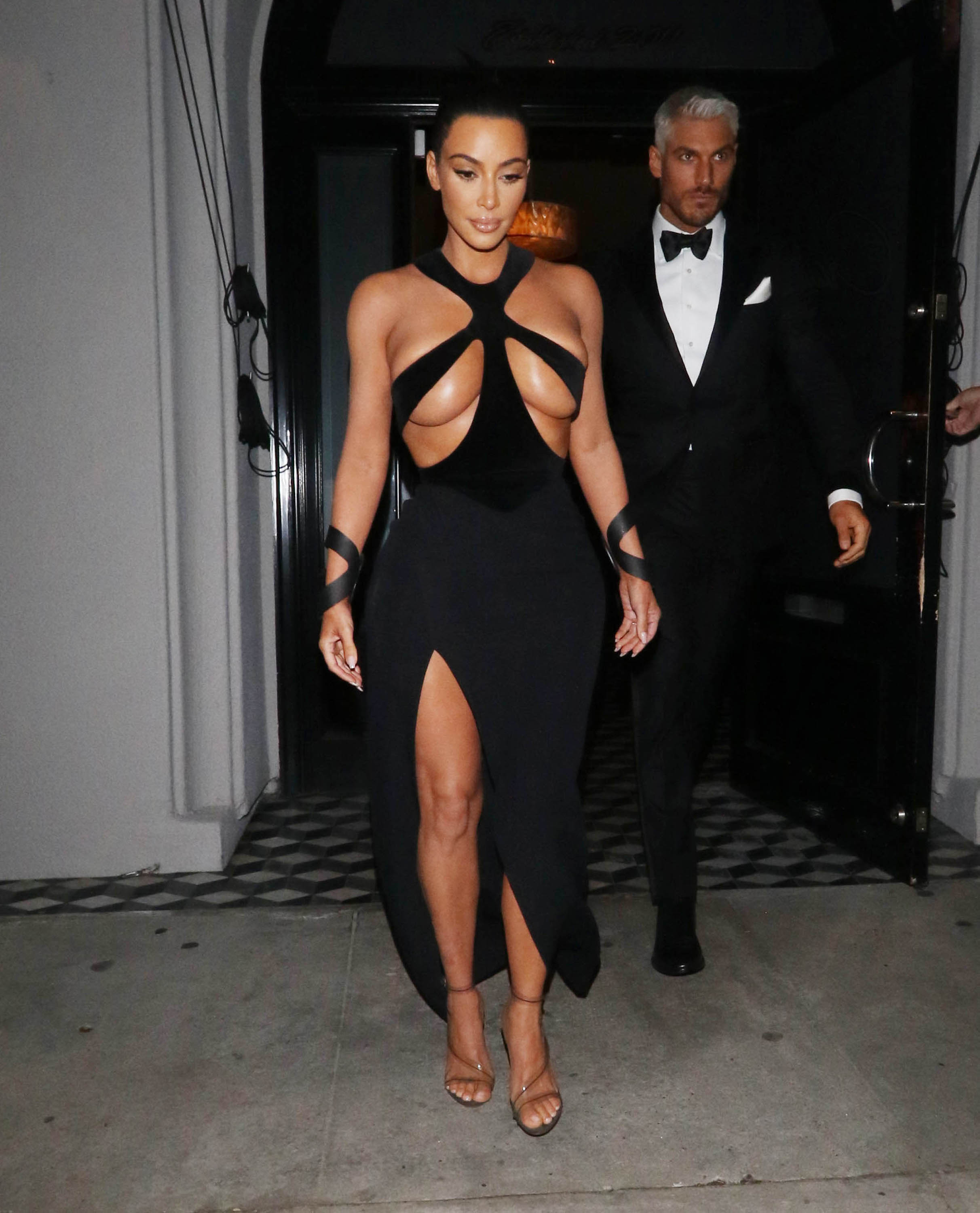 Popping out at the sides of her cleavage, wearing Mugler's black strappy 'backwards' dress from his spring 1998 couture collection to the 5 th Annual Hollywood Beauty Awards looked like a painful event. That didn't stop Kardashian for wearing a piece from Mugler's Les Meduses fall 1999 couture collection to the opening of this Montreal exhibit, where she popped into the bathroom to do an outfit change into a white mini-dress from his spring 1994 collection. "Some were surprised she was there," said Loriot. "She turned up in Montreal in winter, dressed like a female in armor to fete Mugler on his exhibition. She loved the exhibition. She was very discreet and was very polite, not a showoff, of course she attracts a lot of photographers, fans and paparazzi, but she really knows the works of Mugler and wanted to see what she hadn't seen yet of his work." Especially since the exhibit features many never-seen-before pieces, "this is the first time he is opening his archives to the public," he said.
Cardi B.
The peacock dress with Swarovski crystals that Cardi B. wore when she performed at this year's Grammys is on view. "This resurgence, that Mugler has been brought back onto the fashion radar, is only partly because of Cardi B.," said Loriot. "There is a lot of excitement around her being the first female rap singer to win at the Grammys."
The dress is only one of three dresses she wore to the Grammys; the "Birth of Venus" dress, inspired by Botticelli, made its way to the red carpet, as well as the white dress from Mugler's Les Insectes couture 1997 collection, which she wore as she accepted her Grammy for best rap artist.
"Cardi contributed to the hype and reality of 2019, more than just press, magazines, its social media and spreads farther," he said.
Linda Evangelista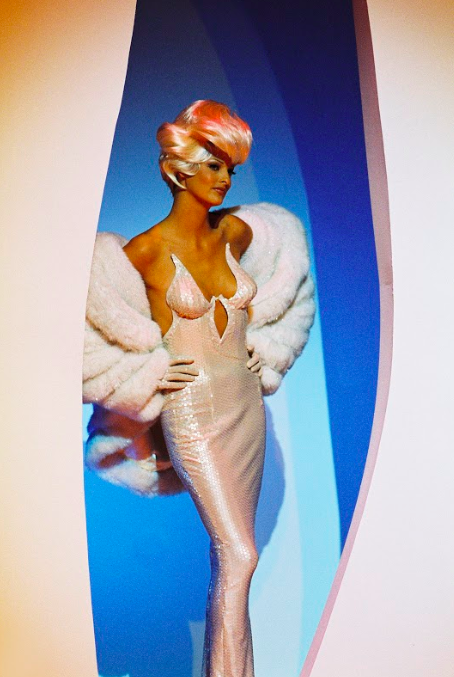 At the height of 1992 fashion, supermodels Christy Turlington, Cindy Crawford and Naomi Campbell were hired by Mugler for George Michael's Too Funky music video, as was Mugler muse Linda Evangelista, a mainstay symbol of the outrageous sexuality at the time. This music video was made to raise awareness and funds for an AIDS foundation, it also went against the G-rated MTV grain at the time, showing homosexuality. One model had the phrase written on his back: 'Let's protect ourselves.' A lot of these juicy clips didn't make the final cut. "The first cut was more sexual," said Loriot. "Michael took it out, as well as shots of lesbians and gay men." The music video was the crux of a legal battle between Michael and the record company, as well as a spat between the singer and the designer over creative control. "It was shocking at the time," said Loriot. "Looking back on it now, it was light."