Photo courtesy of Iwan Baan.
An Iconic Museum Rises From the Qatari Waterfront
A Jean Nouvel-designed masterpiece in Doha.
Photo courtesy of Iwan Baan.
A handful of buildings capture the public's imagination and become instant icons. The National Museum of Qatar is likely to be one of those: a dazzling work of art that tells the story of this desert state and embodies its spirit. Driving into Doha from the airport on the coast road, it's the first significant structure you encounter—a composition of 539 interlocking discs that embrace the fortified walls of a palace. They surround an events space which recalls the caravanserai that once sheltered travelers and their mounts, while the sandy tone of the architecture evokes a wind-sculptured dune. The museum is as original yet appropriate to its site as the Bilbao Guggenheim. There, Gehry Partners built a titanium-scaled sea monster, emerging from the river to animate a sober townscape. Here, Ateliers Jean Nouvel have designed a three-dimensional jigsaw puzzle of patterned discs prefabricated from glass fiber-reinforced concrete, creating a sense of place where none existed.
Most importantly, the museum strengthens Qatar's endangered sense of identity. Huge reserves of natural gas have transformed an arid peninsula into the richest country in the world per capita. Doha was an impoverished pearl-fishing settlement until the 1950s; now it has become a traffic-clogged metropolis. The garish commercial and apartment towers along the Corniche could as easily be in Dubai, Shanghai or Las Vegas. As in the neighboring Gulf Coast Emirates, from Kuwait and Bahrein south to Oman, a ruling family presides over a small native population and an army of guest workers and expatriates.
Happily, the Al Thani family have a vision for Qatar, establishing a foundation to plan its future, preserving fragments of its heritage, and commissioning notable public buildings. I.M Pei's magnificent Museum of Islamic Art dominates a headland, the master-planned development of Msheireb has replaced a decayed section of downtown, and OMA's National Library is the latest addition to the vast Education City campus. For the past two years, Qatar has been blockaded by Saudi Arabia and its smaller neighbors. The Emir has become a symbol of defiance and his stylized portrait, oddly reminiscent of Che Guevara, is ubiquitous. His sister, H.E. Sheikha Al Mayassa bint Hamad bin Khalifa Al Thani, has provided strong leadership for the Qatar Museums organization and other cultural ventures.
Jean Nouvel was a smart choice for the new National Museum, having made his mark with the Institute of the Arab World in Paris thirty years ago. Since then the Pritzker Prize-winning architect has designed the crystalline Cartier Foundation and the Quai Branly Museum on home ground, and the Abu Dhabi Louvre with its lattice dome. His Doha Tower, a penis-like form shaded by Islamic tracery, is a sober addition to the flash and trash of the Corniche. His first proposal was to build underground, to protect the galleries from summer heat. The Emir rejected that idea and the architect took the desert rose, a flower-like aggregate of mineral crystals that evolves from gypsum, wind-born sand and sea spray, as inspiration for the random geometries of his building.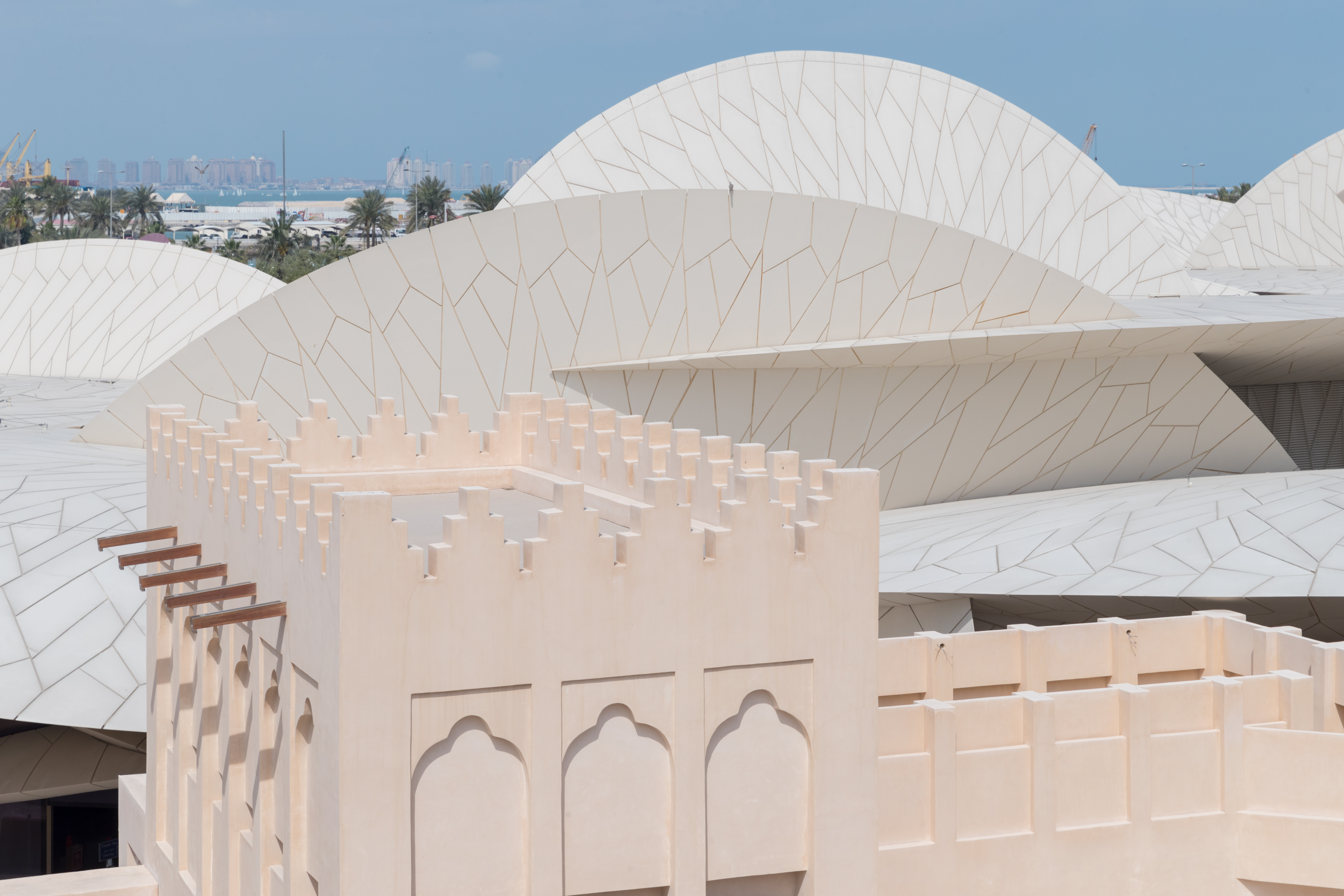 It's an organic expression of permanence and dynamic change. Nature generated the crystal; architects and engineers were challenged to create a structure a thousand feet long, containing a linear sequence of eleven galleries, with offices and a restaurant stacked above the main entrance. Projecting discs shade windows and the alternation of solid and void becomes a dramatic play of light and shadow. Nouvel describes it as "a cushioned barrier that acts as a sunscreen" and reduces heat gain. Across from the palace that was the first seat of government and formerly housed the museum, the roof dips to preserve a view corridor to the sea, and doubles as a tilted stage.
The interior was shaped by eight years of research and discussion between Nouvel, his client and outside experts. The goal was to create an immersive experience for visitors as they took a journey through time, from the geological origins of Qatar, through the rituals of daily life in the desert and along the coast, and the exponential changes of the past five decades. Residents were asked what they wanted to see, and to contribute stories and artifacts. Films were commissioned to play over the gently curved planes of the walls as a backdrop to the physical exhibits. There's a constant shift in ceiling heights and the floors undulate to impart a sense of motion as you wind your way from one room to the next.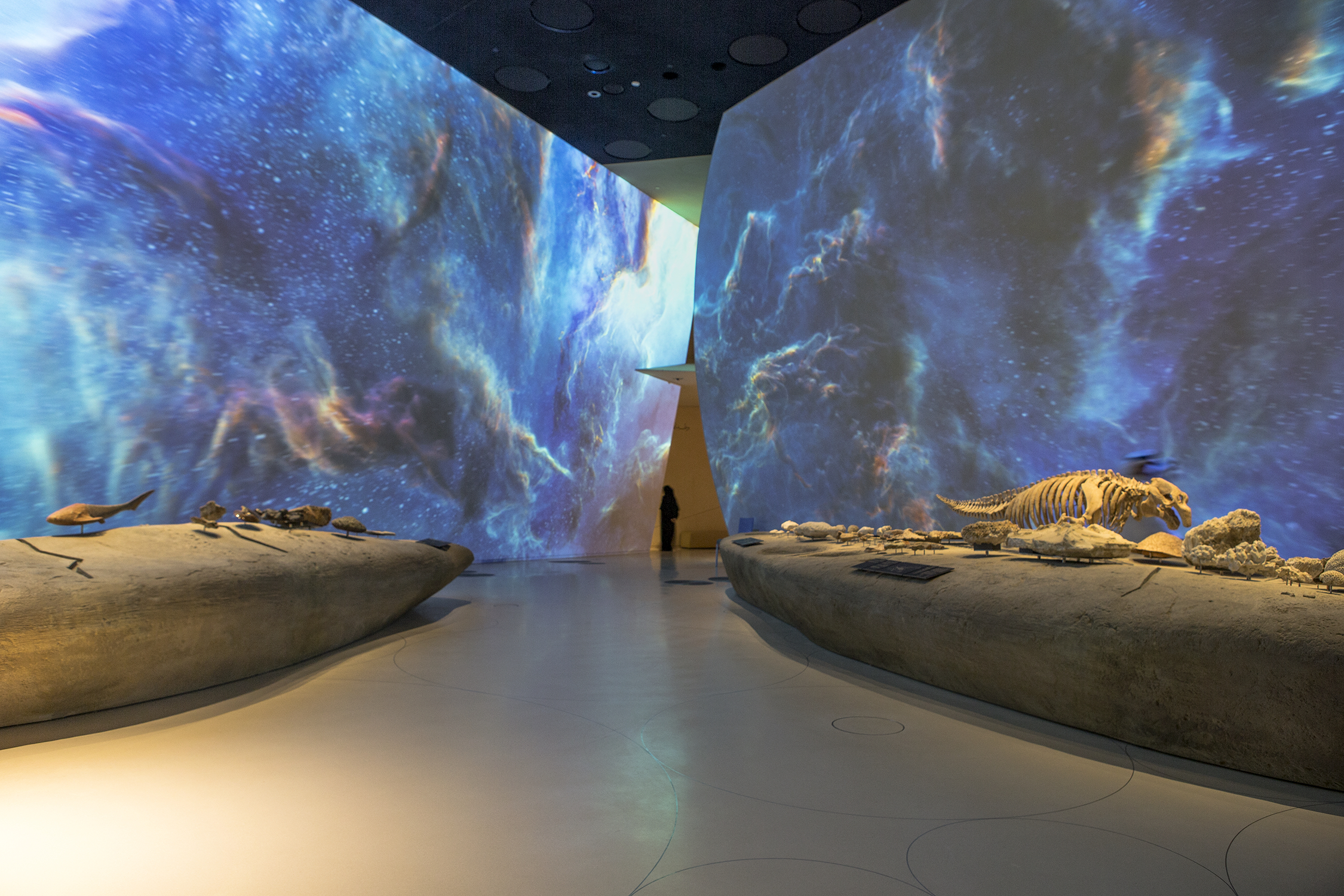 As a counterpoint to the sculptural complexity of Nouvel's architecture, the Sydney-based firm of Koichi Takada has designed two museum shops inspired by the Cave of Light, a geological marvel in the heart of Qatar. A hand-assembled vortex of 40,000 pieces of wood soars high overhead and morphs into shelving and display units. Takada also designed a mezzanine-level café, where a trio of wood-railed enclosures are lined with cushions (traditional Berber patterns woven by Missoni) to recall desert tents. A second café and Alain Ducasse's restaurant are still under construction.
The National Museum is a fusion of old and new, architecture and spatial drama, unique in its form and content. It's surrounded by a landscaped park that features the country's terrain and
drought-resistant vegetation. And, as architect Ibrahim Jaidar observes, Nouvel's building marks the transition from historicism and mimicry of Western models, to a brand of modernism that is rooted in the cultural traditions of Qatar.