Jordan Wolfson, installation view of ARTISTS FRIENDS RACISTS, 2019-2020 © Jordan Wolfson Courtesy the artist, David Zwirner and Sadie Coles HQ, London
From Show to Show: A Paris Fashion Week Art Guide
Let your runway fave guide you to the latest gallery offerings on view now.
Jordan Wolfson, installation view of ARTISTS FRIENDS RACISTS, 2019-2020 © Jordan Wolfson Courtesy the artist, David Zwirner and Sadie Coles HQ, London
Cities are miraculous for many reasons, particularly as hubs for the converging worlds of art and fashion (among many, many other things)—though at this time of year, it's hard to keep track of it all, whether that's in your frazzled brain or on your calendar. Just in time for the tail end of Paris Fashion Week, here's a handy guide to let your favorite Fall/Winter 2020 collections take you to the current art offerings on view.
So, if you find yourself with a stolen hour or two the next few days in Paris—or maybe you extended your trip a little bit, like the deft professional you are—here's what you should check out:
Let Off-White Fall 2020 take you to…
Jordan Wolfson's ARTISTS FRIENDS RACISTS
David Zwirner
108 Rue Vieille du Temple
February 6 – March 21, 2020
Seen above, American artist Jordan Wolfson's new show at David Zwirner's Paris outpost presents a multimedia view of American culture by way of whirring HYPERVSN 3D holographic displays and the artist's childhood snapshots superimposed onto large brass halos. The show implicates notions of "brands" both commercial and personal; the LED displays, as the show's press release notes, "have primarily been marketed for commercial use—as a means of luring consumers and presenting brands and products in a visually dynamic and novel way." The context of the imagery is underlined by the show's titular triad of personas (which, of course, can and often do exist within a single individual).
Wolfson and Off-White founder Virgil Abloh, two American creatives coincidentally born in the year 1980, both look at humanity's present and future through the dual lenses of mass media and nostalgia. They're aware of the power of, say, walking multiple '90s supermodels plus two generations of Hadid women—Gigi, Bella, and Yolanda—down a runway, or personifying holographic Stars of David with disembodied Mickey Mouse hands.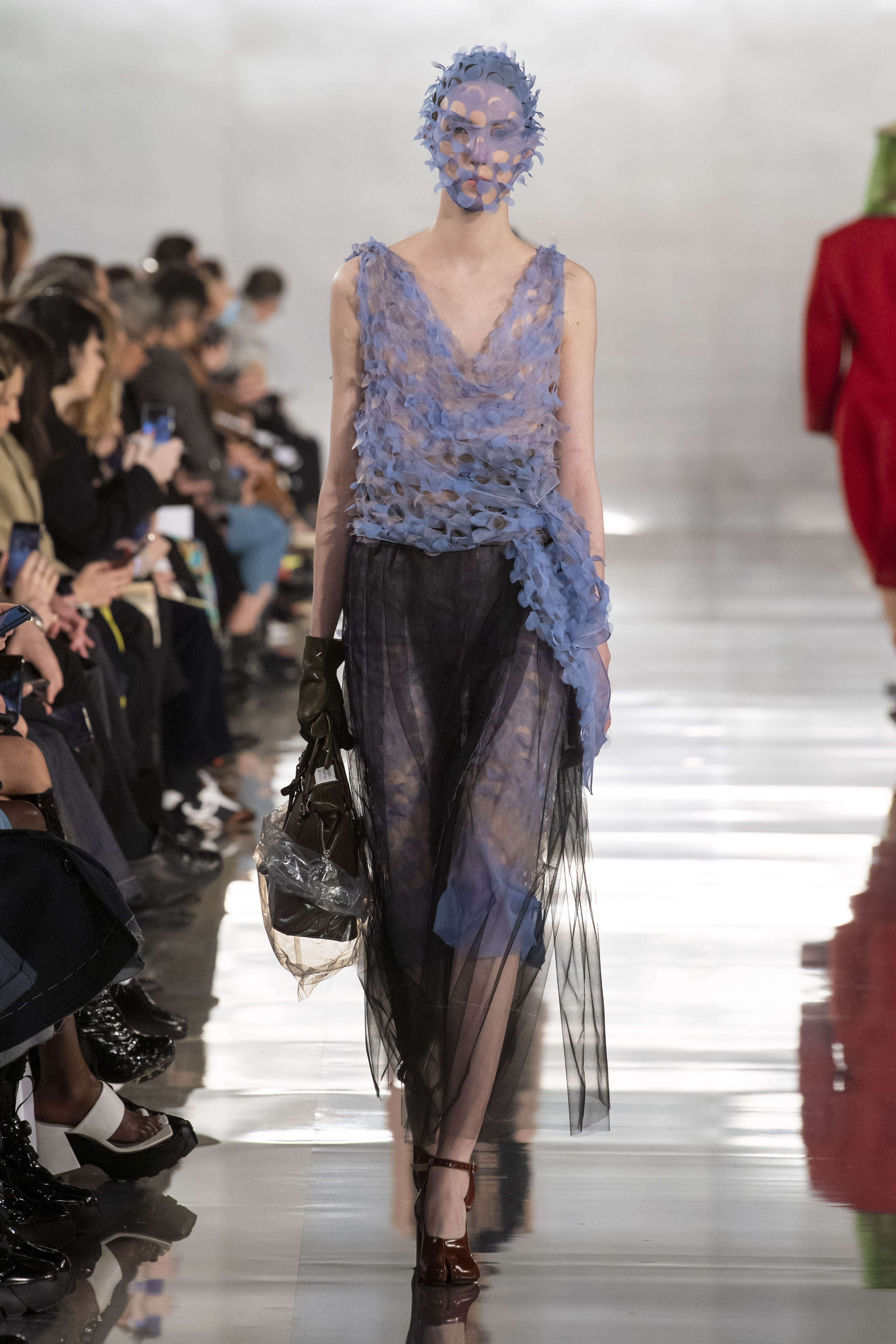 Let Maison Margiela Fall 2020 take you to…
Jeremy Shaw's Phase Shifting Index
Gallery 3
Centre Pompidou
February 26 – April 20, 2020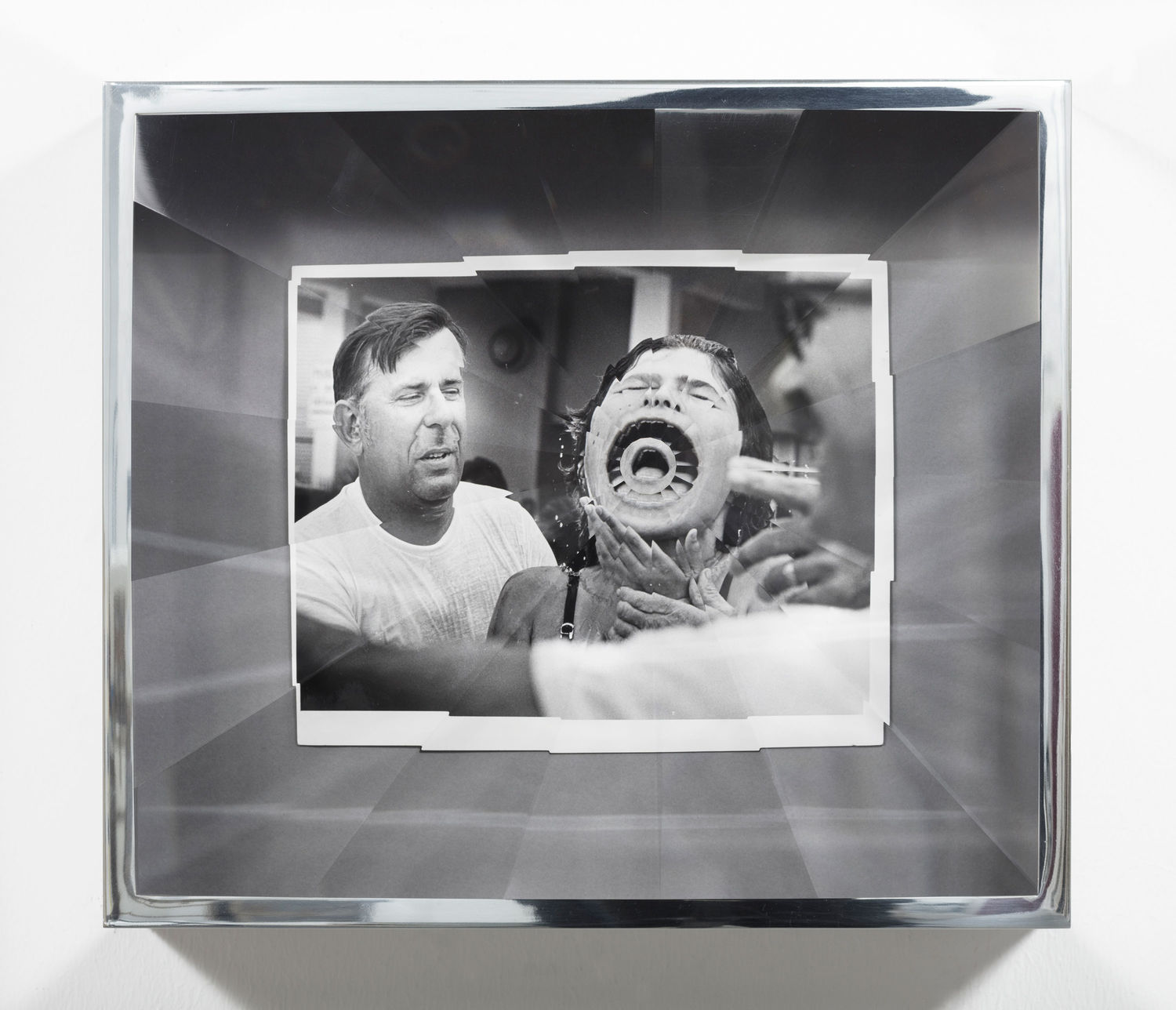 Presented as part of the Centre Pompidou's "Mutations/Creations" series, Phase Shifting Index is the first major French museum exhibition for Canadian-born, Berlin-based artist Jeremy Shaw. The show presents the ritual, ecstasy, and body horror of immersive technology, research, and contemporary culture. His kaleidoscopic photographs and multi-screen video works tie in motifs of neuroscience and science fiction.
When considered alongside John Galliano's latest collection for Maison Margiela, the two shows center on distortion and re-contextualization, but to different ends: Shaw's claustrophobic malaise to Galliano's buoyant hope. In tandem, they offer as much through their differences as through their similarities, presenting, perhaps, the two dystopian and utopian sides of the same modern-day-shitshow coin. While Shaw's exhibition ponders the freaky "fabric of time," Galliano at Margiela looks towards, well, the fabric of the future—this season's collection is partially crafted from upcycled vintage pieces, cast-off leather scraps, reclaimed wicker, and taro leaves. (Margiela even presented 3D-printed vegetable brooches that, let the record show, prove an afore-projected lettuce trend.) Both acknowledge technology's unending grasp on our lives, for worse or for better. Even so, the levity of Margiela's final look—a laser-cut lavender dress complete with matching face mask—somehow echoes Shaw's video works, an ode to the continual movement (even in washed-out hues) of humankind.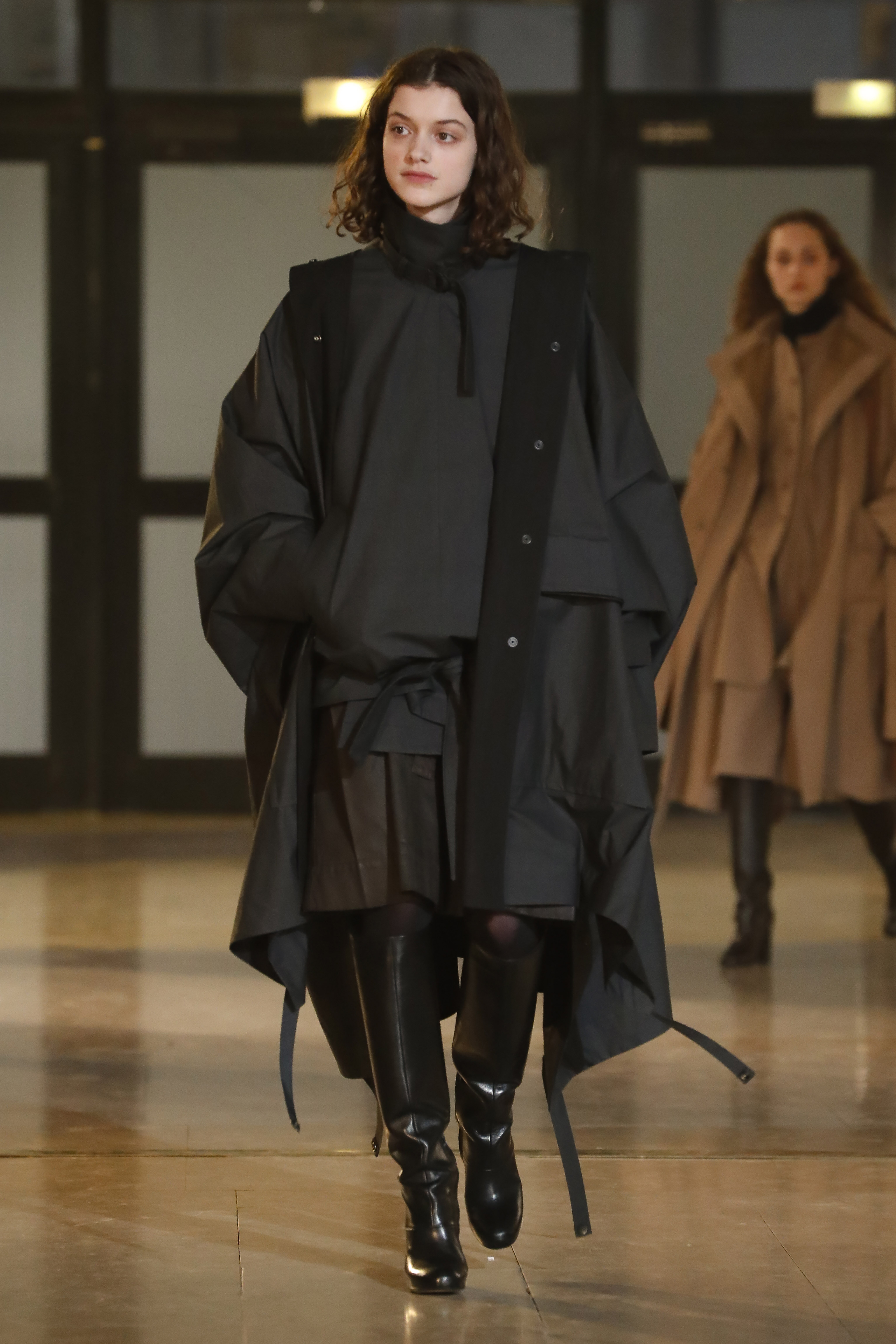 Let Lemaire Fall 2020 take you to…
Ulla von Brandenburg
Palais de Tokyo
13 Avenue du Président Wilson
February 21 – May 17, 2020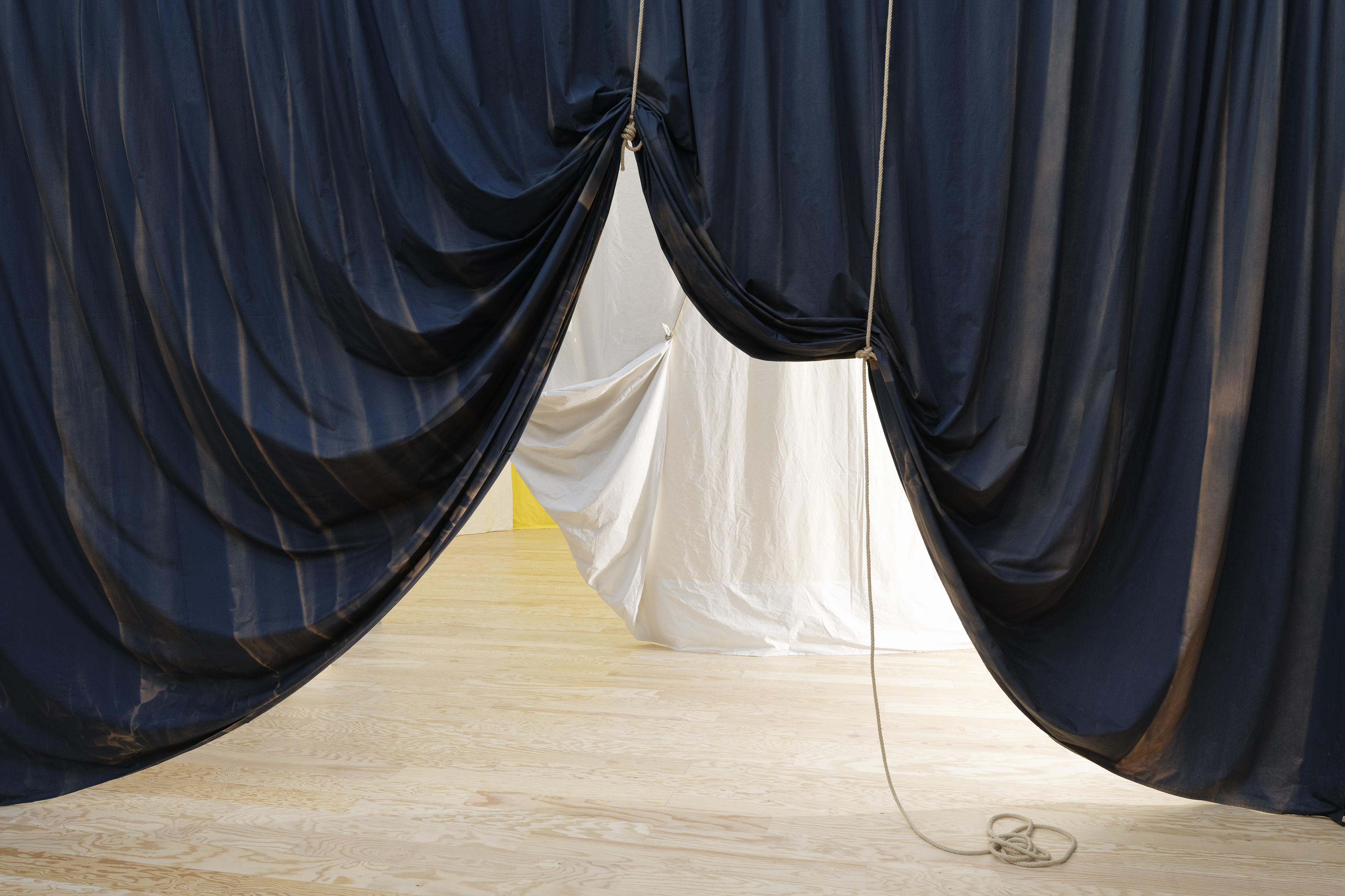 German artist Ulla von Brandenburg's new solo show at Palais de Tokyo is an immersive exhibition marked by swaths of fabric suspended from the ceiling, variously gathered, draped, and pinned agape to allow movement through and around them.
The fabric in Lemaire's fall collection is similarly immersive, presenting something of an ultra-chic commuter's uniform. The show's models, dressed in voluminous monochrome with utilitarian details—over-the-shoulder messenger bags, hands stuffed in pockets—did, indeed, look like the coolest people you might see on the subway (Japanese actor Ryo Kase even walked down the runway grasping a rolled-up copy of Le Monde). Lemaire's show, like von Brandenburg's, also makes a rare but deft usage of prints; in this case, designers Sarah-Linh Tran and Christophe Lemaire covered gathered dresses and shawls with designs by the late Mexican artist Martín Ramírez.
For von Brandenburg, "[f]abrics allow me to camouflage, conceal and clad the white cube of a museum," while Lemaire's layered fabric allows its wearers to camouflage, conceal, and clad themselves as they traverse the outside world. "In a space where curtains have been hung," von Brandenburg continues, "the separation between the interior and the exterior, or between different worlds, becomes blurred. And that blur makes us wonder where we are." The line between the individual and the collective tends to blur (or straight-up rupture) on a packed train car, making us wonder where we are, as we search for slight cracks in the herd—the proverbial curtains held open—so that we can squeeze our way through the doors to our destination.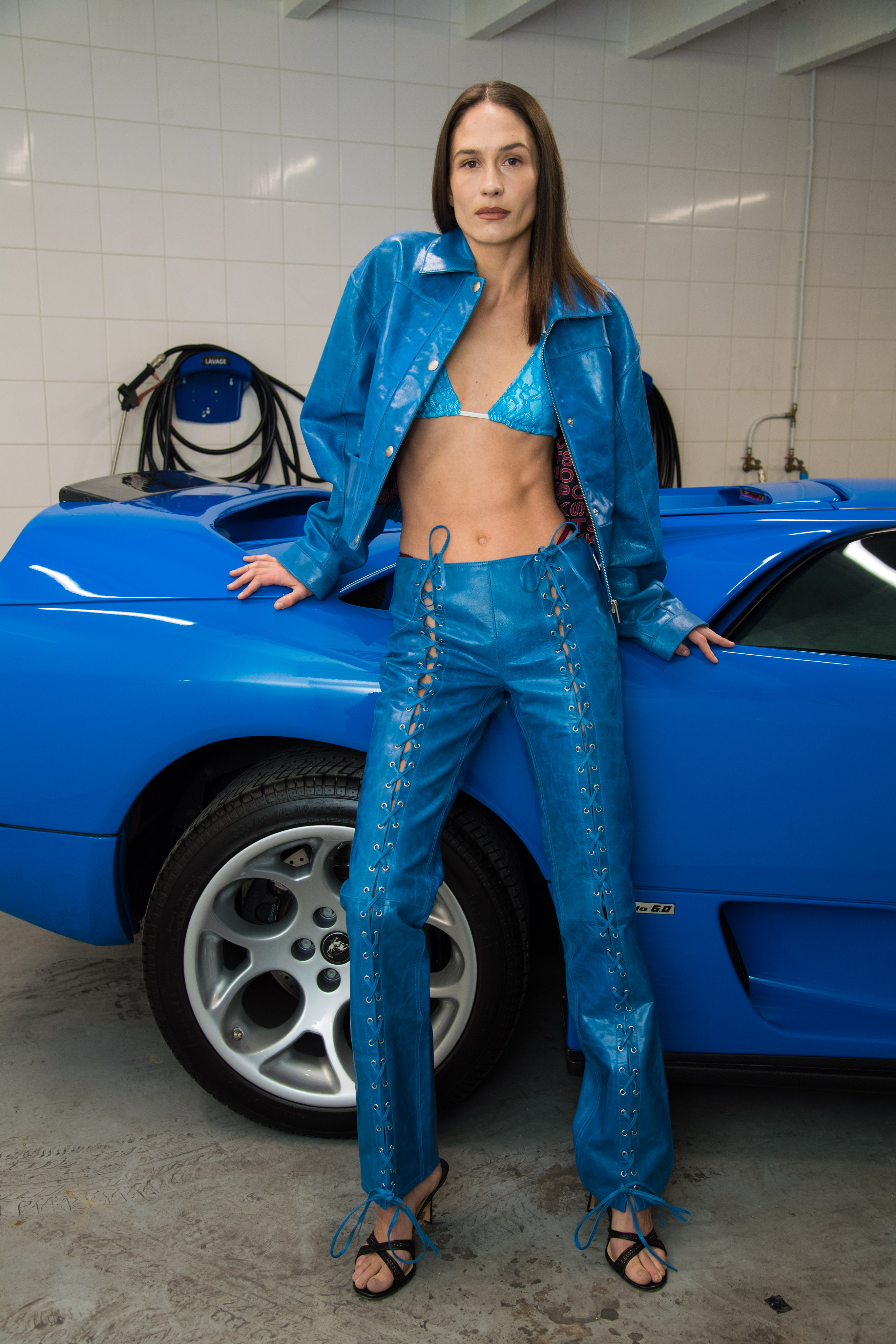 Let Saks Potts Fall 2020 take you to…
Sylvie Fleury's She-Devils on Wheels
Galerie Thaddaeus Ropac
7 Rue Debelleyme
February 22 – May 22, 2020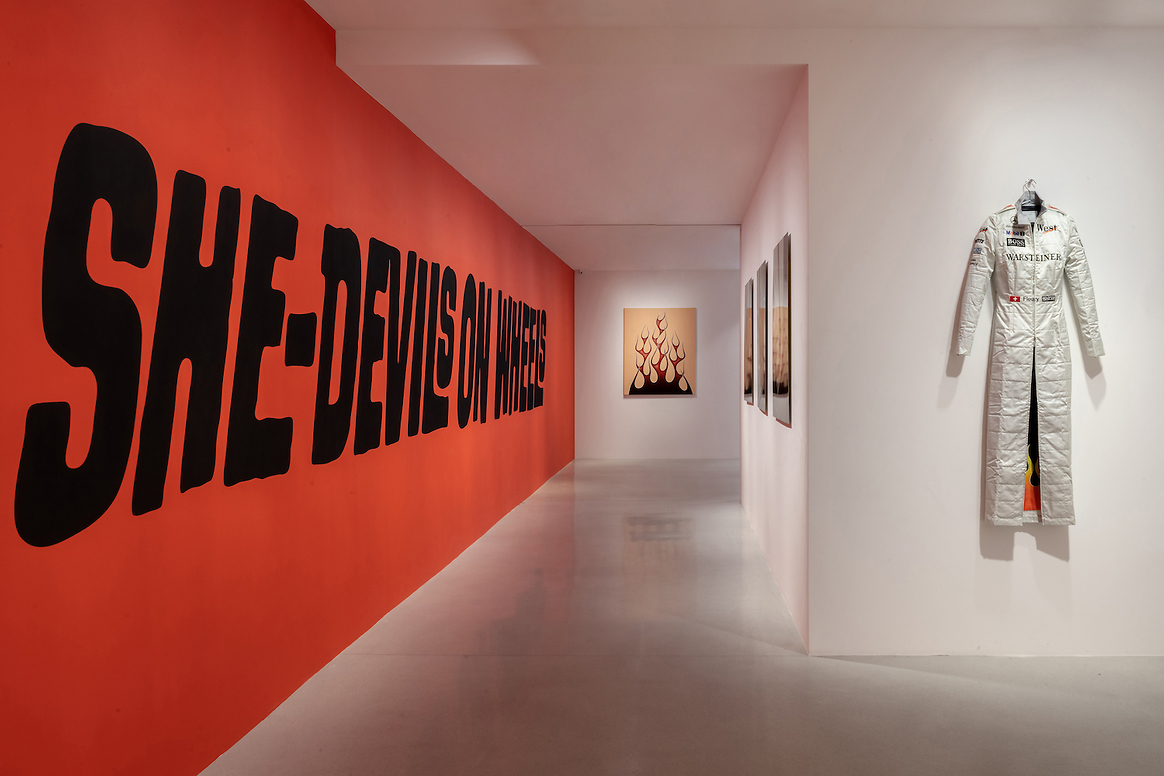 She-Devils on Wheels, the new exhibition from Swiss artist Sylvie Fleury on view at Galerie Thaddaeus Ropac, takes its title from the 1968 Herschell Gordon Lewis film about a motorcycling girl gang and, uh, amazingly, from an automobile club founded by Fleury in the mid-1990s. The show, which showcases a ready-made chrome motor, a flame-lined racing suit, and blown-up Polaroids of high heels putting pedal to the metal, pushes against the gender implications of car culture, presenting a slick, distinctly feminized side to an otherwise masculine interest.
While motorized vehicles were definitely a thing at Paris Fashion Week this year—Off-White made a spliced candy-red convertible its runway centerpiece, and Thebe Magugu announced his fall collection with an image of his uncle on a motorbike—the cars-and-girls connection to Saks Potts here is kind of a no-brainer. The show, held in the below-ground level of a parking garage, presented unsubtly cool looks, including lace-up flares, motocross suits, and Penny Lane coats in chartreuse and blue-raspberry leather, alongside souped-up Lamborghinis, Porsches, and a Lewis Hamilton motorbike. While the Saks Potts presentation gunned the sex appeal, Fleury's show explores the implied sexuality of women and cars alike—and the power that lies within in reclaiming that world for oneself.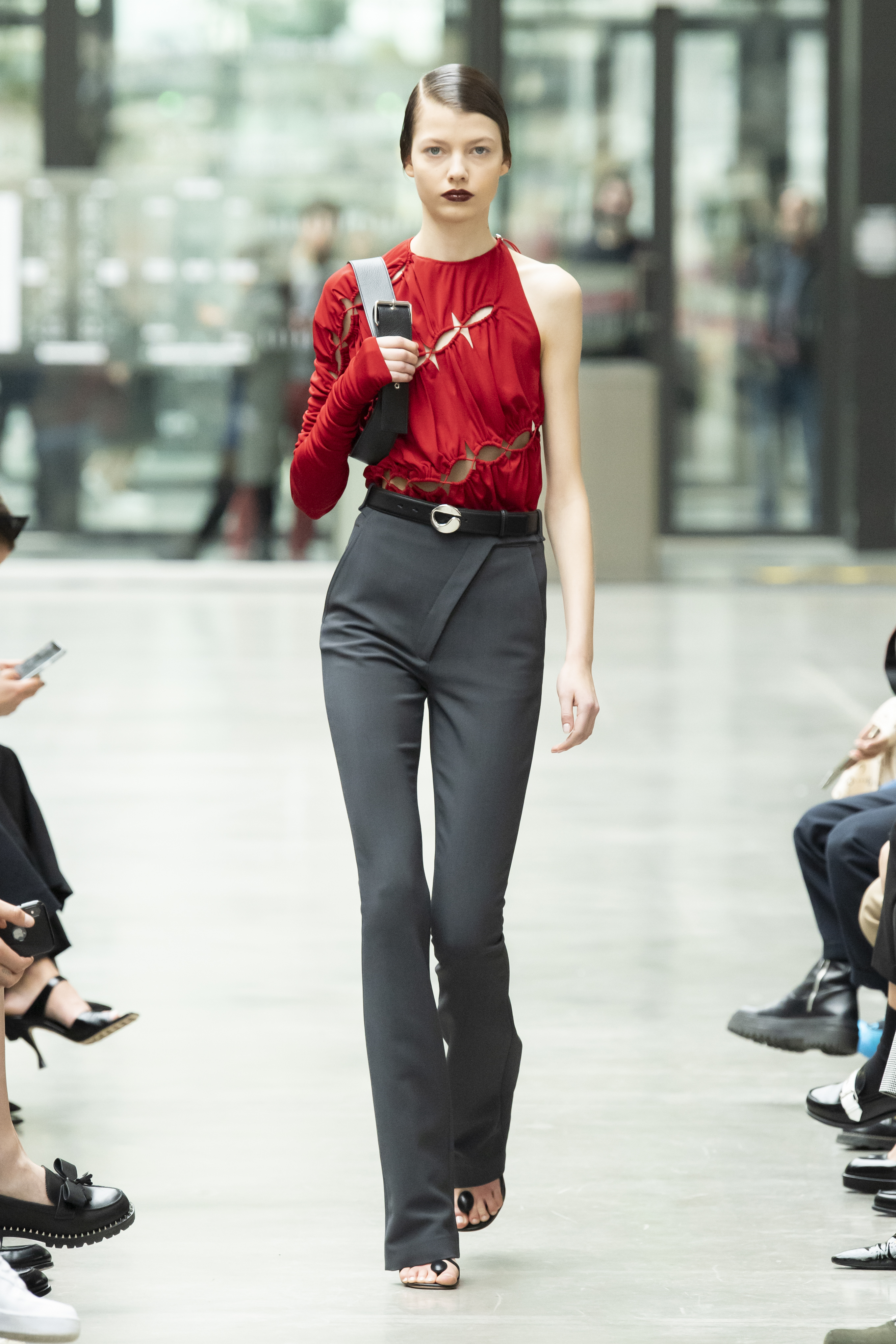 Let Coperni Fall 2020 take you to...
Daniel Arsham's Paris, 3020
Perrotin
76 Rue de Turenne
January 11 – March 21, 2020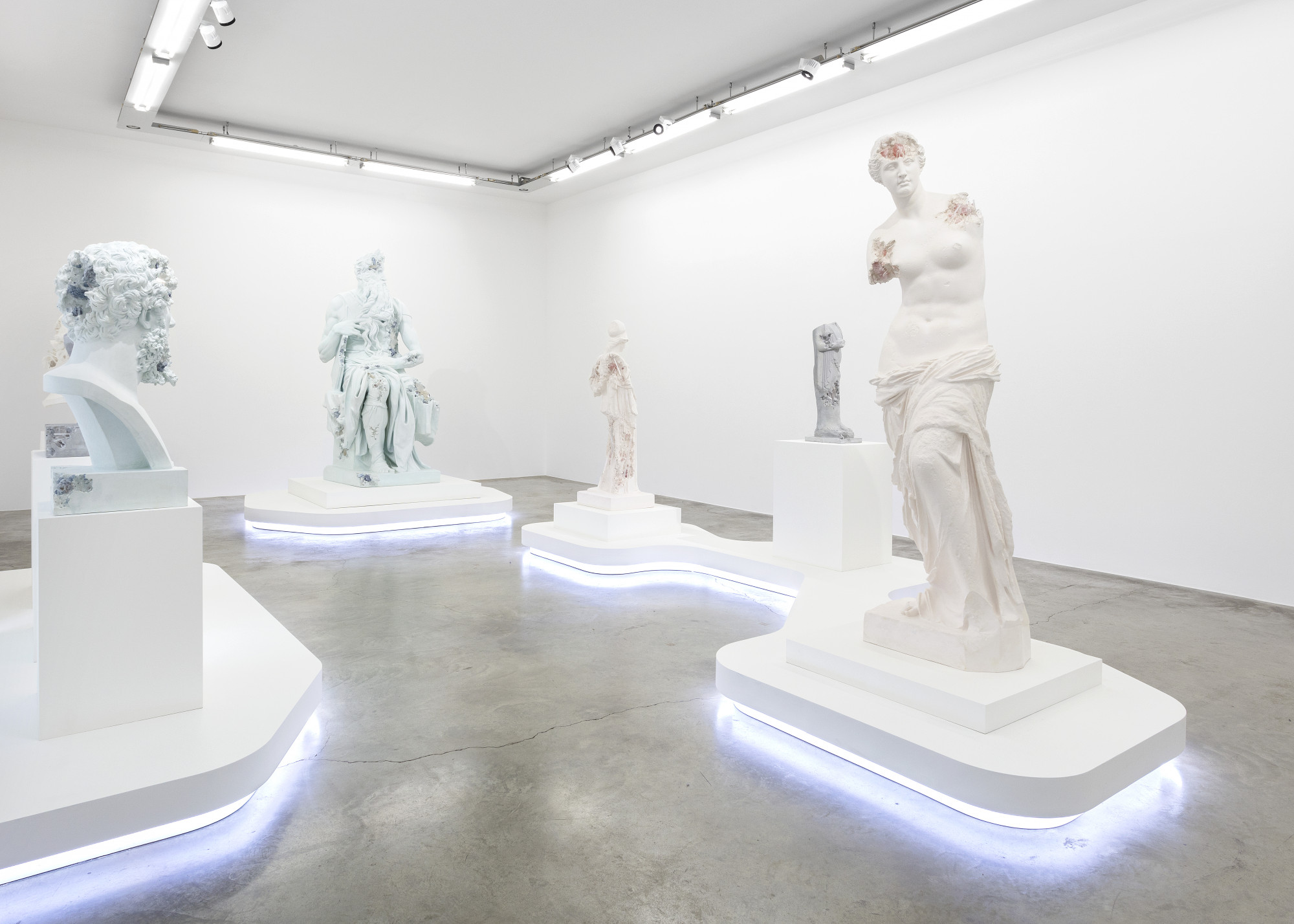 In a new Perrotin Paris solo show titled Paris, 3020, American artist Daniel Arsham presents reproductions of iconic masterworks, cast from the collections of the Musée du Louvre in Paris to the Acropolis Museum in Athens, but refigured with decidedly millennial materials: insets of crystalline rock like blue calcite and rose quartz, under-lit with white neon. Arsham takes these eroded-yet-iconic figures (from a baby-pink Venus de Milo to a powder-blue Moses) into the 21st century by way of "referencing the past, informing the present, and reaching towards a crystallized future," as the show's press release reads.
The show's title serves as a premonition that feels both eerie and hopeful, and when considered alongside Fashion Month, solicits the question: What will we be wearing in Paris (or otherwise) in 3020? While Arsham's show centers on classic forms of beauty ("they're all curved, sometimes impossibly curved!") Coperni's fall collection presents a chilled sexiness for the digital age. The label's Sébastien Meyer and Arnaud Vaillant thread techno dystopia through the tunnel of the '60s Space Age—as though they were offering the women's magazine standby of "take your look from day to night!" except in this case, it's taking you from a listless office building in a '90s sci-fi movie to a pulsing underground club in like, post-Cold War Berlin. Sleek-yet-low-slung slacks, militantly buttoned-up jackets, and sunglasses like Trinity's from The Matrix present a hacker heroine (with maybe a dash of post-Y2K Meg Ryan in In the Cut). If Arsham's sculptures reflect accelerated visions of beauty from classical antiquity, Coperni's fall collection shows how we'll be dressing for the end of the world.
Tagged: