Overlooking the Sun Pyramid and Sky Pyramid rooms from the Main House. Courtesy of Petzel, New York
In Jorge Pardo's "Tecoh," a Place to See and to Learn
The artist discusses his project with the environmentalist and collector Claudia Madrazo and gallerist Friedrich Petzel.
Overlooking the Sun Pyramid and Sky Pyramid rooms from the Main House. Courtesy of Petzel, New York
Tecoh exists in the northern Yucatán jungle in Mexico, as both an artwork, and as a residence. Designed by artist Jorge Pardo, Tecoh incorporates the ruins of a 17th-century hacienda, and a series of new buildings, pools, gardens and rocky pathways among of conserved natural forest. The project doesn't actually have a beginning or an end point in the landscape and the dislocated layout is curious and refreshing. Linking Maya cultural relics and modern design, the commission to imagine Tecoh was offered to the Cuban artist by the Mexican philanthropists Roberto Hernández and Claudia Madrazo, who for some time had been preserving haciendas in the Yucatán with the goal of protecting the landscape and educating on Maya culture.
Claudia Madrazo, the work's co-commissioner, is committed to education, conservation and sustainability and sits on the boards of The Nature Conservancy, the Cornell Laboratory of Ornithology, and the National Geographical Society. In Tecoh, Madrazo and Hernández welcomed the idea of "living inside a work of art" and "a work of art that lives as it unfolds." Combining art and conservation is now a rather common act for the couple; nearby in the Yucatán, they also commissioned two works from James Turrell, one in an ancient cenote and the other within a Maya-inspired stepped pyramid. Continuing within this nature an art space unfolded naturally. Hernández and Madrazo initially met Pardo at the suggestion of LACMA director Michael Govan, and his former Dia Art Foundation colleague Lynne Cooke. Born in Havana in 1963, Pardo has an outspoken personality and a history of site-specific manifestations, something that first drew gallerist Friedrich Petzel to the artist. For Pardo's exhibition with the Los Angeles Museum of Contemporary Art in 1993, the artist built a house six miles from the museum and exhibited it as a work of art, 4166 Sea View Lane. (He later moved in when the show and tours closed.) With a history of building within unique locations, Pardo, a 2010 MacArthur Genius award recipient, seemed like a natural fit for Tecoh.
The 13 million-acre Mesoamerican Maya Forest is the largest remaining tropical rainforest in Central America and spans northern Guatemala, Belize and Mexico's Yucatan Peninsula, and it provides habitat for up to 400 bird species and hundreds of millions of migratory birds wintering in the Yucatán Peninsula all-the-while being habitat for species like the scarlet macaw, jaguars, white lipped peccary, tapir, harpy eagle and howler monkeys. Underscoring interests of culture, conservation and the local economy, Tecoh is the artist's most ambitious work to date, taking six years to construct while carefully threading new architecture through the remnants of a seventeenth-century hacienda. The artwork functions partly as a residence—challenging traditional definitions of art and the utilitarian. A publication that expands on these practices, Jorge Pardo: Public Projects and Commissions, 1996–2018, with texts by Emma Enderby, Hans Ulrich Obrist and Ian Volner, will be published by Petzel Gallery in Spring 2021.
Pardo's work inhabits more questions than answers. The sculptures offer a dimension of planned ambiguity, creating shifting viewpoints about what you're seeing and why you are seeing it. Like many hard-to-reach natural wonders, a small handful of people will ever see Tecoh, which is about an hour's drive from Mérida, Mexico. When Hernández and Madrazo use Tecoh for scholarly conferences and workshops in non-conventional formats, at the end of the day, the project sustains a kind of open-endedness as to its purpose and its use. Friedrich Petzel and Petzel Gallery invited a group from the art community to visit Tecoh this past winter, to walk the grounds, learn about Maya culture and to think about Tecoh as both an artwork and an educational space. Following this, GARAGE sat down virtually with Claudia Madrazo, Friedrich Petzel and Jorge Pardo to discuss: Is it art? Design? Architecture? Conservation? Preservation? What do we need to do to elevate the cultural value of nature, to the level currently occupied by art?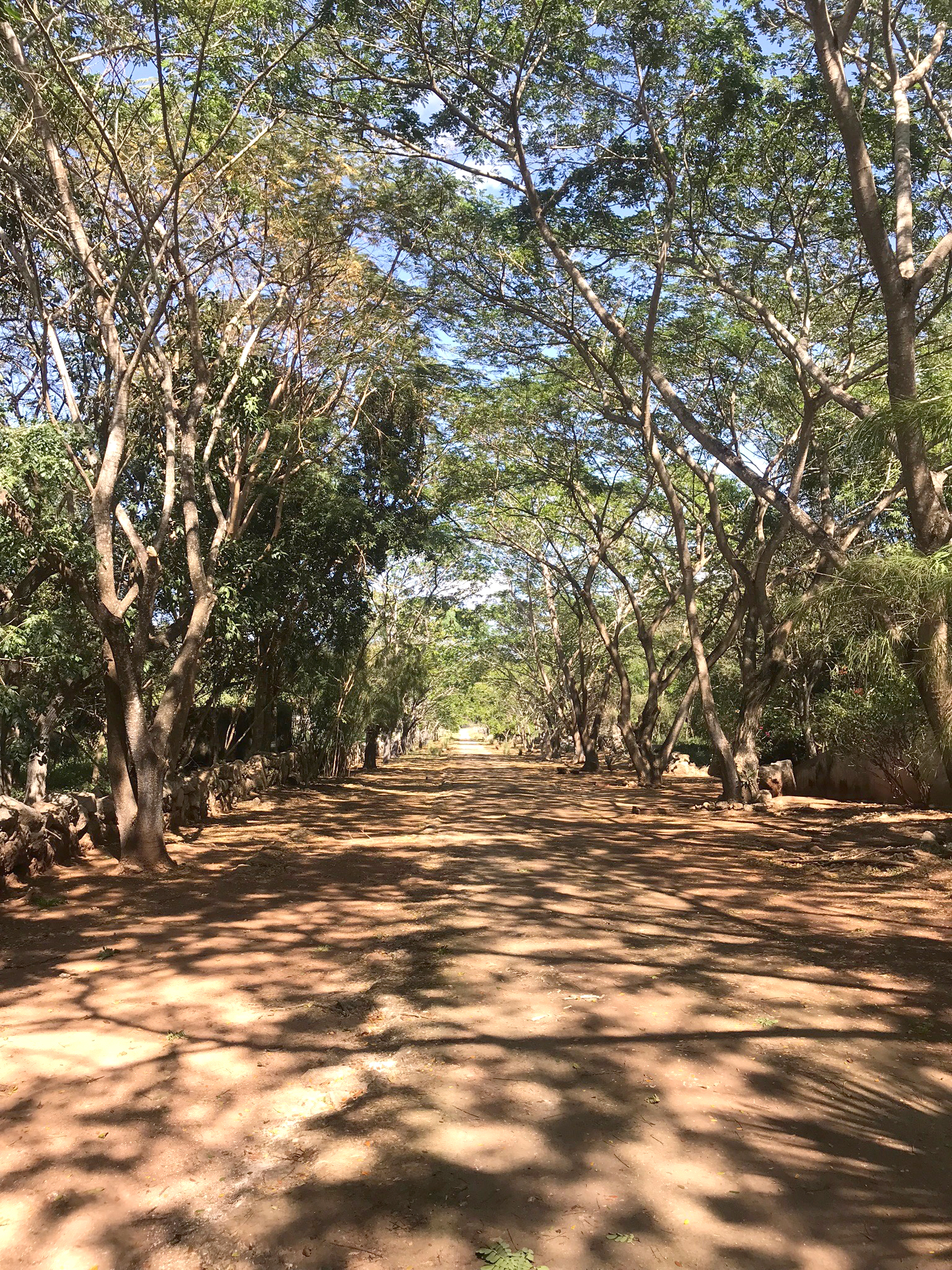 How did this project unfold, Claudia?
Claudia Madrazo: I met Jorge Pardo by an incredible coincidence, he was already living in Mérida. In talking with Michael Govan, the director of the Los Angeles County Museum of Art (LACMA), about my intention of enabling a series of Land Art pieces in Yucatán, he mentioned Jorge Pardo. We also invited Lynne Cook to think about artists that could be potentially interested and appropriate in terms of our cultural interests and she also suggested him. In my first conversation with Pardo, it became clear that he was interested in the aesthetic phenomenon and in the experience of looking at art not as a fragmented experience, such as in a museum.
From an artist perspective, Jorge, what was your aim with the project?
Jorge Pardo: Claudia Madrazo and Robert Hernández were trying to figure out how to bring land preservation to the Yucatán. They purchased land that was once a sisal farm and brought the building project to me. The most important thing about architecture, generally speaking, is the program, what is this thing for? I told them, as long as it doesn't have a program, I am in. I made a building, a place, without a function and no one knew what to use it for. To this day we are still trying to figure out how to use it. It is a very abstract place. Tecoh looks like a house, it looks like an inn, on several hectares of landscaping, maybe with half a dozen to a dozen events a year. It is a vehicle to expand conservation in the Yucatán. Imagine a place that is asking to be looked at, rather than used. Normally, when you make a project like this you do it because you have a particular purpose for it. In this case, it was very open, which I found to be super interesting. For this, the program was happily "lost."
What is the larger background that you brought to this environmental art project?
CM: I was exploring what would it be to be in art, to dwell in art, and to ponder and think in an aesthetic form in a continuous way. One day, I had an insight that I wanted to be involved in Land Art. Specifically, I wanted to take Land Art to the Yucatán, to transform the Yucatán and the Maya jungle to a focus of consciousness. My interest was to pursue beyond the art object and the idea of collecting objects. It was more about generating or catalyzing Land Art projects that would reveal the magnificence and vulnerability of both the Maya forest and the Maya culture.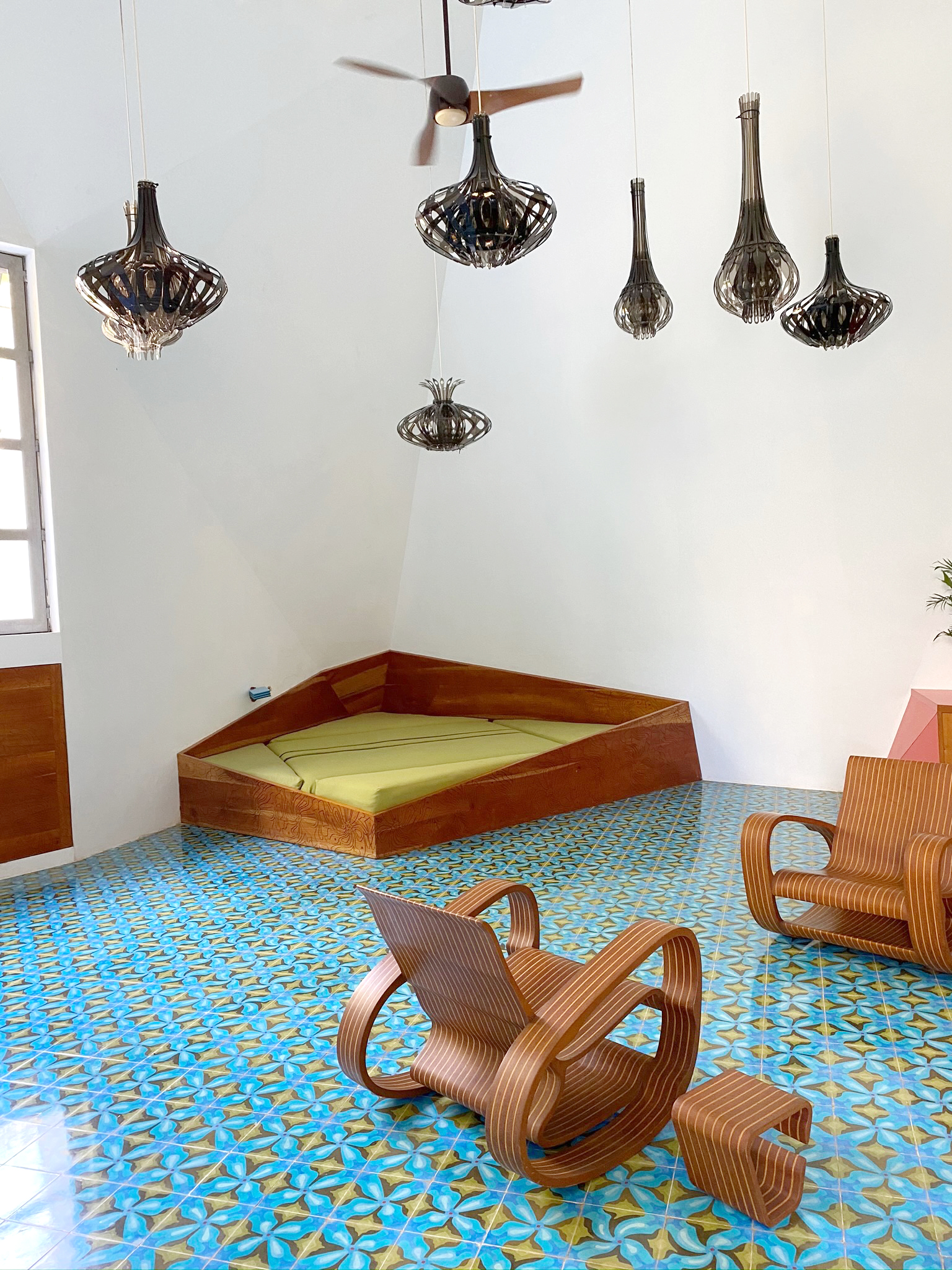 Art and conservation are similar because they are both about permanence and artifact, right?
Friedrich Petzel: Essentially, the Tecoh project is a long-term exhibition. Jorge is coming out of a Michael Asher tradition, but the opposite of Michael in so far as Pardo makes things, he makes objects and these things remain. There is a certain theoretical aspect to the work. And a certain wonderment. There were a lot of people who were very surprised by seeing the details of what he is able to accomplish. Everyone knows him as a lamp-maestro, so they were surprised about how detailed he is and how rigorous his methodologies are. The process is as important to him as the reception afterward.
Friedrich, in your mind, how does this artwork engage with time?
FP: Well, the first thing I learned, that Claudia explained to us, is that the Maya don't have a linear concept of time, the way that we do. They actually have five different concepts of time, which I thought was super interesting. I mean, obviously a question came up: What is this going to look like? It's a speculative project that unfolds over time and there is no clear message, no clear answer. There is no clear synthesis. It is a speculative project in the truest sense of the word.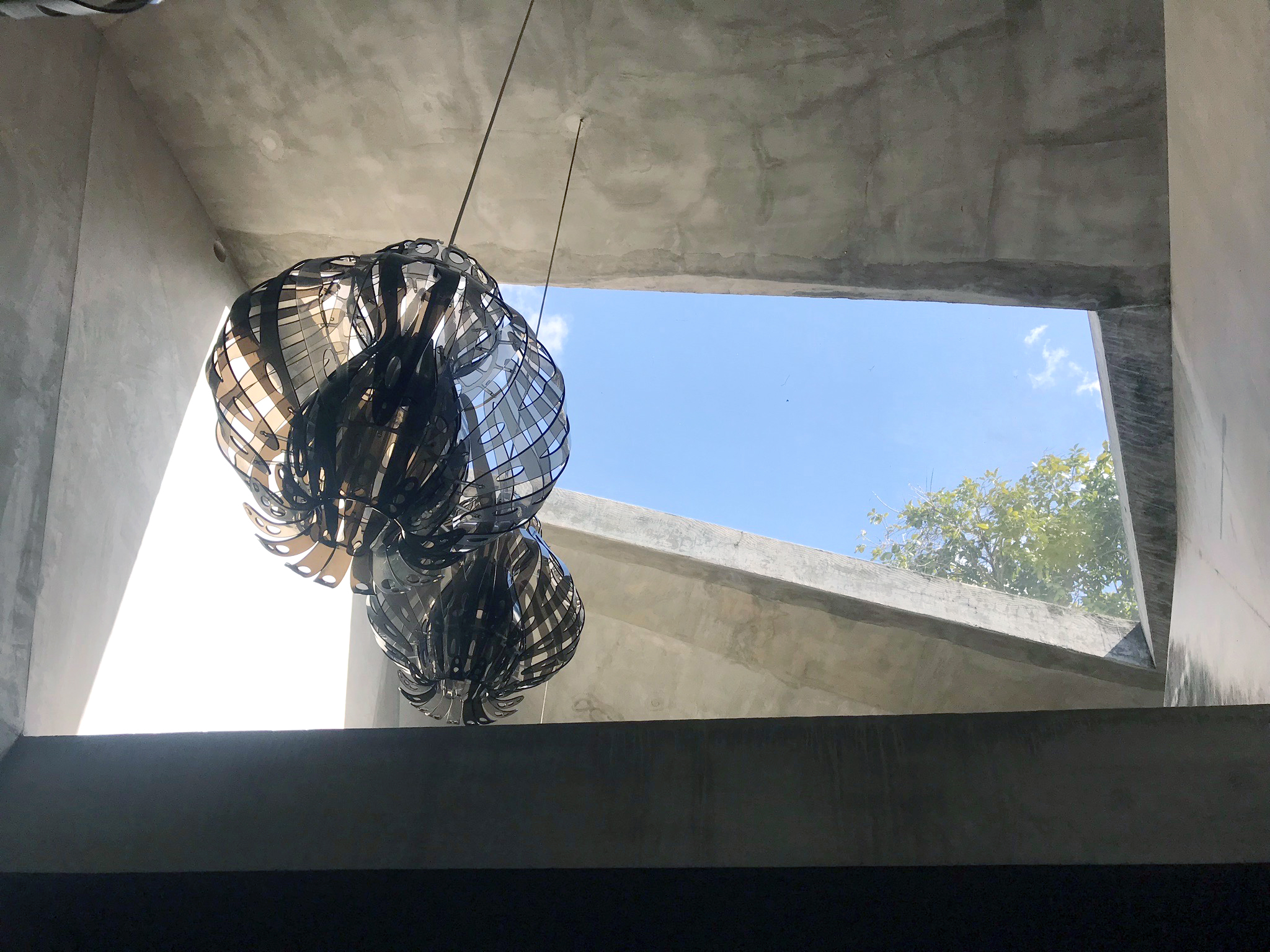 What is the surrounding landscape like in the Maya Forest?
JP: It is a scrubby jungle. There is a rainy season here, about six months and a very dry season for about six months. Half of the year it is really wet and beautiful and tropical, and then from May-October it starts to rain non-stop. At the end of hurricane season, it is dry and dry, dry, dry and there are even fires. And then it's just, you know, June one, and it has started raining again. That's sort of how the cycle works here.
What is the situation with the land? Did you have an interest in permanently conserving land? How do you see art and nature, or art and conservation, combining in purpose, or having a similarity?
CM: We knew that we wanted to conserve the Maya forest, and that the land was to be a permanent nature reserve. We bought the particular parcel of land because we were fascinated with the architecture of the seventeenth century hacienda on the property, which had some very beautiful features of Moorish architecture that were quite unique. Before inviting Jorge, we had acquired the land and started to think about it as a nature reserve. Art and nature have the unique capacity to awaken our sensitivity. As humans, we often see ourselves as something apart from nature, but we are nature as well. I think we are a unique species in the way that we can create something that can be useful in the present and in the future. Today, nature is also becoming art, in a way, because the forces of destruction of the ecosystems is happening so fast. If you think about the fact that we are trying to conserve 10% of the ecosystems of the planet, it is scary and just inconceivable; it is unacceptable that humanity is trying to save the 10% because the rest may not be possible to save.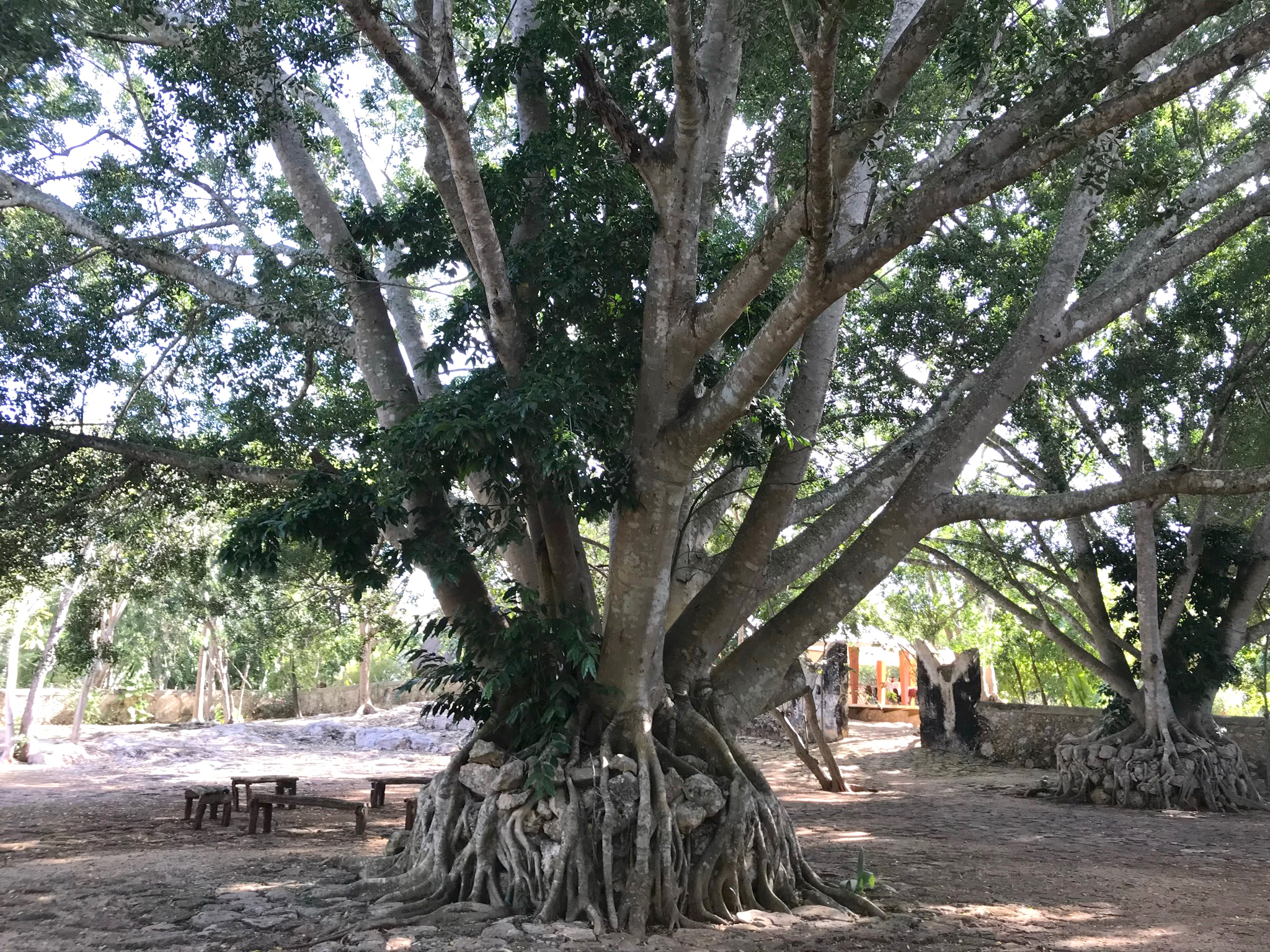 Friedrich, how does this reflect the changing nature of patron, gallerist and artist in present day?
FP: How to handle things from a patron's direction, gallery direction, and artist's direction, is a new concept today. Jorge doesn't like to take orders from anyone and always questions the nature of what an artwork is, or what an exhibition could be. I am always interested in people who have a very certain sense of themselves. Then I become the spokesperson for that. Pardo has a point of view that is almost non-negotiable. I'm super attracted to people like that.
Claudia, is the project permanent? What is the plan for 50 years from now?
CM: Tecoh will transcend our lives. We have a team of people that take care of the reserve, the gardens, and the work of art; all through the Transformation Art and Education (TAE) Foundation. We are seeking to create institutions that can hold this vision over time—both for nature and for culture—for Tecoh and other projects that involve Land Art and dimensions of culture in the Maya world.
What does this mean for art looking forward?
FP: I still believe that art can negotiate the world to become a better place.