Jason Collins in Four Quartets, 2018, at The Richard B. Fisher Center for the Performing Arts at Bard College. Performance view from July 6–8, 2018. Photo by Maria Baranova.
Brice Marden's Moves: The Visual Artist on His Role in the "Greatest Creation of Dance Theater So Far this Century"
One of America's most highly regarded abstract painters lends his urbane vision to a new and acclaimed avant-garde dance piece.
Jason Collins in Four Quartets, 2018, at The Richard B. Fisher Center for the Performing Arts at Bard College. Performance view from July 6–8, 2018. Photo by Maria Baranova.
Brice Marden was tied up in Europe in the days prior to this summer's premiere of Four Quartets, a dance theater extravaganza hinging on four scenes, or visual motifs, each based on one of the artist's abstract paintings. A new ballet by choreographer Pam Tanowitz is the show's centerpiece, and it features music by avant-garde Finnish composer Kaija Saariaho, and T.S. Eliot's epic 1943 poem, Four Quartets, read by actress Kathleen Chalfant, who starred in the original Broadway run of Angels in America. The staging of Marden's contribution might well have gone awry since the artist missed rehearsals and run-throughs of the show, which debuted on July 6 at the Richard B. Fisher Center for the Performing Arts—the Frank Gehry-designed theater at Bard College in Annandale-on-Hudson, New York—prior to an international tour. By all accounts though, the piece was a hit; some artists have all the luck.
"I had no idea what the show would look like," Marden told me in a recent telephone interview. "I had seen the materials and the printing of the scrims, but only before they were stretched; I had no idea how they would appear on stage. I arrived just the day before the premiere." Scenic and lighting designer Clifton Taylor helped realize the artist's vision by turning his paintings into scrims for the stage, and the show turned out to be a seamless and stunning integration of art, music, poetry, and dance. Elegiac and elegant, with subtle shifts in color, texture, and structure, Marden's images complement the sinuous movements of the dancers. Alastair Macaulay in the New York Times heralded Four Quartets as "the greatest creation of dance theater so far this century."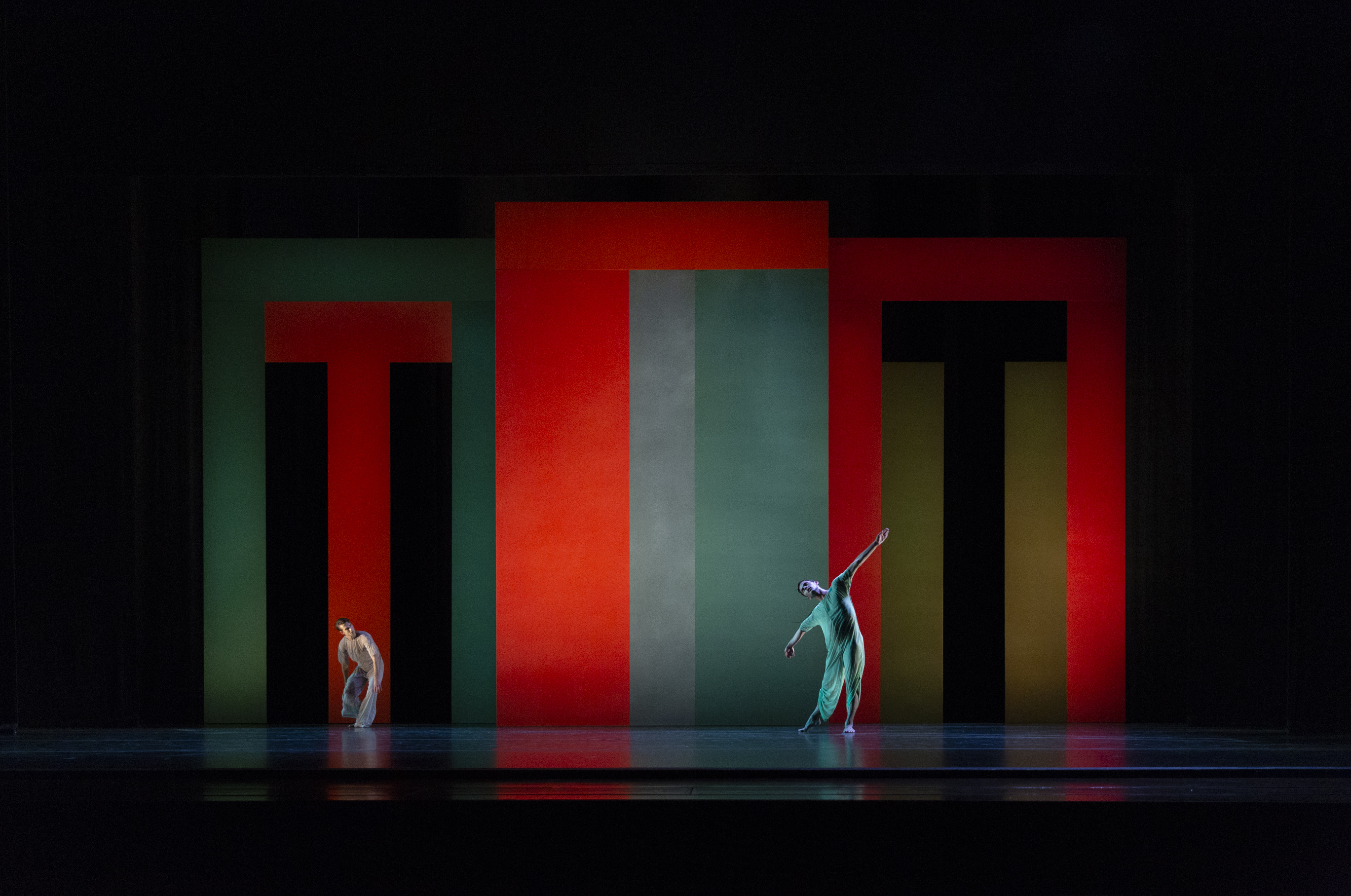 The four images highlighted in the performance—one for each act—convey painting's kinship with dance. The first large scrim, spanning the width of the stage, echoes a detail of the artist's 2014 painting Uphill 4, with vertical drips along the lower portion corresponding to vertical movements—a dancer's skyward leaps, for instance. A version of Thira (1980), one of Marden's best-known works (the original painting is now in the collection of the Centre Pompidou in Paris), visually dominates the second act. Though made of a simple configuration of colorful rectangles, enlarged and in a theatrical setting it resembles an enormous architectural structure, with tall, dark openings allowing dancers to enter and emerge periodically during a rather hypnotic, rhythmic sequence of Tanowitz's choreography. The final scrim, based on a 1980 work on paper, Painting Study II, features sequences of black and brown markings that suggest small rooms or compartments, echoing the spatial relationships and synchronized actions of groups of dancers.
Four Quartets isn't Marden's first time in this arena: in 1994 he worked with Merce Cunningham on costumes and stage design for a ballet starring Mikhail Baryshnikov. And in 2004, he designed the sets for Karole Armitage's Orfeo ed Eurydice. Still, he was hesitant to take on the new project. "At first I didn't want to do it," Marden told me, "but Gideon [Lester, artistic director for theater and dance at Bard] was very persuasive. My home and studio is not far from the Bard campus, and I wanted to be supportive of the college and its programs." The artist, in fact, has been much involved in the school and its surrounding community since 2003, when he set up a studio in nearby Tivoli. Though he is a painter, Marden's work has always had a subtle relationship to dance. "I've seen a lot of dance; I look at a lot of ballet," the artist remarked. "With the images I work with, it comes to mind as a kind of drawing aid. It's inspirational. Your body does move when you're painting, and the image sort of reflects that kind of movement," he added. "It's not that I consciously dance while painting."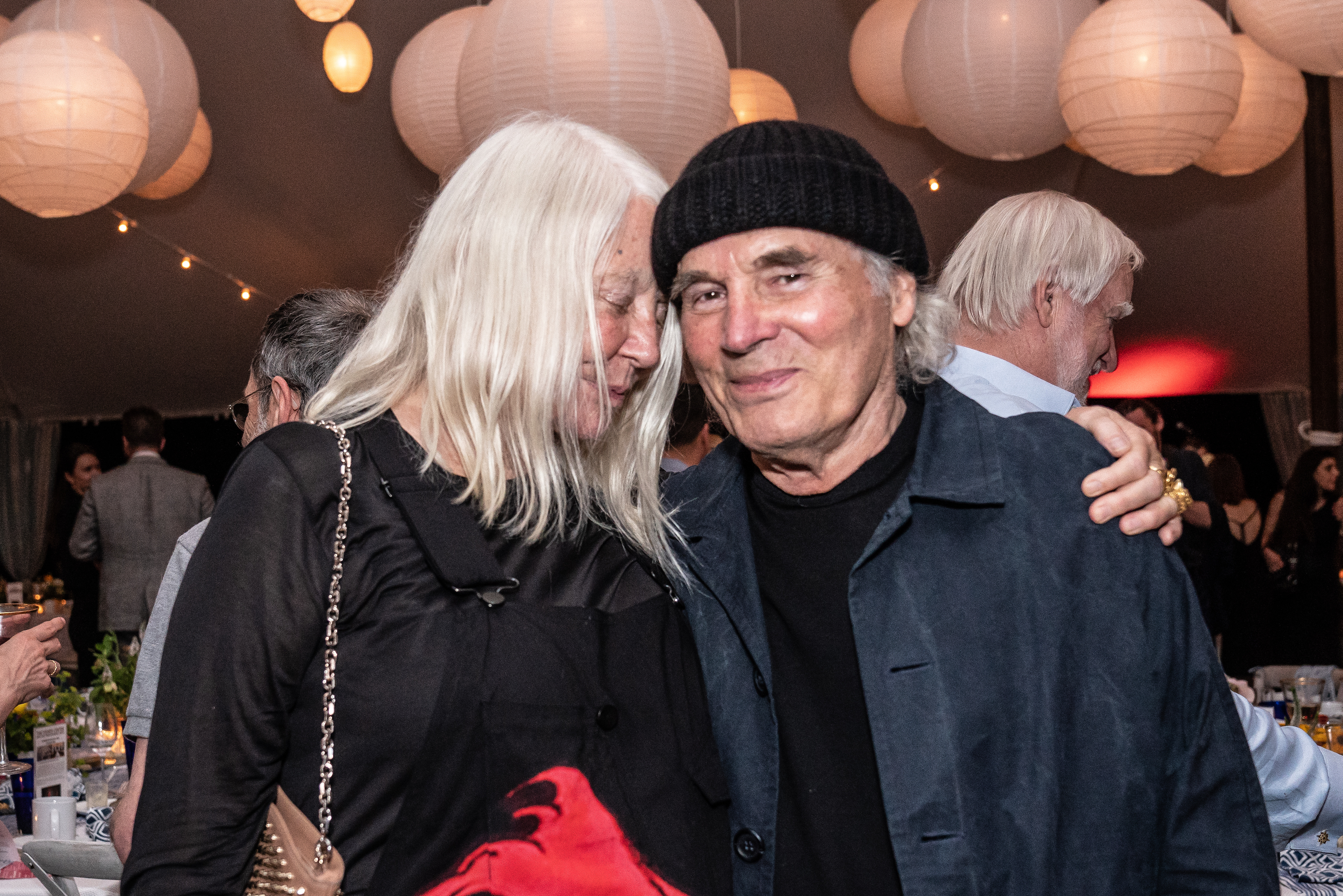 Four Quartets premiered at Bard College's Richard B. Fisher Center for the Performing Arts and will tour the US next year.