Tschabalala Self Smashes Her Auction Record At Christie's
The 29-year-old artist's painting, "Out of Body," went for $382,000, five times its highest estimate.
Auctions are often a frenzied affair, but Christie's $48.4-million-grossing haul on Tuesday was fairly chill, with one notable exception.
When bidding began on 29-year-old artist Tschabalala Self's 2015 painting Out of Body, "he bidding went skyward in seconds, and after sparring from paddles in the room and bidders on the phones, Self's painting eventually sold to Jose Mugrabi....for $382,000, five times the high estimate," Artsy reports.
The Harlem-born, Bard and Yale-educated artist works with oils and mixed media, and her works speak to the often-concurrent beauty and difficulty of existence as a black woman in 2019; her work has been shown everywhere from the Hammer Museum to Art Basel Miami to The Wing, and was the subject of a lengthy May New York Times interview about her upcoming textile show at MoMA PS1.
In the Times interview, Self comes off as preternaturally down-to-earth; she works in a studio that once flooded, uses her old jeans in sculptures, and wears sweats and flip-flops throughout the summer, relatable details that are all the more exciting in the context of her impressive recent sale. Self's active Instagram is a window into her world of rich colors and arresting patterns; many of her works are visible there, placing her in the category of millennial artists who build loyal fan bases online. Prior to Tuesday, Self's highest sale was made in March at Phillips in London, with her work Lilith going for a cool $163,900. Her latest sale has more than doubled that total, building on Self's art-world buzz and putting her at the forefront of artists under 30.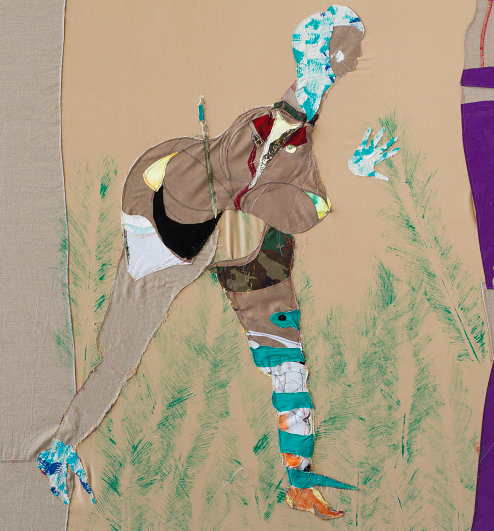 The record sale for a black female artist is just $5 million for Julie Mehretu's Mumbo Jumbo (as compared to $91.1 million for Jeff Koons's 'Rabbit' sculpture), but Self's record-breaking sale indicates that the art market could be in for a long-overdue shakeup when it comes to the valuation of female artists of color.
Maybe, someday soon, Self and Kara Walker or Carrie Mae Weems will be duking it out for the rarefied role of "highest-selling American artist," calling a halt to the Hockney-Koons pas de deux. A gallery-hound can dream!