Songyang Damushan Tea. Image courtesy of Michael Webb.
Enhancing China's Villages, One Building at a Time
Architectural acupuncture in a rural county.
Songyang Damushan Tea. Image courtesy of Michael Webb.
Over the past few decades, China has urbanized at a furious pace and cities have grown exponentially. Shenzen, until recently a cluster of poor fishing villages adjoining Hong Kong, has become a metropolis of 10 million. The population of Beijing has exploded from five to 25 million since 1980 and new cities are proliferating all over this vast country. As in Europe and rural America, villages and small towns are in decline, with young people deserting the farms for factories and commerce. Now, many Chinese provinces are trying to slow the exodus, preserve traditional communities, and foster cultural tourism. They've commissioned architects to remodel old buildings and design new ones that draw on the heritage of the past, to be used as workshops, guest houses, gathering places, museums and visitor centers.
Last month I traveled to Songyang, a provincial capital three hours' drive southwest of Hangzhou, to explore the recent work of one architect, Xu Tiantian. She heads the Beijing firm of DnA and honed her skills designing artists' studios on the northern fringe of the capital. The Songyang County authorities invited her to explore some of its 400 villages and respond to their requests for improvements. Over the past five years she has designed 25 structures, half of which have been completed, and other architects have created as many guest houses, such as the one I stayed in.
Each project is tailored to its site as well as local needs and desires, employing indigenous materials and skills. Some incorporate traditional gray bricks and rounded tiles, often recycled from old houses demolished to make room for new development. Walls of rammed earth are framed in concrete to withstand earthquakes, and masons demonstrate their skill in laying locally quarried stone. Many of the villages are disfigured by unsightly new houses that showcase families' new-found wealth; Xu's goal is to create a fusion of past and present, rough and refined, intimate and monumental, to achieve harmony. She likens her work to acupuncture, with well-placed buildings as the needles that radiate well-being through the body.
My days began in the Vine House, a boutique hotel carved out of an old schoolhouse, with rooms facing onto a courtyard with a lily pond. It opens off an alley in the old town, through an unobtrusive door in a blank wall. Similar transformations are happening in urban villages, such as the labyrinth of hutongs in Beijing. After a breakfast of porridge, noodles and green tea, local officials drove me around with two friends from Shenzen to visit an astonishing variety of buildings, starting with the brand-new Damushan Visitors' Center.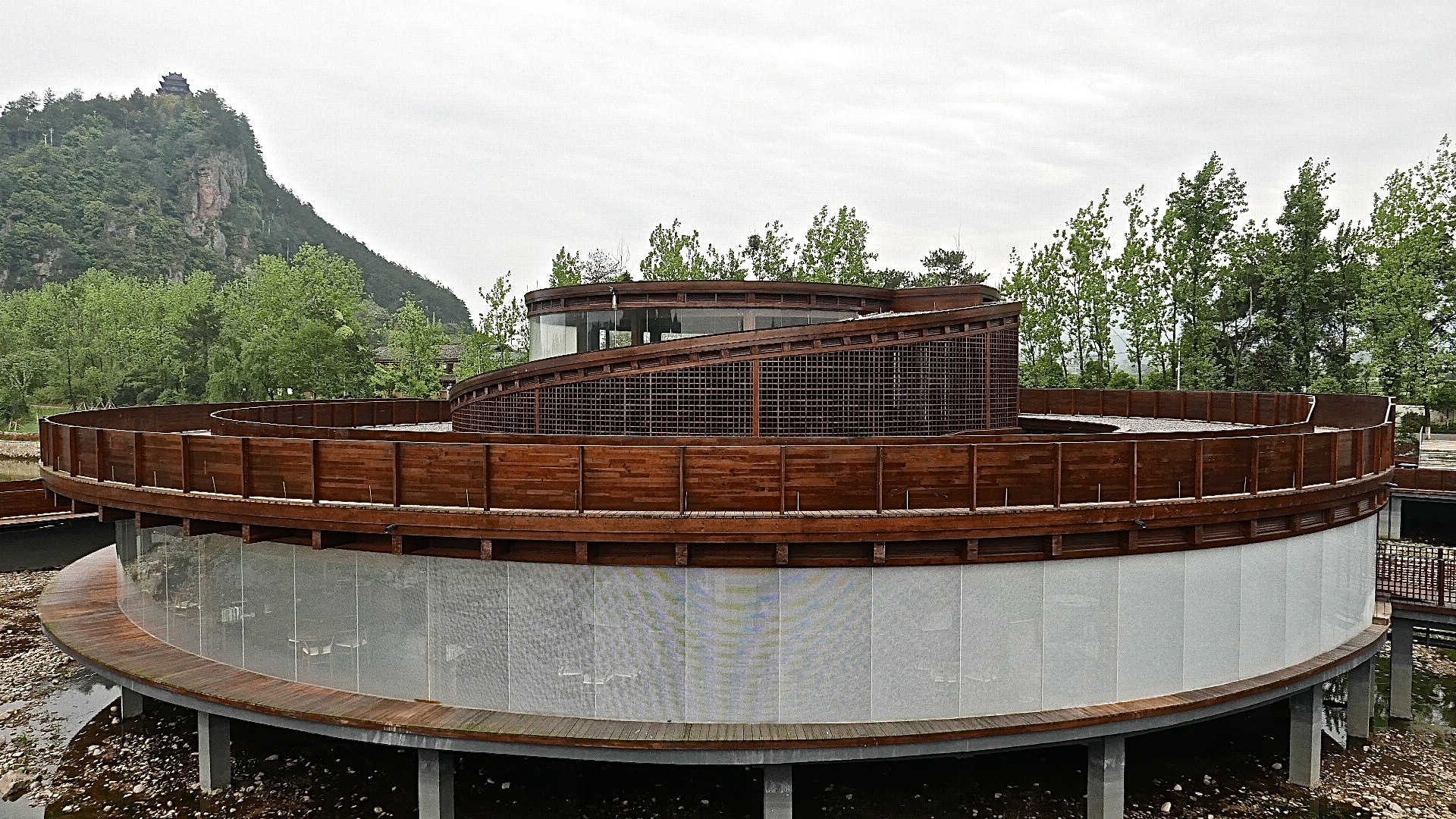 Ramps wrap around a cylindrical timber building, spanning a riverbed and looking up to a forested outcrop of rock crowned by a temple and backed by misty mountains. The scenery resembled a pen-and ink wash scroll but the interiors include a gym, exhibition area and tea house, serving tourists and locals. A genial teacher in a quilted red jacket showed me her students' calligraphic exercises and explained how the traditional 540 basic characters of written Mandarin can be combined to describe new products and concepts.
A buggy took us along narrow lanes to the Brown Sugar Factory a crisp steel shed with a perforated brick wall that demonstrates the production of a local specialty for two months a year and doubles as a community center hosting square dancing and movie nights.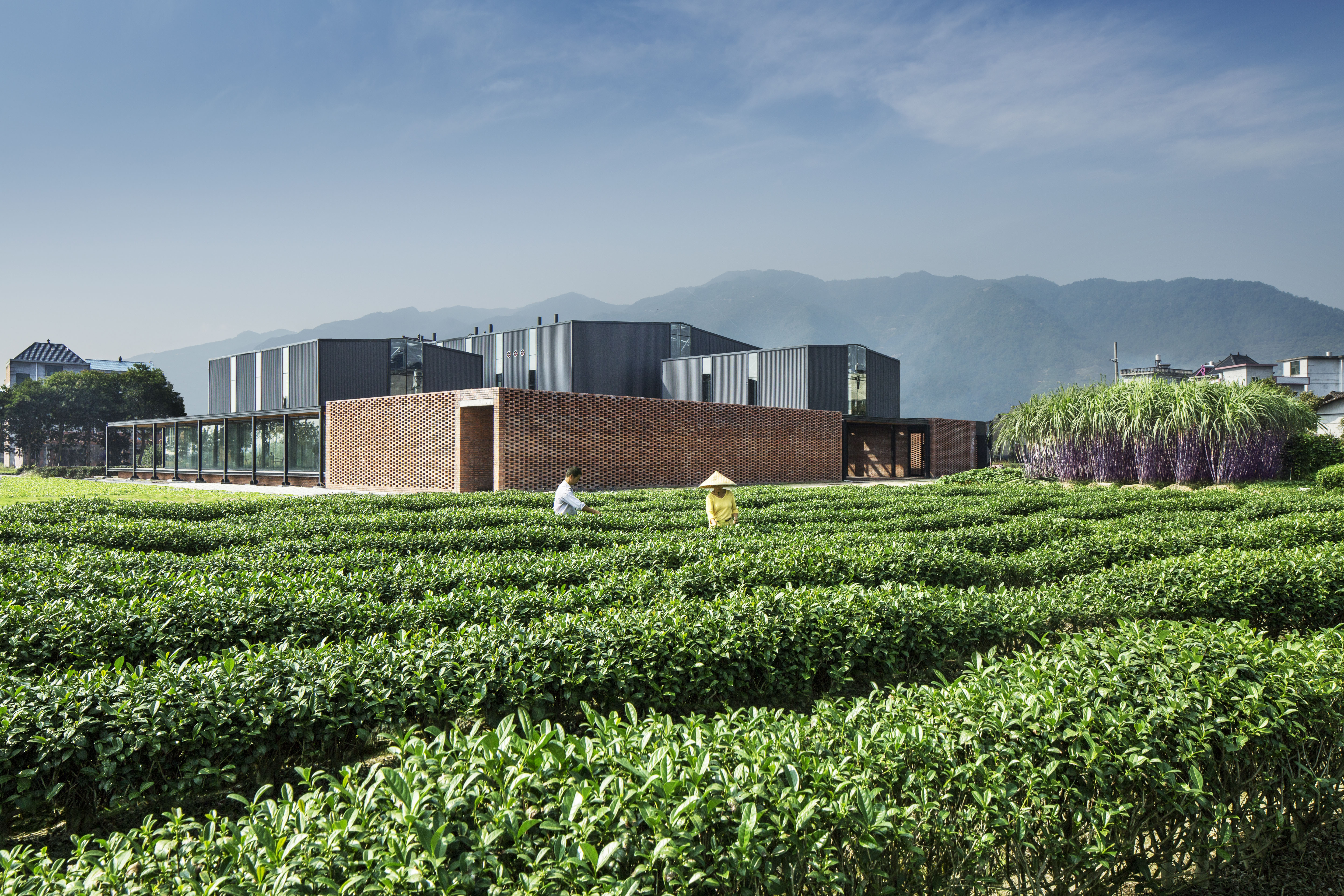 Other workshops serve such varied crafts as the making of paper, rice wine, tofu, silk-dying and pottery. The Camelia Oil Workshop is a rehab of an old rammed earth facility located beside a rushing stream that used to power the press. Upstairs is a lofty hall with a pitched roof inlaid with tiny squares of glass that cast a checkerboard of light across the floor. These facilities strengthen the identity of remote settlements and give visitors an authentic taste of rural life. A village headman helped me climb a hundred rough-hewn rock steps to the Bamboo Theater, where a circle of trunks are tied together at the top to provide a symbolic canopy over boulders arranged as bleachers. It provides a stage for summer performances of dance and folk music. Dried bamboo is used for a skeletal pavilion in the midst of a tea plantation—an ideal place for a picnic—and one can savor the brew in a sober black teahouse overlooking a lake.
To put this effort into perspective, one needs to visit picturesque towns like An Ren and Wuzhen which have degenerated into theme parks, often with paid admission, acres of parking for day trippers, and a main street entirely given over to cafés and souvenir shops. When the high-speed train network reaches Songyang next year, the volume of tourism is bound to increase and the authorities hope to distribute the income without destroying the integrity of what the visitors have come to see. Electric taxis and buggies can navigate narrow lanes and provide a more intimate view of the countryside than tourist coaches. In Shimen, a new bridge carries motor-traffic over the broad river while Xu's wooden canopy turns the old stone bridge below the rapids into an oasis for pedestrians, with benches for lingering and a shady grove of trees at the center. The Pine Pavilion offers a rest-stop for cyclists on another riverside path, and silk-screened glass panels celebrate the local industry of tapping pine trees for their resin.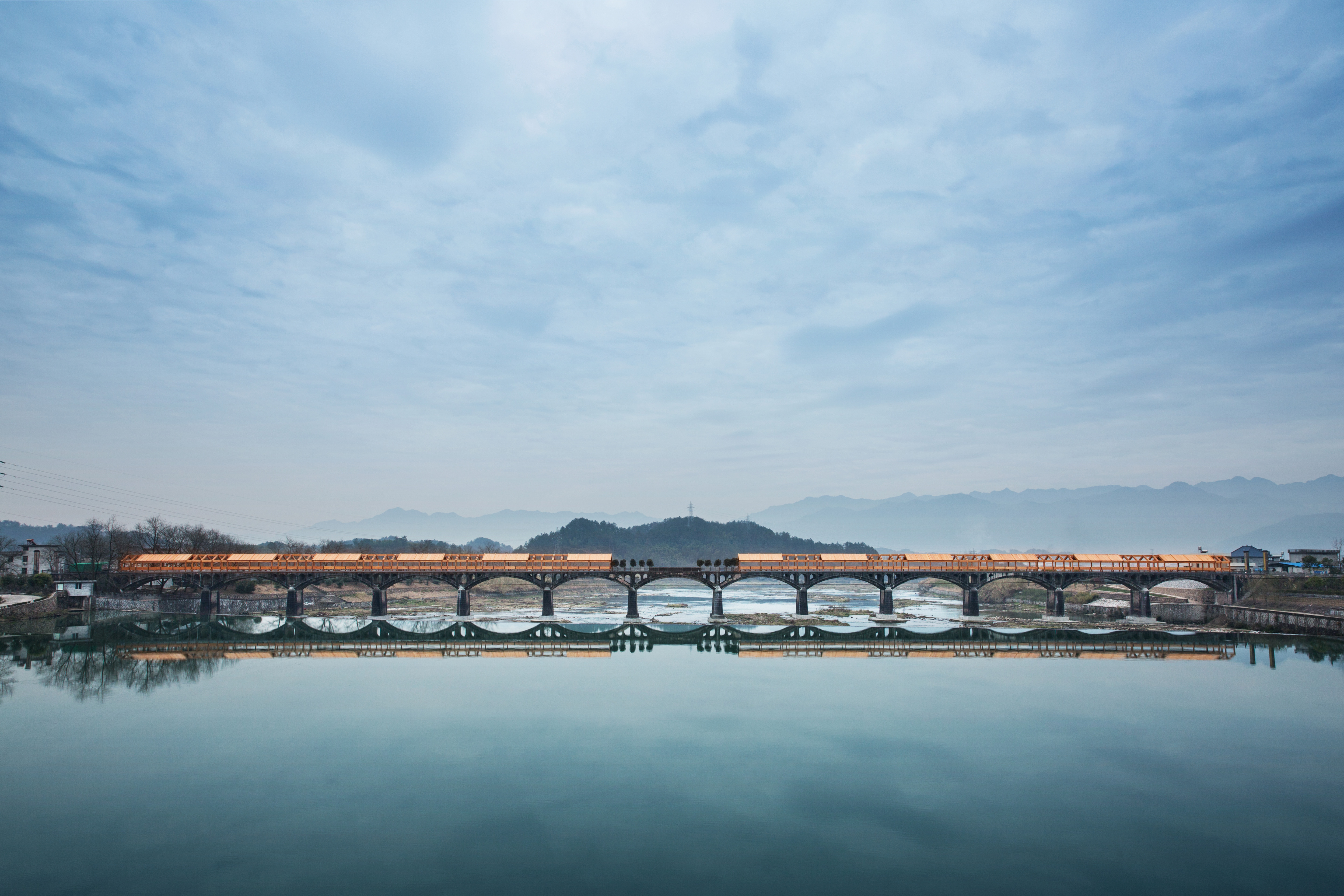 There are a few reminders of the intrusive central government. Country roads are ablaze with red banners urging the population to fight pornography, combat black evil-doers, and mind its behavior or go to jail. But the ubiquitous police and cameras of Beijing are far away, and the cheerful insouciance of drivers implies a disregard of these stern commands.
Rural life can be harsh and village houses cramped and insanitary. It's easy for a foreigner with transport, enjoying abundant local meals and delighting in the natural beauty of Songyang county to romanticize the experience. It's anything but romantic for the residents. But this a way of life that has endured for millennia and a heritage that is an integral part of China's history. With her inventive, carefully calibrated interventions Xu is helping to save it for future generations.
Tagged: