John Edmonds, Two Spirits, 2019, Archival pigment photograph, 50h x 38.50w in
127h x 97.79w cm, Framed: 50.55h x 39w in, 128.40h x 99.06w cm

More Than Just 'Beautiful People'
John Edmonds seeks an elusive 'X factor' in his subjects
John Edmonds, Two Spirits, 2019, Archival pigment photograph, 50h x 38.50w in
127h x 97.79w cm, Framed: 50.55h x 39w in, 128.40h x 99.06w cm

A dreadlocked man, seen from behind, presses a thick, patterned African kuba cloth against a wall; the muscles on his back, moodily lit and lightly glistening with sweat, ripple almost into abstraction. Elsewhere, a nude woman poses in an echo of Jean-Auguste-Dominique Ingres's 1814 painting Grande Odalisque. She stares the camera down with confidence, while the viewer is thrown by the flash of studio lighting, aimed directly at the lens. This pair of dramatic moments form part of the narrative of "Between Pathos & Seduction," a solo exhibition by John Edmonds at Company in New York—on view in conjunction with the artist's prominent inclusion in this year's Whitney Biennial.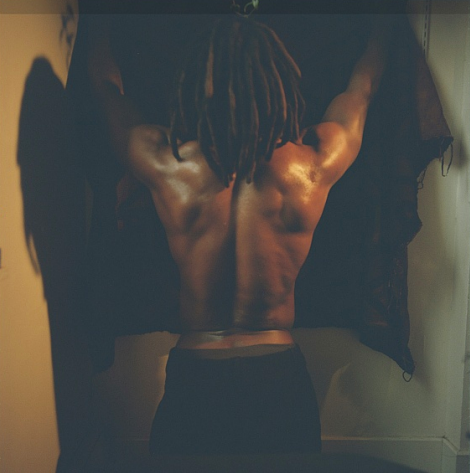 What is it about a person that makes Edmonds intrigued enough to photograph them? "There are a lot of beautiful people," he tells GARAGE, "and there are a lot of people who have interesting bodies, interesting stories, interesting backgrounds." What he's seeking, beyond that, is a hard-to-define "X factor" that piques his curiosity. "Most of the time it's something that I can't really distinguish on my own, and prompts me to invite the person back repeatedly." The resulting portraits lean on art-historical precedents in novel ways, with the most oft-cited examples being that of Man Ray (who made images of white models posing with African masks in the 1920s) and the late Nigerian photographer Rotimi Fani-Kayode (who Edmonds prizes for his "techniques of ecstasy" and "negotiation of the personal, political, and spiritual self.")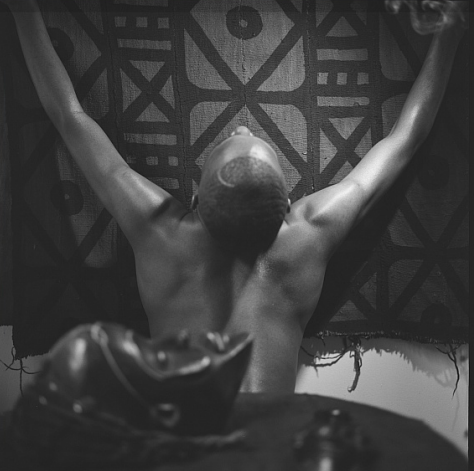 Early in his career, Edmonds says, while living and working in Washington D.C., he would encounter strangers and ask if he could make portraits in their homes. These days, he's primarily inviting subjects to sit for him in his own apartment in Crown Heights, Brooklyn, which gives him a new "level of control and continuity." There, often shooting in his kitchen with a 4x5 or a Hasselblad, Edmonds "uses the camera as a kind of sketchbook to think about the subject's physicality," he explains. In this show, that means asking his models to engage in a simple, activity—holding a length of Central African kuba cloth up against the wall—which can quickly become strenuous. Edmonds focus in this show is on the human back, its elegance and strength.
In most cases here, we don't clearly see the faces of his subjects. Two Spirits (2019) captures a double exposure of a bare-chested man, his own features blurred and obscured by the Dan mask he wears. "A major part of my work is this oscillation between what I'm actually showing, and what's being withheld or concealed," Edmonds says. That impulse was literalized in two series, from 2016 and 2017, which depicted men from behind, wearing either du-rags or hoodie sweatshirts. In other images, a partial concealment creates an ambiguous or fraught mood. The Villain (2018)—on view at the Whitney—features a young black man, his face mostly covered by a red handkerchief; the work's title bluntly asks viewers to confront whatever prejudices they might bring to such an image.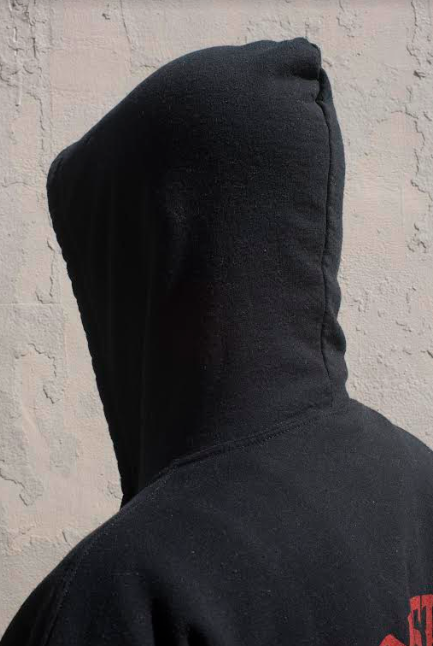 Arguably, the works in "Between Pathos & Seduction" lean toward the latter end of that title. But Edmonds isn't chiefly interested in pictures that quicken desire. "There's a softness that I'm definitely interested in, a tenderness. But I'm not interested in explicitly talking about the erotic," Edmonds tells Garage. "Those levels of sensuality or the erotic are innately a part of being a human being. And as much as I'm interested in the black figure, or the black body, I'm interested in humanity; I'm always asking the viewer to reconsider their own sense of humanity as much as the humanity of the subject, or my engaging with the subject."
And while Edmonds is firmly the author of these works, he also expresses a now familiar sentiment held by many young photographers: that image-making is a joint pursuit, a fluid exchange between artist and subject that can lead in unexpected and fresh directions. "I'm thinking in terms of cultivating an energy within a picture that feels shared," he says, "that feels like it's part of a circuit of possibilities."