Photo of Leonard COHEN, performing live onstage (Photo by Tony Russell/Redferns)
Moby, Feist, Jon Rafman, and More Celebrate Leonard Cohen at the Jewish Museum
The centerpiece of the exhibition is an multi-channel immersive video work that's part concert film, part interview, and part archival footage slideshow.
Photo of Leonard COHEN, performing live onstage (Photo by Tony Russell/Redferns)
The title of "Leonard Cohen: A Crack in Everything," which opens Friday April 12th at the Jewish Museum in New York, is drawn from Cohen's 1992 song "Anthem," ("There is a crack in everything/ that's how the light gets in.") In addition to being my Rabbi's favorite Leonard Cohen lyric, it's a message of hope in the face of destruction that feels particularly applicable to our present moment.
Though the show first opened in Montreal after the Cohen's death in November of 2016, the works that make up the exhibition were commissioned and largely finished while the artist was alive. This perspective is visible throughout the show: rather than serving as an elegy, "A Crack in Everything" celebrates Cohen's work, life, and influence. The pieces are in conversation with Cohen's work, but they are lively and don't strive to turn the museum to mausoleum.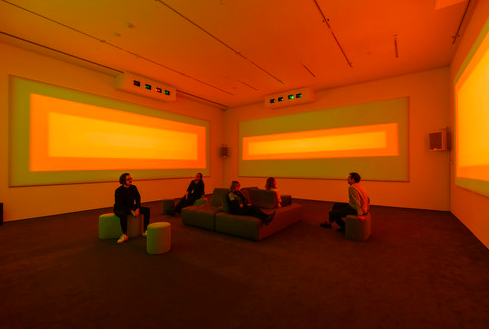 While exhibited at the Jewish Museum, Cohen's religion is not the focal point of the show. As themes of Judaism run through Cohen's life and work—some of his songs, like "Who by Fire" or "Hallelujah" have lyrics drawn directly from Jewish liturgy— the subject is handled as one of many valences of Cohen's artistic identity.
One piece that brushes up against Cohen's Judaism is I'm Your Man (A Portrait of Leonard Cohen) (2017) by South African-born, Berlin based artist Candice Breitz. I'm Your Man is a nineteen-channel video piece in which eighteen Leonard Cohen superfans— largely men of the same age as the musician, some even dressed like Cohen— and the choir from Shaar Hashomayim, the Montreal congregation Cohen was a member of for all his life, separately perform Cohen's 1988 album I'm Your Man in its entirety. All nineteen performances are played simultaneously, producing a Phil Spector-esque wall of sound guy-group tribute to Cohen (which, I'm sure the participating subjects compared to the Phil Spector produced Cohen album, Death of A Ladies' Man.)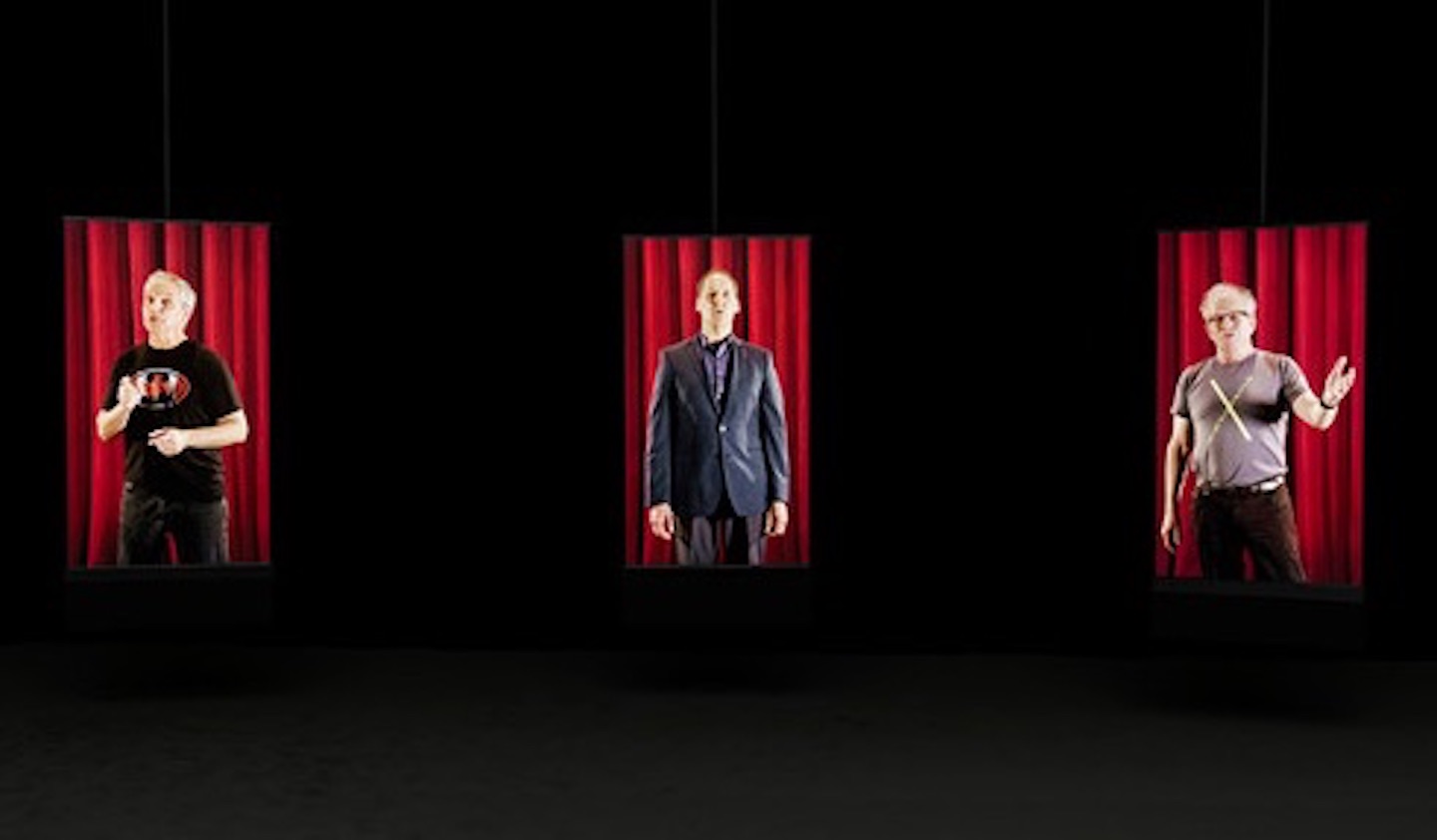 Canadian artist and essayist Jon Rafman contributes Legendary Reality (2017) a science fiction essay-film in which the viewer travels with a narrator imprisoned within his own mind, musing on art and time in a monologue that draws on Cohen's work. The video is comprised of 3D video game landscapes and found photographs, and conveys a gloomy techno future in which everything is warped and glitchy and people are alone.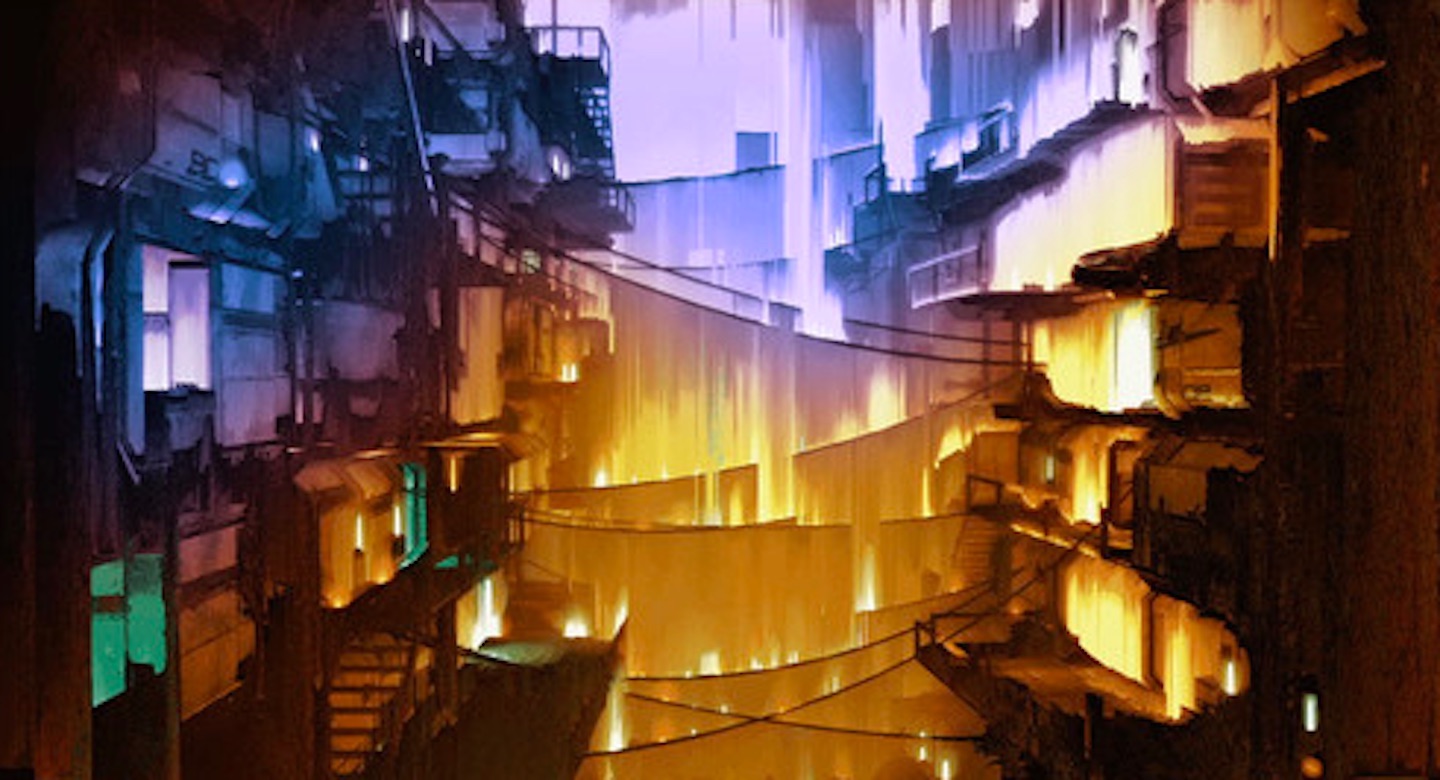 Listening to Leonard is a collection of eighteen covers of Cohen's songs by musicians including "Suzanne" covered by Moby, a rendition of "Take This Waltz" by Julia Holter, and Feist's take on "Hey That's No Way to Say Goodbye." The songs are played in a surround sound room with cool toned lighting, and are largely haunting and moody, ghostlike interpretations that seem to bely the artists' reverence for Cohen.
Cohen's lyrics feature elsewhere in the exhibit. The Israeli-American designer Nili Lotan has designed a t-shirt emblazoned with "DANCE ME TO THE END OF LOVE," a song from Cohen's 1984 album Various Positions. Lotan, who is a cosponsor of the exhibition, is an avid fan of Cohen's—her first vinyl purchase was one of his albums. "His music takes me back to the 60s and the 70s," she says, which is "a period [she] refers to time and time again in [her] collection." Sales of the shirt will benefit the Jewish Museum.
The centerpiece of the exhibition is George Fok's Passing Through, 2017, a multi-channel immersive video work that's part concert film, part interview, part archival footage slideshow. The viewer sits in the center of a video projected on three walls, in effect encircled by Cohen waxing poetic, puckishly deflecting interview questions and performing his music live on stage, in music videos, and on television throughout his career. Some songs are performed simultaneously by a young Cohen and his older self.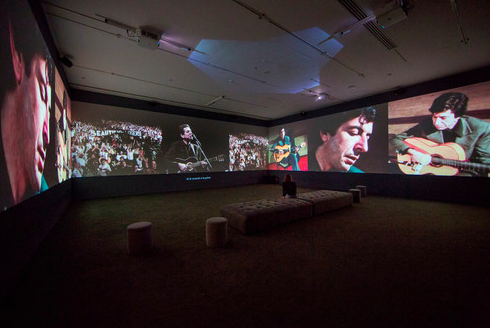 Cohen's stage presence may not boast the athletic endurance of Bruce Springsteen's live act or the pelvic acrobatics of Mick Jagger's, but in Fok's film Cohen tells better stories than The Boss and is far sexier than any Rolling Stone. Though the video itself is less fine art than excellent entertainment, that is part of the joy of the piece— seated around me were dozens of Cohen fans in reverie, faces stretched into grins, sitting on beanbags and benches together in their unbridled idol worship.
Among the works that respond to Cohen's life is an entry from the man himself. Self Portraits is a projection of two hundred and twenty of the musician's self-portraits, drawings he did from 2003 to 2016, the year he died. Cohen, who famously scrawled lyrics and lines of poetry on napkins and pieces of scrap paper, likewise surrounds most of his drawings with text; some jokes about his appearance or politics, some musings on the meaning of life and death. The work serves to remind the viewer that Cohen was actively producing art until his death, that his was a life devoted to searching and producing art. A Crack in Everything reminds us that his is a voice that will be missed, but that he was not alone.
Tagged: