Philip Huang Ghost:2561 T-shirts, photo by Paige Katherine Bradley.
The Future Is Liquid, Unemployed, and Ghosting Us All
I went to Bangkok to cover "Ghost:2561" and all I got was a great indigo-dyed T-shirt and simmering panic about what's to come.
Philip Huang Ghost:2561 T-shirts, photo by Paige Katherine Bradley.
The shows that are a part of Bangkok's first edition of Ghost:2561 altogether have the feel of a community, or even a family-driven affair, rather than the marathon-style, institutional extravaganza one commonly associates with international biennials and triennials these days.
Even the T-shirts promoting the series were hand-dyed in indigo by Ghost-supporter and designer Philip Huang at his home; if you want to start a new event on the international art calendar, please DIY accordingly! After kicking off the preview on October 10 at The Sukhothai—a plush and accommodating hotel near the city's sprawling Lumphini Park—with an introduction to the series's program of videos and performance, a crew of the show's artists, storytellers, and supporters, such as curator and writer Hera Chan and Beijing-based Domus Collection co-founder Rosy Wu, headed out to take in the succinctly curated selection of works spread over the city.
There are 12 video installations in total, with three in the mighty Bangkok CityCity Gallery—named after a rap song written by Ghost curator Korakrit Arunanondchai, and whose founders also created the OPEN FIELD Foundation—and four others at separate galleries that are clustered together in one cool compound called N22 in the Narathiwat area of the city. One of N22's occupants, Gallery Ver, was started by Rirkrit Tiravanija. For Ghost, the space is showing Apichatpong Weerasethakul's new short video, Blue (2018), featuring Jenjira Pongpas Widner—who plays one of the lead roles in the filmmaker's 2015 Cemetery of Splendor—asleep under a blue blanket with a stage set taken from a form of Thai folk theater superimposed over her. A flame licks over the image quietly, not dissimilar to the eerie yet calming neon tubes of light that held watch over sleeping soldiers in Cemetery.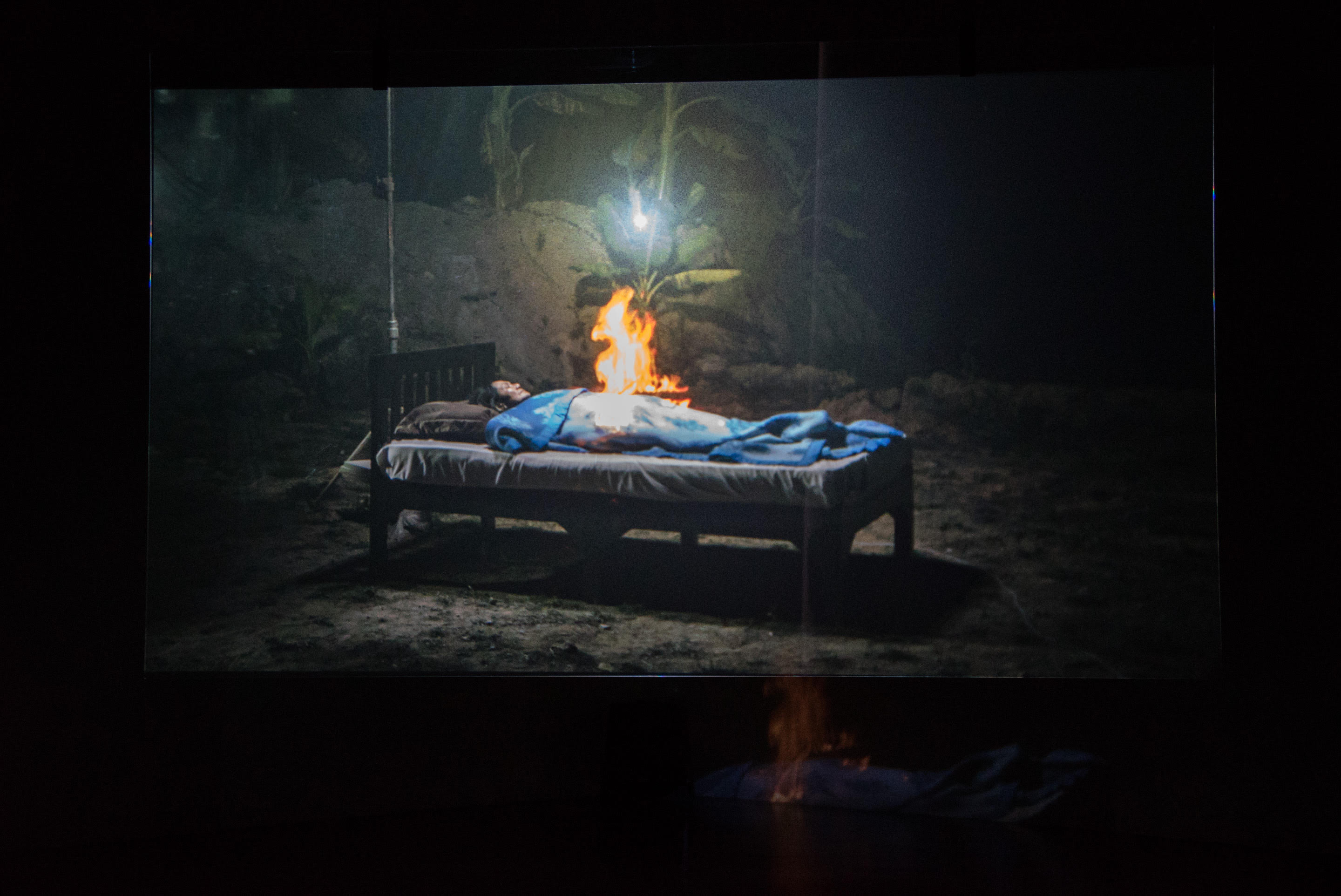 Next door to Ver, at Cartel Artspace, Stephanie Comilang's documentary, Lumapit Sa Akin, Paraiso (Come to Me, Paradise) (2016) adds a science fiction element to an examination of the real lives of Filipina migrant workers in Hong Kong—regardless of how long they work, often as domestic laborers, these women have no pathway to citizenship in that country—and how they spend their day off, Sunday, hanging out in public spaces on cardboard boxes, for lack of any other place to go or resources available to them. Flattened cardboard boxes cover the floor in the installation of the video, in which, between interviews with three of the workers, a voiceover by the artist's mother, Emily, who herself emigrated from the Philippines to Canada in the 1970s, narrates how the women communicate with her and families back home via a telepathic method that doesn't sound so far off from our modern modes of communication. The disembodied narrator eloquently phrases the exchange as follows: "My feelings are a download reaction to the videos the women upload."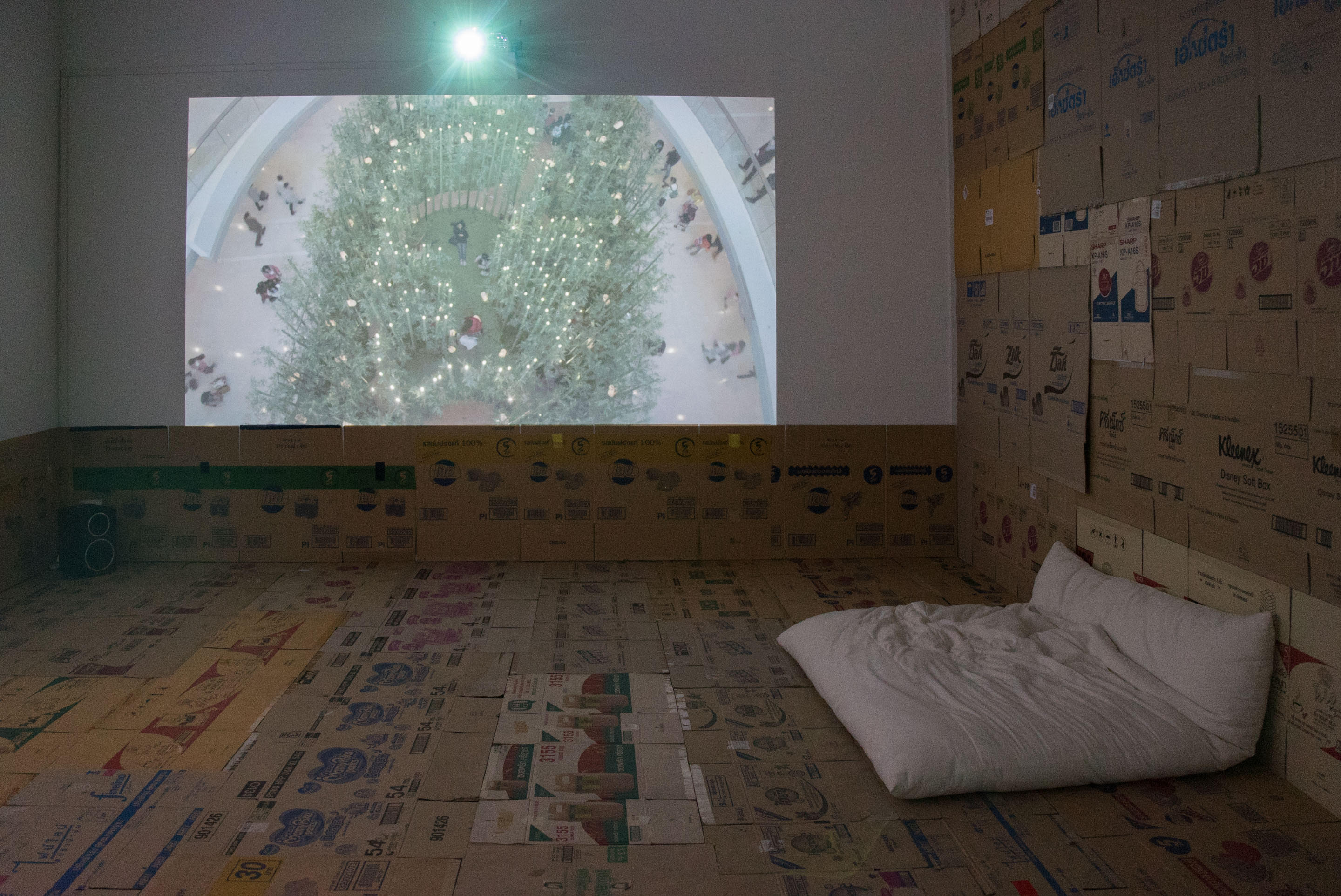 At the official opening dinner for Ghost held at Coca, the OG spot for Thai and Chinese food, Arunanondchai's gallerists Vanessa Carlos of Carlos/Ishikawa and Olivier Babin of CLEARING were among the gaggle of guests served an out-of-this-world meal courtesy of the Standard's Angela Dimayuga, former executive chef at Mission Chinese in New York, with Chef Num from Samuay and Sons as well as Coca's Pitaya Phanphensophon. Making the web of connections even cozier were the birthday cakes replete with candles brought out at dessert for Arunanondchai's brother and Bangkok know-it-all Tanatip (shoutout to his employer, Snapchat)!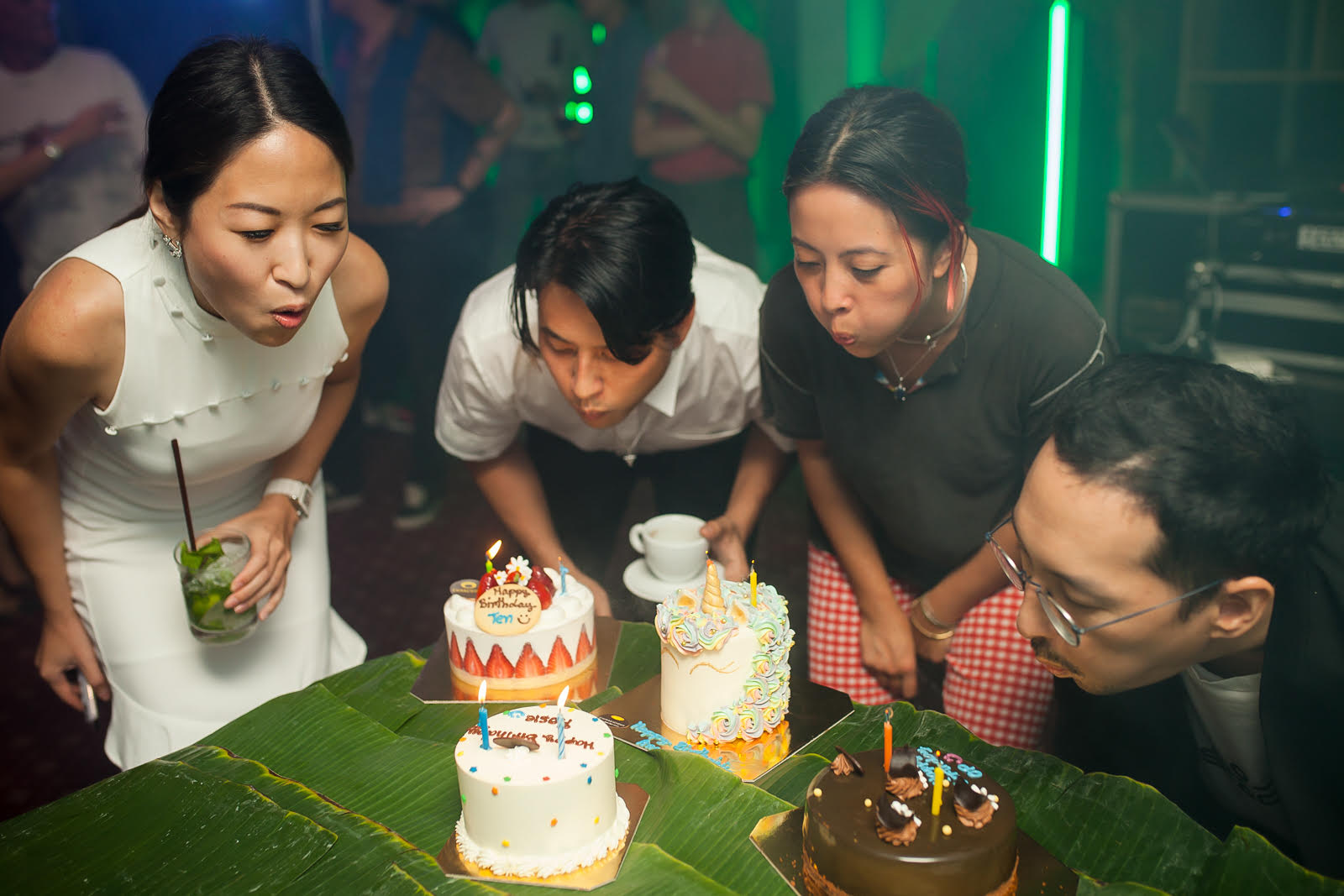 The night after, during the official round of openings, one could wait a half hour to experience Balenciaga fav Jon Rafman's VR piece Deluge (2018) at Bangkok CityCity. Empathy machine? As if. I was wearing Miu Miu heels while waiting and VR has no empathy for tomfemmes dedicated to an evening look! More compelling, as far as exploring the ambiance of virtual existence, was the appearance of a VR headset on a gal's head as she sits in a forest in Metahaven's video Information Skies (2016), displayed at S.A.C. Subhashok the Arts Centre. A portentous, disembodied narrative is read throughout the video (subtitled in Thai) like an epic poem for an incoming doom: "When we were born, we were not allowed to die. Death is virtual reality." Also, warning: "There is no one in the grave. Their only relief is bottled water." The future leapt the fuck out.
During a day of talks moderated by Hera Chan and screenings by Victor Wang on October 14 at the Dr. Thaworn Phornprapha Auditorium—later screenings this month will be hosted by "edutainment" auteurs DIS and curator Aily Nash—Wang noted that the "great crime of modernism is to make people believe they are just one thing." Same goes for art, and you can actually read the artworks in Ghost as structural critique, or, as old-fashioned as it sounds, the expressions of artists' multivalent ideas, instead of as "Y" thing shown at the "X" triennial or biennial, a framework wherein the institution can keep meaning in designated lanes. Or, to put it another way, as recently canceled author Chris Kraus noted in her 2004 essay collection Video Green, "It is the biography of the institution that we want to read now," as opposed to that of the artist, and the context of a piece being seen in a prestigious biennial often supersedes an understanding of the art itself.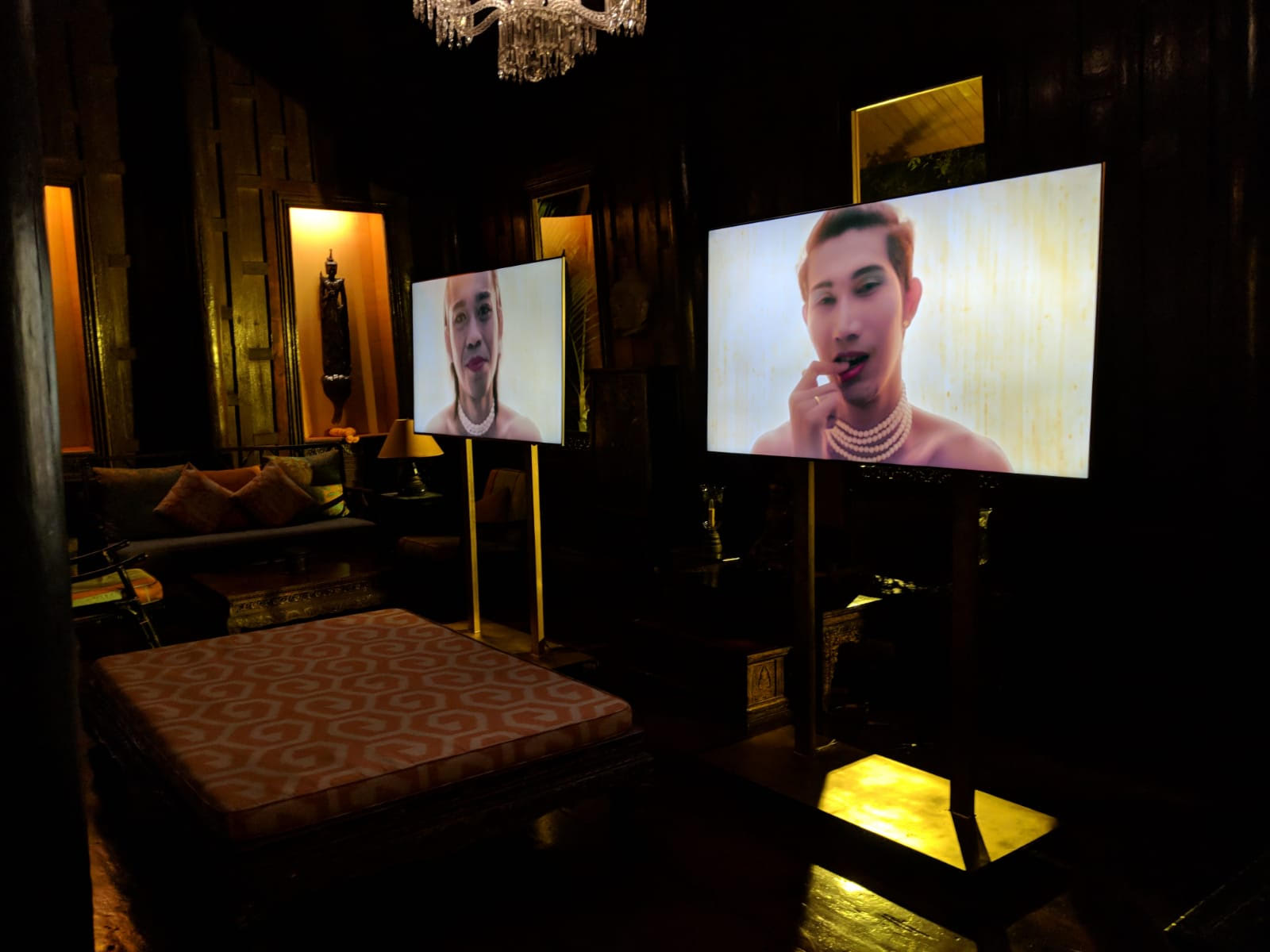 Some of the pieces in Ghost are new—Jon Wang's video installation You Belong two Me (2018), commissioned by and elegantly situated in the Jim Thompson House Museum, is comprised of a double portrait of a spirit as it possesses two Burmese spiritual mediums named Ricky and Phu Phu—but a few other works examining the tenuous position of the global economy and the vulnerability of people to capitalism's ebbs and flows have been percolating through the exhibition circuit for the past couple of years. Shown in 2015 at Artists Space in New York, 100 Tonson Gallery's Hito Steyerl installation, Liquidity Inc. (2014), explores similarities between the movement of goods and financial capital to the demands placed on the precariously employed. Excerpted from his 2016 exhibition Unemployment at the Manhattan Chinatown gallery 47 Canal, Josh Kline's video Universal Early Retirement (Spots #1 & #2) (2016) plays at Bangkok CityCity in a room carpeted with Amazon Prime shipping boxes.
The cheerful promo advocates for universal basic income while couching its progressive message in a style parodying the lavishly produced and expensive campaign advertisements of Democrats like Hillary Clinton and Bernie Sanders in the U.S., as the artist noted for further context to a Thai audience during the aforementioned public talks. Additionally, as Arunanondchai noted in an interview with GARAGE, the video may be from an American artist, but it also is relevant to the local context in Bangkok, given that a new political party in Thailand is on board with UBI.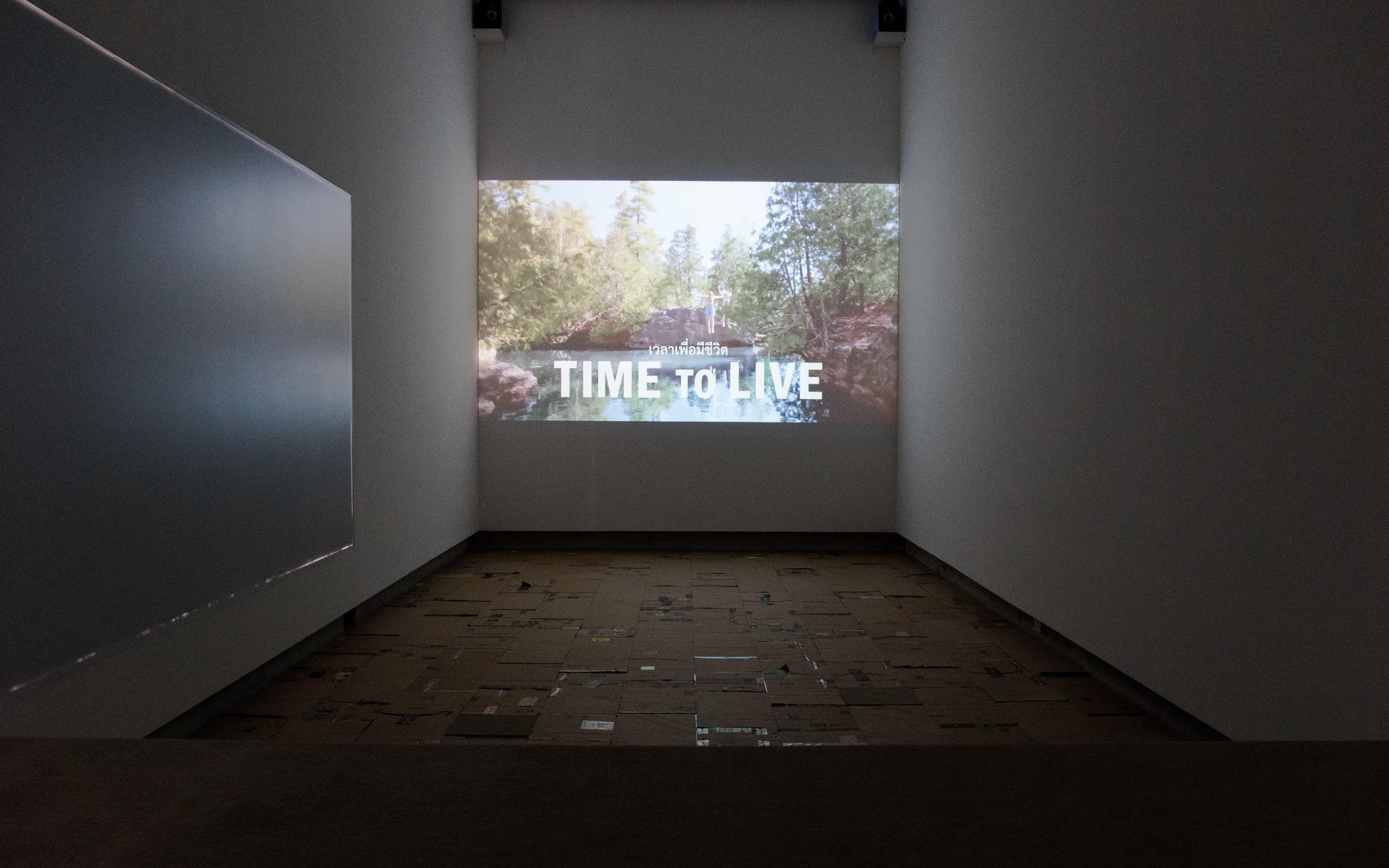 Then, displayed at Artist+Run (another one of the spaces in N22), is a video by Samson Young that was included in his exhibition for the Hong Kong pavilion at last year's Venice Biennale, showing pro-mainland China group the Hong Kong Federation of Trade Unions Choir whisper-singing the 1980s charity single "We Are the World." Turning the overdetermined aplomb of the song into a hissing chorus is a strange afterlife for a pop anthem—though not the strangest in a time of "hauntology"—but even dead ideals can get a turn at unholy resuscitation. As globalization transforms the Earth into one sprawling job site, as opposed to one world, the multicultural ideals of peace and harmony on the bosses' and winners' terms could certainly sound shrill.
The first edition of "Ghost:2561" runs from October 11-28, 2018 across various venues in Bangkok, Thailand. For more on the foundation behind the event, see our previous coverage here, and an interview with the curator here .