Save a Horse, Wear Spiked Spurs on Your Stilettos!
One small detail at Richard Quinn's Spring 2019 show proves western gear is riding back into town.
It may be my extremely off-brand, relatively short-lived, but ENTHUSIASTICALLY embraced past as an equestrian, but I just don't know how to quit my obsession with western wear.
Luckily, I don't have to. It seems the new frontier of fashion is...maybe the old frontier of the wild west. Following Fall 2018, with its twisted takes on Cowboy Country dress, Spring 2019 has shown even wackier ways to incorporate the visual codes of the American cowboy into my wardrobe. The first appearance in London was courtesy of Fashion East all-star A Sai Ta, who showed sheer pants trimmed with the likeness of a cowboy boot shaft complete with vine-like embroidery to rival Lucchese's.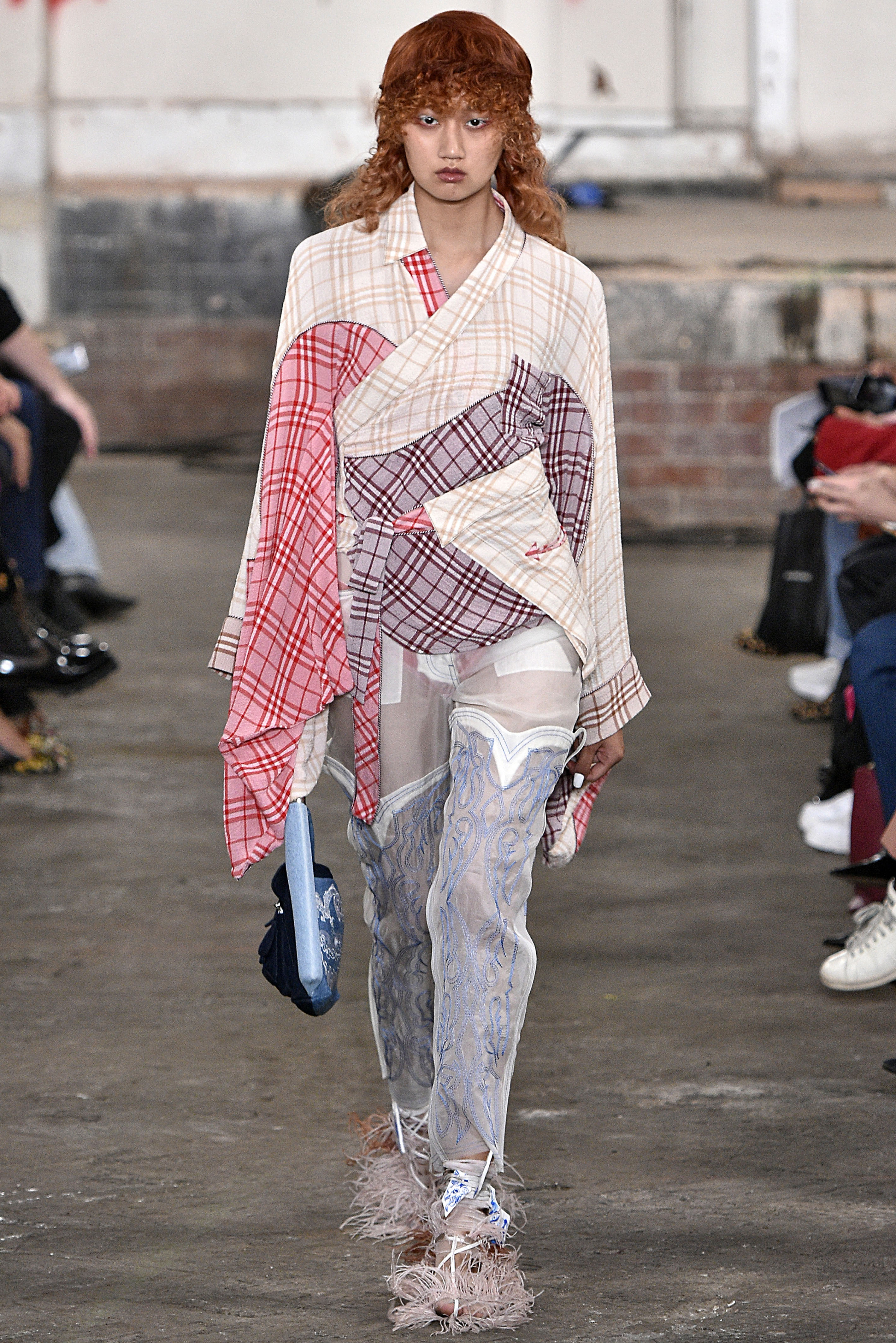 The second, and maybe the sexiest iteration of the trend, came care of last season's breakout star, Richard Quinn, whose black latex pumps strapped with micro-sized silver spurs make me feel absolutely crazy. Hallelujah on high for this perfect stylistic hybrid— a single accessory capable of channeling both Richard Prince's Marlboro Man and Michelle Pfeiffer's Catwoman. It's a surprising mix, but Quinn is the kind of designer who can make the impossible happen.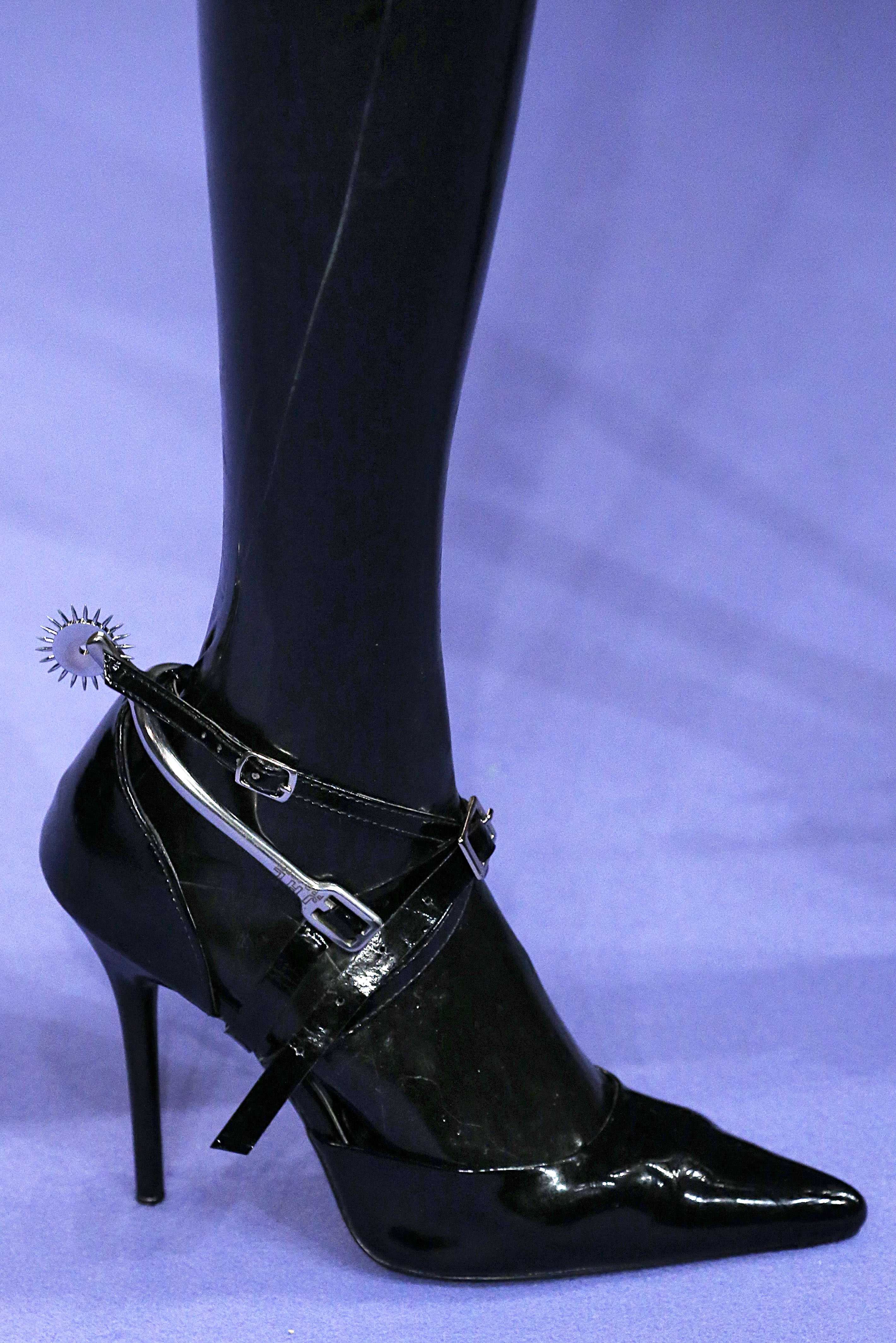 After all, last spring, Queen Elizabeth sat front row at his presentation. This season, the London Philharmonic scored their first ever fashion show, cramming their string and wind sections into the British Fashion Council's flagship show space on the Strand. It was high drama and the kind of happening that elicits a resounding "Yas!" from even the most cynical showgoers. As soon as their haunting rendition of Lana Del Rey's sad-lonely-girl anthem "Young and Beautiful" began to play, I knew Quinn was about to kill me.
I emerged unscathed, but I can't say as much for the models, who were literally dead behind the eyes, and wore creepy gray contacts that channeled the spirit of a faded beauty queen or socialite whose heyday ended before it had begun. As Quinn explained in a post-show statement, the almost funerary nature of the show bore a message regarding the rapidly decreasing funding for arts education and the impending threat that the young but bright, burning talents of students across England might be snuffed all too soon because of fiscally conservative agendas.
What I loved most about those knife-sharp stilettos adorned with delicate but lethal silver spurs is that they were almost anarchic emblems in the context of the show. These shoes were not only fit for an outlaw; they were outlaws themselves. They represented the enduring resilience of youth, a sexy, dangerous, and punk rock approach to resisting old-school systems. They gave me sex, drugs, and rock 'n' roll, in contrast to about every other major visual theme in the collection: his signature full body catsuits rendered in jet black velour; couture silhouettes circa 1950s; riotous color and design such as dazzling beaded cocktail dresses cinched at the waist beneath dramatic yet somber capes. These shoes were sick, and slick, and sexy, but they were also shining glimmers of hope in a dark age.