Photograph by John Hassen courtesy of No Sesso.
Los Angeles Is Like, Totally the Friendly Indie Fashion Capital!
The artists, designers, and musicians at the Come Tees x No Sesso party showed how fashion's anti-capital is all about good vibes.
Photograph by John Hassen courtesy of No Sesso.
I love living in Los Angeles, Graphic Tee Capital of the United States! Go ahead, fight me on it! Actually, I'll meet you at Lafayette and then you can fight me on it. Actually, we don't really welcome that Weck energy over here, so do you want to try some of my new CBD oil and listen to "Tubthumping" and like, hang, because honestly, like, teamwork makes the dream work, you know?
The best thing about living in the Graphic Tee Capital of the United States are the events, man. Like on Saturday, Come Tees—artist Sonya Sombreuil's high concept streetwear brand—and No Sesso—designer Pierre Davis's gender-neutral brand (the name means "no gender" in Italian)—launched their COME SESSO collaboration. These brands are like...the Bauhaus of the streetwear world, where craft and fine art meet and aim to school. Their craftsmanship has been incorporated by brands like Comme des Garçons and Ekhaus Latta. Like the weather, Davis, Sombreuil and her friends don't follow "seasons," instead echoing the unpredictability of streetwear world drops. But on Saturday, they presented a cohesive runway show with the organization of a conventional high fashion house, then they sold some (but not all) of it immediately at a pop-up shop. It's like a DIY see-now, buy-now, where no two items are completely alike.
For talent, they cast their friends and contemporaries, successful artists and makers in their own right, sporting a wide range of bodies and tempos under the collection. Cool girl cellist (yes!!!) Kelsey Lu Instagram-storied in a lime green quilted hair ribbon and a custom terra cotta Come Tees Acconci jacket, the clear pockets containing silkscreened homages to the hits from art history. Vito himself would have copped. I'm pretty sure I saw J.S. Wright of Udli Editions but that could have been a different mustache owner. The boys behind the 1-year-old DTLA concept shop Pakkard, Hector and Jose Polio, were the second of two sets of twins to walk side by side in the show. Cali Thornhill Dewitt, of Some Ware and archival Kanye (holy grail!), also walked in the show in tri-color-blocked drop crotch trousers and a bomber with wool sweater patchwork sleeves.
The show took place in an enormous warehouse in Chinatown, which these days, is LA's secret not-so-secret headquarters of all things graphic and extreme (friendship, design, gentrification). Davis, Sombreuil, and friends have assembled a kind of east side cult around this idea and themselves. They pop up in different iterations, sometimes DJ-ing, turning usually questionable bars into the best parties on the east side; or devising new projects with Chris and Bephie Gibbs of Union, merchant royals of the LA street market. (Venus X and Asmara DJ'd this show with remixes of No Doubt and Smokepurpp.) The product is equal parts the party and the clothes.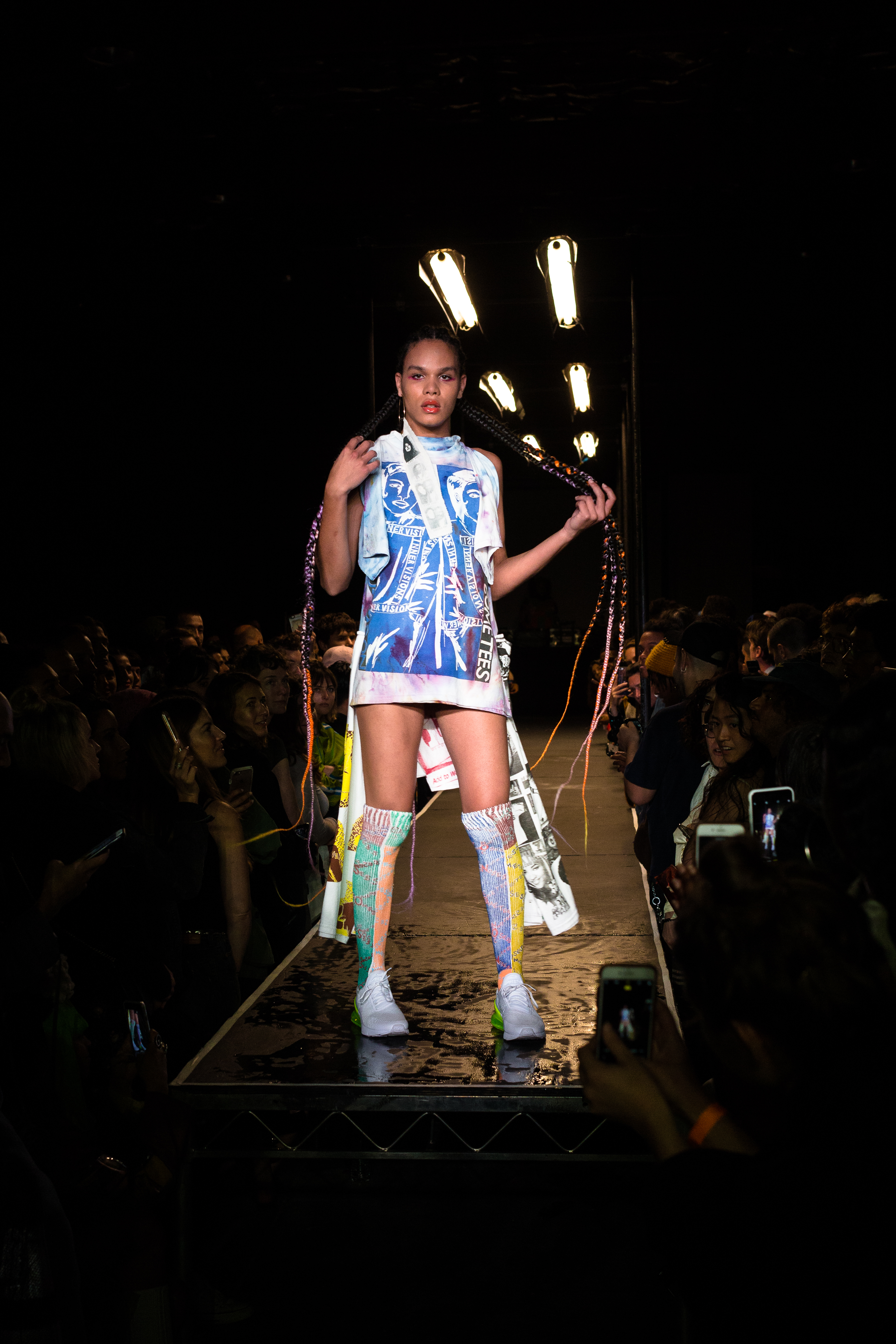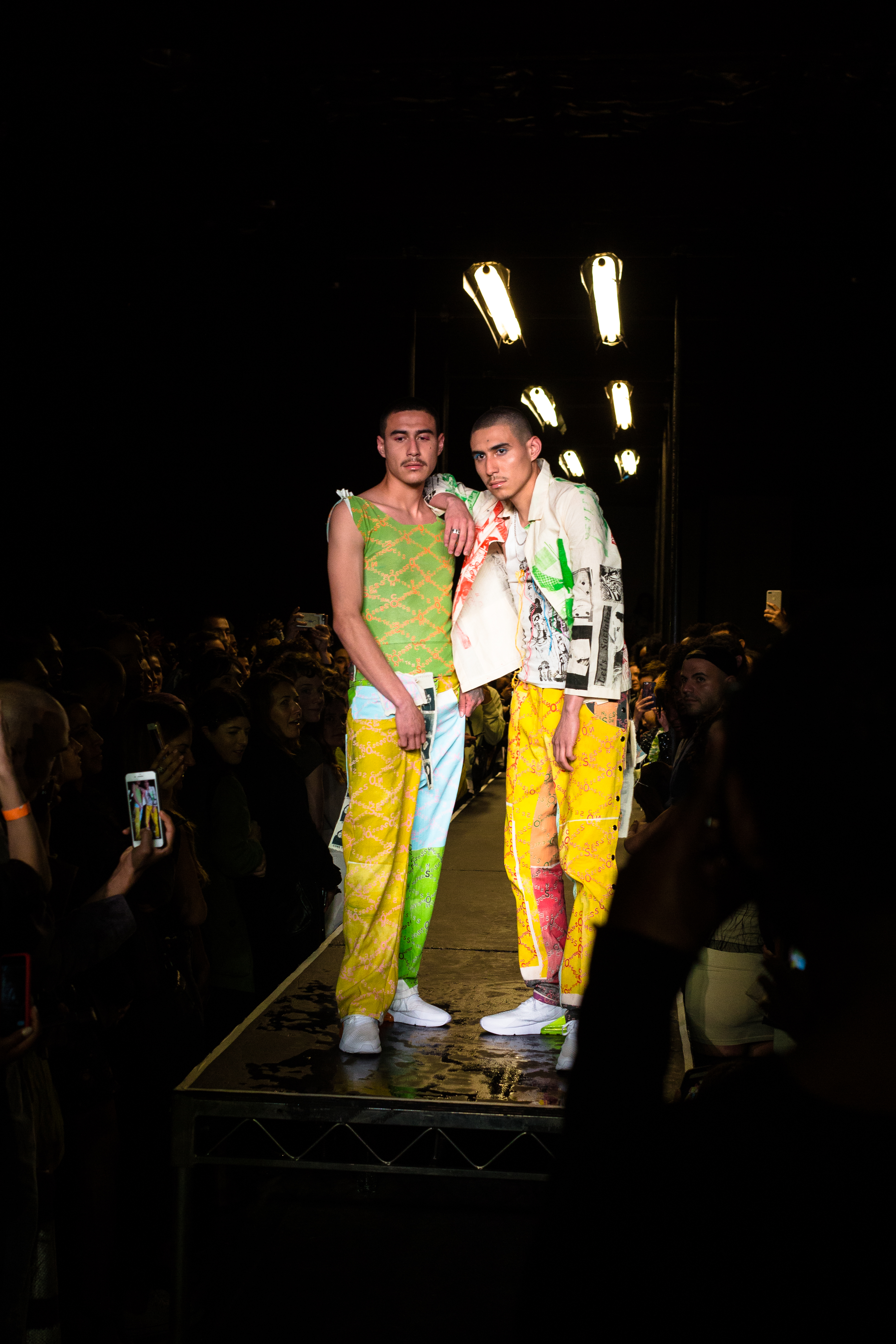 Davis and Sombreuil first met when the Come Tees screenprinting master direct messaged the No Sesso embroidery master, offering to teach her how to screenprint. As Davis said when I spoke with her after the show, "when Sonya offers to teach you to screenprint...you don't turn that down."
That's the kind of sharing of skills that usually leads to what we call a collaboration, and so Davis and Sombreuil decided to formalize their partnership with this limited-edition line of tees and garments, which run from $30 for a pair of socks to $60 for a onesie for a baby (not your baby, but literally, a baby) to $375 for a pair of customized pants.
The collection features both artists' signature crafts of hand sewing and hand printing. Sombreuil said, "I want to push graphics into more abstraction and color but at the same time always referencing their own history." A flowing bell tee made from many other tees gave the wearer 7 or 8 extra sleeves as if to say: a shirt shouldn't dictate where arms should or should not grow! A pink and taupe silk shift with odd and elegant darts gave another model shape from behind that was…better than a butt? Other faves included long board shorts, an exquisitely cropped jacket awash in pink and orange, an off-the-shoulder watercolor ombre silk dress, a mini-dress with a thong-baring hip opening worn by model Maya Monès (who flung her ankle length orange and purple tipped braids around as she turned at the end of the runway), and a double pink sweatsuit on Rashad Joy: a pink sweatshirt as a top and a pink sweatshirt as a skirt.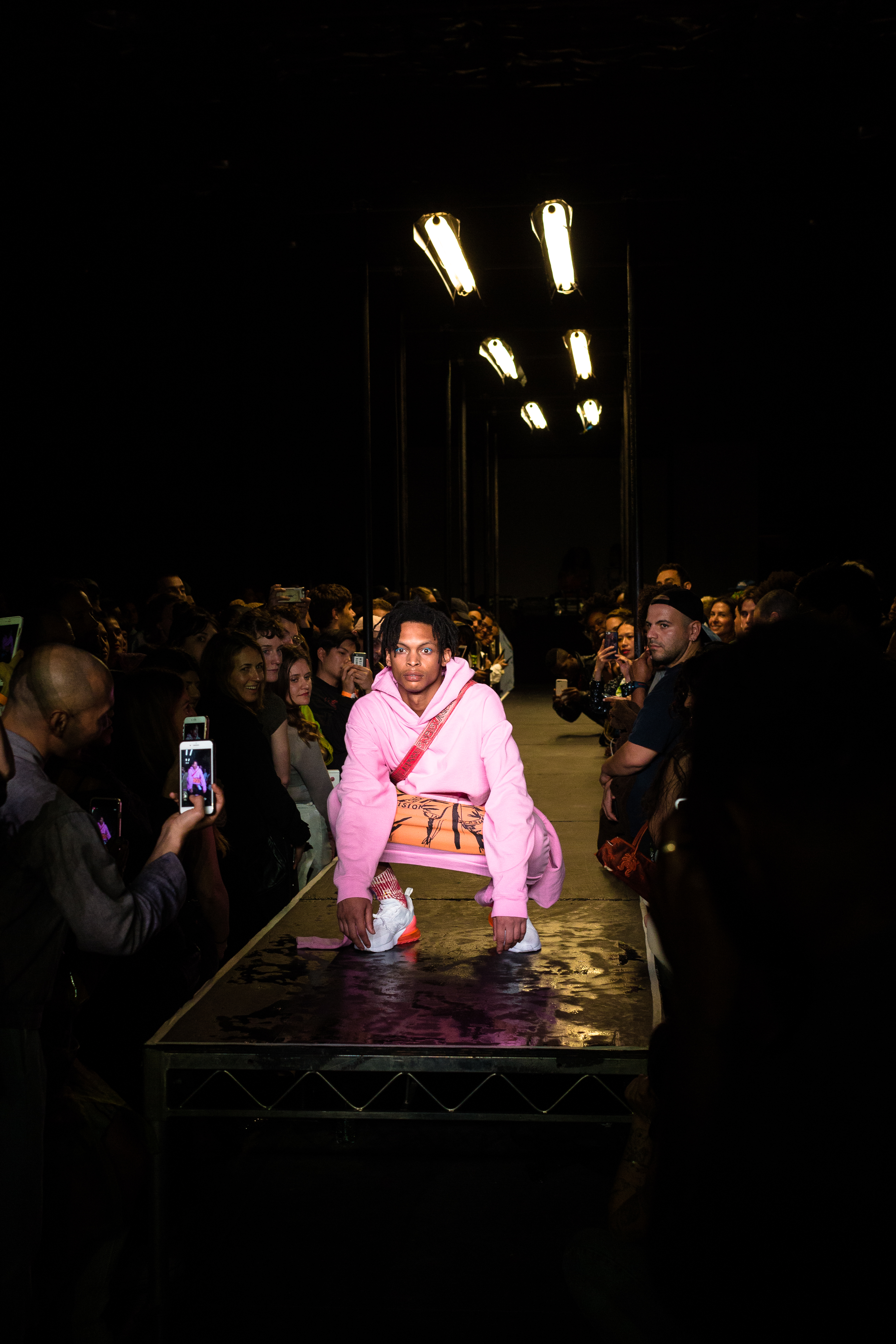 Some of it was not completely wearable, like a full suit of plate armour constructed with different colored canvas sheets printed with a criss-crossing COME SESSO logo and tied together at grommets. The plates gyrated around the model's limbs as he walked like scales on an armadillo.

According to the designers, the trust required for a successful collaboration flowed quickly. Iris Alonzo and Carolina Crespo, the Angelenos behind Everybody.World (the original and cooler and more humanist Entireworld!!!!!) and O.G. American Apparel grads, helped dye and assemble the large number of garments. Each piece was literally marked by Sombreuil and Davis's LA art friendship: from shoulders, cuffs, and necklines, oversized tags fluttered, featuring blown-up and silkscreened photobooth strips of the two designers. In the four-photo strip, each designer had her solo moment in the booth, and the last two were of the friends, posing and smiling together in frame.
I asked Sombreuil where the photobooth strip was taken, though I already knew the answer: The Cha Cha Lounge (Sombreuil says "The Chaw" and draws out the "ah," Valley style).
Ah, the Cha Cha Lounge! If you haven't taken photo booth pictures with your friends squeezed behind a curtain at the Cha Cha Lounge (or any east side dive) after five $3 gin & tonics, you don't have any friends or you don't live in Los Angeles.
"It's disgusting," Sombreuil said. "The Twins work there." ("The Twins," of course, are the other set of twins: Jazmin and Jezenia Romero, DJs and musicians about town. They walked together in the show, in matching cream separates with green and black silk screened photo print, pants hemmed to a bootcut that grazed the air pocket of their Nikes. For a sense of the multimedia vibe of this community, Jezenia made a not-for-sale mixtape for the show through her DIY label.)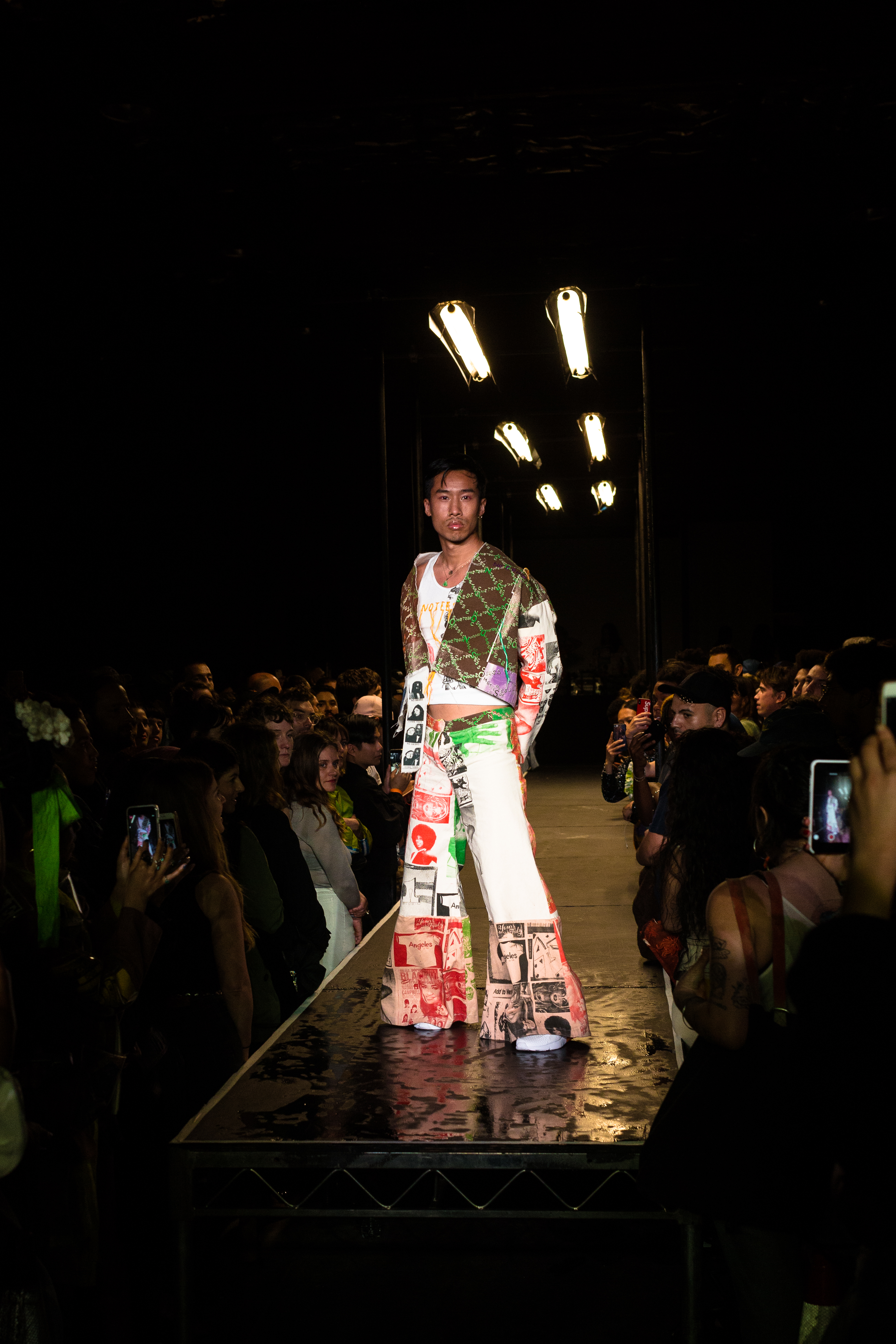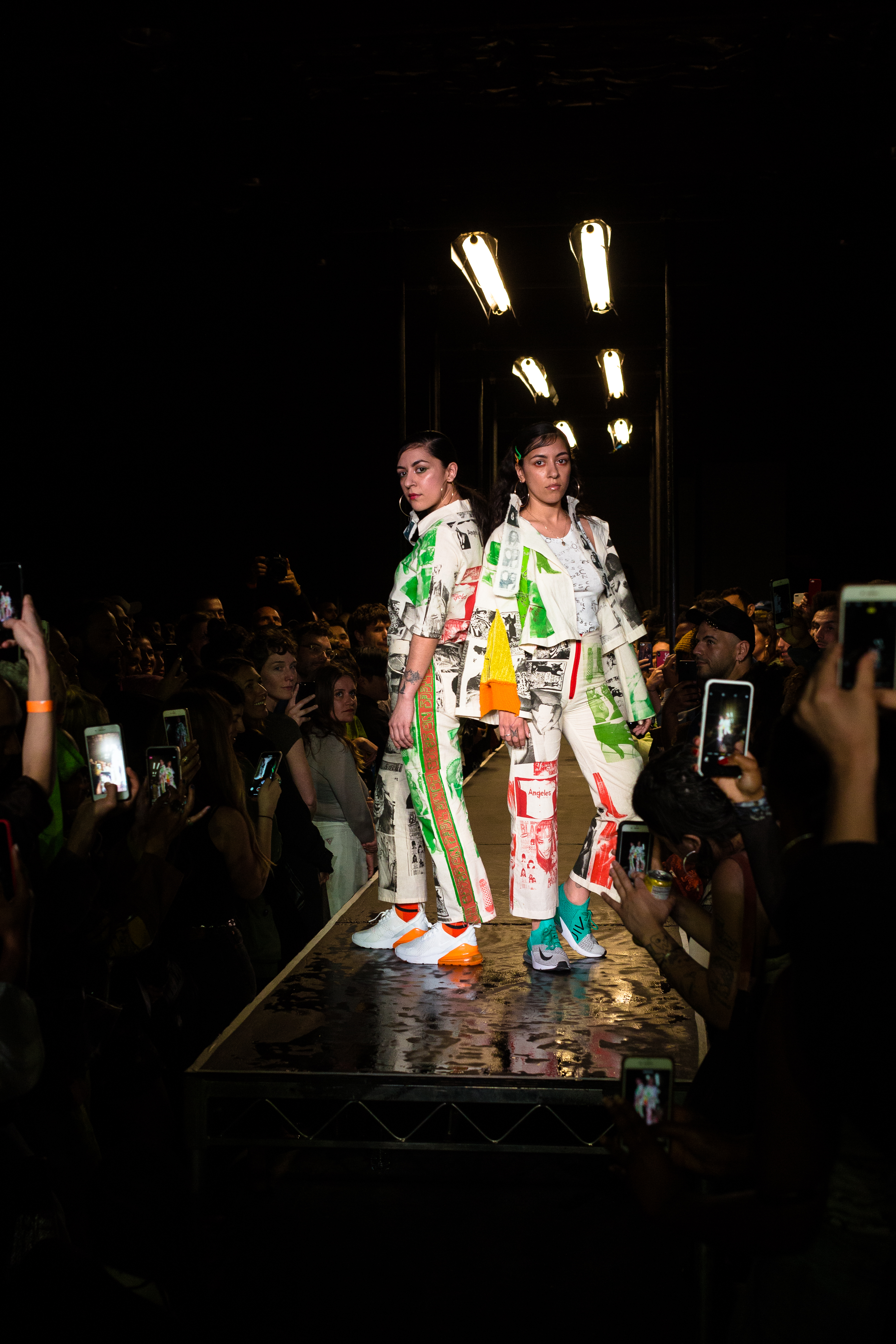 Friendship is uncomplicated at its best and this collection was the same. Two people who deeply respect each other's craft made pieces with refined design sensibilities that reinforce their virtuosity of embroidery, hand-sewing, hand-drawing, and screenprinting. "It was a series of love letters to each other through design," said Davis. Will the collaboration continue? I asked what was next (as if it mattered, when I was so comfortable and held and satisfied by the warmth of the now).

Davis said, "Pay attention next month," and smiled. Friendship is trendy but it's also forever!