United Visual Artists, Spectrum, 2018. Photograph courtesy of Burberry.
The Lighting Installation at Burberry Traveled All the Way From Tasmania for Christopher Bailey's Last Show
United Visual Artists tell us about creating the pendant-lamp piece for Bailey's final collection.
United Visual Artists, Spectrum, 2018. Photograph courtesy of Burberry.
There was a moody, after-dark theme to Time, Christopher Bailey's final runway collection for Burberry. Staged in a 16,000-square-foot, late-Victorian power station-turned-bus depot, Bailey's final bow at the British fashion house where he's worked for 17 years played out against an irresistible and emotive soundtrack—late 1980s and early '90s dance hits by Bronski Beat and the Communards.

It's music, at a guess, that recalls Bailey's own nightlife forays as a teen: Jimmy Somerville's soulful falsetto a delectable, and in places bittersweet, musical embodiment of the Gay Pride theme that ran in rainbow stripes all over the collection. Sounds of the era were matched by a cheeky collection that mined the archive for the so-ugly-it-aches-with-cool golf-club garb that Bailey had worked doggedly to erase from the collective memory when he reinvented the brand back in the early 2000s. Time, when it comes to fashion, being a circular thing.
An overture set the scene courtesy of Our Time: a kinetic installation by United Visual Artists within which the show unfolded. Twenty-one pendant lamps, mechanically rigged, first swooped like pendulums as if beating time to Bronski Beat's stormy, melancholic, "Memories." Then gradually, disconcertingly, the pendulums slipped out of phase, as though gravity had gone awry and all the clocks with it. Our Time was "just" a group of lights and "Memories" "just" a song, but the emotive combo kicked off Bailey's farewell with the audience on the brink of tears even before Adwoa Aboah stepped out in the first look.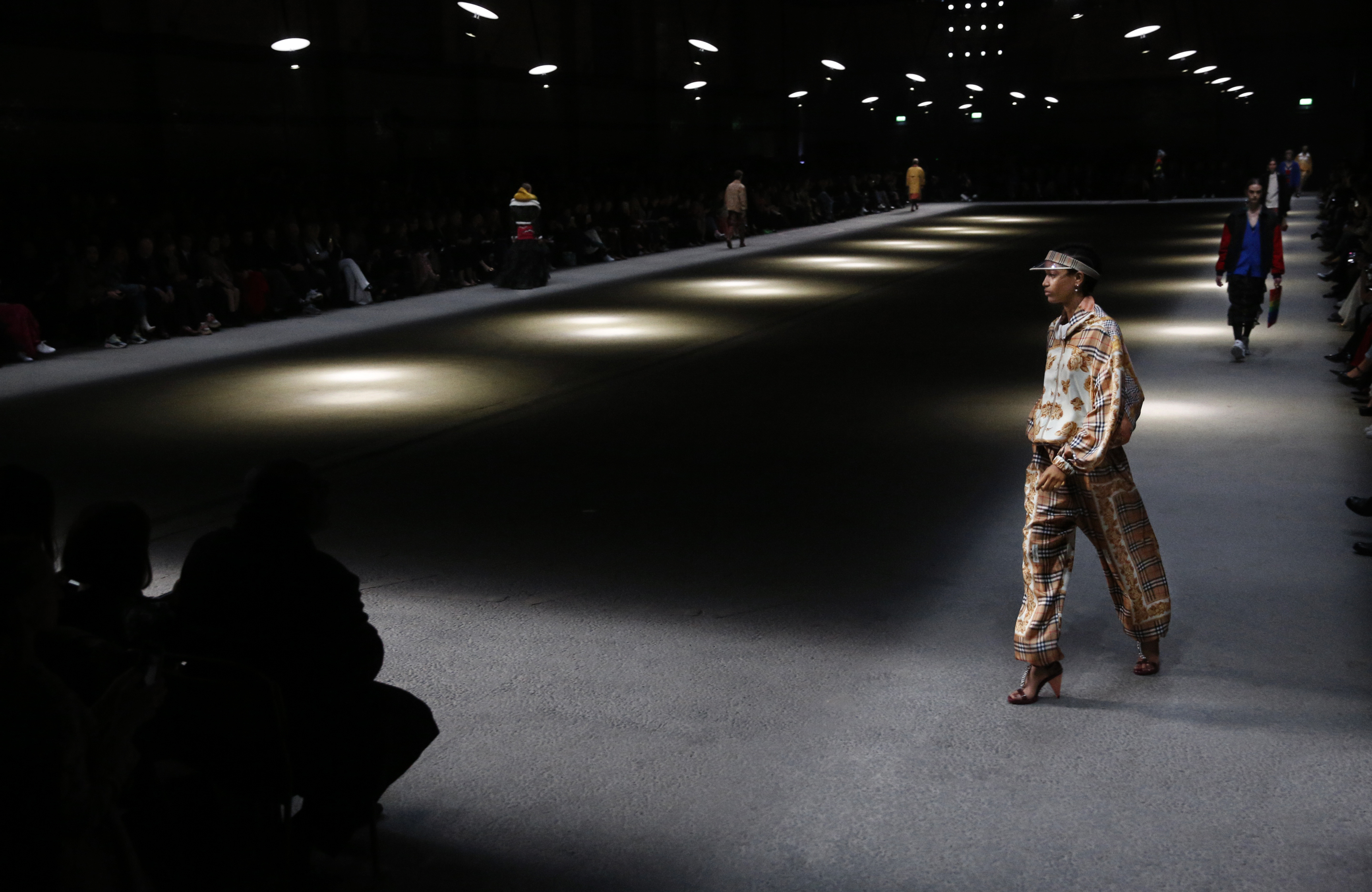 Matt Clark, founder of United Visual Artists (UVA), fielded a call from Bailey just before Christmas. Bailey had seen responsive sound and light installations by UVA staged in both London and Hong Kong. "He said, 'I've always wanted to work with you, and this is my last chance,'" recalls Clark. "So it's quite flattering, really."
The pair met to talk through the show and themes of Bailey's final collection. "There were a lot of discussions about time and how fleeting it is, past, present and future," recalls Clark. After seeing the venue, he suggested that Bailey use an existing UVA installation from 2016, evoking the passage of time and our subjective experience of it. Our Time had just been purchased for MONA (the Museum of Old and New Art) in Tasmania. The museum was building a custom space for the work, so by chance, there was a brief window in which it could be borrowed. And so it came back, half way round the world, to London for the Burberry show.
"Time is arguably nothing in itself: it's a recording of events," says Clark. "We all know what time is but it's very difficult to put into words." UVA based the motion of the lamps on the movement of a bag of sugar tied to a piece of string: installed as an artwork, with a ominous soundscape, the evolving pattern of the lamps swinging in and out of phase is meditative. The slow-moving work performs as a temporal counterbalance to the accelerated perception of time in a digital culture (a culture which Burberry, with its live-streamed shows, promotion of e-commerce, and championing of buy-it-now catwalk collections, has embraced and arguably driven).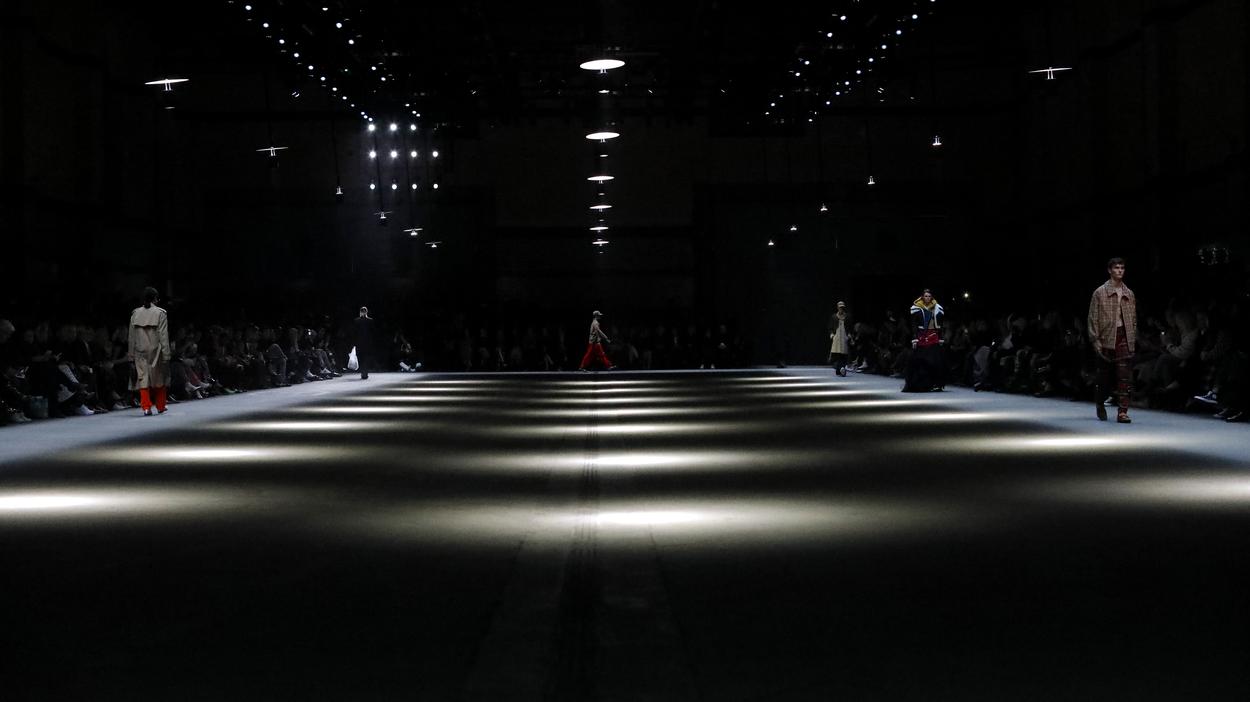 For the finale at the show, UVA staged the new work Spectrum, a 130-foot long archway of laser beams that describes a rainbow the length of the catwalk. Our Time has a melancholic feel to it and it's also very monochromatic," says Clark. "Christopher wanted to end the show with a celebration of color and positivity, so I imagined a white light being diffracted through a prism but on an architectural scale, revealing the full spectrum of visible light for the models to walk through."
The spectrum created by 2,760 laser diodes in the archway echoed the rainbow stripes that appeared on pride plaids, in sweatshirt graphics, knitwear, quilting, embroidery, and, finally, a bathrobe-like striped shearling cloak worn by a grinning, tousle-haired Cara Delevingne. It resonated, too, with Bailey's announcement that this final collection would be dedicated to the Albert Kennedy Trust, the Trevor Project and ILGA: three charities supporting LBTQ+ youth around the world.