Photograph by Bertrand Guay for Getty Images.
Rei Kawakubo's Susan Sontag "Camp" Show Was a Zany, Private Experience
Plus: finding capital-F Fashion at Noir Kei Ninomiya, Junya Watanabe, and Undercover.
Photograph by Bertrand Guay for Getty Images.
In Paris, we've seen Kaia Gerber strutting in chunky boots and sequins at Saint Laurent and Bella Hadid in toile hot pants at Off-White. But if you want to see capital-F Fashion, in which designers are giving us their weirdest, their most bizarre, their most inscrutable beauty, the things that your non-fashion family and friends ask you to explain to them, the stuff that makes you think for days afterward about what it all meant—you look to the Japanese.

Comme des Garçons's Rei Kawakubo is, to borrow Christian Dior's words on Cristobal Balenciaga, the master of us all. Over the past few seasons, Kawakubo has moved more and more into the realm of wearable sculpture; when you visit the showroom in the days following the show, you see the ways in which these runway extremities are interpreted as commercial garments. At Saturday's show, circus music played—saccharine saxes, noodly organs, nerdy accordions, and a clowny version of Prokofiev's swooping goth banger "Montagues and Capulets"—as models waddled at a gorgeous and awkward snail's pace in Kawakubo's magnificent creations, which were like oversized pastries, upholstered pieces of furniture, and comical panniers. The models, in increasingly gargantuan fabric-sculptures, had to squeeze past each other on the runway like elephants on a tightrope.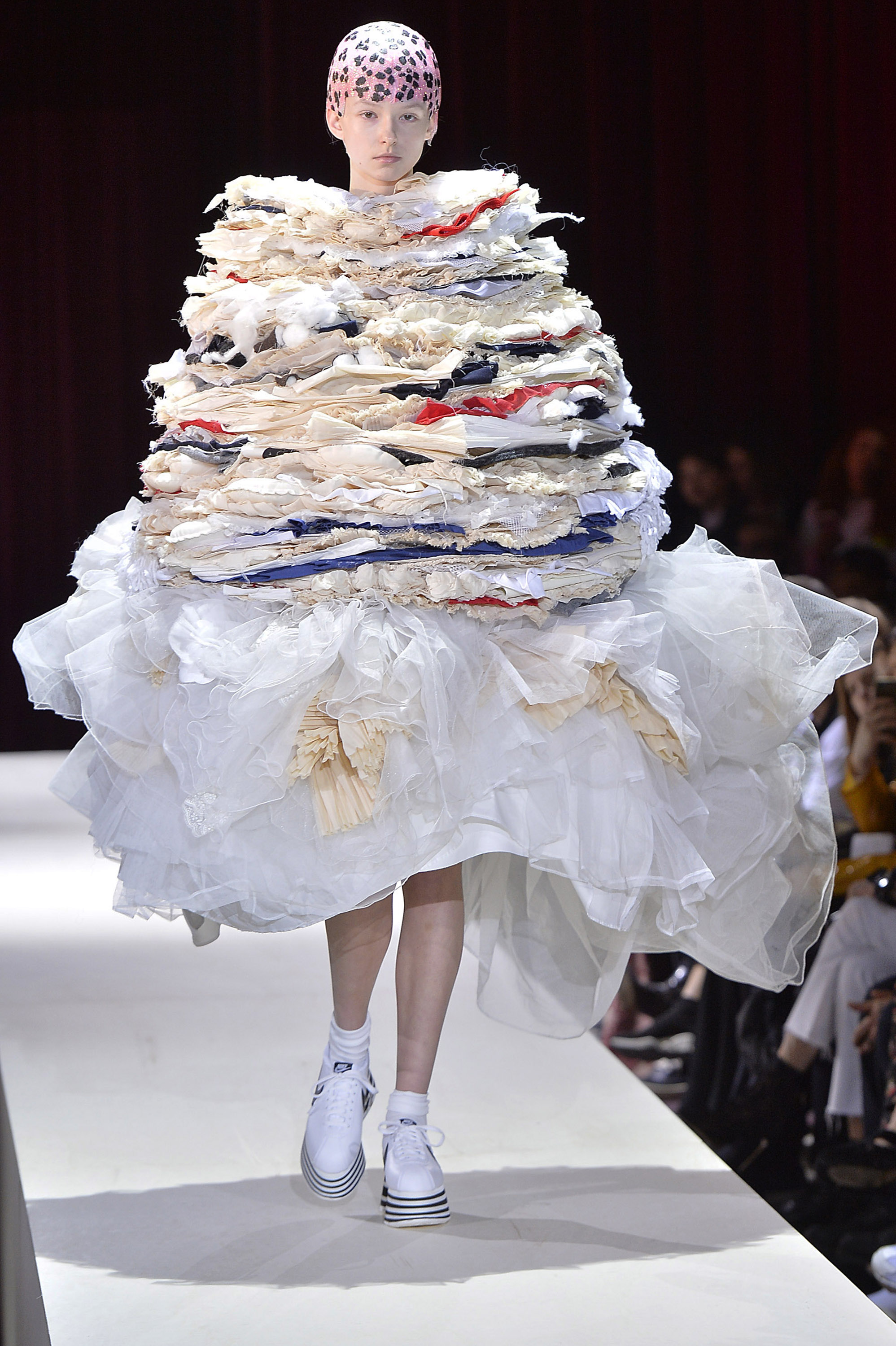 Comme des Garçons. Photograph by Catwalking for Getty Images.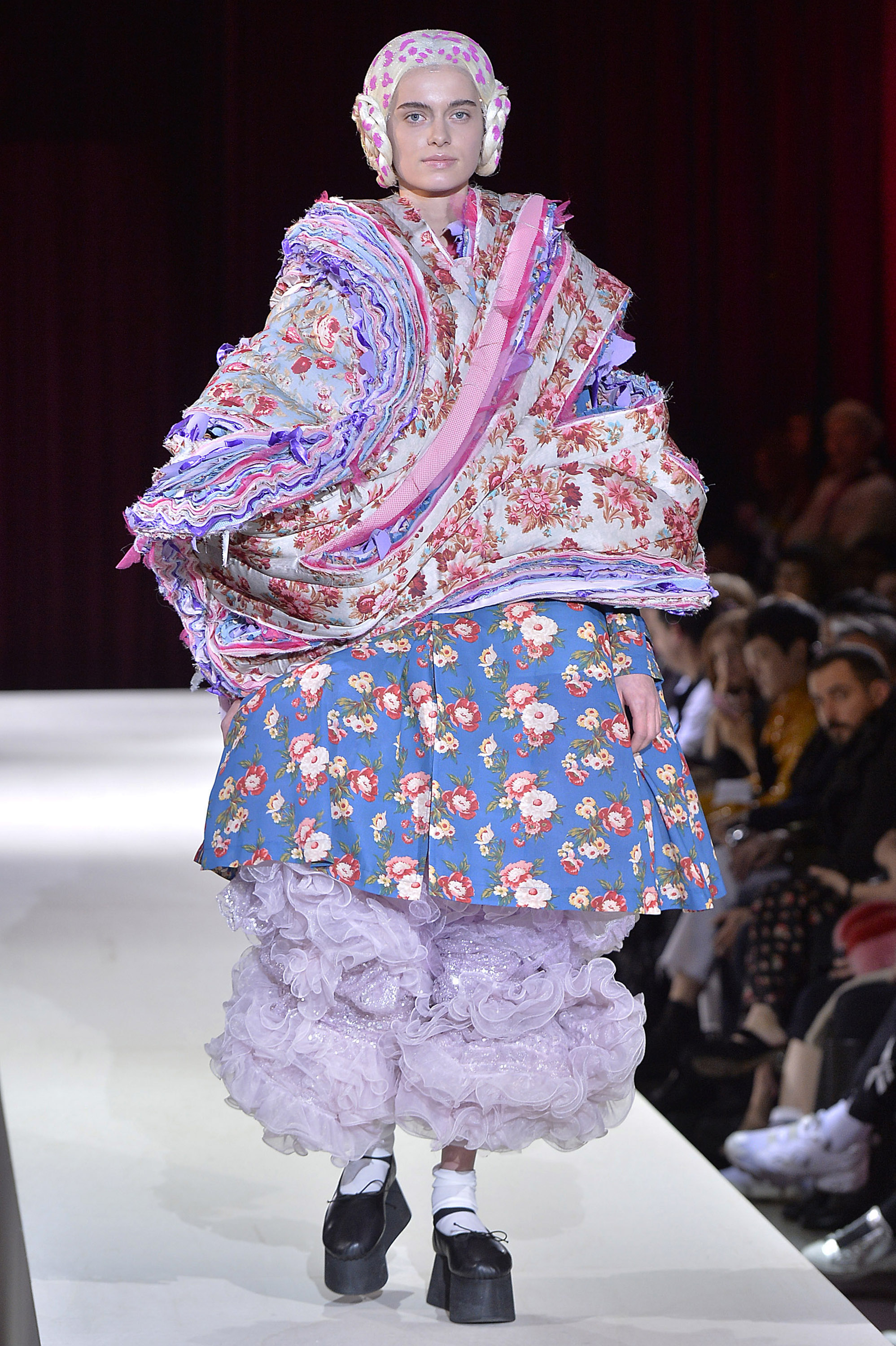 Comme des Garçons. Photograph by Catwalking for Getty Images.
In her show notes, Kawakubo wrote that her inspiration was Susan Sontag's "Notes on Camp," the 1964 essay dedicated to Oscar Wilde, whom she quotes towards the beginning: "One should either be a work of art, or wear a work of art." At Comme, the models were wearing works of art. Camp, wrote Sontag, "is the love of the exaggerated, the 'off,' of the things-being-what-they-are not…. In naïve, or pure, Camp, the essential element is seriousness, a seriousness that fails. Of course, not all seriousness that fails can be redeemed as Camp. Only that which has the proper mixture of the exaggerated, the fantastic, the passionate, and the naïve."
All these elements bring richness to Kawakubo's garments, which can be enigmatic (notably, the recent exhibition on her work at the the recent exhibition on her work at the Metropolitan Museum of Art's most recent Costume Institute had none of the standard placards that accompany museum exhibitions). But Kawakubo isn't really one to explain things, and one interpretation or the other isn't "right." To look at Comme des Garçons is not to "figure it out." Like the best art, it rewards multiple viewings, multiple interpretations, multiple feelings—revulsion and pleasure, embarrassment and delight. At the show, I had both the sense that we were being tricked, and the sense that someone finally understands us. Here's the best line in Sontag's essay: "Behind the 'straight' public sense in which something can be taken, one has found a private zany experience of the thing." There is so much (too much) emphasis on "understanding" a designer's inspirations and expressions; people worry too much about "getting" what's happening on runways. The victory and genius of Kawakubo is that whatever you make of her clothing, whatever you see when you look at it, it's your own private zany experience of the thing.
Noir Kei Ninomiya was another zany experience. A former pattern-cutter at Comme des Garçons, Ninomiya makes tulle sprout into a riot of blooms, silk flower into delicate lily pad-like discs and pucker into blossoms, and organdy bulb into a delicate bush. As if that weren't exquisite enough, he had the botanical sculptor Makoto Azuma—who encased bouquets in blocks of ice and launched flowers into space—make floral masks. They were dense, living, strange arrangements that made you feel the weight of transience in fashion—it's all for a moment, it's all so ephemeral, but when it's beautiful, even though you know none of it is meant to last forever, it's really worth it.
If the purpose of fashion, at least at the moment, is to interrogate how women want to dress, how we construct identity through clothing, and how enduring and temporary (or even important) that identity is, then I might argue that Junya Watanabe is outside of fashion. Which isn't to say he's operating in the realm of placid fantasy that paralyzes other brands or designers—it's quite the opposite. His chintzy Laura Ashley-ish shirtdresses and leggings, the snakeskin chunky sneakers, the oversized blazers—these are all things that smart, cool women will want to wear, not to show they're tapped into some fixed definition of coolness but because the clothing is fun and has great energy.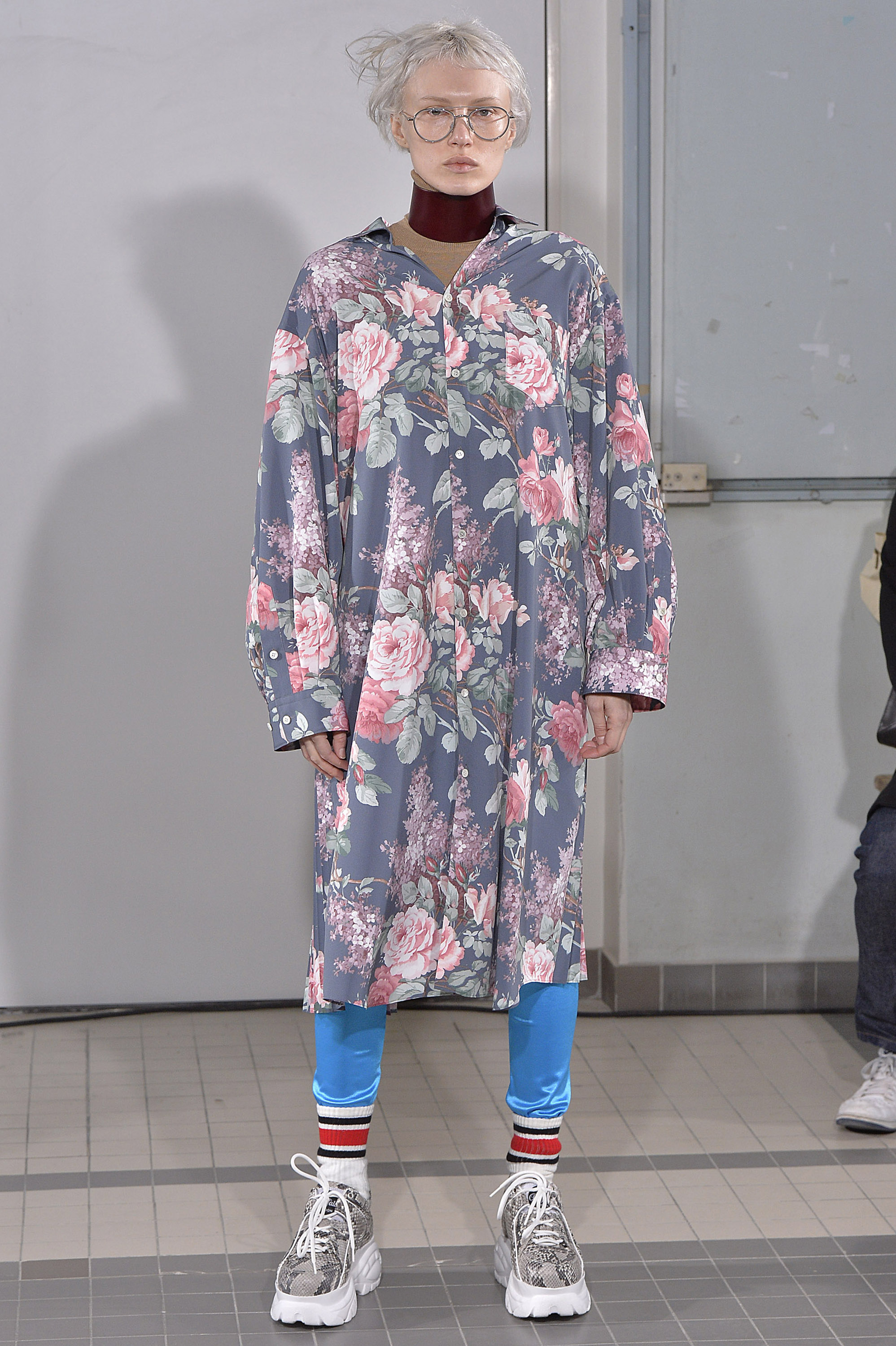 Undercover's Jun Takahashi does truly magical things. He prints images of the band Television on scarves, and made the theme of one collection "Bill Evans" and showed '50s jazz club trousers and sweaters, but it's not the merch-y or streetwear gimmick that everyone else is doing; this has been Takahashi's sport for decades. His powers as a soothsayer are a testament to the beauty of mere coincidence; the theme of last season's show, for example, was Cindy Sherman and doubles, which seemed out of left field but, between Sherman's big year and those heads at Gucci, was bizarrely prescient. This collection was about youth—innocence, school uniform blazers, beanies, sparkle, purity, hoodies with hands shoved in those marsupial pockets. There were hats made of hair and cuddly sneakers—a sense of softness and individuality, evoking the period of time in which everything seems possible even when everything is very sad. A number of garments were printed with the phrase "We Are Infinite," from Stephen Chbosky's novel about teen depression, The Perks of Being a Wallflower; the monologue from the film adaptation played towards the end of the show, followed by David Bowie's "Heroes." I thought of America's own youth quake: at a horrible moment in our country, it's the youngest members (many of whom aren't even able to vote) who are pure enough to believe in change and actually fight for it.