Photograph via Getty Images.
John Galliano Is the Only Designer Using Technology to Make Relevant Art
Between his podcast and recent couture collection—shoe selfie-sticks to livestream close-ups!—the Maison Margiela designer is using technology as a tool for creative possibility.
Photograph via Getty Images.
On Wednesday—the Fourth of July! Sound the sad-American trumpet!—John Galliano showed his Fall Artisanal Collection for Maison Margiela: giant and lush sleeping bags, swaddles of sorbet tones, bubble wrap headpieces, shoe selfie-sticks—what does it all mean???

What seems so out there is suddenly decoded. Margiela has given Galliano an unexpected new platform: a podcast. The fashion podcast has been a hard medium to master—it's hard to listen to people talk about things you can't see—but Galliano has done it. If you're into fashion, this is your Serial. (New York Magazine called it "Fashion ASMR" for its heavy use of reverb and Galliano's relishing enunciation.)
In his first episode, released at the end of June, he explained the mysteries behind his Artisanal Menswear collection, which focused on sensuality and masculinity, handily explaining how to cut on the bias by suggesting the listener grab a napkin (you better believe I grabbed a napkin!). In the episode released today, he discusses his Artisanal philosophy for women: "Streetwear will always inspire for sure," he says. "But sometimes…as I said, I'm a dressmaker. It's about technique. It's about cutting. It's about draping. And it's through that process that possibly one can produce volume."
He goes on, "Volumes: that's what makes fashion move forward." There, in one beautiful prosodic gesture, he answers the question that hangs heavier in the air each couture season: why does couture clothing even exist? To dazzle clients or to make art?
For Galliano, it's the latter: to push himself and his atelier to do things they haven't done before. It's been "a real workout in the atelier," he says, adding that he's interested in "the idea of proposing a new glamour. None of us are interested in actually finding a new glamour—it's the idea that's exciting."
Galliano assembles such deep and varied references for each of his collections that he practically creates shrines, making his work a challenge to excavate. And at Margiela, enigma is built into the codes of the house. Add to that the general hesitancy of designers to give interviews, and it's rare that we hear one articulate his or her vision with any clarity beyond a few words backstage and a verbose collection memo left on each seat. I sometimes struggle with whether fashion designers, who work in a visual medium, after all, should be expected to explain what they do at all, but Galliano is one of the few designers who is not only verbally enchanting but also so instructive, and the house of Margiela has used a digital medium—one that the rest of the industry has struggled to tackle—to his creative advantage.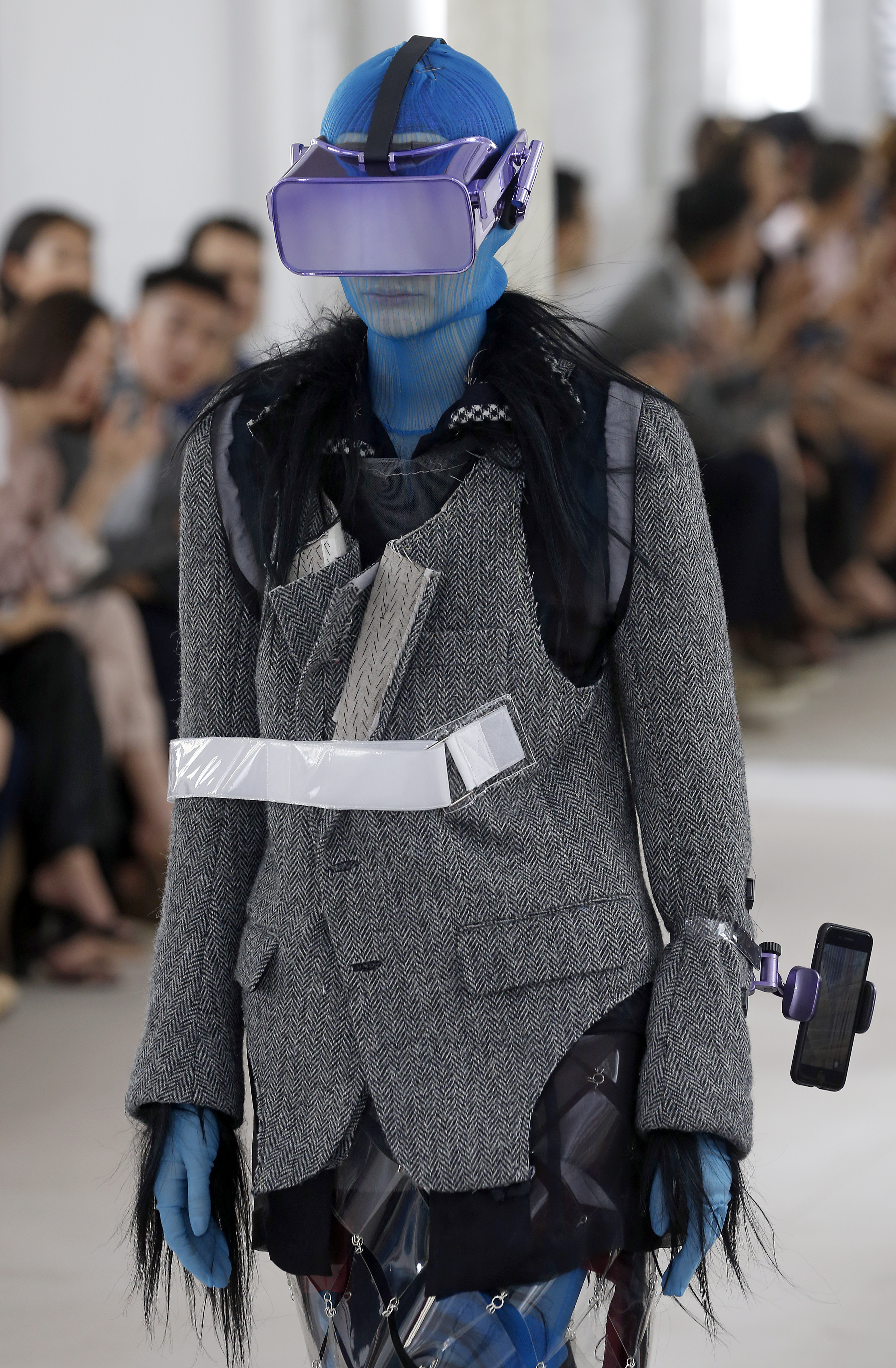 This isn't the only way Galliano is using technology artfully. He's made it integral to his designs. In January, Galliano used a special fabric that lit up with hologram dazzle when viewed through your iPhone; otherwise, the pieces each looked like an oil slick—still pretty beautiful stuff. Knowing that viewers (even in the room) were going to watch the show through their iPhone, he used it as a motive to innovate, and it was no mere gimmick.
Today, in addition to dropping his pod, Galliano included in his Fall Artisanal show "tech body clips" which gripped iPhones that livestreamed close-ups of the shoes, the sleeves, the headpieces—the small details that make couture special, but which are virtually invisible to the human eye on the runway. An inconvenience of the old era ameliorated by technical innovation.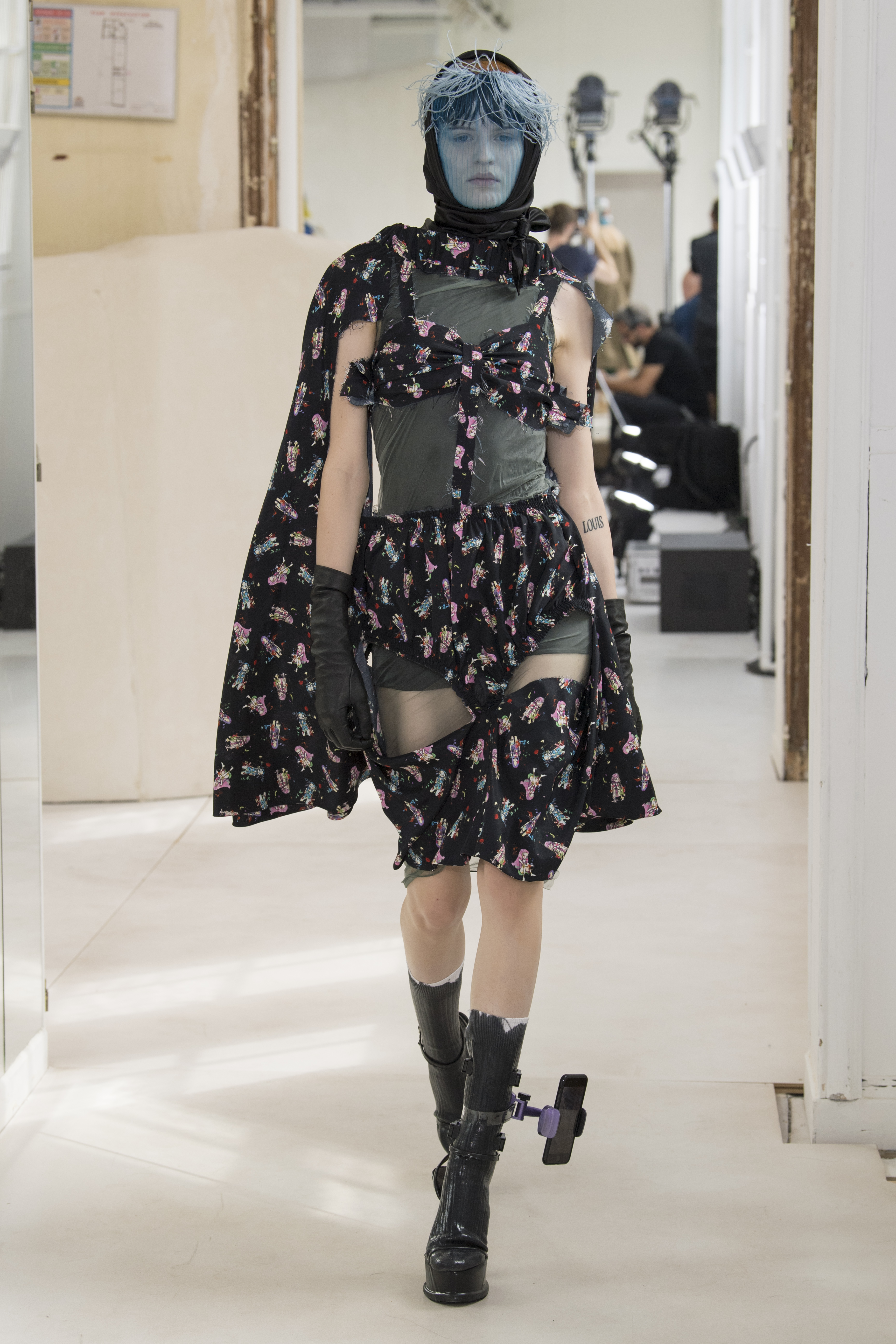 Over the past five years, as technology has become a necessary part of everyday life—something so omnipresent that it's practically slotted into Maslow's Hierarchy of Needs—fashion designers have engaged with it primarily in two ways. First, with bells and whistles like drones, Instagram filters or hashtags, and livestreams. And second, by expressing in their clothes the inevitable anxiety it brings, its negative repercussions (hence all those tactical vests at the most recent men's week). Both of these are reactive gestures, even conservative ones. "We're attached to our iPhones, everything on our iPads," he says matter-of-factly in his podcast. "We are nomadic. We move around in tribes." Galliano doesn't swan around Silicon Valley, he doesn't design smart fabrics or Apple Watches or any of the normal tech-y nerd stuff, but this old school couturier is perhaps the only one who understands how technology can be wielded as a tool for creative possibility.