Bella Hadid and The Weeknd Bond Over Murakami Merch
The couple that appreciates Japanese contemporary art together, stays together.
Photo via Instagram.
An appreciation for fine art can be instrumental in solidifying a couple's ardor—think Lorenzo II de' Medici and Madeleine de La Tour d'Auvergne, or Jay and Bey's video tour of the Louvre that helped the Parisian museum break attendance records.
Bella Hadid and The Weeknd are the latest power couple to unite over art (or, rather, artistically-inclined merch), with The Weeknd 'gramming a selfie in a sweatshirt patterned with Japanese artist Takashi Murakami's signature smiley-face floral prints.
Not content to merely wrap himself in Murakami, The Weeknd also outfitted girlfriend Bella Hadid with a set of Murakami-inspired pillows for Christmas. As of October, the couple lives together at 443 Greenwich, a celebrity-studded Tribeca condo that describes itself as "paparazzi-proof," so maybe the home-improvement gift was a sly move on The Weeknd's part to bring even more Murakami into his own life. It's easy to imagine Bella and The Weeknd reclining on their Murakami pillows, sipping Grey Goose cocktails and simultaneously Instagramming, while the sounds of Tribeca waft up from below (just kidding, influencers are immune to street noise).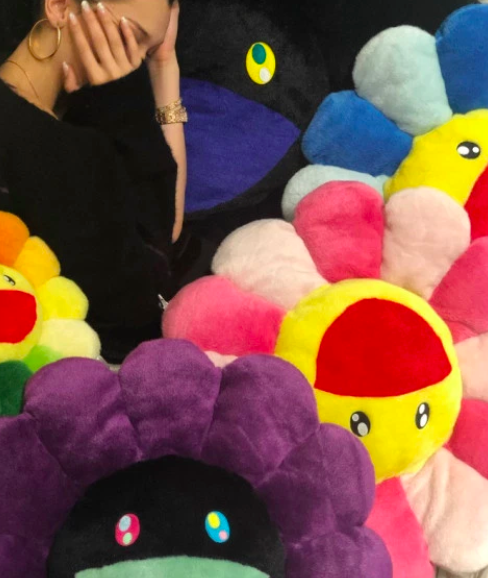 If, as I've previously posited, merch is the purest expression of celebrity love, then a shared interest in art merch reads like an aspirational passion project for a couple of Bella and The Weeknd's status, the high-flying equivalent of posting a "loved-up couples pic," as The Daily Mail might put it, in the Egyptian wing of the Met, lattes in hand, scarves fused around entwined necks.
Murakami has garnered a reputation for being one of the most celeb-friendly artists at work today, hanging out with Kim and Kanye at his studio in Tokyo and Murakami-fying a couch for his own personal tribute to Kanye and Lil Pump's "I Love It" video. Will his next endeavor be a line of Murakami x Hadid merch? Or, at the very least, will he be spotted giving Bella and The Weeknd a private studio tour in the near future? Only time will tell.