Sandra Bullock's 'Bird Box' Wardrobe is Peak Apocalyptic Momcore
Update: CONFIRMED! The coat Bullock wears while paddling downriver is, indeed, Uniqlo.
The Sandra Bullock-fronted thriller Bird Box was released just a few weeks ago for Netflix viewers' binge-watching pleasure, and the film has already drawn enough attention to become the subject of a viral challenge in which participants wander around blindfolded (one that Netflix warns viewers, in no uncertain terms, not to partake in.)
In Bird Box, Malorie (Bullock) must journey through the woods and down a river to escape an murderous entity along with two young children—all three of them blindfolded, because if they see the creature, they are immediately driven to suicide. (Sounds like the basis of a viral challenge to me!). The film's bleak, eerie atmosphere is perfectly communicated, even if its plot doesn't always hold up (Vulture's Emily Yoshida noted that although Bird Box is based on a 2014 novel of the same name, it "feels like a film written by algorithm"). A question lingers, though: one that's always close to our hearts and minds here at GARAGE. What? about? the? lewks?
Fashion apocalypse is en vogue at the moment, with everyone from Junya Watanabe to Calvin Klein sending models down the runways obscured by masks and wrapped in Day-Glo orange jumpsuits, which makes Bird Box's pared-down utilitarian style right on trend. Malorie's outerwear B.A. (Before Apocalypse) and A.A. (After Apocalypse) differ sharply, in ways that tell us plenty about her surroundings.
At the film's outset, Malorie, reluctantly pregnant, is shown at the doctor's office with her sister, discussing a recent spate of mass suicides throughout Europe and quickly getting pulled into chaos that escalates throughout the city. She does so while wrapped in a costumey, hyper-femme fur-collared teal coat that my eagle-eyed colleague Rachel Tashjian noted was similar to the Saks Potts number seen below. (Also, the first person she witnesses killing themselves is wearing a full Juicy Couture sweatsuit.) UPDATE: According to costume designer Signe Sejlund, the coat was made for the movie, and meant to look "worn and slightly vintage."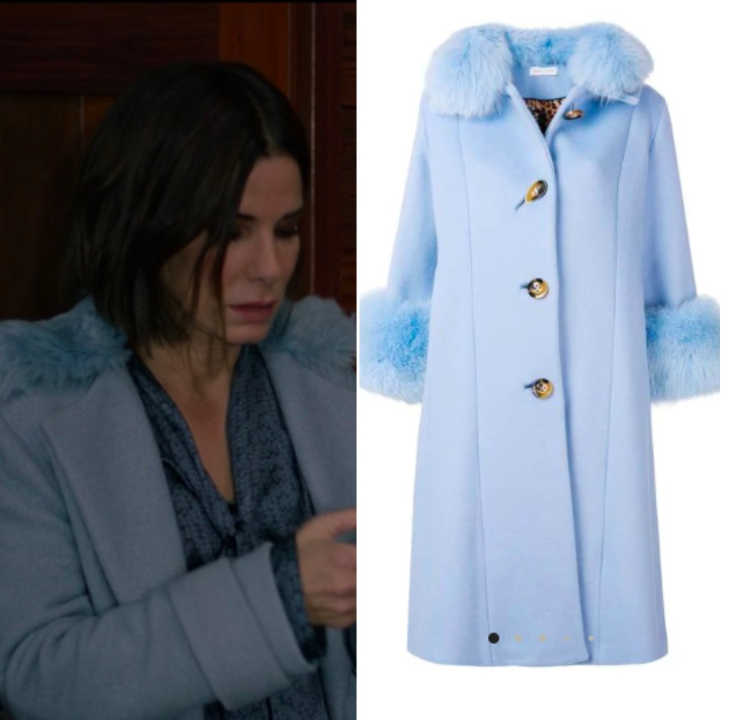 A.A., Malorie has changed from her glitzy teal dream coat to hyper-functional down performance wear, as befits any good apocalyptic heroine fleeing an unseen menace with her children in tow. The blue blindfold that Malorie wraps over her eyes contrasts perfectly with her puffy mauve jacket and with the pink blindfold obscuring her daughter's eyes, creating an oddly soothing visual as Malorie rows downriver. Could the coat in question be Patagonia, or—perhaps more likely—Uniqlo Heattech? If so, how did Malorie manage to unearth a Uniqlo outlet amid the ruins of civilization? Doesn't that act of sartorial daring qualify her to run the post-apocalyptic society more than a blindfolded downriver paddle? The Times notes that portrayals of the apocalypse in books, films, and television are influencing the runways; but here, Malorie seems to be pulling from a dystopian lookbook. UPDATE: According to Sejlund, the coat is indeed from Uniqlo!

Yoshida's review of Bird Box calls Malorie's motherhood "the ultimate MacGuffin of Bird Box, imbued with all the special redeeming powers that male writers tend to imbue it with," and Malorie's evolution from fussy, furry teal to stripped-down, yet still (of course) aesthetically pleasing and pink-adjacent, mauve down visually signifies that shift to all-exalted momcore. In the New York TimeDs article on apocalyptic fashion, Doneger Group fashion director Roseanne Morrison points to shows like The Handmaid's Tale and Black Mirror as examples of what might be termed "late capitalist anxiety chic," saying, ""People like to mentally prepare for the end of the world. This blurring between reality and fantasy, we're seeing it in books, we're seeing it in movies, it's affecting the psyche." In Bird Box, the end-of-the-world psyche might be traumatized, but it's still perfectly styled and painstakingly wrapped in pastel performance gear.
Editor's note: This story was updated on Friday, Jan. 4 to include comments from Bird Box's costume designer.