"My Annie Hall." Photograph by Jeremy Cohen.
The Senior Citizen Remake of "Annie Hall" Is "Better, and Funnier"
Directed by millennials Ellie Sachs and Matt Starr and shot in New York City, "My Annie Hall" updates the Woody Allen classic with a talented senior citizen cast.
"My Annie Hall." Photograph by Jeremy Cohen.
On a Manhattan film screen, two live lobsters, mottled green and red, twitch on the floor of a Brooklyn kitchen while Annie Hall and Alvy Singer bicker about what to do with them. Alvy, wearing blue shorts and a fanny pack, shouts, "I told you it was a mistake to bring live animals into the house!"
"They won't be alive for long," Annie retorts, right on cue. She's wearing an oversized white oxford, belted at the waist, and a red vest. There's a white streak in her black hair, pulled back into a ponytail. Everything, down to the dark wood cabinets and vintage cookware, echoes its source material—Woody Allen's romantic comedy classic Annie Hall. But Alvy Singer, the part originated by Allen, is played by Harry Miller, who recently turned ninety-four years old; Shula Chernick, who plays Annie, is a senior citizen as well.
My Annie Hall, a senior citizen adaptation of the 1977 film from millennial directors Ellie Sachs and Matt Starr, had its private preview earlier this month; I attended a special screening a few weeks later at the Lenox Hill Neighborhood House in Manhattan. It was a full house—mostly seniors and a few younger fans filling rows of folding chairs, coats and trailing scarves draped over the seatbacks. (Miller opened the screening with a softshoe routine set to Fred Astaire's "I Wanna Be a Dancin' Man.") The film is short, about thirty minutes, but preserves most of the iconic moments: the split-screen analysis scene, the tennis scene, the gimme-a-kiss scene.
But My Annie Hall has new jokes and new characters, inspired by the personalities of its senior cast. In the adaptation, Alvy quips that he's been seeing his analyst for forty years: "I'll give him one more year and see how I feel." Chernick's Annie Hall is still from Chippewa Falls, Wisconsin, but she's warm and idiosyncratic without the high-strung flutteriness of Diane Keaton; the la-di-das are cut. New-age record producer Tony Lacey, played in the original film by a soft-spoken Paul Simon, was refashioned into a tough-talking Jewish mobster by Allan Rosteing. "My Tony is from the Bronx. He works for the mob, he's a bouncer, he's a loan shark, he's an enforcer," he told me at the screening.
The idea for My Annie Hall began with a visit to Starr's grandmother a few years ago. "She asked me the same questions over and over, and I realized that she had early-onset Alzheimers," he told me. "I put on some classic films for her, and she started saying the protagonist's lines after they said them, and I would play the role opposite her. This became the way we communicated."
Starr wanted to replicate the dynamic on a larger scale, and Sachs, who has a background in theater, suggested staging a production with a senior center. An acting workshop began this February at the Center @ Lenox Hill Neighborhood House after several other senior centers turned them away. In the workshops, the senior cast read from the film script, then improvised scenes; they came to rehearsal in costume; in one exercise, they wrote New York Times personal ads in character. This summer, My Annie Hall was shot with a twenty-five person volunteer film crew. (Starr and Sachs raised about $10,000 on Indiegogo to cover other production costs.)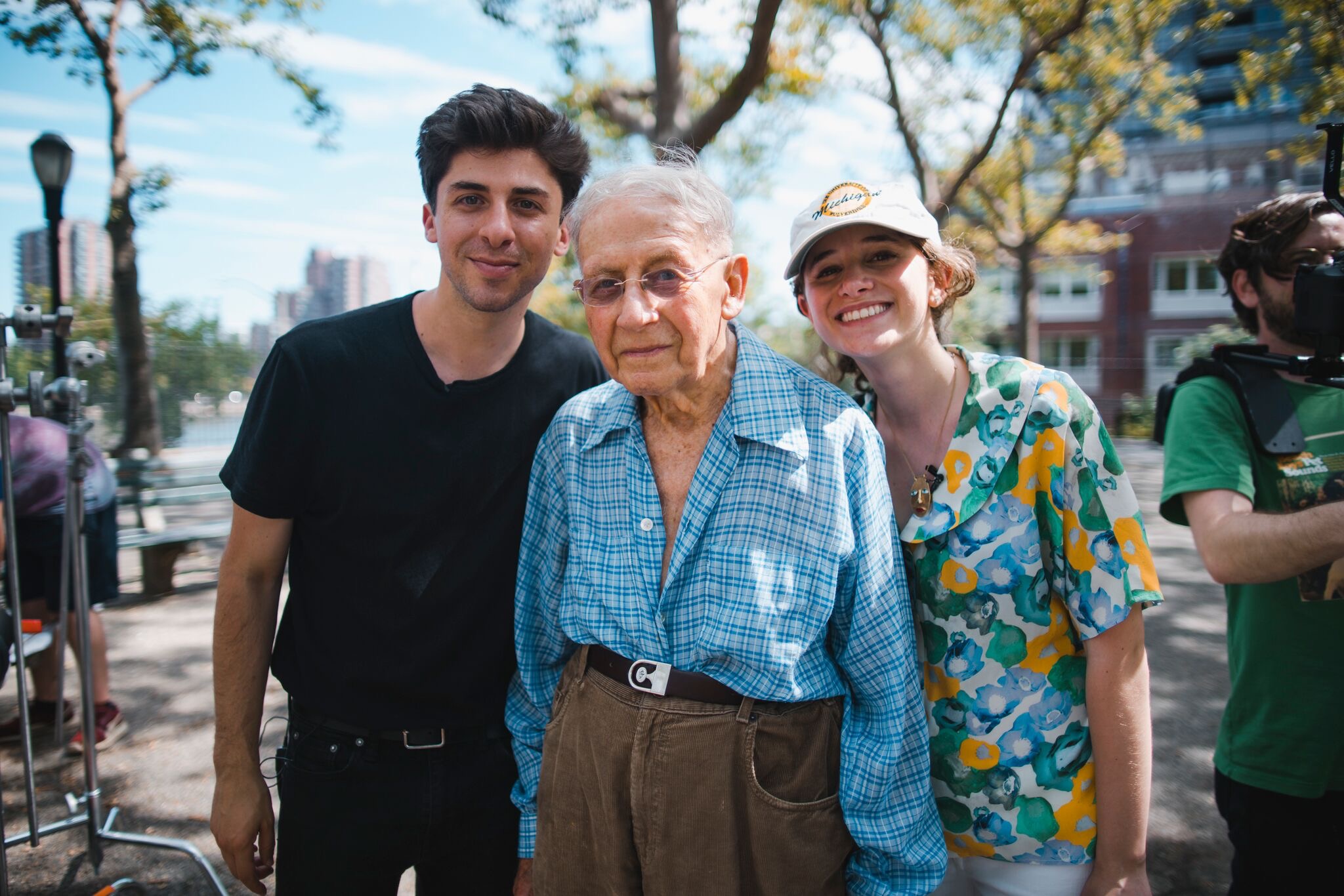 The abridged script was written by Sachs and Starr, informed by improvised bits from the workshop. It's frank and funny, and though there are jokes about aging, senility is never the punchline. "We realized one issue we never addressed, but occurs a lot in the senior community was sex," Starr said. "And it's something I wish we had a lot more of in our script."
Sex in My Annie Hall, as in the original film, is both eagerly pursued and frequently interrupted by neurosis. In one scene, Alvy is dining with red-haired bombshell Allison Portchnick, played by Judy Bindler, when she suggests with a raised eyebrow that they interrupt their dinner for sex. Alvy enthusiastically agrees, but once he's in the bedroom, he can't go through with it. "I can't eat a cold pot roast," he moans. "It's absolutely disgusting!"
Starr and Sachs told me that these scenes were written with less input from the cast. "We felt a little uncomfortable and awkward bringing it up so early in our creative process with them," Sachs said. "If we had had them more keyed into that conversation, it would have added a lot of richness."
There is also the matter of how My Annie Hall engages with the work of Woody Allen, with accusations that the director has sexually assaulted children being public for decades. Especially in the post-Weinstein reckoning that resulted in the ousting of abusive men from positions of power in media, many wonder whether Allen's films should be celebrated at all. I asked the two directors whether my My Annie Hall adds to Allen's renown. "I see this project as a total subversion of an original film," Sachs said. "Acknowledging all of the allegations about Woody Allen, I think what we've done here is taking a director who is known for having a predatory youthful gaze and subverted it completely."
Of course, desiring youth is one of many manifestations of male predation, rather than its root cause, and if subversion is the message of My Annie Hall, it's a subtle one. Allen's alleged abuse wasn't mentioned during the screening, and at one point, addressing the film's unlicensed status (the producers never received permission to adapt the original "Annie Hall"), Starr urged anyone in the audience who might know Allen to put them in touch. Allen has an apartment near the Lenox Hill Neighborhood Center, and if he had wandered into the screening, it would be easy for him to mistake the film as an homage.
But I see Sachs's point: the tremendously capable and funny cast distinguishes My Annie Hall from the original. Their devotion gives the story a life of its own. After the screening, the cast grouped near the stage, chatting animatedly with the audience. I was talking to Shula Chernick about her favorite days of shooting—she had dressed in true Annie Hall style in a black felt bowler hat and vest—when she was pulled away by admirers. But she picked me out again and asked if I wanted to take picture of her and Miller, her co-star, before she went off to dinner. He was wearing pants the deep flat blue of a robin's egg, sharply creased, and a pale blue shirt. I took the shot. They looked like stars.
When Chernick was asked by an audience member how their film compares to Allen's, she said with an impish smile, "I think ours is better, and funnier."