View of Kasper Bosmans, Chip Log, Gladstone Gallery, New York. Courtesy of the artist and Gladstone Gallery, New York and Brussels
A Belgian Artist Uses a Medieval Map to Navigate Modern America
Kasper Bosmans mines the continuing influence of an image that was gnawed by mice, sliced up by nuns, and finally destroyed in World War II.
View of Kasper Bosmans, Chip Log, Gladstone Gallery, New York. Courtesy of the artist and Gladstone Gallery, New York and Brussels
At 27, Kasper Bosmans is the youngest artist currently represented by New York powerhouse Gladstone Gallery. A self-proclaimed "history nerd," the Belgian is now making his NY solo debut with Chip Log, an extensively researched show that assembles a mosaic of diverse moments. As in his previous exhibitions, a group of gouache and silverpoint works from the artist's Legend series provides a key to Bosmans's diverse inspirations. From antique European world maps to American craft quilts, he culls fragments from the past, eliminating the hierarchy of folklore, history, and myth to arrive at a new understanding of the contemporary human condition—specifically, in this show, as it relates to the Americas.

GARAGE sat down with the artist while he took a break from installing at the gallery.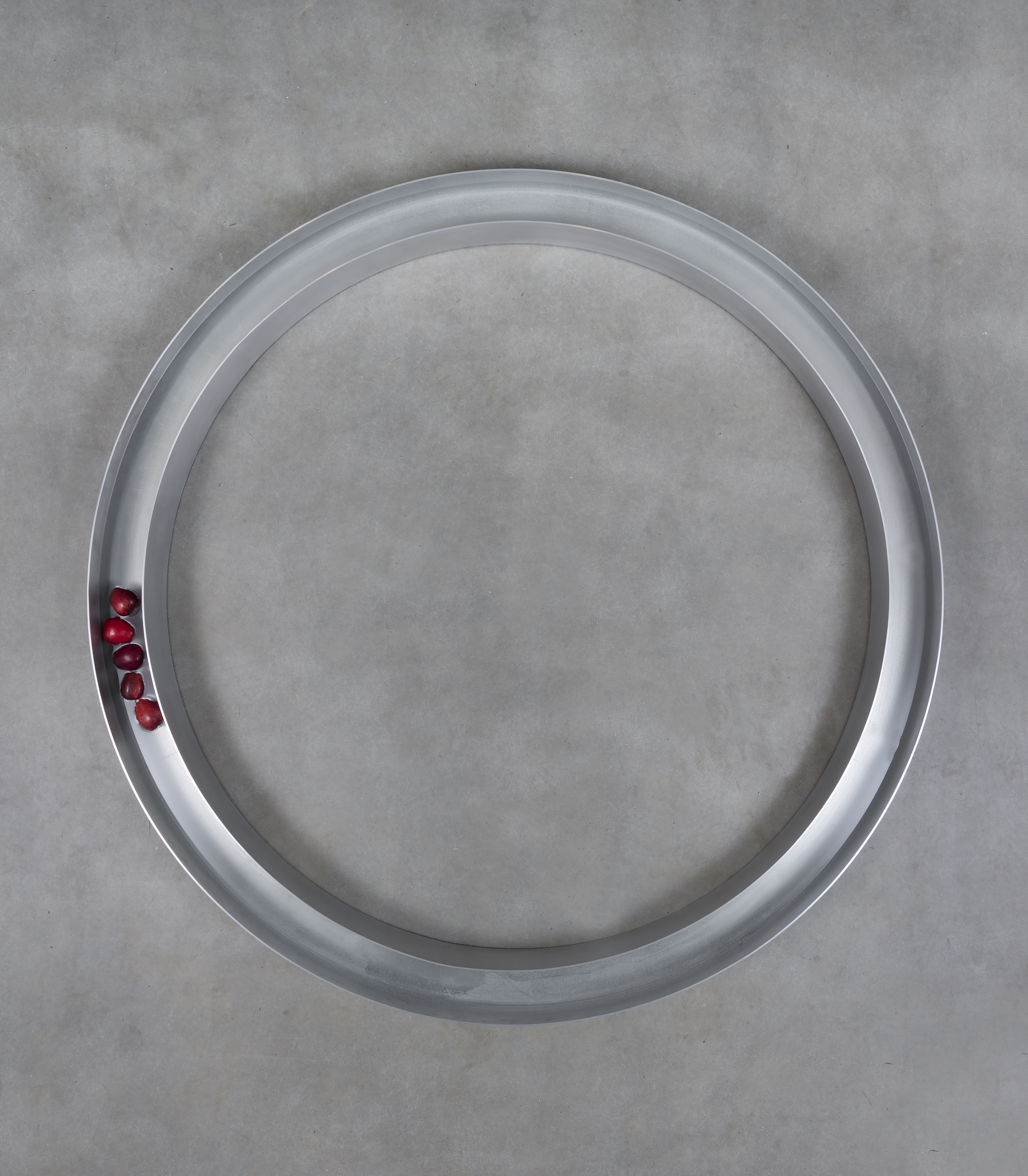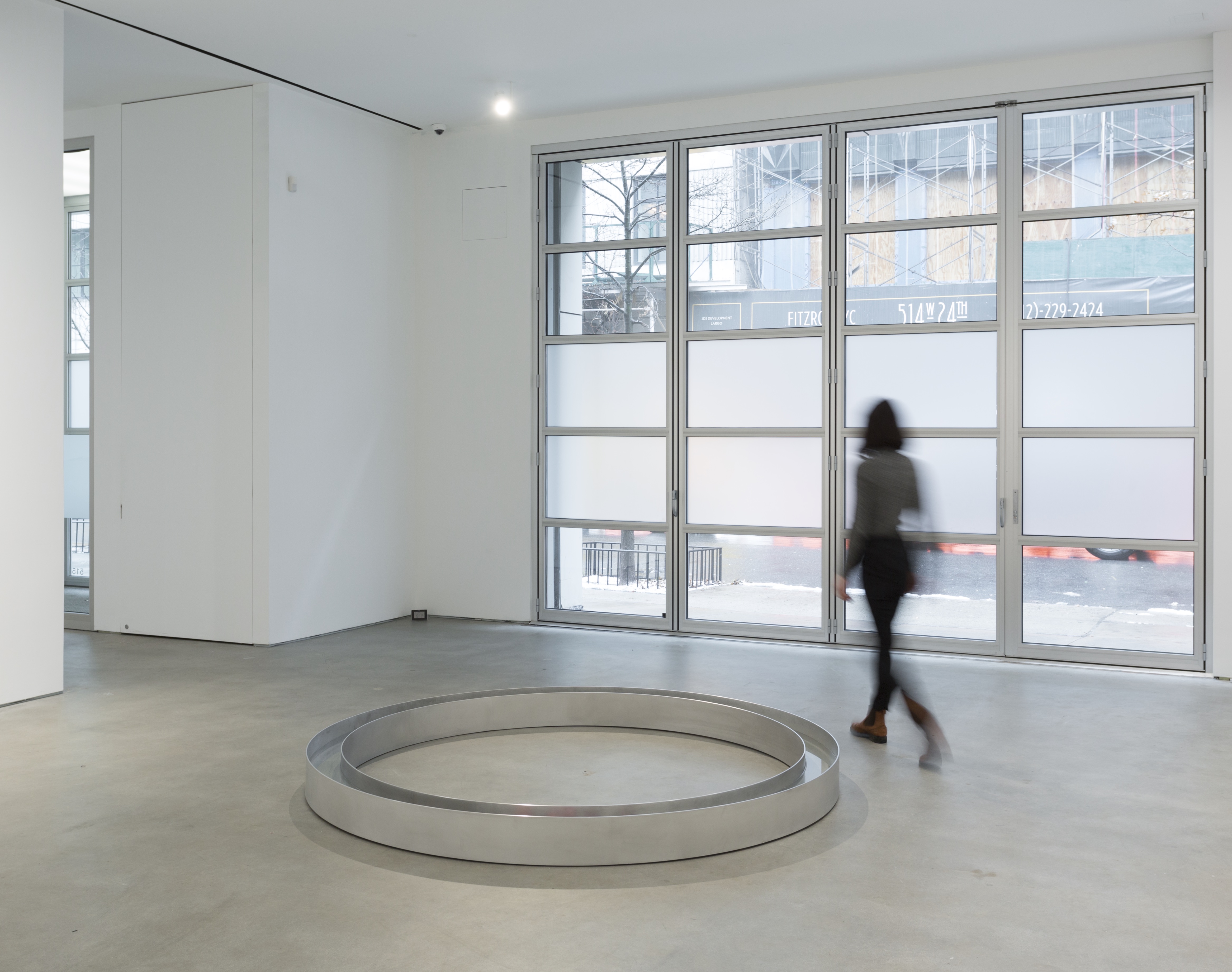 GARAGE: Did the fact that Chip Log marks your US debut affect your research? How did you integrate American culture into the show?
Kasper Bosmans: The first series I'm showing here is a facsimile of the Ebstorf Mappa Mundi, the largest known medieval world map. The original was on goat or sheepskin and was 12 foot square. It contained a cerebral and Biblical version of the world as it was understood then, but we still don't know what colors were used. When it was rediscovered in 1830, mice had chewed its corners, and nuns had cut out and sold some of its parts. Later, during World War II, the map was destroyed in a Hanover bunker bombing. I wanted to recreate the Ebstorf Mappa Mundi in America because people here are incredibly open to reinterpretations of objects and monuments from centuries ago—think of the Cloisters. I wanted to bring back this bygone map using the same materials and aesthetics to question ideas of authenticity and the interpretation of history.
Mapping is important too in your Legend paintings, which tabulate the various inspirations and anecdotes that feed into your work, itself a blend of mythology, history, and folklore.
These paintings help me orchestrate a broader concept, but the audience doesn't have to absorb each and every image. I prefer that some elements get lost or pushed aside and reinterpreted, since I prefer to avoid conclusions and political messages. The poetic, subjective translation of a narrative is very important to me, whether it's myth, gossip, or historical fact.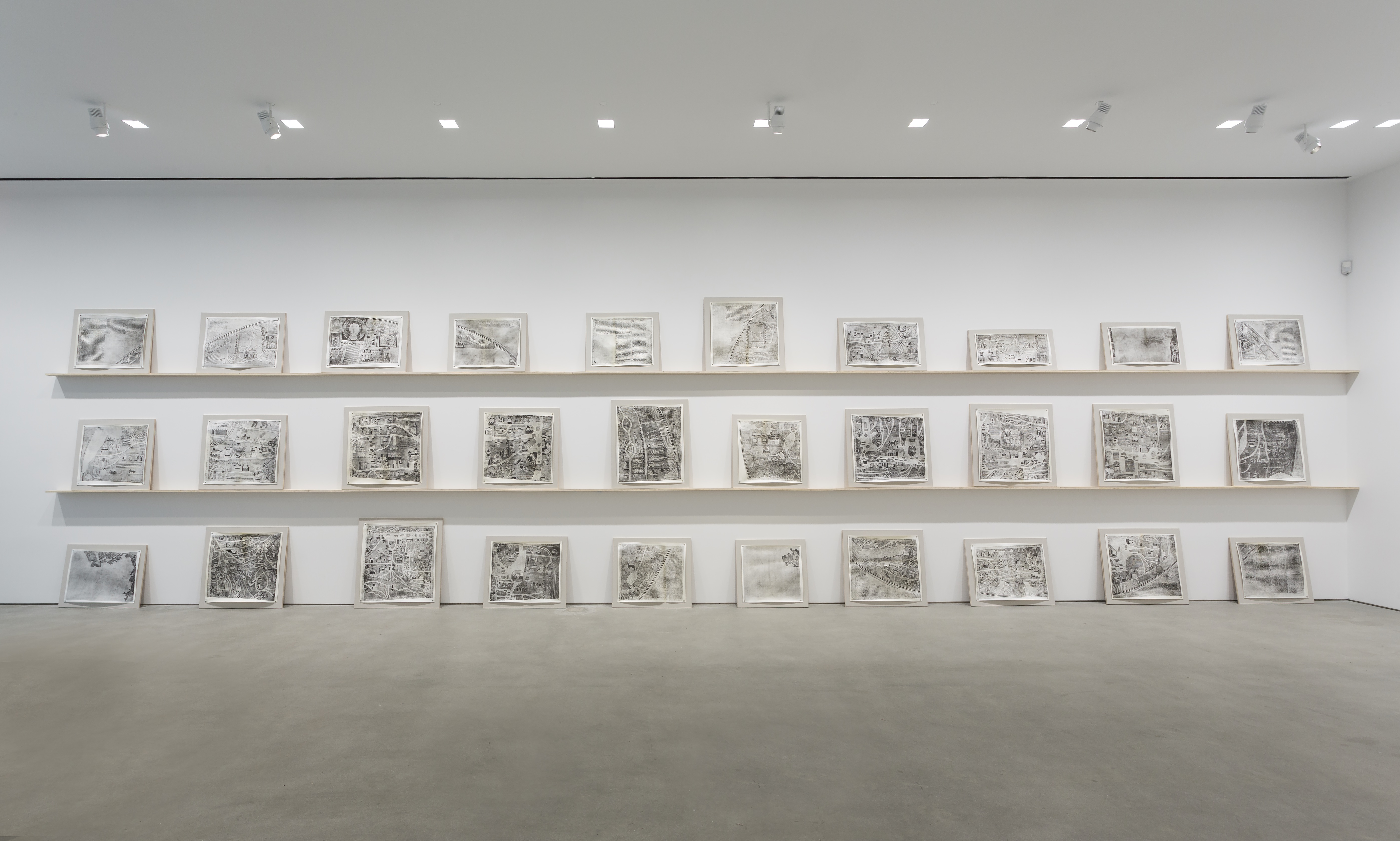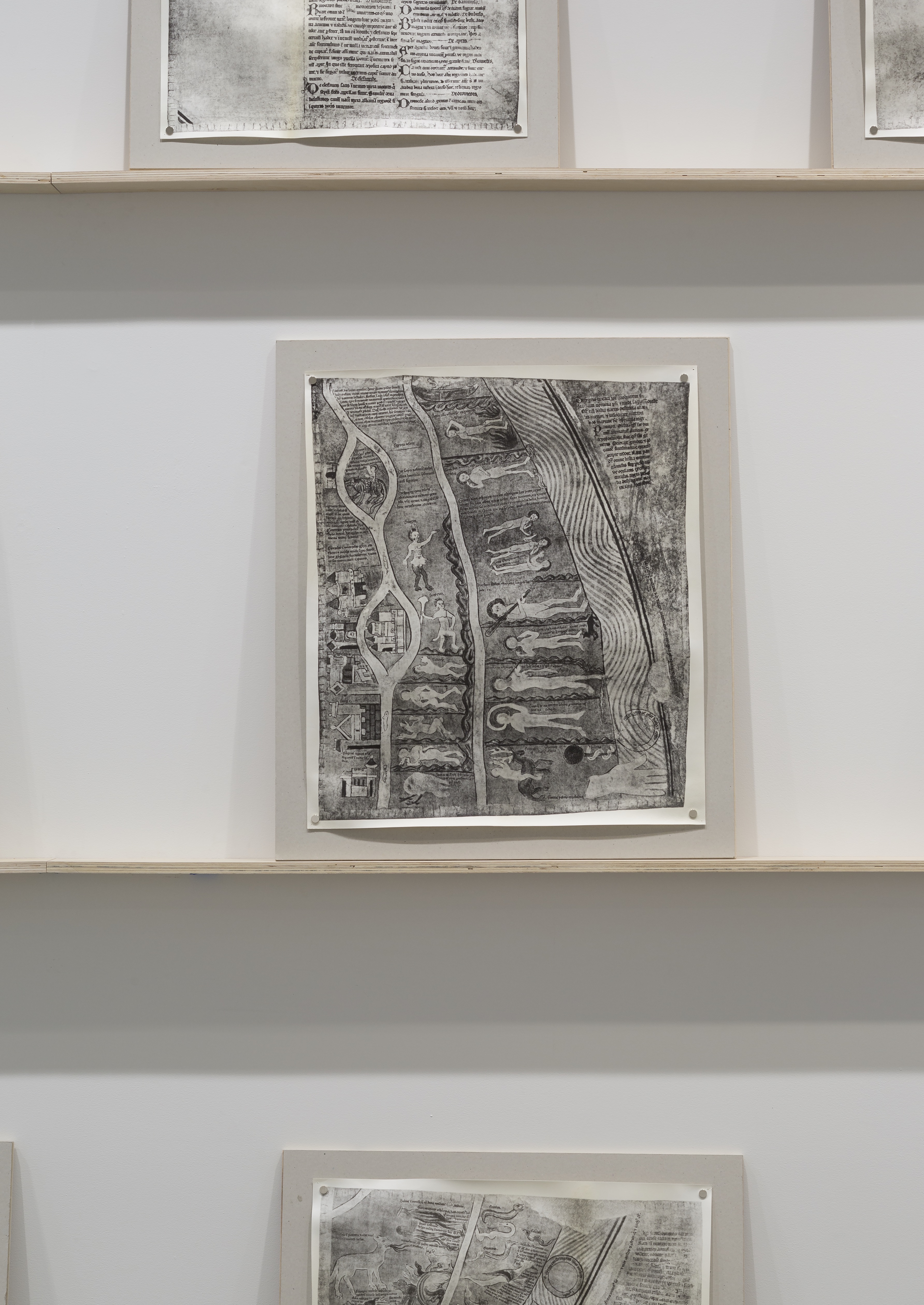 Folk art and craft traditions are strong influences, as evident here in Signature Quilt (Charlemagne). Are you influenced by the American craft tradition specifically?
For that work, I purchased a 'signature quilt' and added names to it. Signature quilts were once used in fundraisers; one could buy a spot on the quilt and sign it. Nowadays, they're considered historical artifacts. My version pokes fun at this status by using the signature of King Charlemagne, one of the most forged autographs in history. I'm fascinated by the story of quilts in America. The fact that they're made by women ties them to feminist activism and collaborative labor. Craft objects represents their zeitgeist, and speak to my interest in folk art. I'm amazed by the number of folk art museums in the US; it isn't the same in Europe.
Historical emblems and signatures play a crucial role in your work by establishing a semi-imaginary narrative. Could you talk about the motif you use in Star Chamber, which occupies a large part of the gallery?
This wallpaper installation covers Amber Room, another work dedicated to the idea of the chamber in European history. The Palace of Westminster in England had a "star chamber," a special room with a star-decorated roof decorated with a star pattern in which judges assigned controversial punishments, such as the death penalty, to politically prominent figures. The term "star chamber" is still used to refer to political actions carried out behind closed doors. Considering the current political landscape in Europe and here, I wanted to reconsider the star chamber motif by blending different symbols together into one pattern. The original room not longer exists, but I found a sketch from 1804 and discovered that the original pattern contains references to important houses within the British monarchy, and to motifs such as the pomegranate and the lily. I'm interested in how decoration has been used for political declaration.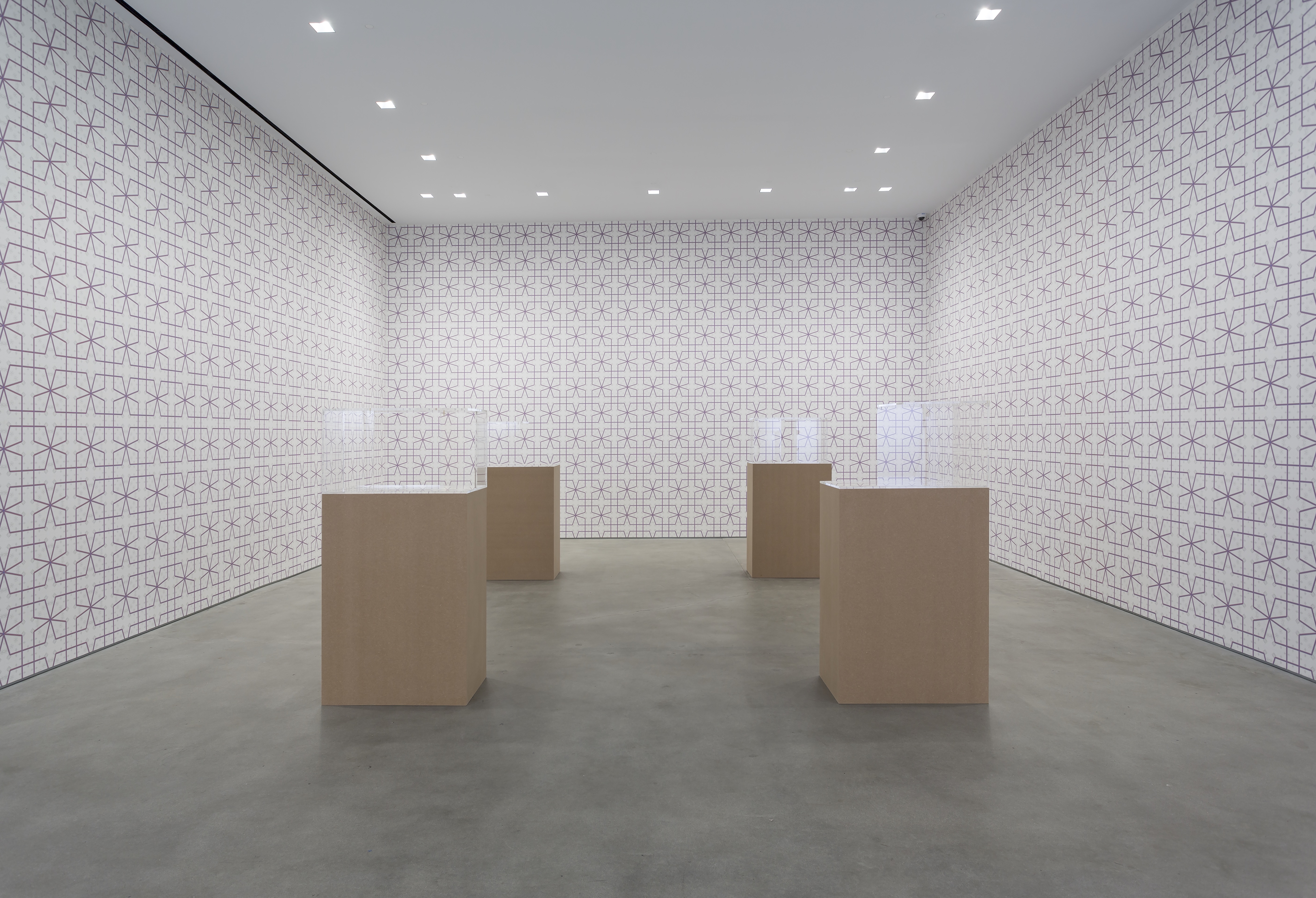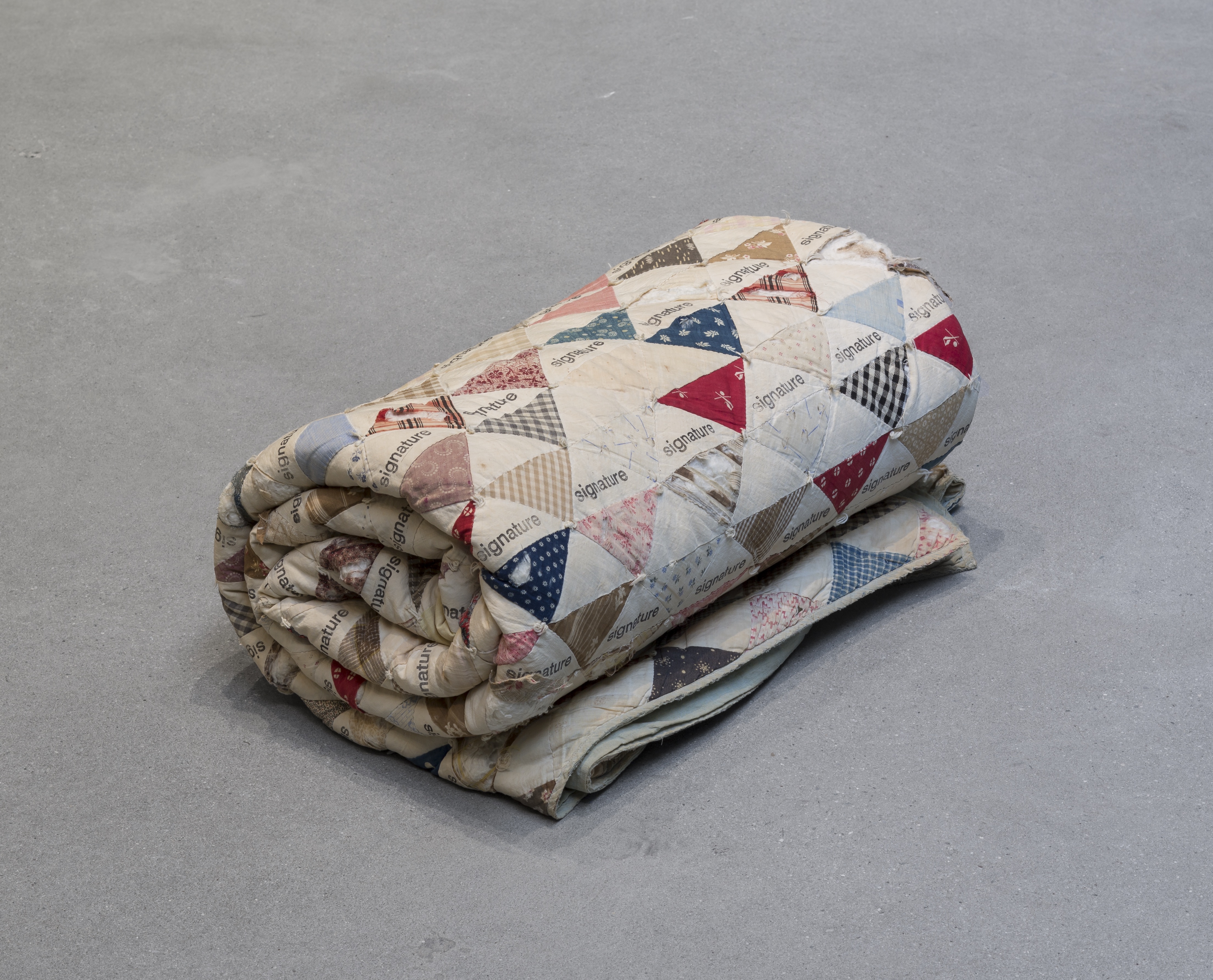 You approach history like a jigsaw, but prefer to bring pieces together that lack an easy fit.
I'm an object maker, and I enjoy reaching diverse conclusions by dragging dispersed narratives together. And I'm too young to make autobiographical work; I prefer keep a distance between myself and my subject matter. History helps me to achieve that. I'm interested in autonomous paintings that lead their own lives.
Kasper Bosmans, Chip Log is on view at Gladstone Gallery through February 24.