Y/Project's New NSFW Jewelry Depicts Tantric Sex Acts, Is Everything
The ceramic earrings and necklaces at Glenn Marten's Fall 2019 show are a major turn on.
I have always had a thing for cars. It probably stems from an intense jealousy of my childhood friend Daniel, who my mother deemed a "genius" because he could spot and name the year, make, and model of the most commonly driven cars in metropolitan D.C. at the age of 5. (*extremely Elle Woods voice* "What? Like it's hard?"). It pissed me off.
While my obsession was born from infantile insecurity, it has been sustained by the very simple fact that cars are hot. They are beautiful objéts; triumphs of design and engineering. They are fast and shiny signifiers of so many things: glamour, money, and S.E.X. In other words, they turn me on. So, when Glenn Marten's Fall/Winter 2019 show started, scored by a symphony of tires screeching to a halt, my engines were already revved. The first exit—a skintight, shiny sheath made from strips of rubbery material—recalled the kind of slick tread one might find on a brand new Goodyear. And in an almost Pavlovian response, my heart started to race.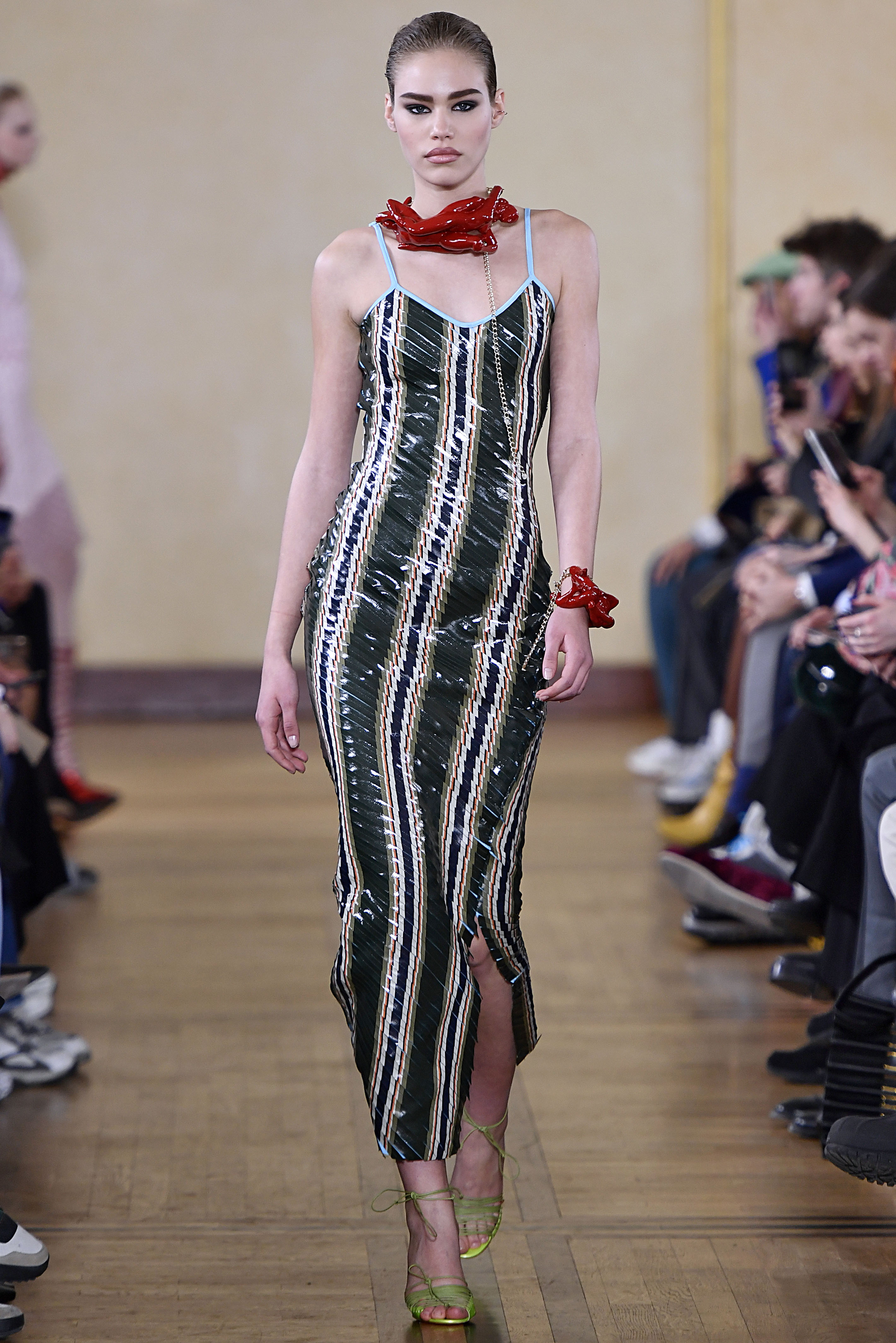 By the third exit, my obsession was cemented. Those salacious thoughts I was having? Those weren't manifestations of my objectum sexualis (never forget that Tracey Emin married a rock), they were triggered by the most perfect pair of sculptural ceramic earrings depicting couples, mid-coital, in rather adventurous positions. And, because we all need a matching necklace, Martens delivered his pièce de résistance: A pendant necklace brandishing two women scissoring. Slow clap.
My obsession with Glenn Martens and his line, Y/Project, is verging dangerously towards fetishistic territory, but from the looks of this show—perhaps that's precisely how he likes it.
Tagged: