Kati Heck, Trinklied vom Jammer der Erde,

2017. Copyright Kati Heck, courtesy Sadie Coles HQ, London. Photography: Robert Glowacki
The Tradition of Artists Painting Drunk People Is Alive and Well
Feeling the after-effects of Thanksgiving indulgence? New paintings by Antwerp's Kati Heck reflect on the pros and cons—but mostly the pros—of booze.
Kati Heck, Trinklied vom Jammer der Erde,
2017. Copyright Kati Heck, courtesy Sadie Coles HQ, London. Photography: Robert Glowacki
A rowdy gang of musicians is gathered around an art deco bar in Kati Heck's Trinklied vom Jammer der Erde (Drinking Song of Earth's Sorrow). It's a painting of a small neighborhood drinking den, neither as glitzy as the one depicted in Manet's Bar at the Folies Bergère nor as abject as the scene of Degas's In a Café. But as an homage to European drunkenness, Drinking Song is sibling to both, drawing on a long and giddy tradition of booze-sodden art stretching back to Pieter Breugel the Elder and beyond.

No one's smoking in Drinking Song, but from the ochre tinge of the walls, you sense a century's worth of cigarettes engrained in the fabric of the building, just and a sticky veneer of spilt beer on the patterned tiles. It pictures a real place—Café De Kat, in Heck's hometown of Antwerp—and as is the artist's habit, the characters therein are all people she knows. At the center of the group is cellist Simon Lenski, who stands on a chair conducting in a brocade-print jumpsuit.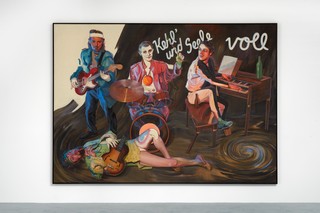 Heck's works often suggest euphoria and debauchery. Besides the paintings, she's made drinking sculptures, including one that dispenses shots of schnapps. A video from her Babydetekivclub series shows the titular 'baby detectives' knocking back martinis and eggcups full of red wine as they struggle to understand the world around them.
"To get drunk is like a shield you hide behind, but also fun," Heck explains. "I always want people to be happy with me, to satisfy them and to make them more loose." That physical slack gives Drinking Song its woozy, precarious atmosphere: while it has the dimensions of an altarpiece, its characters loll, crouch, and lean (one even spurts liquid from his mouth like a cocktail fountain). They have none of the muscular heroism of figures in a religious painting.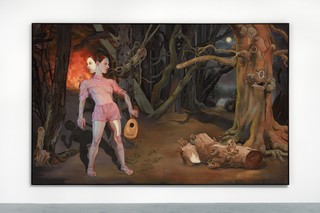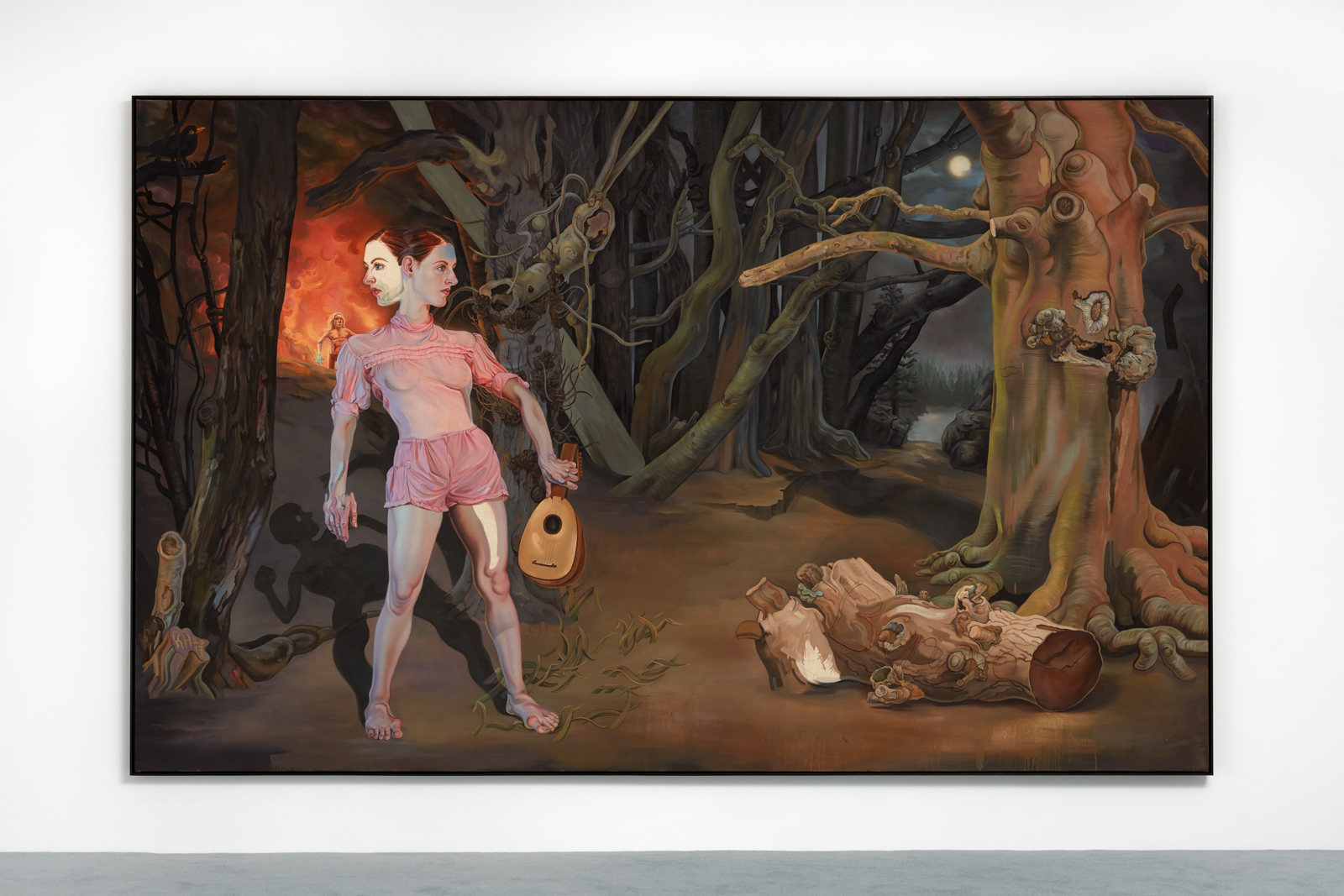 Drinking Song is the first of six paintings inspired by Gustav Mahler's The Song of the Earth currently on view in a disorienting heptagonal chamber at Sadie Coles HQ in London. Featuring a cast of friends and neighbors, the paintings dip into moments of ecstasy and lust, beauty and threat, loneliness and quietude. In Von der Jugend (Youth) a pot-bellied little man and statuesque young woman appear dressed in diaphanous clothing in a lush pastoral setting.

A figure that looks suspiciously like Iggy Pop appears in the background of Der Abschied (The Farewell) in which a two-faced woman finds herself alone in an ominous forest at night. Der Trunkene im Frühling (The Drunkard In Spring) pictures an inebriated rock band (Heck's husband's) playing in front of a swirling vortex of paint strokes. A line from the Mahler song painted on the wall behind the musicians— kehl und seele voll ("throat and soul are full")—pays tribute to a night out drinking with friends.
Heck is fascinated by the destructive power of drink and its effect on the body. She describes a friend in Antwerp with "a beard like a sunset": white at the tips then stained yellow with nicotine and foxy with red wine spill. "There's a kind of beauty to it, but it's also disgusting." She also finds "a certain beauty" to the warped toenails and varicose veins that emerge when her heavy-drinking neighbors disrobe for paintings: "they're really quite interesting to paint."

Rather than fodder for a cautionary tale, the revelry in Heck's paintings points to shared experience. It's also an enduring and long-celebrated convention of bohemian life: one she suggests is easier to uphold in a town like Antwerp than a voracious big city. As an art student "the only way you could have a talk with my tutor was to go into the bar next to the school and get wasted," she recalls. "Maybe for me the drinking is part of the romance of being an artist?"
Kati Heck: Heimlich Manouevre is on view at Sadie Coles HQ, London, through February 10, 2018. On December 19, 2017, Simon Lenski and ensemble will perform a free interpretation of Mahler's Der Abschied (The Farewell) in the gallery.