Dan

Colen

performs Livin and Dyin in London as part of Dan Colen, Sweet Liberty at Newport Street Gallery.
©

Dan

Colen

& Victor Mara Ltd.
A Naked Dan Colen Takes Over Damien Hirst's London Gallery
Dan Colen's reimagining of his career to date features a cartoon-like deconstruction of Newport Street Gallery's interior, and a freewheeling performance piece.
Dan Colen performs Livin and Dyin in London as part of Dan Colen, Sweet Liberty at Newport Street Gallery.
© Dan Colen & Victor Mara Ltd.
Early in October, artist Dan Colen was hanging out in front of the Houses of Parliament in London with the Kool-Aid Man, Roger Rabbit, and Wile E. Coyote. The quartet stopped off for a visit to a nearby statue of Abe Lincoln, before dropping in on Mahatma Ghandi and Nelson Mandela. "But it wasn't a dream. It was a place. And you, and you, and you were there," announced Colen, reading from a text collaged from sound bites, song lyrics, movies scripts, and platitudes. "I remember that some of it wasn't very nice. But most of it was beautiful. But just the same, all I kept saying to everybody was: 'I want to go home.'" Then, like a world-weary, thirty-something male Dorothy, Colen and his three bumbling companions set off down the not-particularly-yellow brick road, over the bridge to Lambeth, making their way to the palace of Oz the Great and Powerful.
Livin and Dyin is a performance that Colen has delivered before, first in the small French town of Grigny during the 2013 Lyon Biennial, and subsequently in both LA and Washington, D.C. What set the London performance apart was that here Colen had found his own Oz, and the performance really did conclude at his palace: Newport Street Gallery, the private art institution founded and backed by Damien Hirst.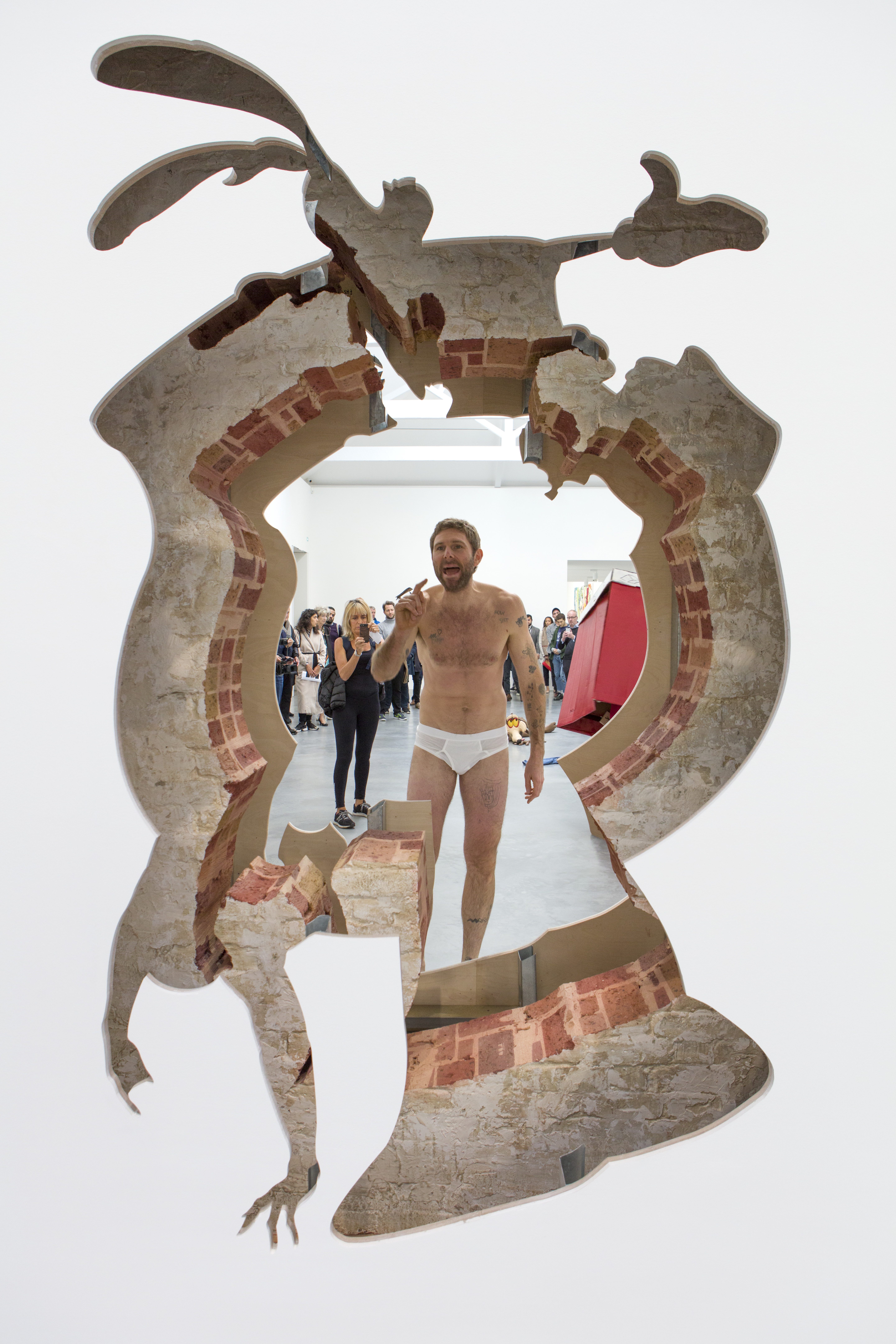 All six substantial galleries of Newport Street are currently dedicated to Colen's largest show to date, Sweet Liberty, which takes in 15 years of the artist's career since he graduated from Rhode Island School of Design. Due to the nature of Hirst's patronage as a collector, Sweet Liberty is less a mid-career retrospective than a vigorous reimagining. As Colen explains over coffee during a fuzzy stopover en route from the Himalayas: "There are a bunch of things in this show that have existed in different forms which here are getting to be the things they were always intended to be."
Among this "bunch of things" are the two most significant works in the show: The Big Kahuna (2010–17), a twisted metal flagpole that leaves Old Glory trailing ragged around its 20-ton concrete base; and the sculptural component of Livin and Dyin, for which life-sized cutouts of Colen and his 'toon companions have been punched through walls throughout the gallery. Made for the Astrup Fearnley Museum in Oslo, the smaller 2010 version of The Big Kahuna is now described by Colen as "a study for a sculpture: I'd designed this, but at the last minute they realised their floor wouldn't support it and they didn't have the budget to ship it."
In Lyon, the cartoon holes for Livin and Dyin were cut through temporary boards erected in the show space for the Biennial. At Newport Street they go through a double layer of red brick as well as the gallery's sheetrock display walls constructed around them. Recall, just for a moment, that the original Edwardian workshops in which the gallery is constructed are 'listed' (i.e. heritage protected), and that the subsequent renovation by Caruso St. John won the Sterling Prize for architecture. This is the structure that Hirst has invited Colen and his assistants to puncture with 7-foot-high cartoon impact holes. It's quite the gesture of faith.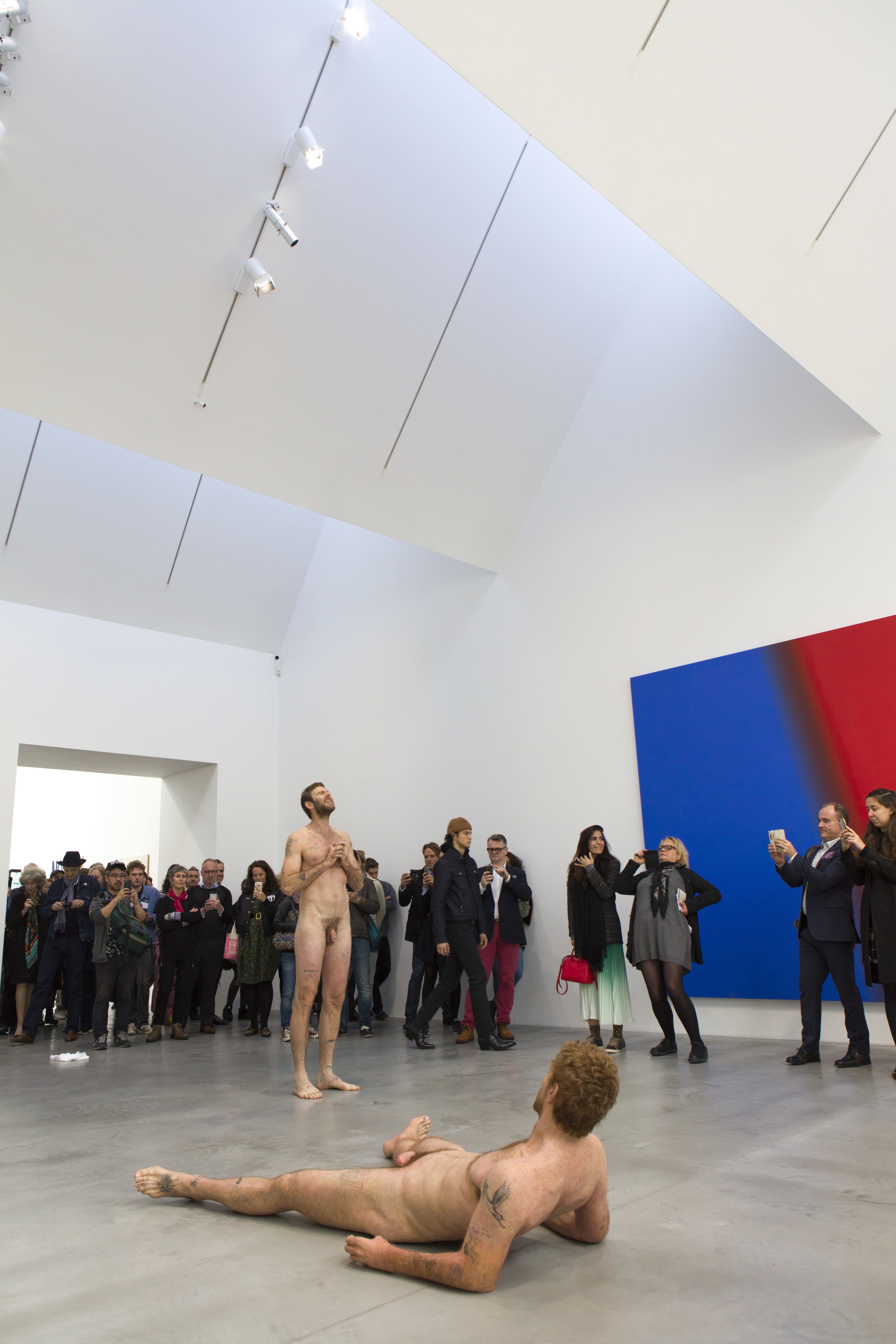 "Here, Livin and Dyin is really doing what it's supposed to be doing but never done: it's intervening in the building in a very permanent way," says Colen. "I don't think a curator, a museum or gallerist could have signed up for what Damien did. I think only an artist could have really gotten behind it, and there's no other artist anywhere with a museum like this. Damien could really understand why the block needed to weight 45,000 pounds, or why the holes couldn't be made of Styrofoam and painted to look like bricks. But now that it's there it has an impact, it makes it's own argument, and the work can only evolve in a more deliberate way moving forward."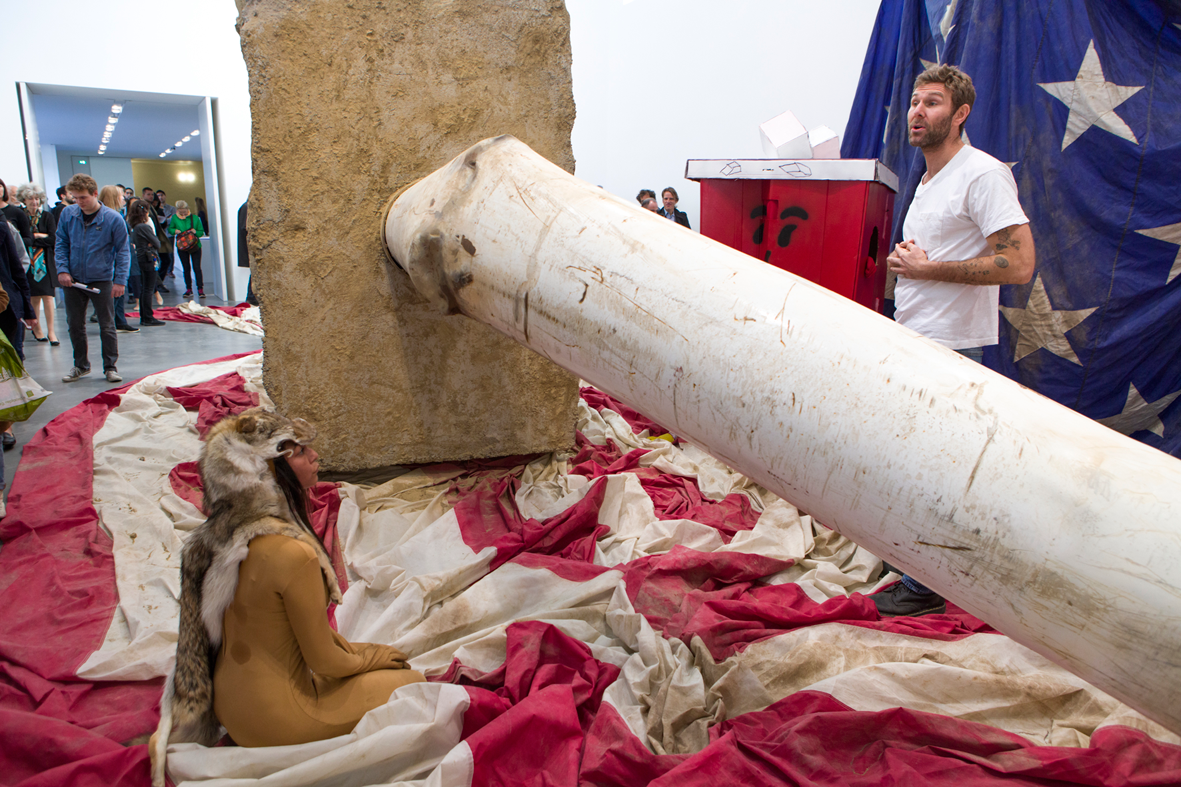 The act of damaging an important building, or shipping a 20-ton block of rough concrete all the way from New York is very much in keeping with the Sisyphean themes that run through Colen's work—the pursuit of maximum effort for often comically humble results. It's why his cartoon companions are all "failed chasers." For Colen, "The idea of failure and hope are totally connected."
One aspect that he has relinquished control over—to an extent—is the interpretation of his work, which he says is currently altered less by where it is shown than when. "So much is different now, even in the last 24 months." Today a collapsed flag reads as political gesture rather than self-portraiture, and cartoons outside the British parliament look less like the incursion of drawn images into real life, than a comment on the politicians within running at speed, repeatedly, into solid walls, and wondering why they can't pass through them.
Dan Colen, Sweet Liberty is on view at Newport Street Gallery, London, through January 21, 2018.