Daniel Erban, No Place to Hide (Detail), 1998, Ink on paper, courtesy of POLYSEMIE/ROBERT POULIN, France/Canada and Wide Open Arts, New York.
A Love Letter to the Outsider Art Fair
Displaying work by mostly unknown artists, the fair lends itself for exploration, learning, and true discovery.
Daniel Erban, No Place to Hide (Detail), 1998, Ink on paper, courtesy of POLYSEMIE/ROBERT POULIN, France/Canada and Wide Open Arts, New York.
Ahh, the Outsider Art Fair. Truly the art-fair model at its best, if you ask me. I've only been in the art fair circuit for a couple of years now, but they can start to blend together. But the Outsider Art Fair? It transcends.

Artists who fall under the "outsider" blanket are typically from the "fringes" of society. They're largely self-taught, and many die before their work can ever even seen. Often they live in highly uncommon circumstances, if not conditions of intense emotional duress. The art isn't created to exist in an art historical canon, it just naturally does. It springs from the loins of its creators! Walking through the space feels akin to a treasure hunt.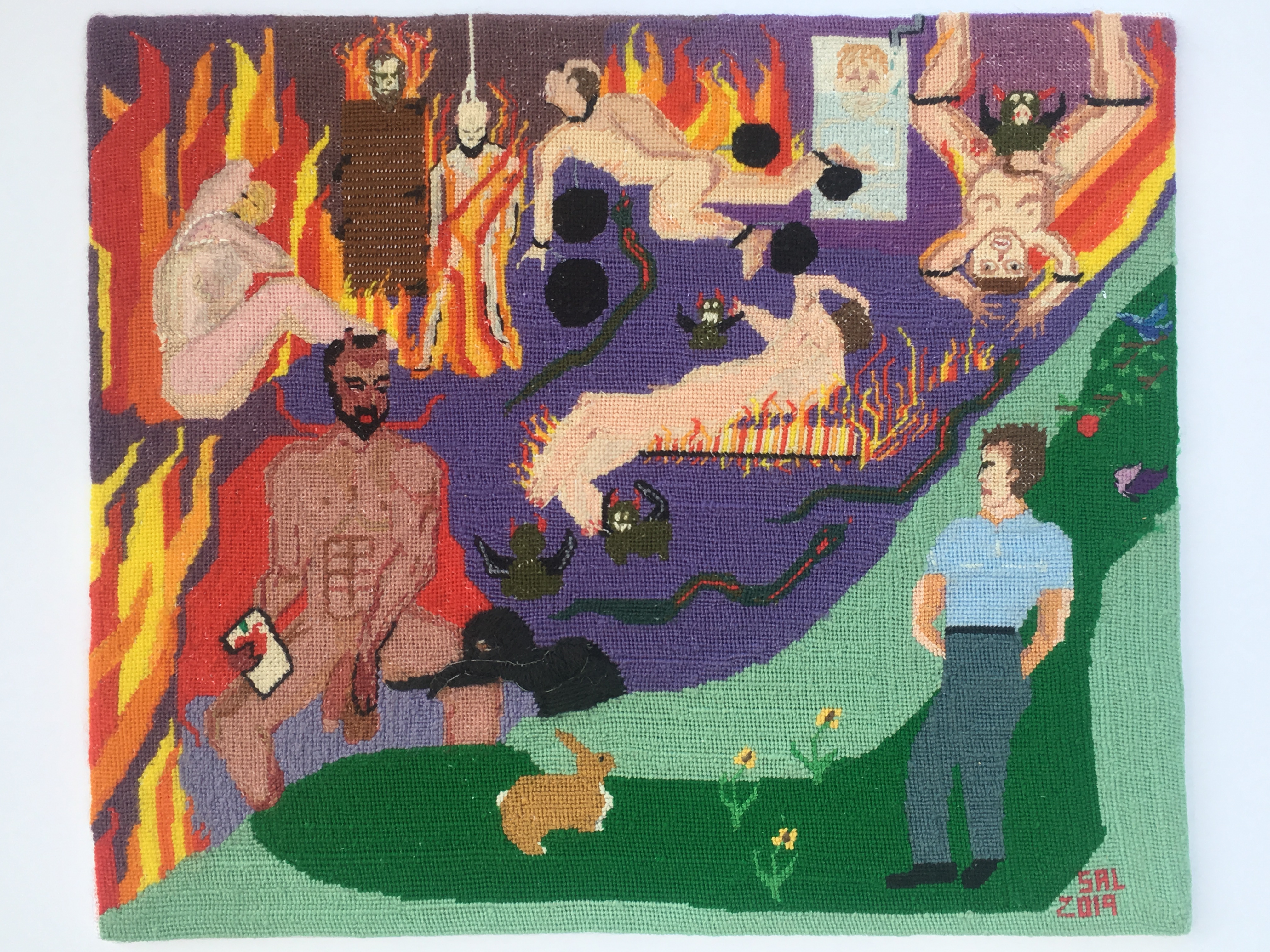 At this year's presentation at the Metropolitan Pavilion in Manhattan, works from the Children's Museum of the Arts were the first thing inside the doors. The museum collects work made by children artists, and has grown to hold 2,000 artworks by children from over fifty countries. And these ain't no doodles. One portrait of a girl seated at her desk looking bashful and clutching a painting, was by an 11-year old named Janet Welch. But if I didn't know any better, I would've sworn it was an Alice Neel. Another, a gestural painting of a group of people sitting on cool green grass, was as genial and vividly colored as a Matisse painting. Oh, and painted by a 9 year-old.
Inside the fair, more wonders awaited. A predominant feature of the OAF is that dealers are in rare form. Often, booth attendants can be (understandably) exhausted, reticent to speak meaningfully with those who aren't collectors, or just kind of fried. Here, when approached, gallerists spring into stories of their artists' lives and interests, enthusiasm on full display. I walked up to Marion Harris' booth to take a look at a painting of Anna Delvey's notorious courtroom photos, in a triptych along with Tekashi 6ix 9ine's and Cuba Gooding Jr.'s.

"The courtroom photographer for the New York Post just started painting," their gallerist told me with a grin. The artist, Steven Hirsch, paints his subjects in the same crudely honest light in which he photographs them, though on canvas the images are odes to America's love for pulp and celebrity scandal. Another booth showed textile pieces made by "Blind Willie" Egan, who has been blind for the past 17 years, and yet his weaving felt intentional in its frenzy of texture and color. Sal Salandra's needlepoint depictions of sexual depravity practically leapt off the walls at Norman Brosterman's gallery, and you would never guess that a mythical, energetic portrait of a centaur-like woman was made by Reza Shafahi, a former professional wrestler who first started painting at the ripe age of 72.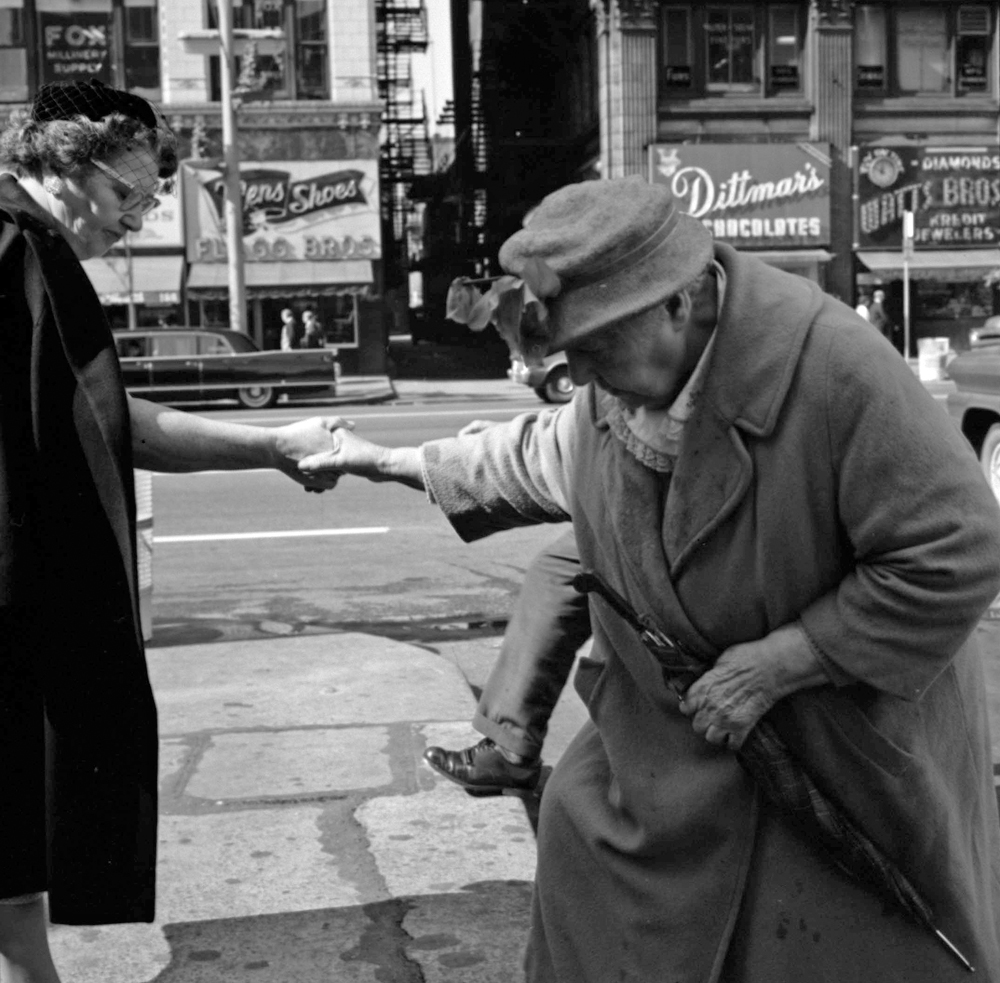 A newcomer to the school of the outsider is Vivian Maier, though she does check all of the boxes. Peter Schejdahl's critique of Bill Traylor's retrospective of the Smithsonian, he writes that the term "belong(s) to a fading time of urges to police the frontiers of high culture," and is "philosophically incoherent." Though, I'm of the opinion that the term "outsider art" has been around for long enough that it's outgrown its literal definition. Just like how modern art isn't really what's actually modern, not all outsider art exists on the outside anymore.
Bill Traylor, Howard Finster, and Henry Darger are all now canonical—their work exists in the collections of institutions such as the Smithsonian, MoMA, and even the Library of Congress. Hell, Netflix even made a movie starring Jake Gyllenhaal that draws from the life of Darger. What the Outsider Art Fair does right is display the exceptional works by these household names, yet still maintains an allowance for discovery and an open-minded approach to curation.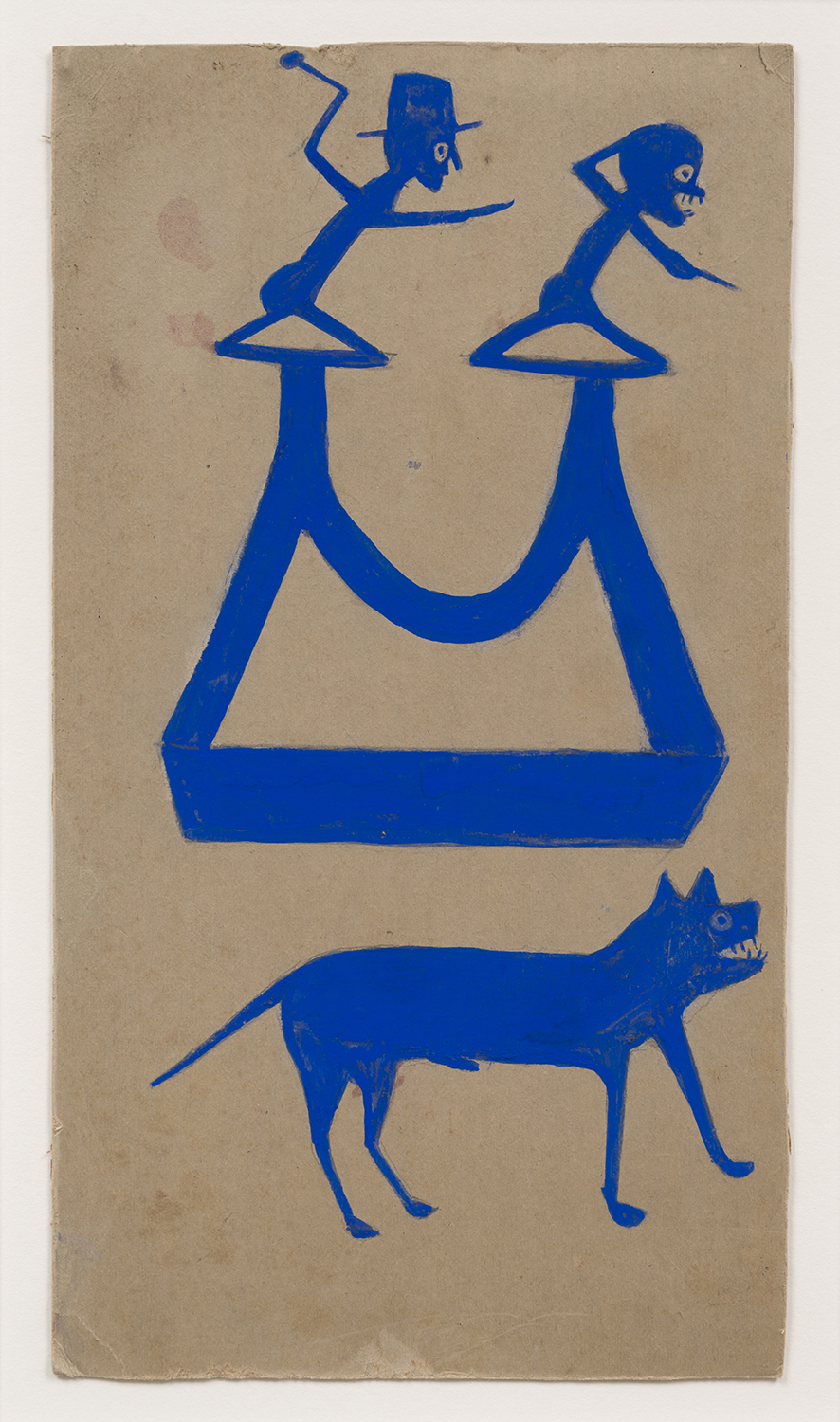 Perhaps that's why it attracts a weird crowd. This past Thursday at the VIP opening, I watched Brian Donnelly (aka KAWS) look at the same artwork as Clare Danes, followed by Neutral Milk Hotel's leading man Jeff Mangum. What's even better is that (besides pesky journalists like me) most people didn't even really seem to notice them, and they were left in peace to look at the work.

That weirdness and that lack of pretension are probably why I feel so much affection for the fair. Inside the Metropolitan Pavilion, I don't need to be an art scholar nor a "scenester" to feel like I fit in, and I can just let my curiosity take the reins. And sure, curiosity killed the cat, but who wants to live a boring life anyway?
Tagged: