Photo by Erin Knutson Studio
Eating and Emoting, the Dimes Way
The vibe-heavy Chinatown restaurant teamed up with art gallery Karma to release their first cookbook, "Dimes Times: Emotional Eating."
Photo by Erin Knutson Studio
Situated in a particular corner of Chinatown and the Lower East Side, known by the very-online as "Dimes Square," Dimes has transcended the mere realm of "downtown New York City restaurant" into what we can call "a freaking vibe."
The all-day cafe, plus its accompanying deli and market outposts—if you stepped out of the door of any of them, you would be able to see the other two (plus, probably, a bunch of skateboarders)—are, by all accounts, spots to eat beautiful food and see beautiful people. Dimes's founders, Sabrina De Sousa and Alissa Wagner, have built up a cult following for their funky, healthy-leaning offerings like grain bowls and seawater martinis, as well as the community they've cultivated—all of which they've bottled into a new cookbook, Dimes Times: Emotional Eating, out on March 12.
Consider Emotional Eating as a guidebook to making their menu staples, presented with a pretty delightful sense of humor. One could even say the book is also just as much of a peek into the Dimes experience, meaning, as the book's intro says, "finding peace in pink salmon, orange wine, and black rice, and refuge in Dimes's steady rhythms, helping to navigate the emo-moodiness contained in a New York minute."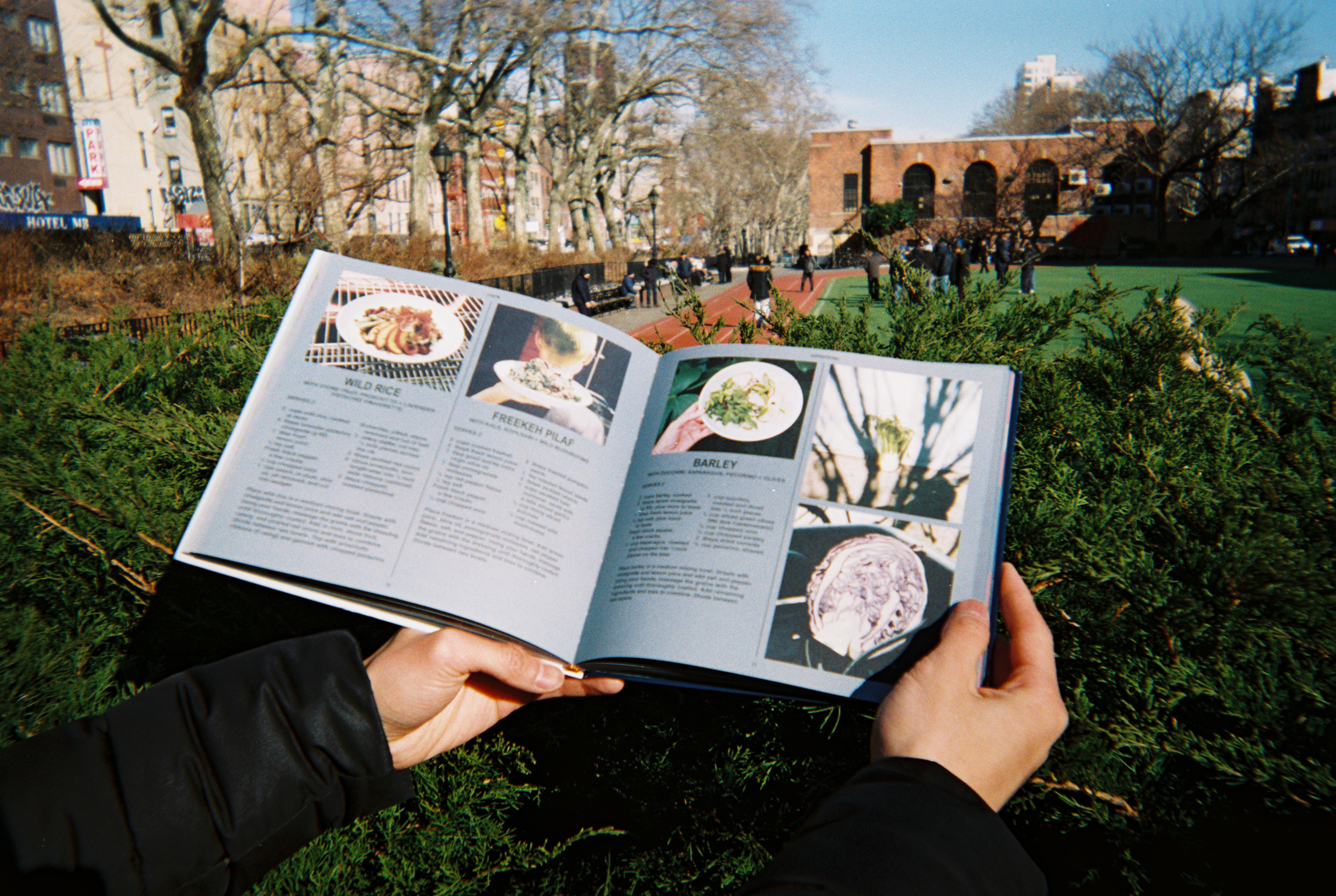 Three years ago, De Sousa and Wagner started shopping around for a publishing home for their their cookbook idea, unsure they'd find the creative freedom they were looking for. Then, they thought to reach out to some members of the Dimes community: the team at Karma, the eclectic East Village gallery with big roots in art book publishing. "We were kind of at a dead end with the project and we became super friendly with them when they had their temporary space around the corner—they would come in for lunch all the time," De Sousa said. "I just emailed them and they were like, 'Yeah, of course. We've never done a cookbook before. Why not?'"
"They trust our aesthetic and our ethos, and we love them," De Sousa said. "It's a nice symbiotic relationship. We share meals with them."
Art is pretty engrained in those few blocks emanating forth from the East Broadway F train stop, and naturally, Emotional Eating follows suit. The eight-by-eight-inch volume feels like a cross between an art book and a children's book, filled with fun design elements inspired by Bruno Munari and Barbie mix-and-match flip books.
"It took us a while for us to figure out how we wanted to tell the story and have fun with it at the same time," De Sousa said. They wanted to go beyond an early idea of "a day in the life of Dimes," but then through the process of trying to get the book made, "it did become somewhat emotional. We had this 'aha' moment like, 'Why don't we add emotional qualities to the times of day?'"
And so, the book is divided up into time-slot chapters centered on a few crucial questions, thematically linked by Munari-reminiscent cut-outs: What's going on at Dimes right now? What's going on with your emotional state? What are you in the mood to eat?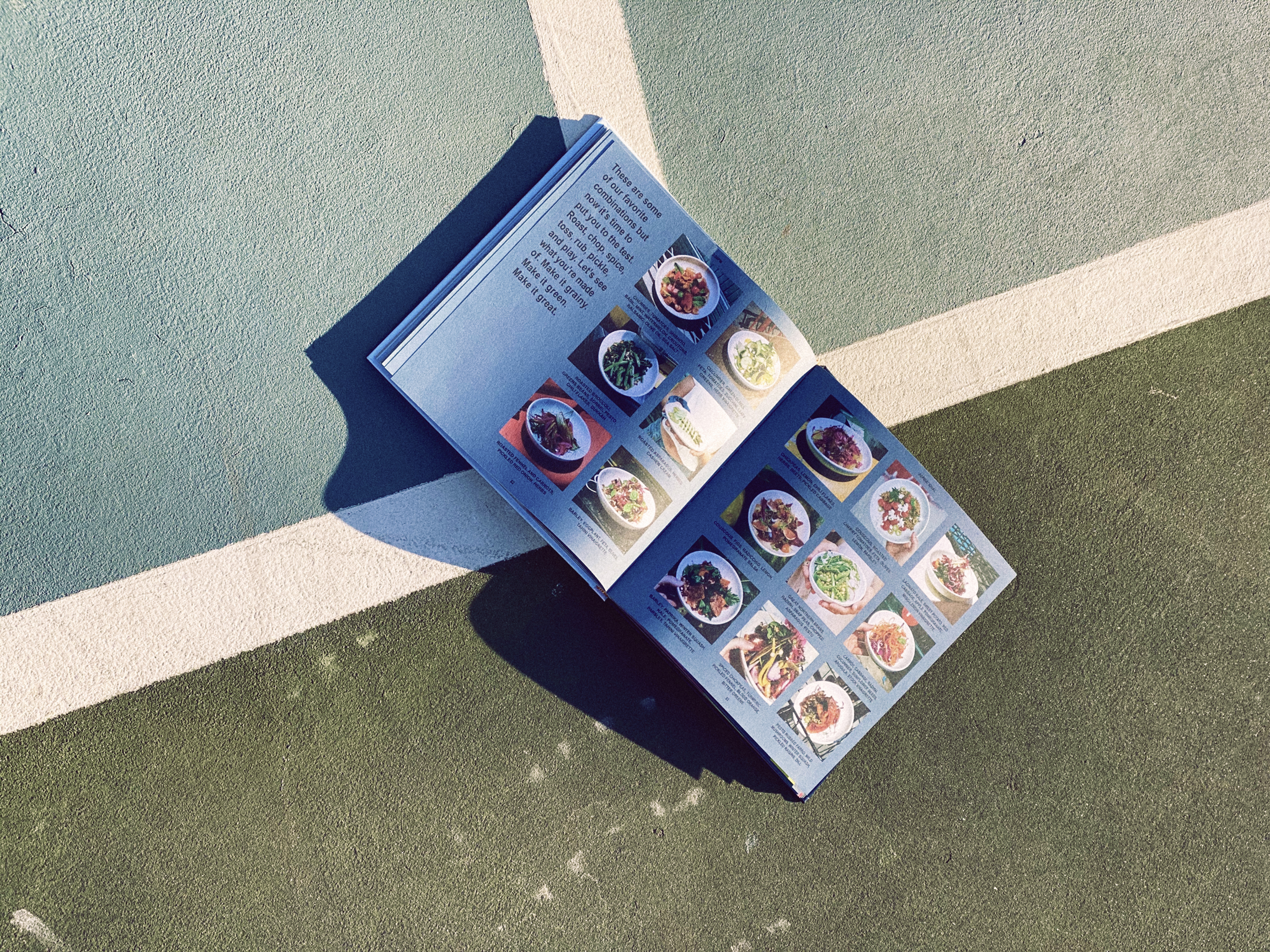 There are two breakfast sections: 8 a.m. breakfast is "Determined" (you're up and at 'em, you're drinking a green smoothie, you're definitely in the mood to throw some flax seeds on something) while 10:33 a.m. breakfast is "Emo" (you've hit snooze too many times, you're hungover, you want matcha pancakes and breakfast tacos). There's "Sensitive" lunch at noon (the salad chapter, beautifully rendered on translucent vellum paper). There's 4:20 p.m. (you know). And 10 p.m. is time to "Commiserate" (with a wheatgrass margarita and flourless chocolate cake).
"We always wanted it to be more like an art book than a traditional cookbook," said its designer Erin Knutson. "We had a very strong idea of what we didn't want it to be as far as like, recipe on the left and beautiful food photography on the right."
The text, full of truly delicious copy morsels written by Wagner and Toniann Fernandez, wanders and slides (theoretically and literally) across the book's pages—which, Knutson notes, "[go] from light blue to dark blue, so if you look at the edges it's a gradient through the times of day." The emotions get pretty abstract, too; the 8 p.m. chapter, titled "Honeymoon," theorizes cooking a show-off meal, like a dinner for a new fling: "It's six weeks in. You're ecstatic, thrilled, smiling from ear to ear. It doesn't even bother you that he has four roommates. And isn't it so awesome that he can remain close with his ex?"
"You could read the book, if you wanted to, front cover to back cover and it's a story that takes you through the day, and the same characters come back," Knutson said. "We came up with a format that would work as a set, so eventually, if you had ten of these, they would all work together." De Sousa looks forward to making Dimes Times sequels in the future.
"It was a real labor of love," De Sousa said. "Everyone that was involved knows Dimes inside and out." The proverbial wheatgrass Kool-Aid is ripe for the sipping.
"Associating all of these recipes with specific emotions—I'm like, completely tied into that," Knutson said. "Now when I go there I'm like, 'I'm feeling emo. I should get the pancakes.'"