Martina Cox's Curtain Call
The up-and-coming young designer reverses the gaze on to the viewer
Close your eyes for a second and picture the perfect '50s housewife wardrobe. There would be a house dress in a soft color with a delicate pattern—preferably with puffy sleeves and tiny little buttons crawling up the back. Maybe a pair of house pants with an elastic waistband, or a ruffled cream colored blouse styled with a pair of kitten heels. Now imagine that said housewife was kind of a freak, maybe a dominatrix after hours, and cries every time she sees a Dalí painting. What would she wear?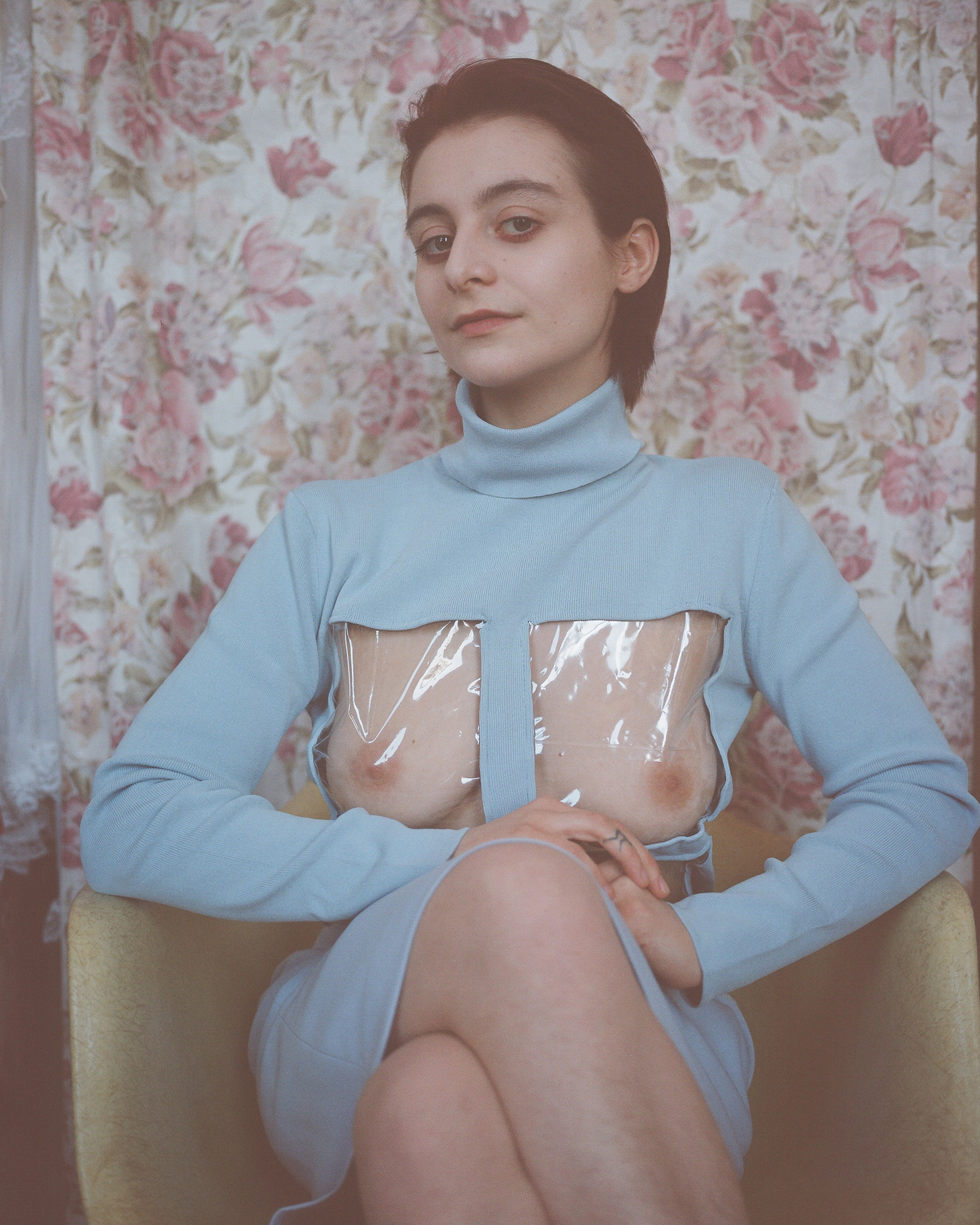 Probably something plucked out of Martina Cox's imagination. Cox, a 24 year old designer who sells some of her work at pop-up shop Café Forgot, makes clothing that thrives in a space of discord, forced sexuality, and fifties sensibility. She upcycles and re-envisions conservative knee length skirts, sundresses, and turtlenecks as explicitly sexual objects. Cox makes PVC window panes and adds them to her garments—usually around the chest or butt area. The resulting playfulness lends itself to rear view windows and little nip slips. If the '50s housewife wanted to put a pie on her windowsill to cool off, why not cool off a boob or an ass cheek as well? In Cox's hands, a vintage calendar dish towel can become a pair of panties, an old plastic comforter bag becomes a panel that covers(?) the stomach between a cream-colored bra and a slip skirt. Her works exists in this space of irony, chaos, and sexuality.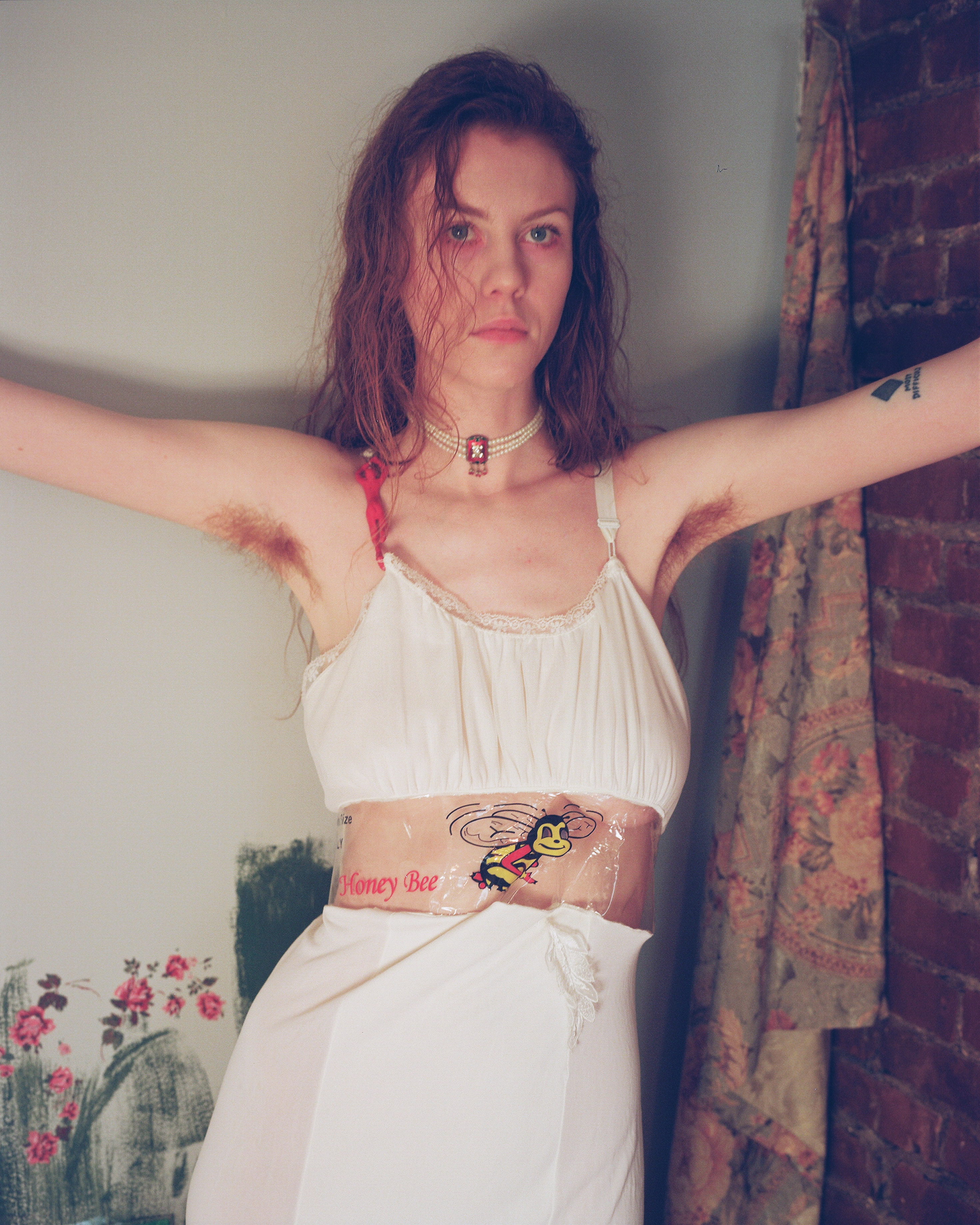 Cox tells me as much when I come to visit her in her live and work space in Bushwick. It's cold as all hell outside—from the window in her studio I can see an empty Maria Hernandez Park. I'm wearing an insanely practical LL Bean puffer jacket, and Cox is wearing a bandana and a pair of house pants. When we sit down to chat, Cox explains that the source of most of her inspiration comes from two places. On the one hand, her love for fashion history: Elsa Schiaperelli, Lagerfeld-era Chloé, and all things Diana Vreeland (at one point she tells me she keeps a photo of Vreeland next to her bed and sprays Chanel No. 5 on it every night before she goes to sleep). On the other: it's all about her family. Cox was raised in New York, but has family in Italy. She spent a lot of her childhood alongside her very Italian grandmother who she watched cook huge meals, sew, and hang the family laundry: "She was so diligent and upheld a sense of craft and quality. She was crocheting everything by hand. She was sewing everything by hand. Her work ethic was so intense."
But Cox didn't decide from watching her grandmother sew and crochet all of those years ago that she wanted to design her own clothes. She made the connection after the fact. Instead, Cox went to Cooper Union to study painting, and much of her approach to her work is embedded in her training as a painter. "I like to approach making garments as a collage or [in terms of] composition. I like playing with balance and color and using those techniques that I was taught in school but to make something like this," she tells me of her training as she shows me a slip dress held together by handmade "clingy men." Her time at Cooper wasn't without struggle, felt lost for much of her time there. She took a year off of school and dedicated her time to selling a lot of wholesale '50s and '60s clothing out of her apartment, and then later moved to Berlin. It was during her time abroad that she decided she wanted to make clothes to wear at the club. "I really wanted to make this one top that I saw in a Dalí painting to wear to the club. It was this jacket that had these levers sticking out of the shoulders. And when you pulled them down, they would be window panes that pulled up," she says "I wanted to make that and wear it to the club to make people uncomfortable when I flash them." Eventually Cox made it back to New York and completely shifted her focus at school, transitioning to designing clothes full time.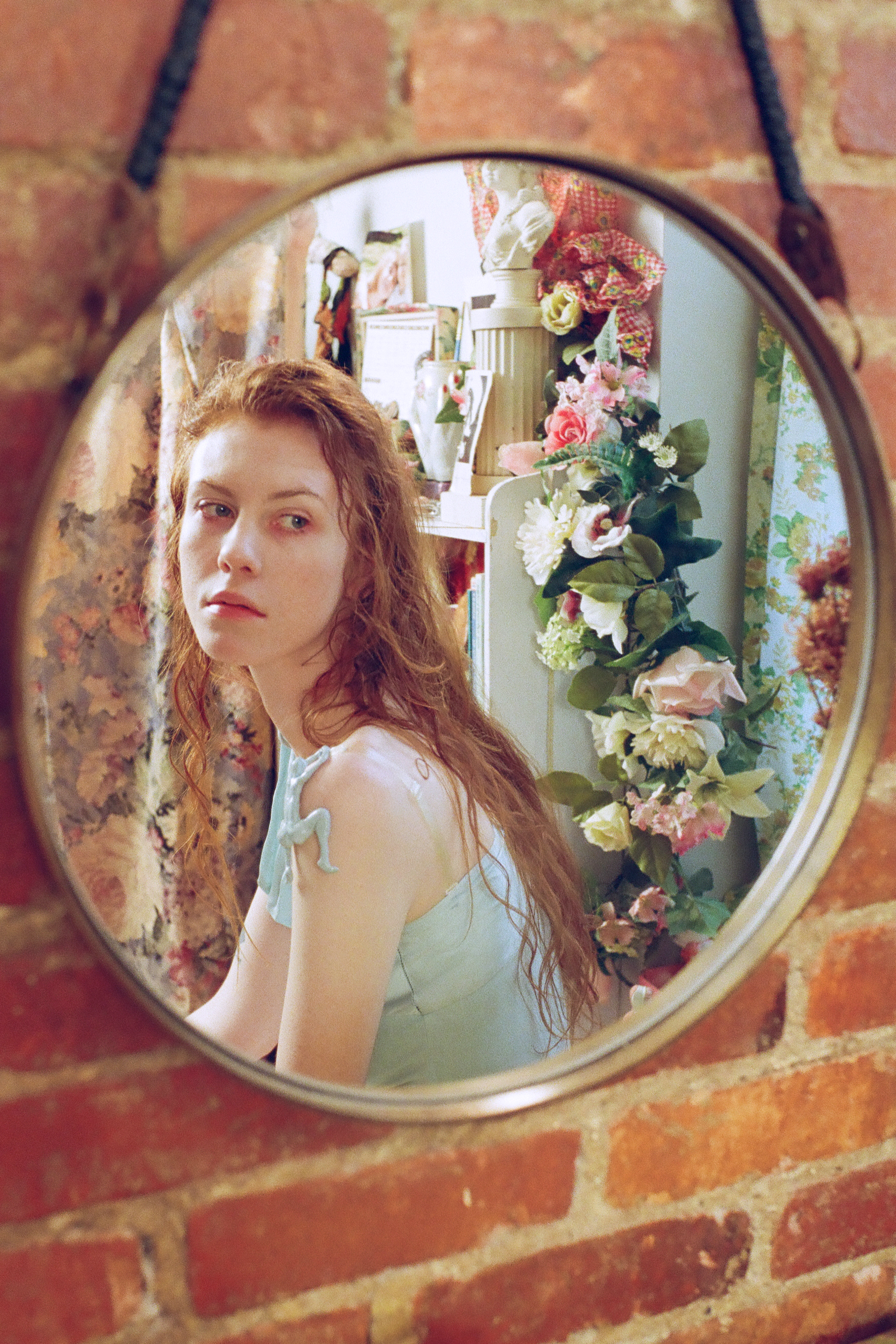 "I just started designing clothes that I wish had existed for myself," says Cox. Looking through all of Cox's clothing you really get that sense that what she does is a labor of joy. This is the work of someone with a deep sense of self, knowledge of fashion history, and above all else an understanding of what it means to love being a femme-identified person. Cox's clothing is a very empathetic study of homemaking and women's work, it's also an effort to return the gaze, to reverse "the uncomfortability that comes with objectification onto the viewer," as Cox says. In looking far into the past, Cox's work feels almost radically futuristic. What a great future it would be if we all wore Martina Cox's clothes.
Tagged: