A look from LL Bean's collaboration with Todd Snyder
The Radical Youth Just Want To Wear A Suit!
Max Lakin takes us through a New York Fashion Week: Men's that is short but sweet (in like an agave sort of way).
A look from LL Bean's collaboration with Todd Snyder
The sun rose on a new decade of New York Fashion Week Monday morning and was blotted out by Hudson Yards. "New York Men's Day," the Supermarket Sweep of small and emerging men's brands, returned to a rough-edged industrial space in the shadow of the west side's new corporate luxury playground, where it haughtily turns its glassine back to the rest of the city. No matter. The brands that agree to share real estate and foot traffic understand the power of strength in numbers, like a sort of menswear trade union, but with underwear sponsors.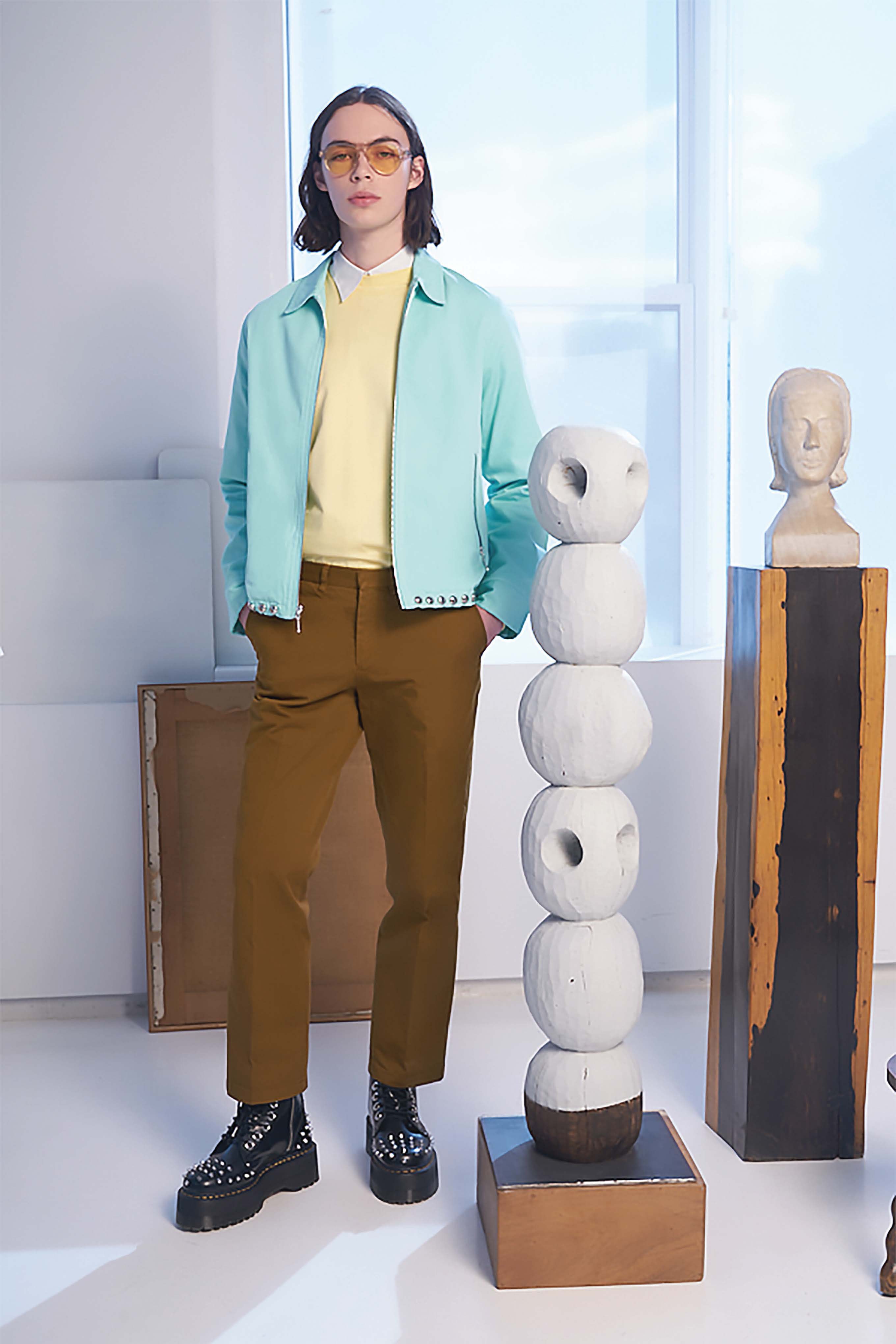 And strengths were abundant. Timo Weiland's cheerful suiting separates, soft both in form and sherbet tones, were one. Weiland insisted the unstructured single and double-breasted jackets and pants in margarine and cotton candy were not only gender agnostic but also pairing-nonspecific. "It's based on real living," said Donna Kang, one of Timo Weiland's design partners, who suggested thinking of them as a kind of Choose Your Own Color Blocking Adventure, so long as that adventure included lounging, which the suited models did louche-ly along a vignette of mid-century furniture, the work of the brand's third partner, Alan Eckstein, who runs a side hustle as a furniture broker. "I'm always looking for things that are made with purpose," Eckstein said. Eckstein's side-side hustle is finding broken pieces and reimagining them, like if Doctor Moreau got into upcycling. So a Karl Springer lamp sat happily under a Harvey Guzzini shade, and a Sottsass chair was grafted with Schumacher fabric. It was a good analog for the brand's whole thing, the wood and black tones jolted with gentle shocks of color, like a small John Baldessari homage. "I don't want to make a grey or a black or a navy suit," Eckstein said. "I don't want to make a suit for the banker. People do that really well. I want to make a suit for the party during the day. That's the world we want to live in."
David Hart was also thinking about upcycling. He communed with the spirit of Marcel Duchamp, temporarily renaming his brand R. Mutt, the name Duchamp used to sign an upturned urinal and scandalize nearly everyone by calling it art. Hart's efforts were nearly as radical, if you consider a young person wearing a suit for pleasure a radical act, which, given the scorched earth luxury hoodie market, it is. Virgil Abloh likes to call Duchamp his lawyer, a glib way of excusing lifting other people's ideas, mostly mangling the point. But Hart insisted he wasn't putting a thumb in streetwear's eye. Instead he invoked the readymade as an ecological imperative, pulling some favorite pieces from his own archive and pairing them with vintage clothing from his personal collection — reworked navy pinstripe sack suits and stovepipe slacks, and a goldenrod Nudie suit homage that appealed to the Yeehaw Agenda. "It's: be happy with what you have, with what already exists, look to the secondary market," Hart said. "There's really no reason to make something new every season."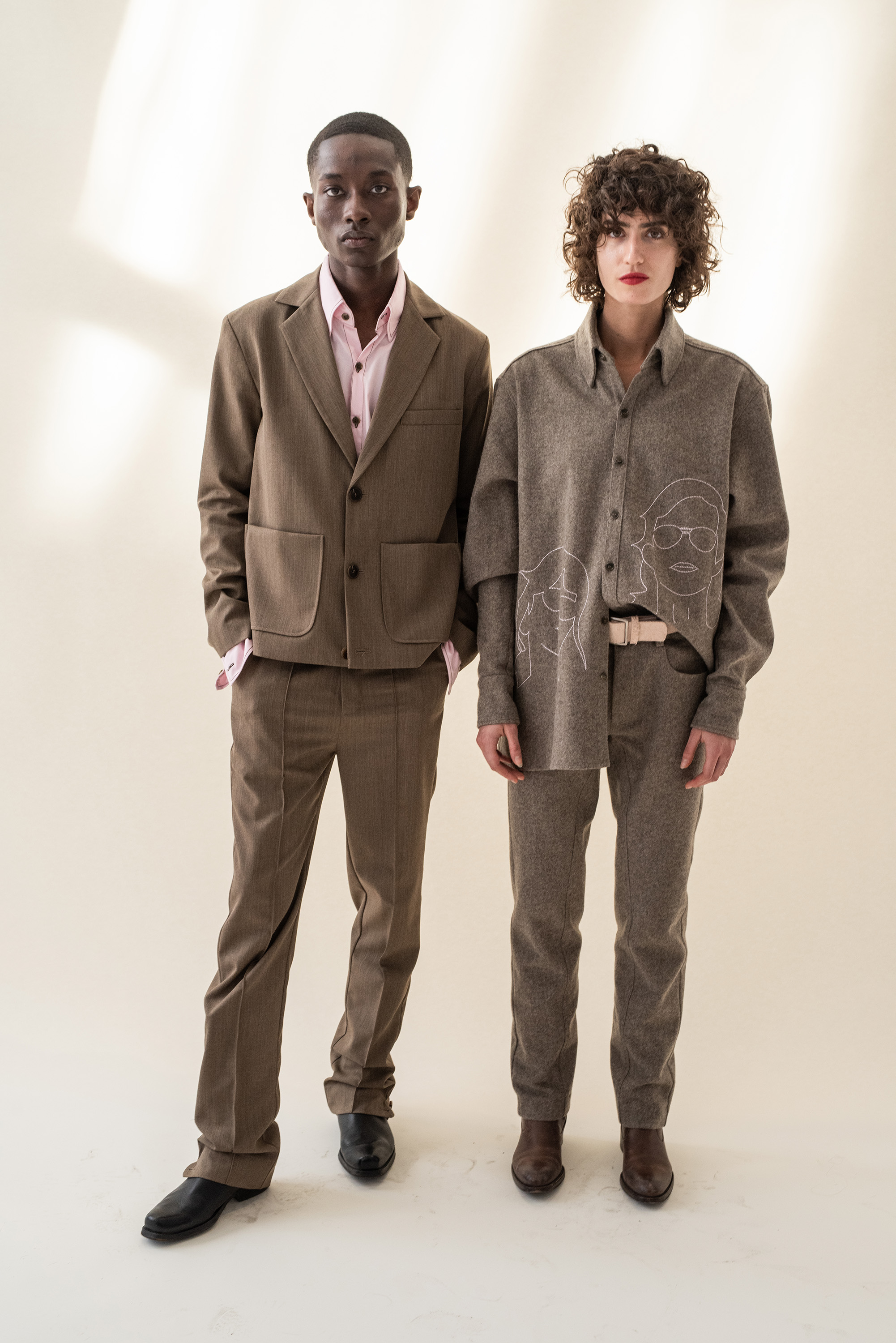 The radical youth just want to wear a suit! Carter Altman is one month out of NYU and making precision suiting out of deadstock military fabric under the name Carter Young: handsome jackets with structured shoulders and loose, unfixed bodies on both men and women. Altman's feel for materiality is highly specific: a cropped suit cut from a vegan synthetic that gives a convincing wool hand; a cinched-back coat in taupe fabric used to make California Highway Patrol uniforms. Altman has novel ideas about making classic shapes feel exciting, like an Eisenhower blouson and a thick, generously-cut woolen shirt-jacket.

The best way to launch a sustainable brand is, of course, to simply not. The next best way is to do what MI Leggett has been doing, since 2017, with Official Rebrand, which sources materials from vintage outlets, other brands' unsold stock, and disused sailcloths and revives it into joyous and manic jumpsuits and carrier bags scrawled with Keith Haring-lite gestural markings to "antagonize the patriarchal treatment of the Earth's natural abundance." Should that admirable effort fail, Todd Hessert's technical outerwear, on view directly across the hall, looked toward our inevitable permanent winter — slick, monochrome puffers and jackets fitted with a power bank that heats the garment in gradations. There were flashes of similar brilliance from other young designers, like Victor Li, who made a patchwork fabric of denim offcuts, frayed at their edges, into a handsomely baggy suit, and at Overcoat, where Ryuhei Oomaru's conceit of "wearing New York" was expressed in graphic raglan sleeve coats made from storefront awning vinyl, an unexpectedly affecting gesture.
Looking at clothes can be stressful. You can only take in so many tailored sweatpants before considering doing a crime. So it's no small thing when a brand like Paa, Peter Jurado and Al Verik's quiet study in relaxed shapes, can make you forget you're sitting in the husk of a former Duane Reade on Canal Street, the dulcet bass of Eberhard Weber floating softly overhead. Paa, which I pronounce "paaaaaaaaaaaah," because it feels right, takes just enough reference from 90s-era New York City to stir emotion without falling into pastiche or becoming kneecapped by nostalgia: a capacious car coat in charcoal wool with mailbag welt pockets looked like the best thing short of hibernation; a wooly popover blocked in creams and earth tones, and a pair of cream cargo pants with the pockets rotated to the front felt interesting without being forced. Jurado and Verik were celebrating the seventh anniversary of their operation, and like their clothes, were even-keeled. "What we do is very simple, so it takes a little more time to get people behind it," Jurado said. "But we're starting to see the wheels turn a little bit." It's the right direction; a slick trench was cut from Cordura, which, fittingly, is Spanish for "sanity."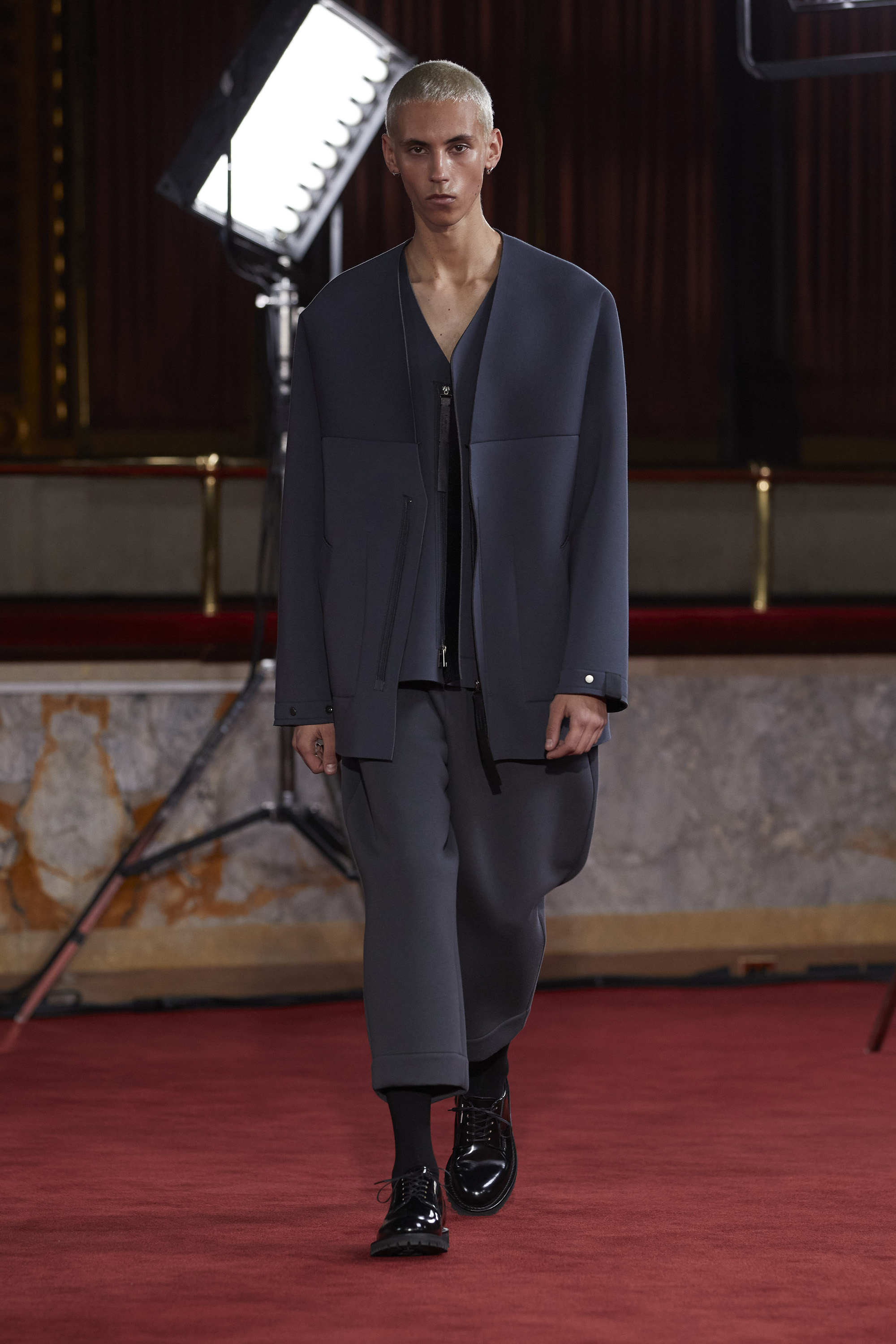 Daisuke Obana's feel for proportion and shape is profound, and he deserves to be spoken about in the context of Yamamoto and Miyake, modern designers who have mastered the interplay of shape and texture. At N.Hoolywood, Obana was typically brilliant, presenting a moving progression of sculptural forms whose muted palette pronounced their technical specificity: padded car coats, a drop-shouldered jacket that sunk to the knees, a suit whose elongated jacket and cropped slacks felt like a rupture in the men's suiting paradigm, all informed by streetwear but not diluted, what Obana called "abnormal formal."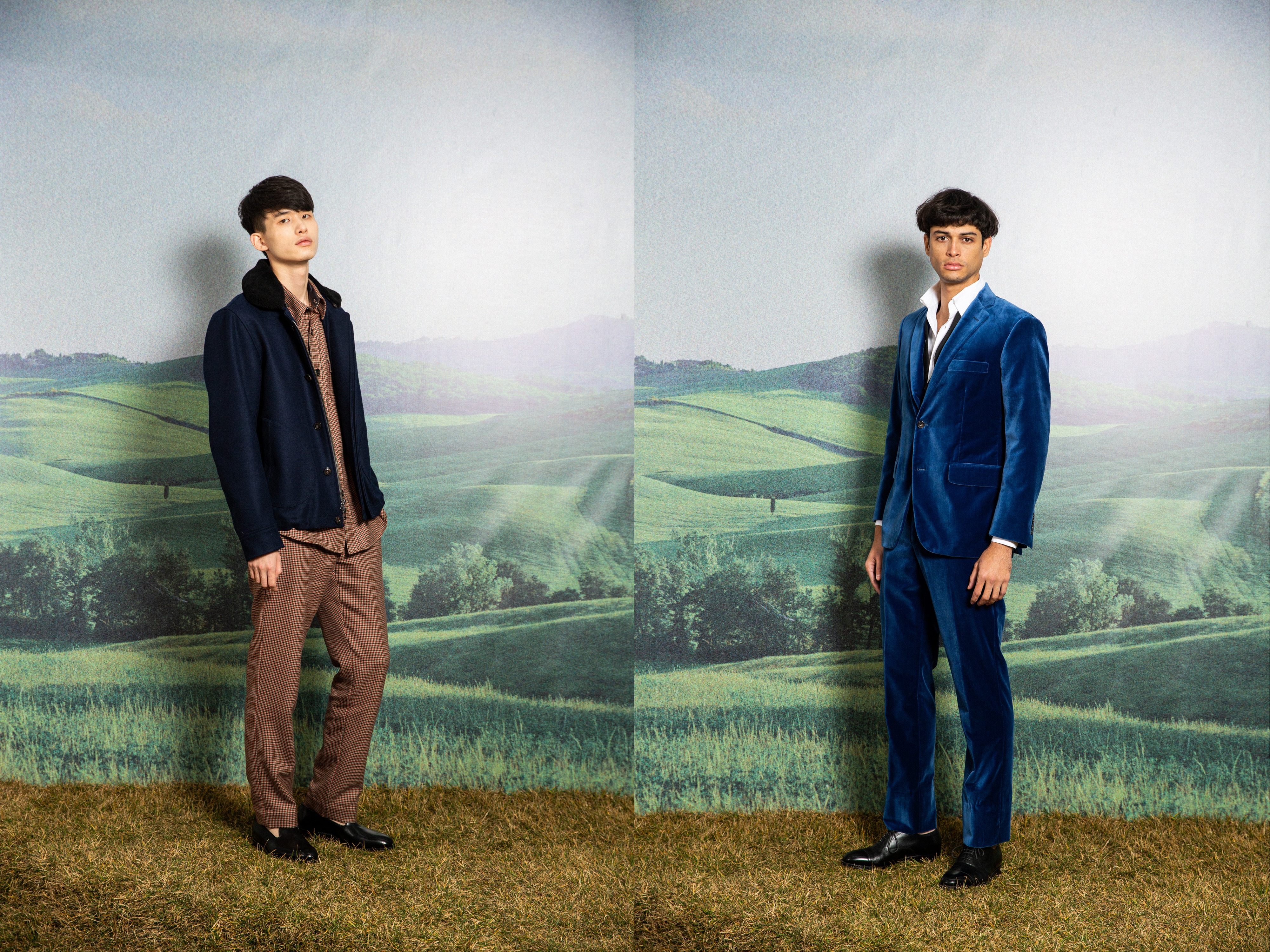 Nikko Lencek-Inagaki would like to buy menswear a Coke. For his second collection for Freeman's Sporting Club, Lencek-Inagaki found new purchase in the vaguely sinister 1971 ad, a vision of global and racial harmony used to sell soda. The ad debuted during a period of interminable war, when social and political chaos threatened to rend the developed world. Plus ça change. What to wear when self-obliterating? A Hendrix electric blue velvet suit to start. Perhaps a supple tobacco suede shirt, or a plush velvet smoking jacket, or an ingenious padded vest made from the furniture covers used for moving house, or an aviator jacket in deepest midnight—pieces that split the difference between armament and blithe insouciance.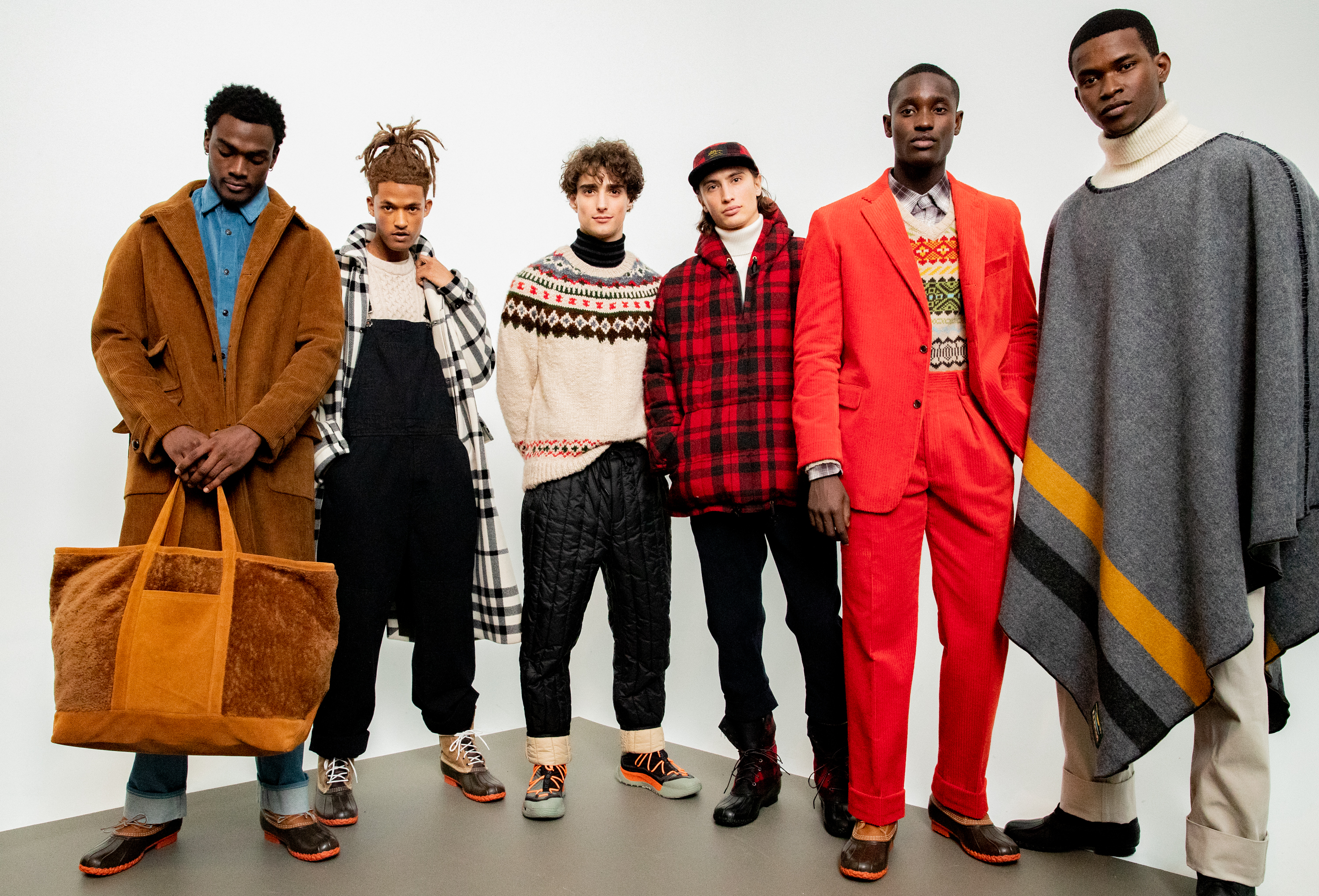 Todd Snyder does several things very well, one of which is first tier collaborations, another is putting on a show. He did the latter to announce the former, a coup with L.L. Bean, who has heretofore been content to wade out the collaboration wars up in Maine. It was easily the biggest spectacle of whatever is left of New York Fashion Week: Men's: 48 looks thumping down the runway in, yes, duck boots, but also corduroy sack suits, chamois camp shirts, quilted-this, utility-that, a waxed canvas bag massive enough to fit an entire meme cycle, all awash in Acadian turquoise and sienna and safety orange and Midwestern optimism. Snyder effectively opened up a new frontier in the luxe-outdoorsman arms race, this one predicated less on Patagonia-style mountaineering than wholesome lake fishing on the Cobbosseecontee. Backstage, Snyder acknowledged as much, though he stopped short of forecasting its inevitable streetwear expression. "It's about how it's interpreted," he said. "I feel like this is the next evolution. This is now for me. It's for today."