Cards in the air 06 (dead man's hand) (detail), 2020, oil on canvas. Photo: Adam Robb
Luke O'Halloran's Royal Flush
O'Halloran's show at Kapp Kapp features paintings completed during early quarantine.
Cards in the air 06 (dead man's hand) (detail), 2020, oil on canvas. Photo: Adam Robb
The last time I didn't hesitate to touch another stranger was back in March, in a dark basement, and at another stranger's suggestion. I was at the bar of the Wayfarer in downtown Los Angeles, a hotel newly opened by a pair of Mormon brothers. Even though the owners drank nothing harder than Diet Coke, they still wanted to have a good time, so they hired a magician to work the tables performing sleight of hand card tricks for customers. For those of us who did drink, in those last days of a simpler time, we shared communal flaming cocktails in copper bowls—same straw!—while at the illusionist's suggestion, cutting decks, drawing cards, and holding hands, as instructed, transferring the ink applied to my palm with the dealer's feather touch. Before that first wave of COVID struck our consciousness, we were all too happy to play a game we couldn't win, that none of us appreciated how easy it is to lose. That was my first thought surveying the paintings of cards in disarray and isolation at the heart of "Dealing," Luke O'Halloran's solo exhibition now open by appointment at Kapp Kapp, in Tribeca.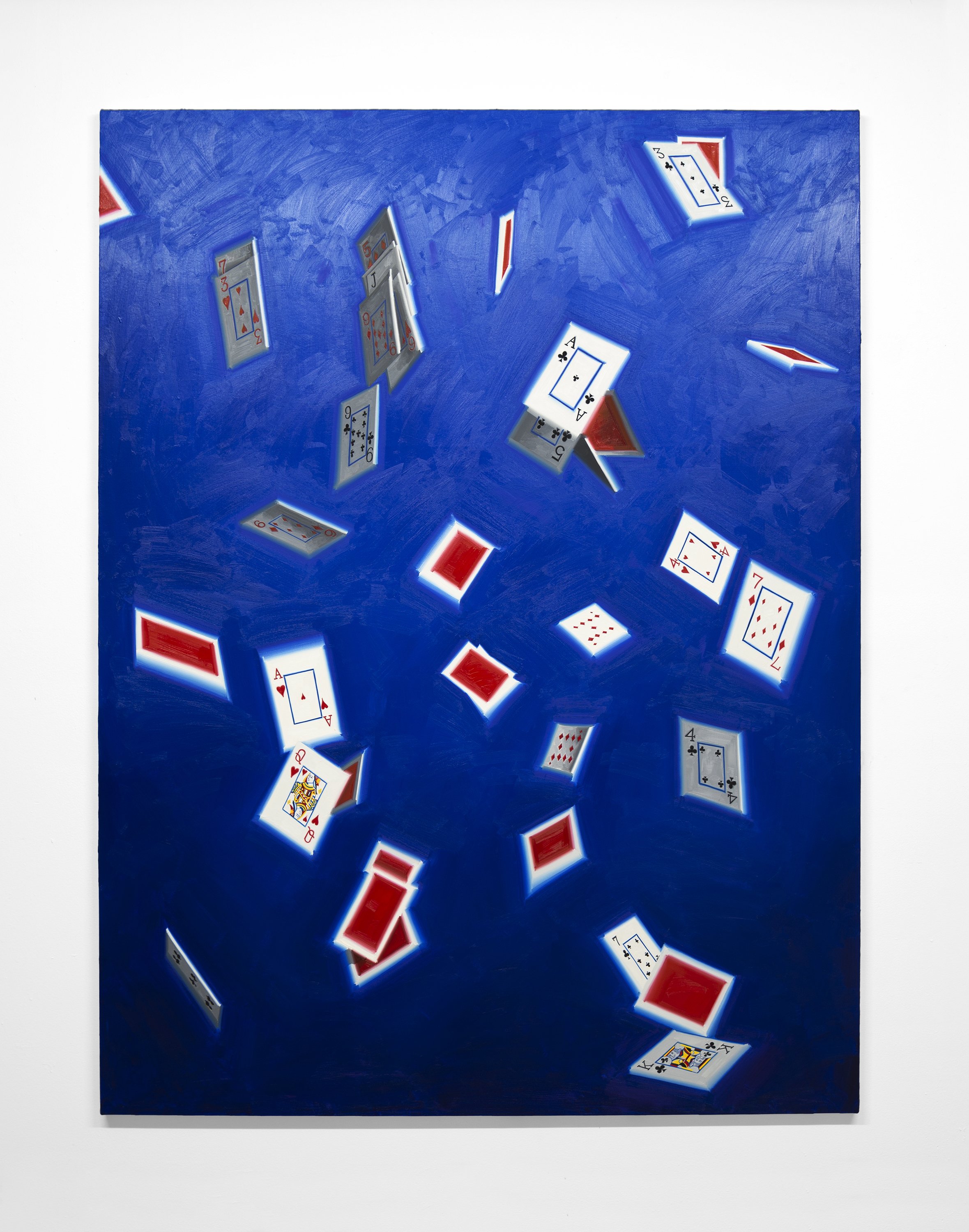 The focus of O'Halloran's latest show, his first since the pandemic began, features seven card paintings the artist conceived and completed in the confines of his Brooklyn basement studio, flush from unemployment checks but without a card game to blow them on. Gambling has always been a fascination for O'Halloran. In his earlier works, the California native highlighted the diminishing returns of the modern American frontier, where panning for gold had given way to hitting the slots to make one's fortune. O'Halloran's slot machine paintings, defined by what he calls "forever spinning wheels", showed reels fixed with numbers drawn from early Jasper Johns's number paintings, suggesting that if you lined up just the right art historical references at just the right moment, it was possible to hit the jackpot, set off bells and whistles, and cash out.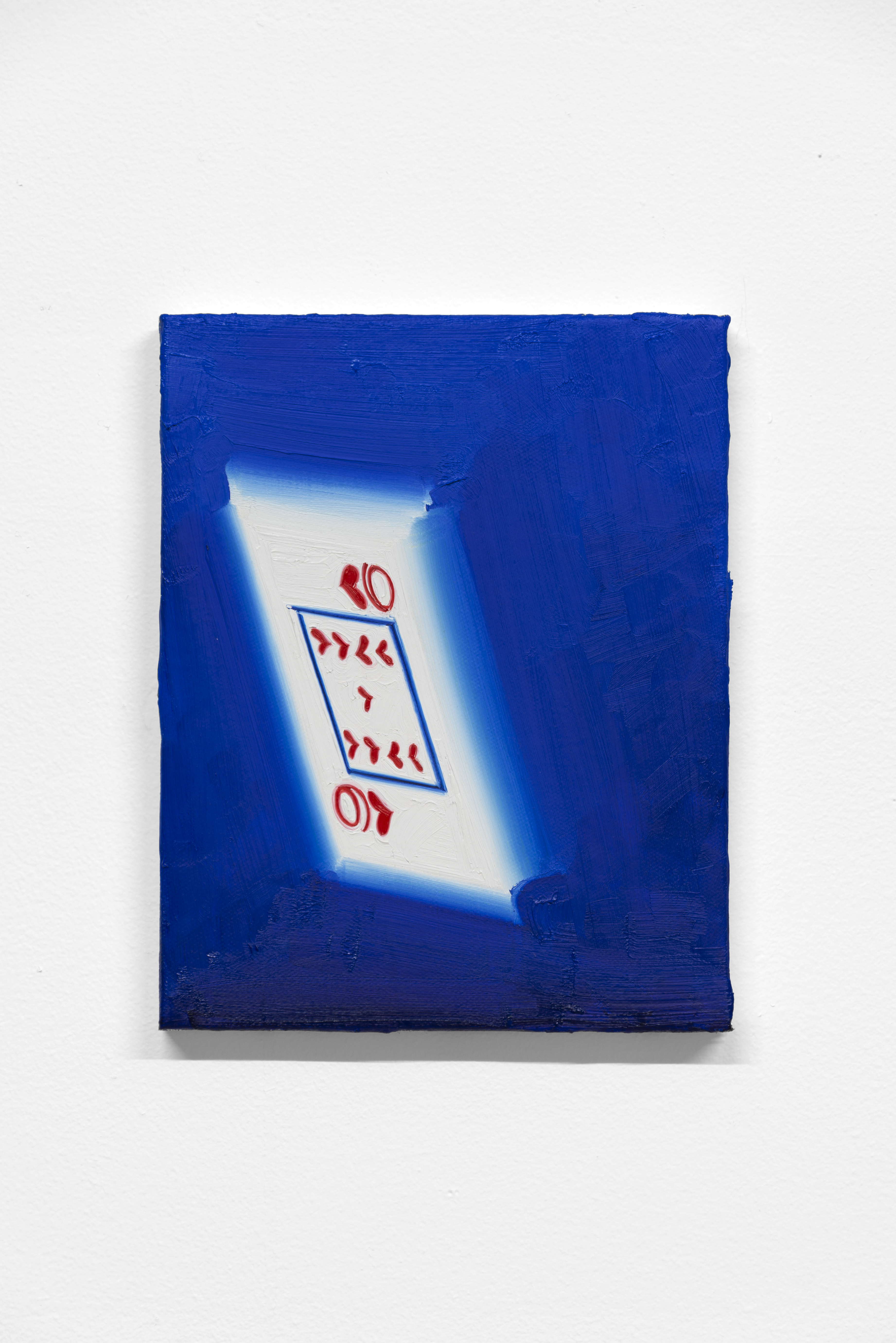 The works in "Dealing" seem a more apt metaphor for the artist's journey in the current market–feeling lost if you're not getting played. Here the cards are in motion, but unlike in O'Halloran's previous works, they've lost all purpose, not deciding his or anyone else's fate, and they're far from flourishing, like the controlled cascade of the deck he debuted over the summer in Card Flourish Painting 03, at "Intimate Companions," the curator Joel Sheftel's show at the Mary Heaton Vorse House in Provincetown.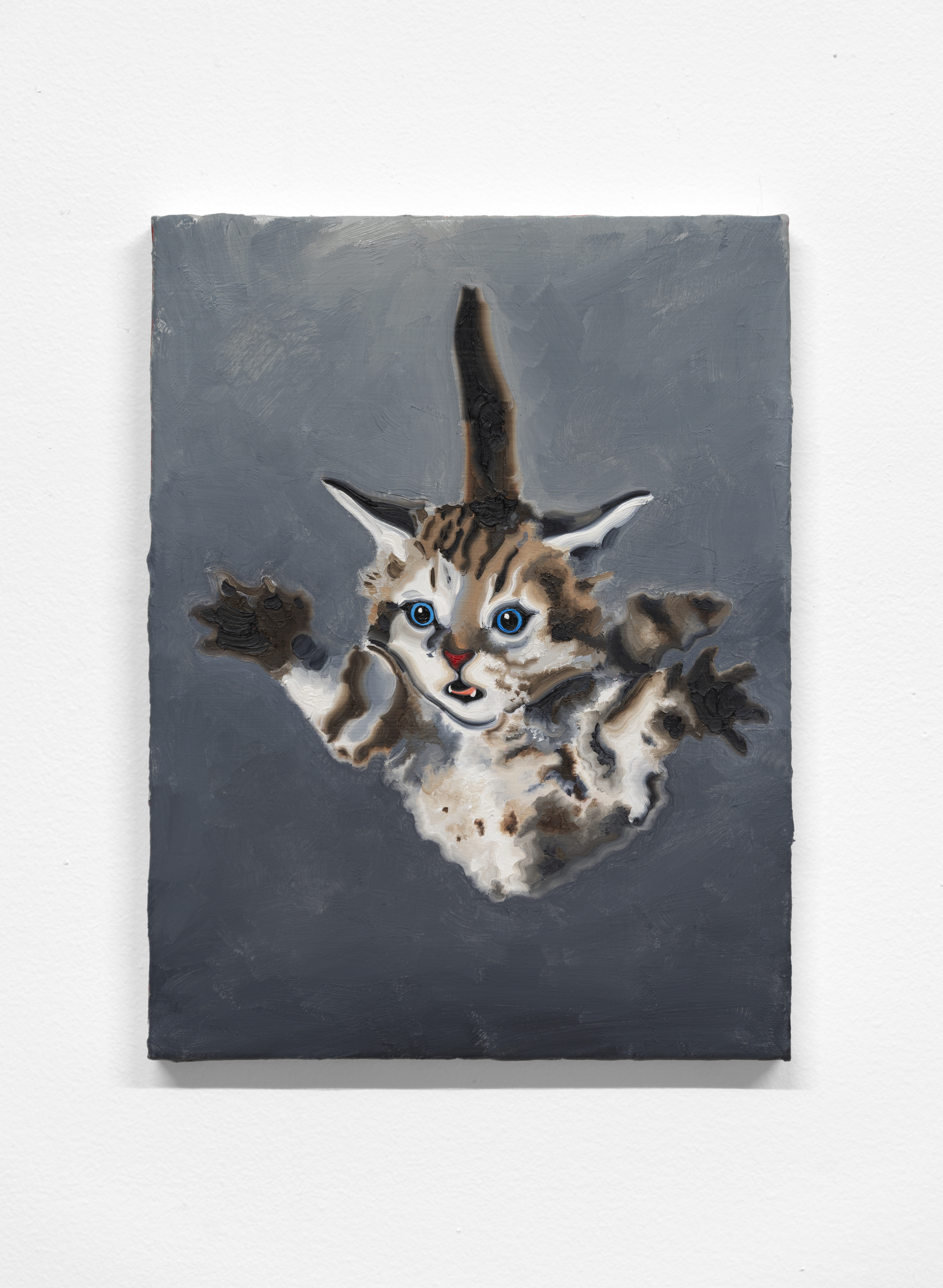 Of course there's a universal theme to be read into the paintings as well. The largest work in "Dealing," Cards in the air 07, is a landscape populated by a socially distant community, an incomplete deck now scattered or clustered. The pair of aces in Cards in the air 04 don't hold the same value when the rules that once defined their worth no longer apply. A smaller painting, Two of hearts, face up on a tightly cropped canvas, has the tension of a couple in love trying to maximize their space in close quarters. God help the Nine of hearts, shown face up but askew, suggesting no one really wants to know how they're making it work in just as much space.
Other works in the show include Non lethal terminal velocity 03, depicting a kitten forever falling in the abyss. Its title is a reference to the idea a kitten will always land on its feet once it settles into the fall. Anyone living comfortably knows the dark truth of this however; they may sooner die of boredom without somewhere to touch down. (Unless, after two weeks of multiple health screens and asking everyone to quarantine, they surprise their closest inner circle with a trip to a private island where they could pretend things were normal just for a brief moment in time.)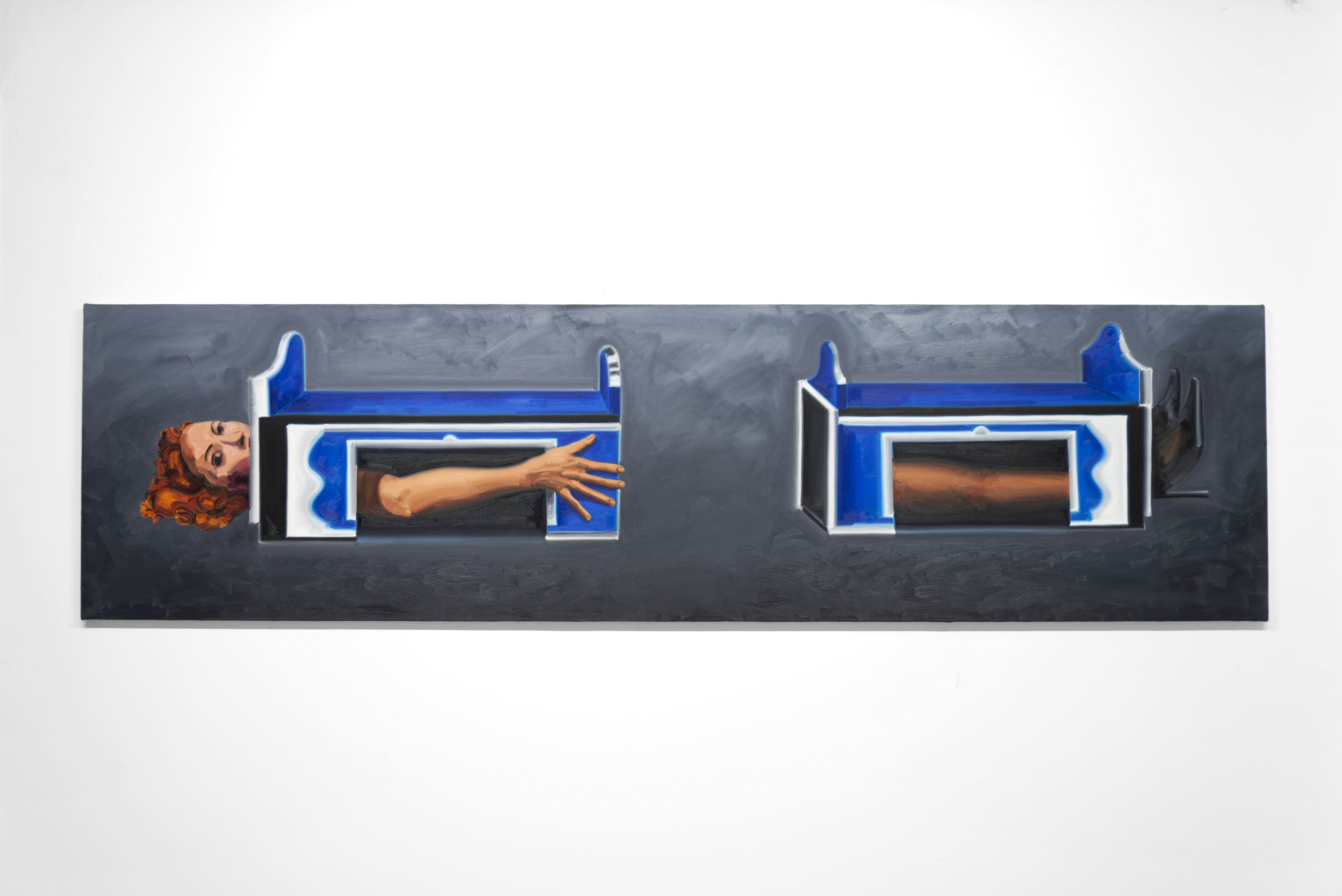 The show's centerpiece is Lady sawed in half. What was once a novelty, a glamorous woman suddenly removed from the possibility of pulling herself together, is now a universal struggle, playing out every day on social media and with the novelty wearing thin while the struggle remains: When will we reconnect? When will we feel complete again? When am I getting out of this box? Is this show ever going to end? Can I go back to being my glamorous self already?
Tagged: