Diedrick Brackens' String Theory
In conversation with Legacy Russell, the artist untangles his identity as a weaver.
The 31-year-old artist Diedrick Brackens is a weaver, an identity he carries proudly. His works, oversized, complex tapestries that often incorporate color-blocked human silhouettes against intricately woven backgrounds, center the legacies of Black American folklore, literature, movement, generational history, and diaspora. To consider textiles—quilting, weaving, tapestry-making—as a forerunner to the modern history of computing, a form of information and communications technology feels exciting when exploring Brackens' work. Textiles, after all, are grids filled with signs and symbols, "zeros and ones" containing dense histories. They are a craft of encryption, in which information is stored and encoded, its messages decipherable or signifiable for certain "readers" but strategically kept hidden from others.
What does it mean to view weaving as algorithmic and coded, a medium with multiple languages that offers up a different mode of readership? I sat down with Brackens to explore the data embedded in his textiles, and to discuss the medium as a queer and Black software with radical ancestral roots.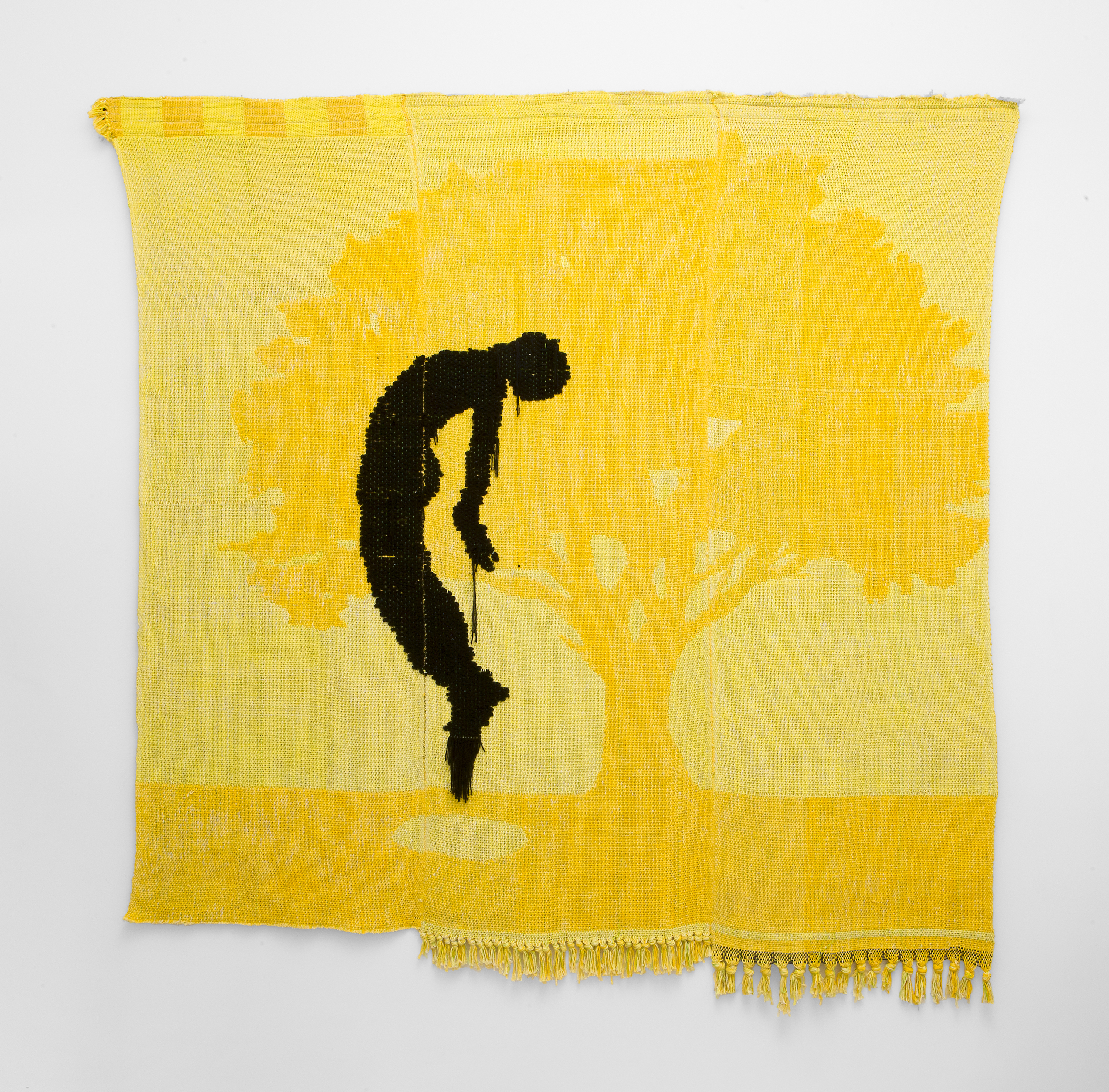 What brought you to textiles as a creative medium?
I learned to sew from my grandmother. I was always cobbling together these little stitched creations and making clothes for toys. When I went to undergrad I was floating around, taking the required courses. I had a professor who was like, "Oh, you gravitate to making these things [with] string and fabric. Are you a fiber major?" I took a fiber class to understand what that was and immediately fell in love: the rigidity of the tool, the matrix being embedded in it, the meditative qualities of it, the color or the materiality. Long before I understood what to make, I was really just in love with the process.
What is the relationship between abstraction and figuration across the broader arc of your work?
In school I was shown so much abstraction. How I was taught heavily leaned on what happened in the 1940s through the 1970s [and] data abstraction and minimalism; the early work was affected by that. I wanted to take a certain kind of figuration and social context [and] reinject it, [to make] abstraction turn around and say all of these things that these white men were trying to empty it of. I used abstraction as this tool to say exactly what I wanted and make the viewer work harder to find that meaning. I [now] have this way of thinking about abstraction through textile traditions that talk about place, that talk about people. I use those things to think about a more nuanced understanding of figuration. I'm blessed to be coming up with a cohort of folks who are now returning to the figure.
How do you reconcile the entanglement between art and craft? Why is it important to you to claim your identity as a "weaver"?
It's important to claim the craft roots of my practice. [It] is the tradition that I inherited; that is what I was taught. That was how the people around me were identifying. Institutions drop "craft" all the time, because it doesn't feel sexy or new. The universities where I've gone have dropped "craft" out of their name. My undergraduate fiber program closed; the idea that no one else is going to come from that space having learned the things that I learned, it feels important to call that into the room. To hold space for tradition and think about what sets [weaving] apart from painting or sculpture is crucial. It also calls women into the room; it calls folks of color into the room. I can't let that go.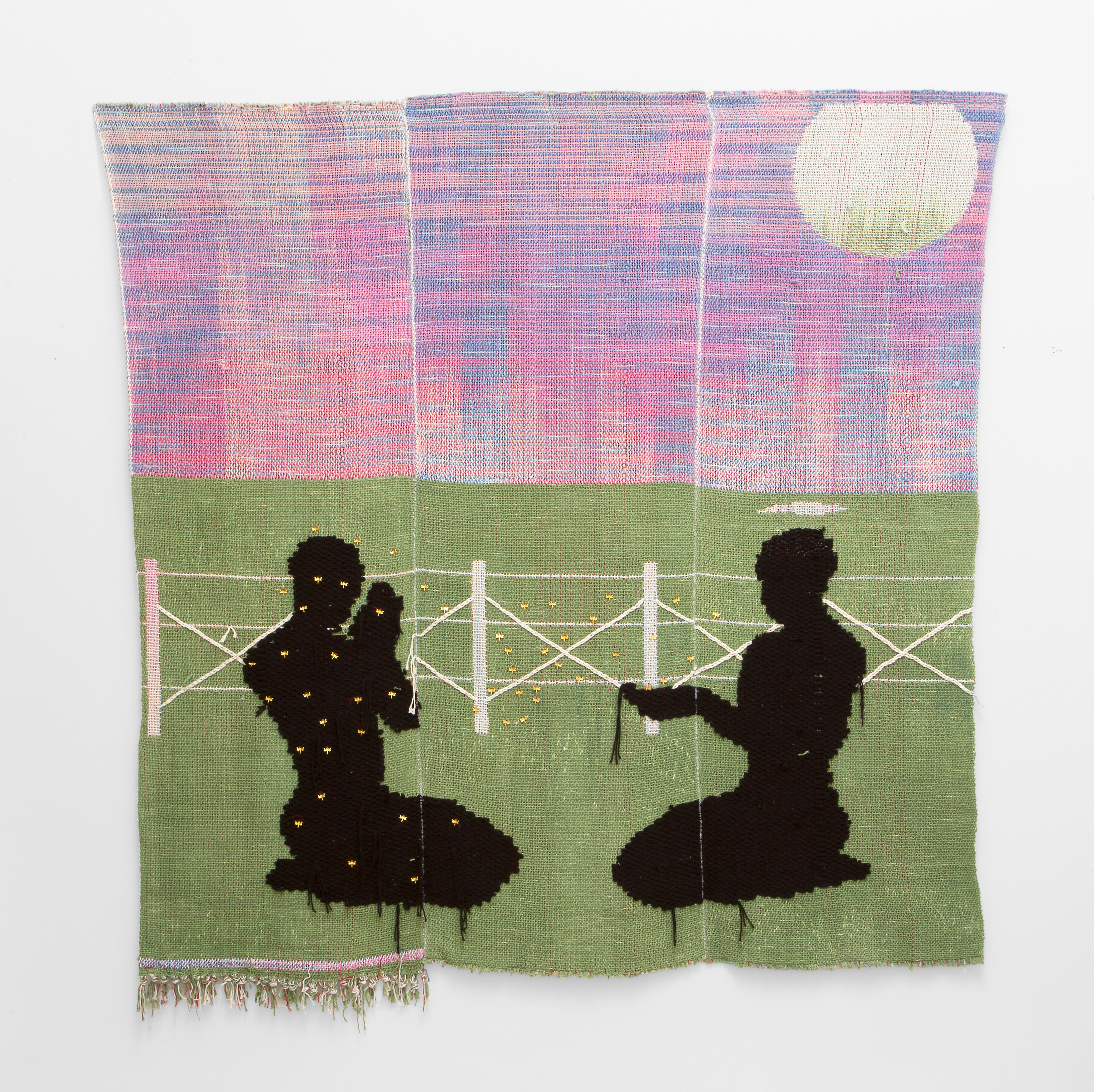 In your recent exhibition "Blessed Are the Mosquitoes," you created a body of work responsive to the CDC's reporting that one in two gay Black men and one in four gay Latino men will be diagnosed with HIV in their lifetime. In a moment where conversations about viral diagnoses and their disproportionate impact on Black and Latinx communities are in resurgence—and where many people who lived through the dawning of the HIV/AIDS epidemic are seeing right here, right now, echoes of the same state-sanctioned violence of the 1980s—what does it mean to address these histories?
When I read that, it was the first time for me that it was made concrete: This other pandemic is not over. Black and Brown folks are the people who bear the brunt of any crisis. We live in a country that is—in a world that is—okay with those numbers. How do I make sense of this through the medium that I work in? Knowing that textiles are encoded with meaning, I started looking at historical patterns. I started thinking a lot about when folks are dealing with their mortality, they turn to ritual, which really informed a lot of the gestures and position of the figures in those weavings. I was [also] thinking about what it means to be "marked." The weavings [had], on the surface, buttons and charms that indicate the virus. I started to weave patterns that were a field of dots, to blow up these charms and buttons [and] push them into the weaving so that it was as much about the structure of the cloth, but then allowing that to become stand-ins for the bodies.
One could argue that these works have a sonic capacity, that there is a rhythm to the act of weaving, and a rhythmic nature to how your works come together that renders them lyrically as compositions. Who—or what—should we listen for when we encounter your work?
I've inherited so many ghosts. There are all these people that I will never meet because of the virus, but I'm always communing with them, trying to allow their voices to be made material. I think about these ancestors that I will never know. These folks are trying to reach back to offer something up. How can I keep these things alive or reanimate them—or dream about what they might have been? In constructing an image, I say often, "Oh, I'm waiting for it to hum." [In the] composition of the images, I need this tension between what is taut and what is slack. There are these moments where [the work is] pulsing. [In] the space between the drawings and what I weave, improvisation is really important. There's something about the haptics that creates meaning and knowledge as I work that I've learned to trust. Then the image will come to me. It will arrive at that final place, even if I haven't figured it all out at the top of the piece.
Poet Danez Smith, with whom you've been in ongoing conversation, writes in his poem "summer, somewhere," "We say our own names when we pray." What does a collective prayer look like to you?
Félix González-Torres inspired a whole generation of artists. My "artistic grandmother" would be the Gee's Bend quilters. Aaron Douglas moves me. Barbara Chase-Riboud excites me. Alexis Pauline Gumbs really animates me. There were moments where I would consider an "abstraction" a portrait, or a dedication; there are times where I will call out a lover or a friend in a title. D'Angelo Lovell Williams or Devin Morris or Jonathan Lyndon Chase, these people who I'm like—yes!—this is the very thing I've been thinking about in my own making. It's so exciting to just sometimes think, "You and I are completing each other's sentences in these objects that we're making."