At Louis Vuitton, Old Hollywood Psychedelica
Virgil Abloh's latest collection is uncanny—but not in the way you'd quite expect.
The uncanniest part of Virgil Abloh's Spring 2021 collection for Louis Vuitton Men's was that there were people in the audience. They weren't wearing masks and they weren't six feet apart. Set in Shanghai, it felt like a normal fashion week livestream; a sea of iPhones in every row of the show, multiple camera angles, and a runway long enough to show just under 60 looks in just over 30 minutes. Abloh, like so many designers this season, is interested in play and joy. It gets complicated though. In other collections, the question at hand was how do you design a collection for no one, but here, at Vuitton, with an audience present, Abloh seems to say this is my collection for what happens next. The clothes here have a sense of childlike wonder; in a 63-page manifesto for the collection made available to press, Abloh said his primary source of inspiration was The Wizard of Oz, and its all-Black counterpart, The Wiz. The fields of flowers and psychedelic proclivities enter the fold via brightly colored suiting, surreally designed sunglasses, and top hats that the Mad Hatter would kill for.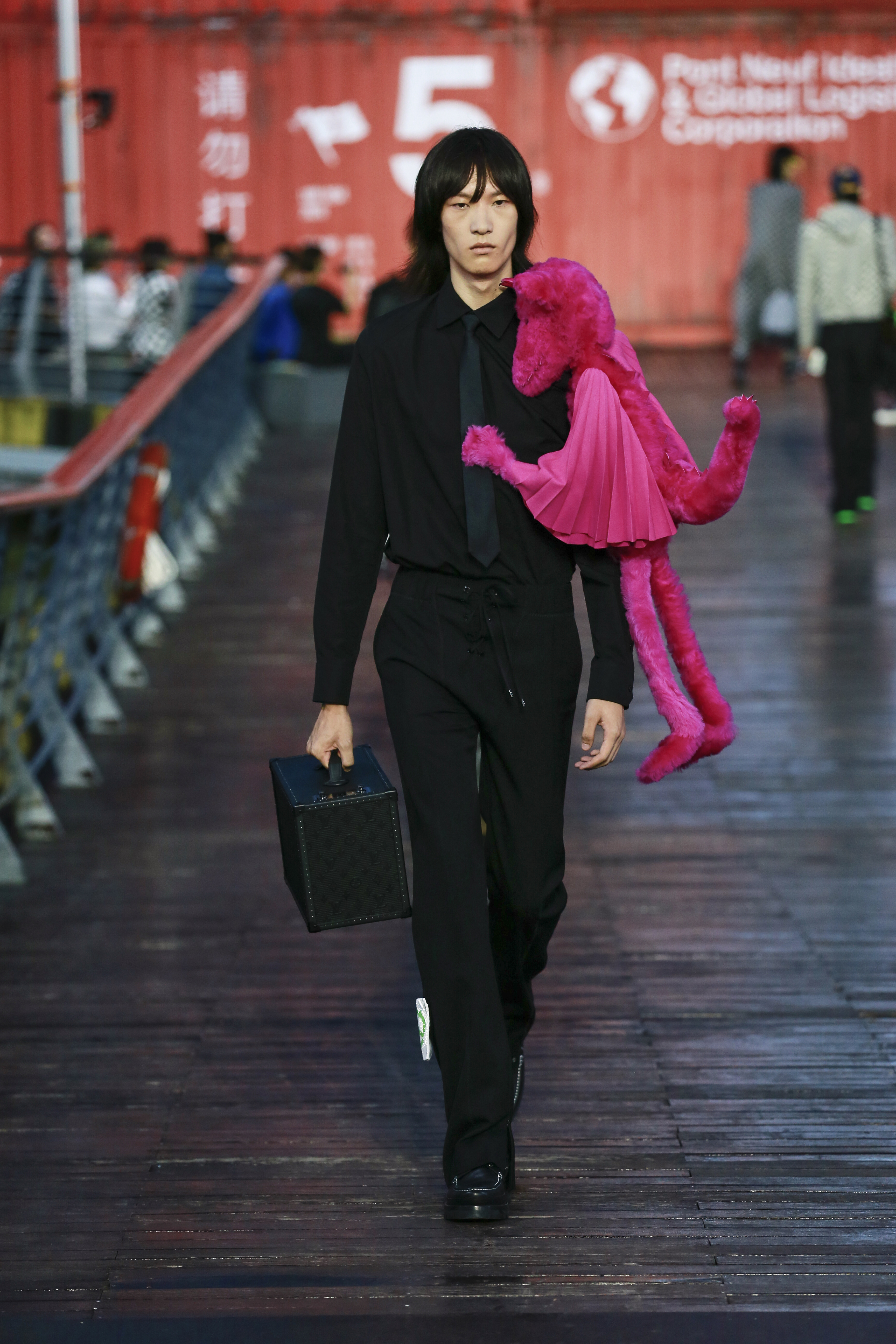 Most obviously for a collection with anchoring points in the form of childlike wonder and old Hollywood psychedelica is the stuffed creatures; some human, some animal. Several models had giant stuffed animals affixed onto tops and suit jackets of varying proportions. One model wore all black suiting: a pair of drawstring pants, a button up with a tie, a pair of black dress shoes, and a boxy bag that looked a bit like a lunchbox. Hugging the right side of the shirt and tie is a large, fuchsia colored dragon with little wings and feet that seemed to be floating in midair. In another look, a model wears a calf-length jacket with an M.C. Escher-esque black and white checkered pattern. In the center of the jacket is a little man in a bright blue suit, mimicking the positioning of the model. The model also wears a bright yellow shirt underneath his coat, and a pair of asymmetrical bright yellow sunglasses, doing a kind of surreal businessman thing with excellent results.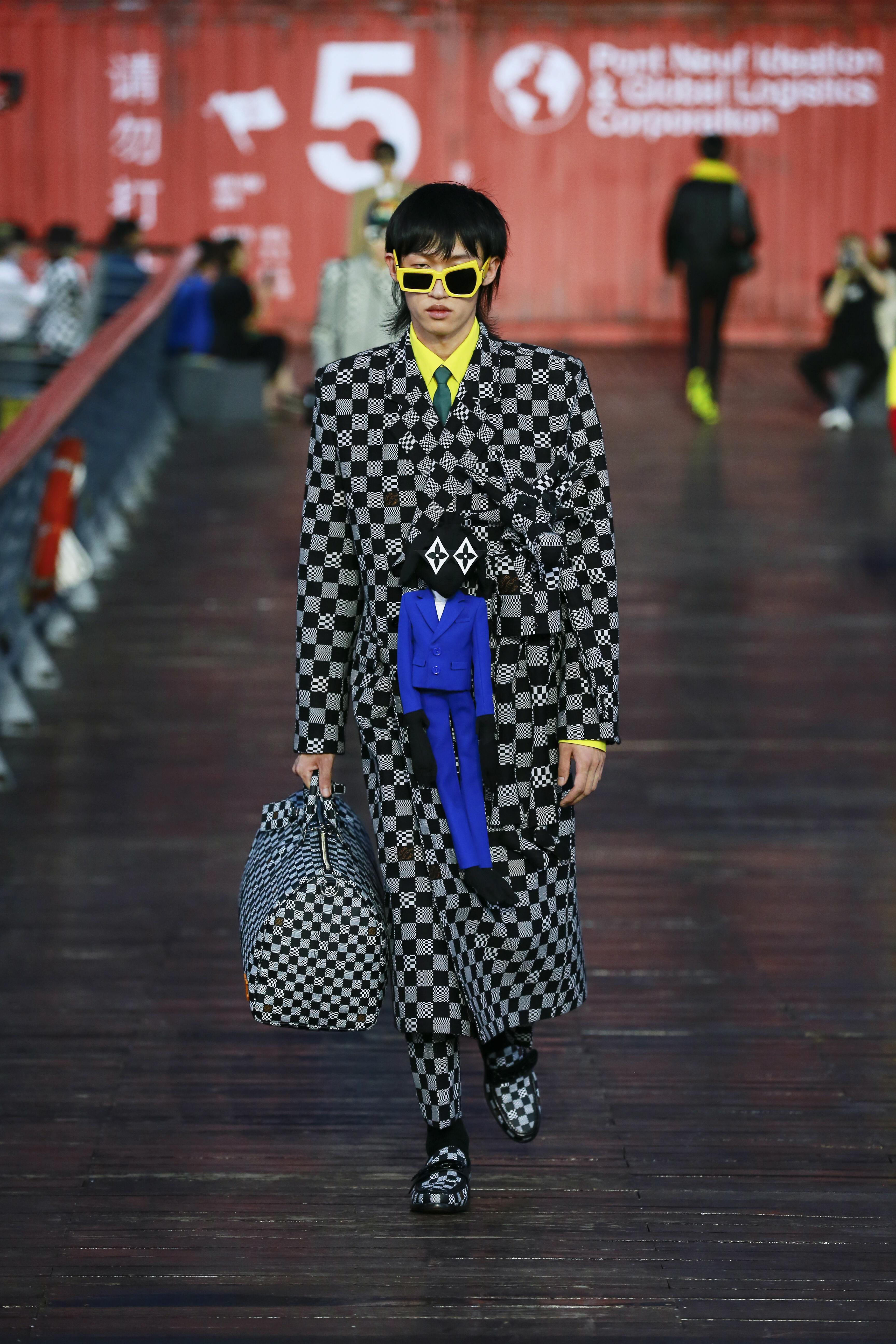 The accessorizing ends up being one of the most exciting parts of the collection. One particularly strong look involves a pair of white cyclops glasses paired with a red jacket with a rainbow snaking its way through the midsection. The model also wears a royal blue, satin cap with a pair of matching pants and skater sneakers. There are also quite a few, unequivocally good, oversized top hats. It doesn't feel obvious that hats like these would look cool, but they do. Once again with the stuffed animals: a model wears a hugely proportioned cream colored coat with a stuffed scorpion that functions as a scarf. On the model's head is a top hat with an actual scarf tied around the rim. The whole look is soft, and playful. It looks like something you could take a very luxurious nap in, or conduct business for the Michelin Man.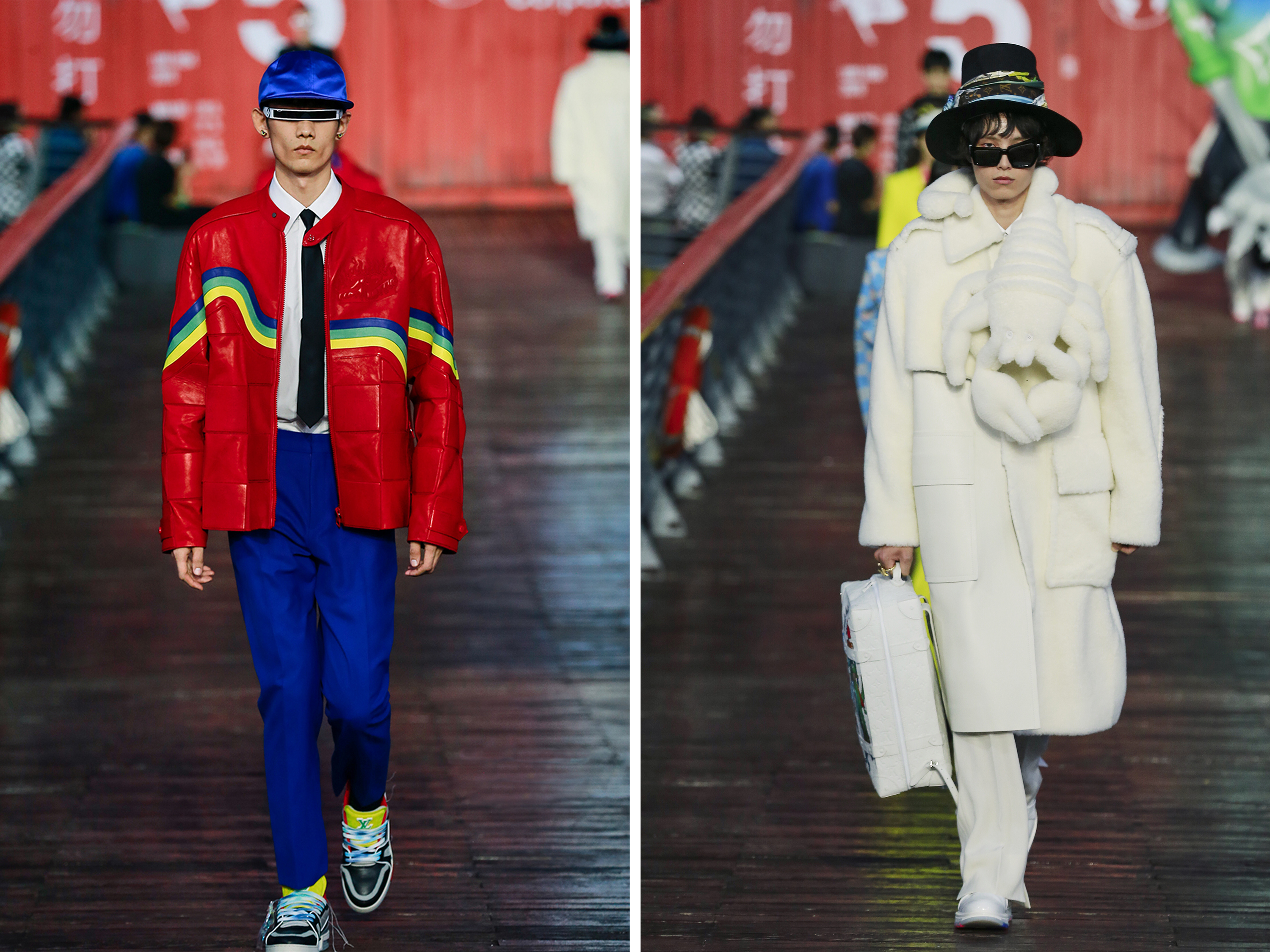 "I have often spelled out the interceptive reality of myself as a Black man in a French luxury house. I am well aware of my responsibilities," Abloh says in the beginning of his manifesto, "Rather than preaching about it, I hope to lead by example and unlock the door for future generations." Abloh's collection does feel future forward in its presentation. It has to be. Even though there were people in the audience, we are still eons off from this collection truly being worn. It all goes back to this question of fantasy and childhood: who do we want to be when we grow up and what do we want to wear when all of us can walk around sans-mask into an uncertain future?