Photo by LUCAS BARIOULET/AFP via Getty Images
The New New Look
At Dior, Maria Grazia Chiuri took our real quarantine wardrobe to its ideal state.
Photo by LUCAS BARIOULET/AFP via Getty Images
For Spring, most designers took a decidedly conceptual approach for their collections. Some fantasized about a normal world, where glamorous gowns are still de rigueur, others leaned into our apocalyptic moment. And then there's Dior, where Maria Grazia Chiuri embraced the way we dress at home, and I mean the way we really dress at home. The crop tops we would never wear out in the real world, the shorts that are now too small, the pajama pants, the robes, and the oversized hoodies that we never take off, and just made the absolute best version of them.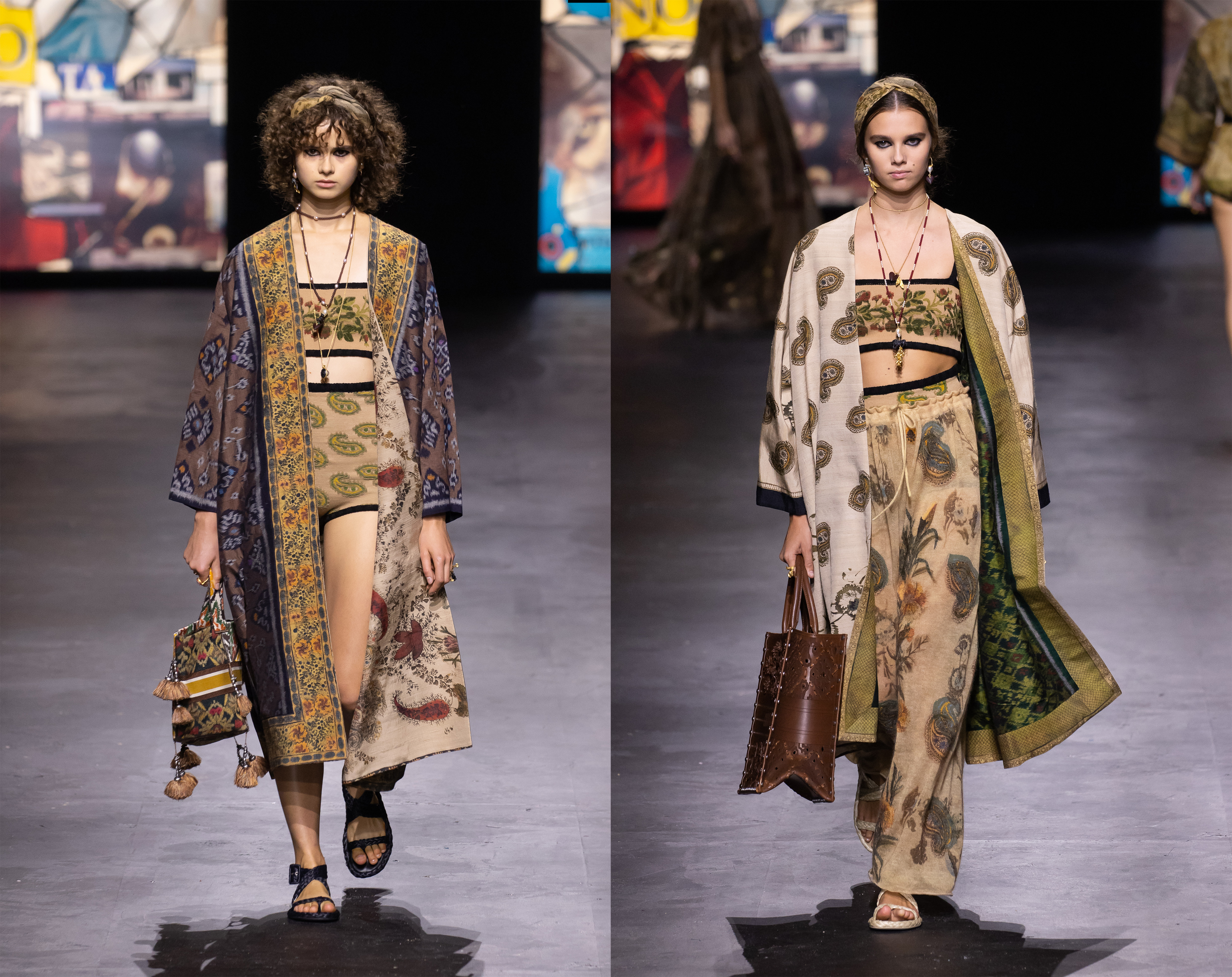 From the first look, where a model with curly hair loosely tied together with a scarf walked out in an intarsia knitted bandeau top and matching high waist short-shorts worn underneath a silk jacquard robe made from patchwork fabrics, Chiuri's relaxed state of mind was evident. Another look made up of the same key items, but featuring the addition of loose, wide-leg pants with an elastic waist worn on top of the short-shorts—with their high waisted waistband clearly visible, screams "I have to go to the door to get a UPS package and threw on the closest pair of pants I found on the way," but you know, made from silk instead. It's aspirational but grounded. Dress for the life you have like it's the one you want.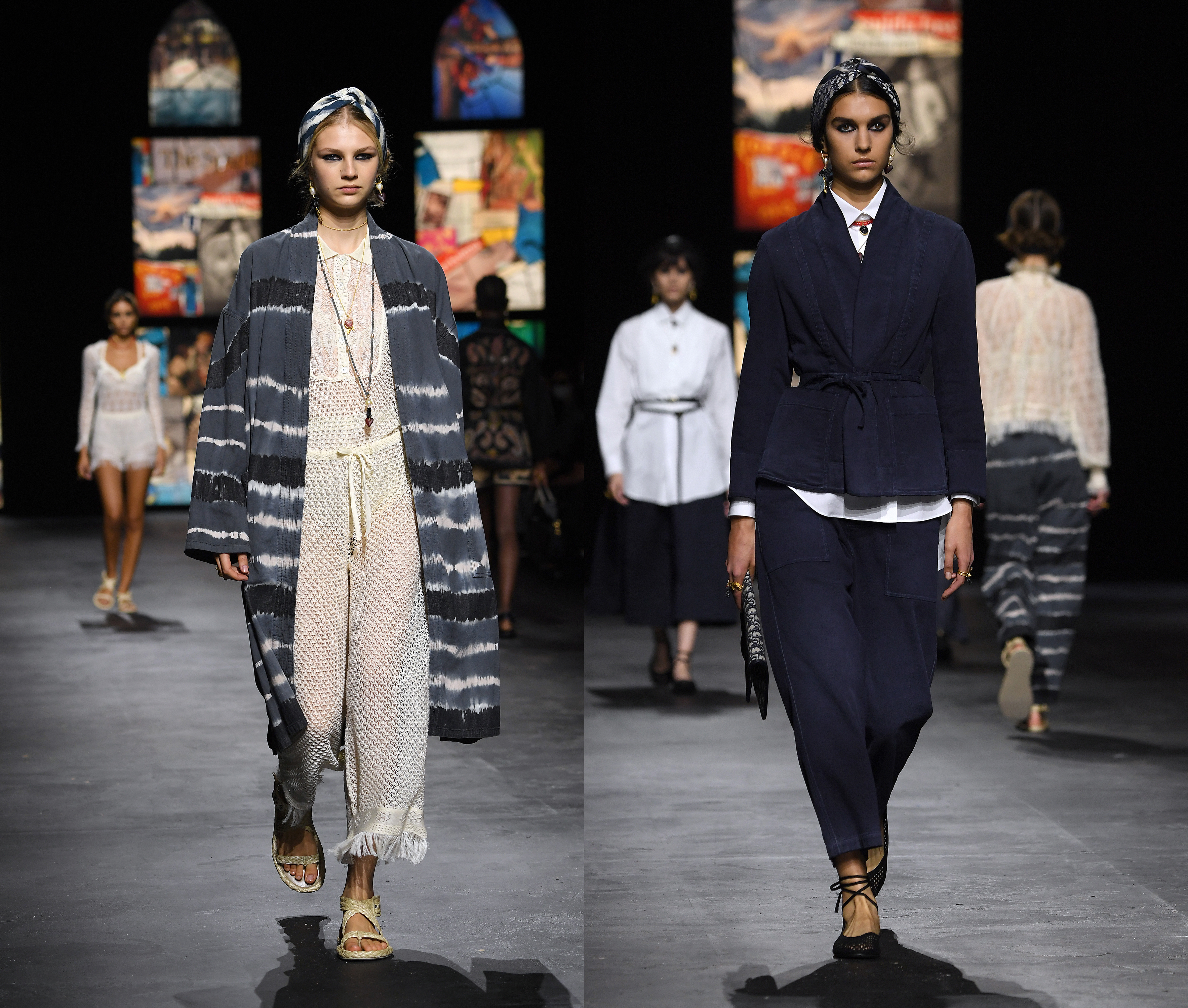 Elsewhere, a delicately crochet lace jumpsuit complete with button detail at the bib collar and worn underneath an ikat-dyed robe, has the ease of wearing pajamas, but the obvious luxury of something made in Dior's famous ateliers. But the collection wasn't made up of just alternative versions of your house clothes; a navy twill suit made up of a kimono jacket and matching curved cropped trousers worn with little lace up ballet flats are not unlike your most worn-in pair of jeans, the ones a few threads away from falling apart completely that you'll never get rid of. The untucked white button down shirt worn underneath reinforces your new at-home lifestyle. No one is tucking in their shirts while quarantining!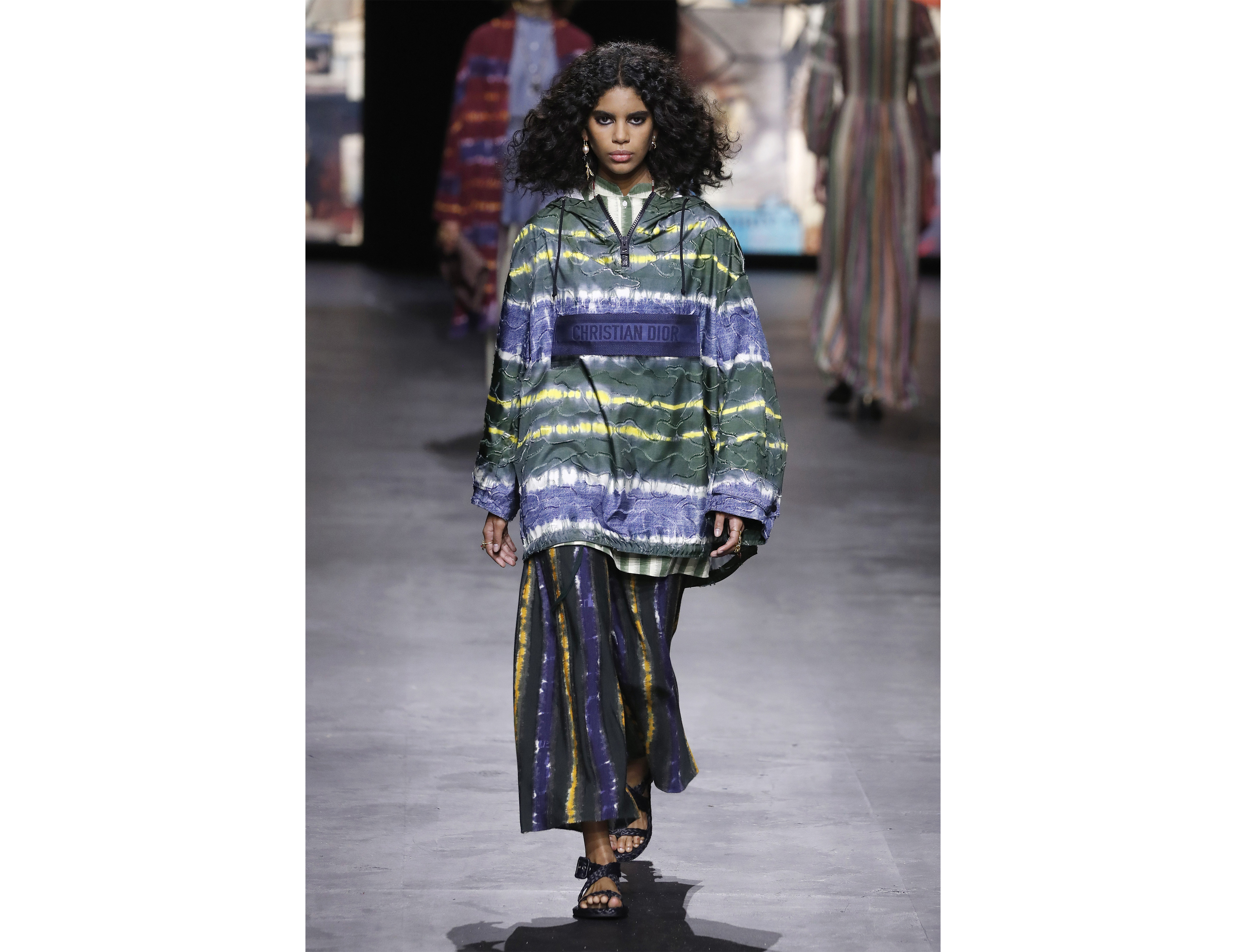 An explosion of color and print appeared towards the end of the show. The Dior logo'd anorak, which has been a staple for a few seasons now, was made in contrasting ikat prints and paired with matching-but-mismatching ikat print harem pants. It caught the hippie vibe that's been felt elsewhere, but in a very Dior way. We know that fashion's a reflection of the times, but this collection especially is both a snapshot and a love letter to the personal way we put ourselves together behind closed doors—and in front of the computer screen.

Tagged: