How Kell Rakowski Made the Internet's First (Official) Queer Social Network
Lex is an app for everyone (who is not a cisgender man) to make new friends, join a bookclub, and even find a date.
Images courtesy of Lex
"As a teenager, I would stay up till 4 a.m. in AOL chat rooms," Lex CEO Kell Rakowski recalls. "I made my best friend—who I had never met in person—go to the college I was going to, [and] we met for the first time on the first day of school." She grew up in the Mohawk Valley in upstate New York, outside of Syracuse, a flat expanse of land just south of the Adirondack Mountains dotted with Walmarts, prisons, and grocery stores the length of a New York City block. It's the kind of place where if you want to find cool stuff to do, you're not going to find it by walking there, or even driving there, you have to go online. It's not surprising that she developed a lifelong passion for connecting with people on the internet. "I've been doing that since I was 15."
Lex, which launched in November 2019, is an app that is more like a social network rather than dating app, although no one would've guessed it based on the inspiration behind it—the personal ads featured in the iconic lesbian magazine On Our Backs. "Six, going on seven, years ago, I came out and I really was living in a straight world and I struggled to find connections," Rakowski remembers. "So I started an Instagram account called @herstor_y, where I shared images that I was finding on the internet as I was teaching myself about queer culture and lesbian history and finding these really cool images." Eventually, she came across the digital archive of On Our Backs, and its personal ads ("A former bodybuilder turned femme fatale ISO of someone shy and submissive," "Beautiful Boston based scorpio yearning for luscious femme who's not afraid to show she likes it," "Insatiable, sexually barbaric GWF is lusting for sweaty dyke athletes"), which she began posting to the account. It was only a matter of time before she had the idea to let her followers submit their own personal ads. "I was getting 500 submissions every month. This was [in] 2017, by 2018, I decided I really wanted to build this into an app," she explains" From there, Rakowski raised funds to hire an engineer and began dreaming up an app where queer people all around the world could find each other in a truly egalitarian, deeply lo-fi way. "When we put it into the [Apple] App Store and Google Play, [we realized that] so many people were using Lex to find all these different kinds of relationships," she says, "People find housing on Lex, or organized book clubs, share kombucha scobies. What we decided to do is to [expand] Lex [beyond] just being a dating app. We're turning it into a queer social network."
Rakowski shares that the pandemic has not slowed down the Lexers, as she refers to the app's users. "Even though people can't meet up in person they're still able to form relationships on Lex and do things creatively to keep in touch with the community," she says, "Someone organized a virtual brunch with 30 people all over the world."
Queer people, after all, love slightly torturous long distance relationships and friendships. I've been a Lex user in the past, and remember being surprised by the amount of people on the app that were literally just looking for queer friends. I've found out about DIY punk shows on Lex, and my friends interviewed a potential roommate they found on the app. In other words, it can be a dating app if you want it to be but it mostly is a virtual community center, a queer picnic or nightclub but on your smartphone (that for the record could totally be the jumping off point for an actual queer picnic or nightclub if there wasn't a pandemic).
Rakowski also shares that she views Lex as a place to explore gender. "33% of Gen Z identify as LGBTQ," she explains. "I think Gen Z is way more fluid in their gender identities, and we want to be there for people exploring themselves."
Lex brings people together, it's kind of like those AOL chat rooms that Rakowski used to frequent back as a bored teenager in upstate New York. The app has also grown exponentially since its launch; Rakowski quit her day job as photo editor to focus on Lex full-time, and has since hired employees, which work remotely from all over the world. "This summer I learned the ropes of being a CEO and running a tech company. I've learned so much over the past couple of years, for sure, but everything has felt really organic."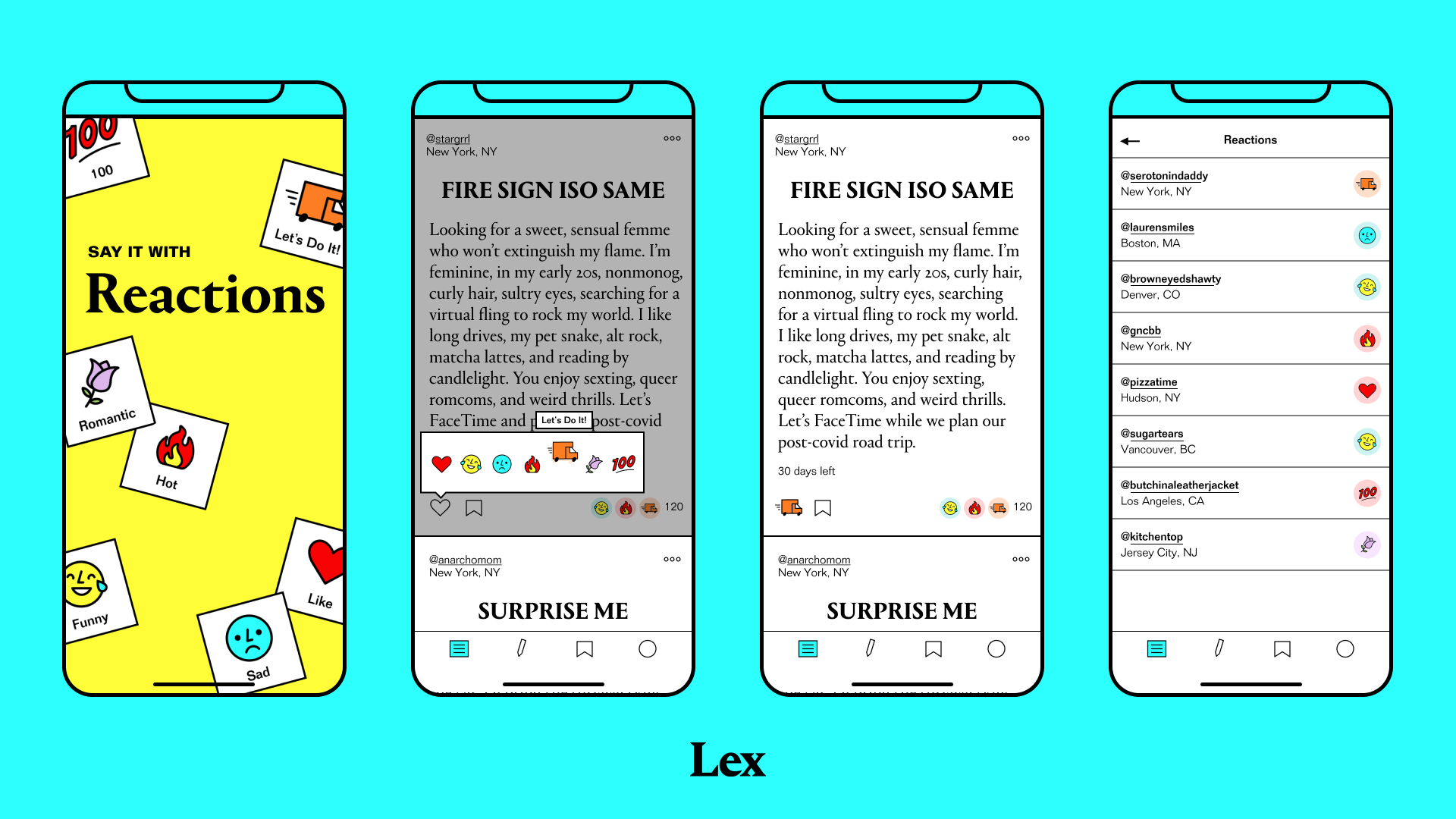 The app is also getting ready to launch its first ever feature, Reactions, which are a way for Lexers to interact with posts in a new way. With Reactions, you can not only "heart" a post, you can also react with a little rose symbol or a U-Haul truck (if you know, you know). It's a fun and playful way to engage with posts before you make the first move over text (even if the first move is looking for someone to teach you how to bake bread over Zoom). Reactions fit in neatly with Lex's entire visual narrative, which is all text, zero photos. "We really focus on typography and words to have people express themselves. And so they're able to form personal ads or a missed connection and define who they are, what they're looking for," says Rakowski. It also gives Lex users one more thing to bond over, and one more way to connect. That's what Lex is about: finding chosen family and friends in the weird wild world of the Internet.