Michaela wears suit by MUGLER, bodice by SAINT LAURENT, shoes by CHARLOTTE KNOWLES
Michaela Coel's Pressure Points
Durga Chew-Bose speaks with the creator and star of "I May Destroy You," the year's best new TV show. Photographed by Liz Johnson Artur. Fashion Editors: Gabriella Karefa-Johnson and Mischa Notcutt
Michaela wears suit by MUGLER, bodice by SAINT LAURENT, shoes by CHARLOTTE KNOWLES
One day, not long ago, Michaela Coel was changing her bedding, removing her sheets and covers, when she caught herself holding on tight, hugging a pillow. "Oh, my God," she cried. She squeezed, and then squeezed again. The act of squeezing surprised her. Squeezing was phenomenal. A dopamine hit, she says. In isolation, touch or any form of physical reciprocity had become notional at best. Something we remember doing. The pillow was made of memory foam, and its material mimicked the cadence of a person breathing. With each hug, the pillow's foam retracted and expanded, providing Coel with a delirious response. "I just kept doing it," she tells me over Zoom. The squeezing and letting go, she says, "was definitely a sign that [she] was really struggling." These little things were the only thing, and — Oh, my God — in experiencing them, Coel found her world briefly restored.
It's not difficult to picture Coel, 32, squeezing. The image comes easy, especially if you've seen her variegated and fast-morphing, very popular series I May Destroy You, where Coel is the writer, star, director, and showrunner. In it, closeness and deep attachments formed young are basic to survival. The show delves into what it really means to hold on—the rules about loyalty, affiliation, and ferocity of the heart. But the 12-episode, semi-fictional series also surrenders to the sweet necessaries of holding on. Of forgiveness and the spry shorthand that exists between friends—those inconsonant moments of funny when life is categorically not.
Maybe the image of Coel squeezing her pillow arrives fast because, as with any work of autofiction, the lines blur, regardless of what we know: This isn't real, that isn't Michaela, the character is nothing like her creator. And yet.
Her name is Arabella, an East Londoner whose Twitter fame has landed her a book deal. She is on deadline but decides to postpone writing in favor of friends, after a late-night text brings her out. She meets them at a bar. The energy is drunk. Clinks, eye contact, shots, cheers. Soon the night loses its accuracy; the partying zigzags. The night undergoes a sort of choreographed extinguishing, with Arabella returning to consciousness the next morning unsure of what happened. But her memory, it supplies fragments. A high-pitched ringing is set off, notifying Arabella. A man comes into view—thrusting, panting—and later, the pieces come together. Arabella realizes her drink was spiked. Her assault, and its aftereffects, become the show's territory. I May Destroy You portrays clarity as the objective, but also the objective lying in wait.
Four years ago, when Coel was writing season two of her TV breakout, the BBC sitcom Chewing Gum — based on her play Chewing Gum Dreams — she met up with a friend for a drink and, later that same night, was drugged and sexually assaulted by strangers. Coel shared her experience in 2018, during her MacTaggart lecture at the Edinburgh International Television Festival. At one point in the lecture, she said, "The misfit doesn't climb in pursuit of safety, or profit, she climbs to tell stories, she gets off the ladder and onto the swings; swinging back and forth, sometimes aggressively, sometimes standing up on the swing, back and forth, in pursuit of only transparency, observing the changes, but wonders if these changes are taking place within a faulty system."
In episode after episode of I May Destroy You, Coel refuses to translate the lives of misfits. She instead seems to transcribe them, honoring their specificity. As the writer and critic Bolu Babalola noted in a piece in Vulture, called "The Innate Black Britishness of I May Destroy You," "Black Britishness is everything in that it is treated as nothing—this is to say that it just is, we just are, and you are confronting it whether you like it or not… It would be easy to call this Black Britishness a 'lens,' but 'lens' is clinical and anthropological—'lens' is external and removable. It is less of a lens and more of a feeling that coats the chords of the show."
Coel creates a zone that is busy, tenanted with characters who dismiss what is prevalent, in a world that has alienated them. They choose other misfits as their family—in Arabella's case, her best friends, Terry and Kwame, gloriously played by Weruche Opia and Paapa Essiedu. Their realm is joyful, awkward, fiercely linked, but also selfish at times, full of secrets and confessional false starts. They are working, hustling, auditioning, playing, seeking guidance, riding elevators in tall buildings, and entering offices wearing clothes that catch the eye, and not because the clothes are out there, but because these characters are so finely drawn that a hat can look both right and wrong, and therefore so right.
I ask Coel if she's had to develop new ways to tap into her instincts as the creator of this show. "I always go back to the fact that I used to go to church, and I used to be Christian," she says. "Something about value and understanding your value, and the idea of resisting temptation. I wonder whether that stayed with me by the time it came to making those early decisions. In drama school, I remember my first audition came up, and I didn't want to do it because I just didn't think it was for me. Even though it was TV, and I imagine many people would have instantly wanted to go do the audition, I didn't. Also, I was a poet. That's my origins. My metrics of success and happiness were quite unique for someone who finds themselves pursuing a career in theater and television. Every aspect of this, it's a constant deliberation and realizing where you've got something wrong."
+++
"I used to be anxious about the fact that my memory wasn't perfect. And then I realized nobody's memory is perfect. What does stay are feelings." –Michaela Coel
Arabella's healing and daily exercises in compassion—her empathy project—all play out like a process of refraction. We follow along as detours turn into divinations or dredged up moments from her past—the way memory can extricate not just what we've buried but what we've falsified so as to simply go on. A father who was carrying on with another woman. A friend who hurt you and then lied about it. A night out: glassy, slick, and so wrong in its textures. I May Destroy You is an education in storytelling's potential for transforming the visually dormant into something more febrile and spectacular. Memory is, in some ways, the show's keynote and its accelerant. It's also the show's vague perimeter — an outline for where each character is headed: backward while moving forward.
I ask Coel about her own relationship to memory, if she has a good one. "I used to be anxious about the fact that my memory wasn't perfect. And then I realized nobody's memory is perfect. What does stay are feelings. I don't remember how I met a lot of my close friends. I barely remember anything about our early years together, but I feel incredibly close to them. So I don't mind."
What is closeness for you?
Staying in touch. Hanging out. Being with people who you can be transparent with and who are transparent with you. That's why my friends end up being my story consultants. They give me their opinion honestly.
How did you stay close to your friends in isolation?
I took two of them to a farmhouse a couple weeks ago, to spend time. That's just nice to do, to make new memories when you have old ones.
+++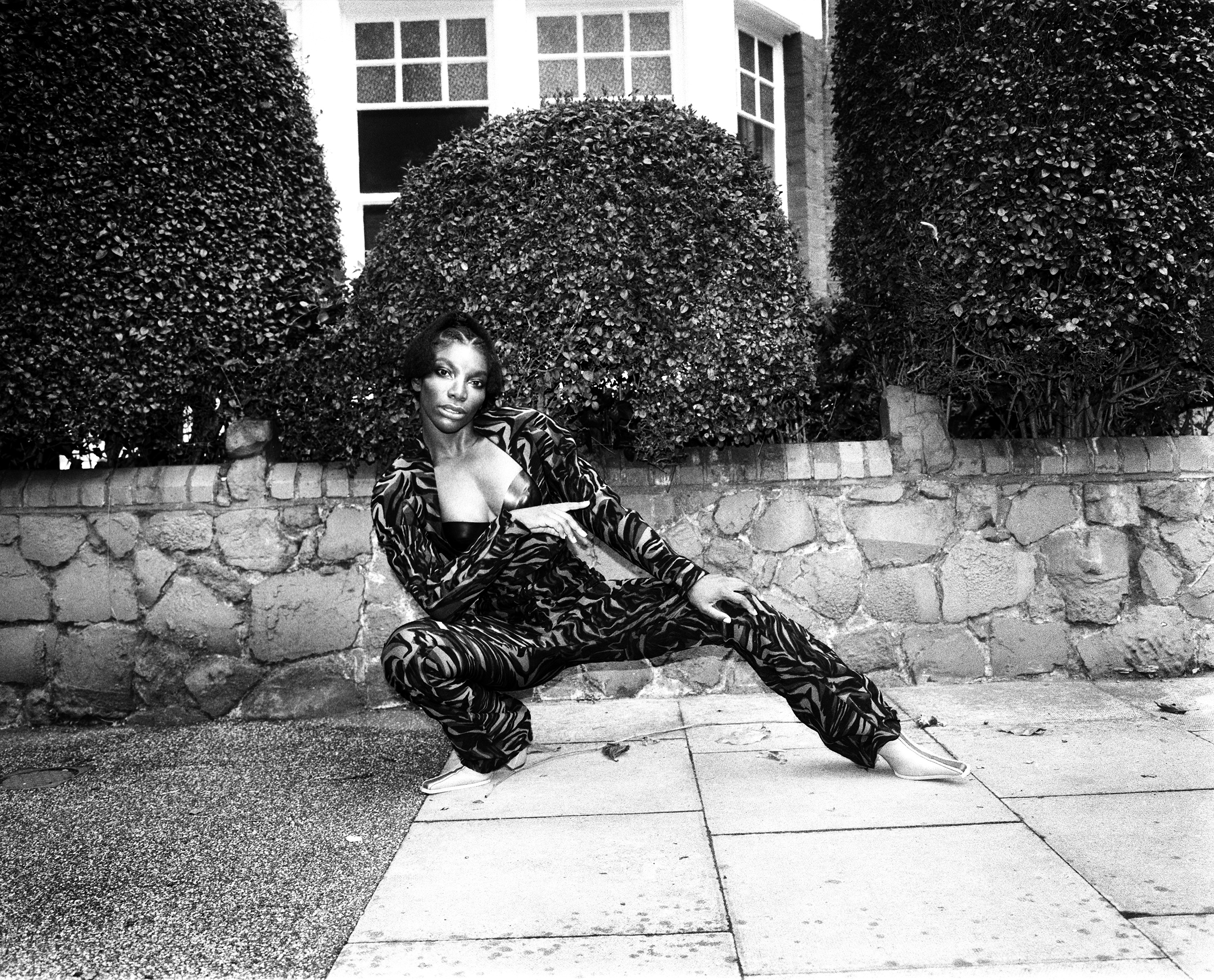 The next day, Coel sends me an email: Heyyyyyyy Durga, a little thing I wanted to add to how you affirm and maintain Friendships. During lockdown, she would cycle to a friend's house and drop a letter through the mail slot. In it, Coel would list the reasons she is thankful for their bond, like an inventory of gratitude. Another time, she sent Opia a bottle of her favorite drink and some face masks. To another friend: a large T-shirt and shorts because the friend was into the T-shirt-and-shorts look. These gestures added a sense of normalcy to Coel's life. "Living alone during isolation," she writes, "it could sometimes feel like I only existed on television!"
Coel, like Arabella, grew up in East London, in a council estate in Tower Hamlets. She is the daughter of Ghanaian immigrants, but her parents separated before she was born. She and her sister were raised by her mother, an NHS nurse, who has spent the past half-year, Coel tells me, working on the front lines. "It's very full-on," says Coel. "I see her whenever I can. I try to spend even 10 minutes with her whenever she has a day off, like, all of a sudden, I'll just go and see her. It's quite hard."
Coel recently invited her mother on a short trip to the same farmhouse she'd stayed at with friends. I imagine Coel making new memories with her mother—together in a space where just a short while ago, it was occupied by idleness, by friends lounging and the energy so specific to being just outside the city. Her mother has discovered crafting, Coel tells me. "She has gone absolutely nuts for art. I can't even describe what she's been making," she says. "She'll see a picture in a magazine, then she'll trace it. She'll copy the shape of two people dancing, then she'll stick a bit of fabric on it, and then color around and stick other little bits of fabric. She's framing them and putting them around the house. She's been picking up twigs from the street and tying them together with thread." Across from me, on my screen, Coel uses her hands to mimic her mother's sculpting. She pinches her thumb and index finger together and makes a twisting motion with her wrists. She pretends to draw in the air, scribbling with focus. She smiles. Even though Coel is reflecting on her mother's new hobby, all I see is the likeness of a daughter. Like Coel interpreting her mother's art projects, I find myself watching the show and thinking: I can't even describe what [Coel's] been making. Or how she does it. So I ask her.
As a showrunner who is also directing and acting, how do you preserve the intention of each role? Does it feel like a dead heat of poise and invention?
The character dips down when I'm trying to do something else, and she doesn't come up again until they say "Action." With Arabella, I had a very deep understanding of her—[the character] was almost like a child. She sits in the corner with coloring pencils while I deal with a conversation about budgets. And then I say, "Okay, it's time to go back to set." And I welcome her back in.
Back into the world you created. What's that like? To be on this set where everyone is working in service of your meticulousness?
Awestruck. I can't imagine thinking about that. Sometimes I watch them focus and I'm just like, Wow. Like, the camera operator will be screwing the lens into a camera, cleaning it, and Paapa will look at me and go, "You're tripping out again, aren't you?" Because it's bonkers!
Go on.
It's addictive to give people so much opportunity to focus.
Are you scared of losing that feeling?
No. Whatever I do next, it has to strike awe in me.
+++
For all its visual candor, I May Destroy You is also about absence—it holds space for the unseen, the unsaid, and what we'll never know.
What a relief—for us. Because as the director Terence Nance recently tweeted: Michaela is operating on another level. It's as if her spatial awareness is both expansive and microcosmic, prompting the show's viewers to rewatch and study the undercurrent of pure style. One such viewer (and fan), Jane Fonda, posted her praise on Instagram: "Most of the a-ha moments are delivered with no dialogue…I'm finding that the meaning of a lot of scenes only dawns on you the next day." Fonda disclosed she'd returned to the show for a second and third viewing, re-experiencing Coel's facility at capturing the ways in which we haunt ourselves in order to live.
But for all its visual candor, I May Destroy You is also about absence—it holds space for the unseen, the unsaid, and what we'll never know. A roommate who stays mostly silent, though his character is richly developed. He prunes a plant and our associative powers experience another character's growth. A mother who commands respect, determining with few words the sensible way forward; who makes known that some histories will never belong to the child. Two friends sitting in a bathtub, avoiding the house party and advocating for each other by not rejoining the party. A woman after sex, acting like it was good. Absence is also explored as a mechanism of assault—what Coel describes as "the theft of consent."
+++
Arabella's world is a rhapsody of self-invention, bringing to mind the heat of Mary Gaitskill heroines, but layered with slapstick exploits, whodunit plotlines, and excessive screen time.
Following her assault, Arabella appears to have abandoned the notion of chance. Hers is now strictly a world of cause and effect, and the deliberation that fastens one to the other. While random events no longer exist, as far as Arabella can tell, what builds instead is a kind of test-pilot attitude for navigating the unplanned—for experiencing pain with extreme compassion and beautifully disquisitional, sometimes cruel working-throughs. Arabella's world is a rhapsody of self-invention, bringing to mind the heat of Mary Gaitskill heroines, but layered with slapstick exploits, whodunit plotlines, and excessive screen time. Arabella speaks in beams, both orating and atom-splitting her interiority, deciphering damage from what might—if she can ever write again—become future material. There's also, of course, the buried stuff. School days, the home, and personal traumas hold generative potential or are revealed as a kind of emotional retching she comes to experience as recall. The viewer recognizes all of this as Arabella's version of writing, even if for most of the series, zero words are committed to the page.
For Coel, by contrast, the writing is a ritual of bereavement. "I don't know what the process is like for other writers, but for me, I accept [it] like a kind of death," she says. "That this is going to repeatedly take me to psychological death and exhaustion. All of my energy is going to be expended. I'm not expecting to do it easily. I can't be the only writer who dies. I think it's quite common. I hope it's quite common."
Is Coel's show medicinal? No. It does, however, mimic the purge necessary for experiencing relief. I May Destroy You presents a new form of enormity that tenders hope. Its trajectory of both exposure and restraint is attractive, and not just because of the creator's prismatic self-possession, but because it makes nothing plain. It seems to say, Keep up — seems to push with a fresh kind of intelligibility that refuses universality. Coel's creation, those various intimations about the buzzing stand-off of being, and how what's incurable presses against us, are delivered with both luster and torque. The show also presents the miracle of quarrying deep. The artist's pit and her subterranean path forward. It's where one goes to find things, keep things—only to cast them away as the writing nears close.
When you are writing, where do you draw power from?
The trees.
Trees?
Yes, trees. I always go somewhere where there's trees to begin my early drafts. And then, as I get into draft 10, 11, I can do it anywhere. The forest helps your immune system. It feeds you. I think it's trees.
Do you look up?
Oh, yeah. I watch them dancing in the wind, waving at me. I look up at the branches merging with each other—they have a whole underground system for feeding nutrients to each other. What one tree is lacking, the other supplies it. There's this whole chain of selfless giving that goes on underneath the ground.
What else powers you?
My childhood. My formative years, my teenage years. I feel very empowered by my own history. The life I've lived, the lives of my friends. I want to honor them. I want to honor everything that made me what I am. But always, the trees.
+++
Listening to Coel prompts me to share with her a personal account from last month. A weekend away, with family, to a lake. I express to Coel how unexpected the water felt. First on my feet, as waves lapped gently. And then as I floated. The floating, I tell Coel, evoked—I imagine—a similar sensation to what she's describing with her trees. The ceaselessness and the soundlessness. The quietude of simply breathing, looking up, and floating. Coel nods. She says, "I haven't yet learnt to float. I'm desperate to. I think I'm so anxious to learn that when I try, I'll fail because I really want to be able to do it."
The pressure.
Mm-hmm. The pressure to float.
The pressure to float.
I repeat after her, because something about the way Coel says it feels incantational. She tells me she wants to perfect floating so as to experience suspension without swimming. So she might rest in the water. That's exactly it, I tell her. For the first time in a long time, I was resting. No screens. No next meeting. No ideas about anything beyond this rapturous, lake-water feeling.
+++
Before our call ends, I ask Coel about her internet habits, since she is notably offline. Or, rather, barely present on social media.
What have you recently Googled?
My friend [FKA] Twigs bought me vegan cheese, loads of vegan cheese. So I Googled "How to make a cheese board." The fruit goes around the outer rim of the cheese, and I thought this was so fucking posh that my friends are going to be like, "What are you doing?" But they came over and loved it. They were like, "Yes, mate!" I also Google games, like "How to play Exploding Kittens? How to play blackjack?" I also Googled Zadie Smith's new book and ordered it from Foyles bookshop. Oh, and I Googled "How to deadhead a rose bush."
What does "to deadhead" mean?
Removing old blooms. It involves cutting just above the leaf node on the stem. You dispose of those dead bits to get the rose bush to focus on giving its energy to flowering.
Producer YASSER ABUBEKER, Hair Stylist VIRGINIE MOREIRA, Makeup Artist AMMY DRAMMEH, Creative Producer WEI-LI WANG, Associate Fashion Editor JARED ELLNER, Photography Assistant MATHIAS KARL GONTARD, Stylist Assistant MARIAMU FUNDI, Production Assistant DENISA CANTOR, Hair Assistants DANIELLE IGOR and ALISHA FERGUSON-ADU