Nicole Wittenberg, Aspronissi (Detail), 2019, Pastel on paper Courtesy of the artist
Nicole Wittenberg Finds Her Place In the Sun
The "Plein-air" works are on view at Skarstedt Gallery in New York
Nicole Wittenberg, Aspronissi (Detail), 2019, Pastel on paper Courtesy of the artist
A visit to Nicole Wittenberg's studio in downtown New York city is a hairy event. The loft is in Chinatown, behind a doorfront which recently made the news as the scene for a midnight spate of murders. Upstairs is a loft where the artist works on her large oil and ink figurative paintings, which foreground a technique focused on direct observation. Her ability is recognized in a recent John Koch Award for best young figurative painter by the American Academy of Arts and Letters. At her studio, while we had tea, talked to her micro-parrot Roy, and looked at the Chinatown views, I noticed a series of new landscape drawings that seemed both spacious and distant from the city rumble. The landscapes were done on-site, in the moment while outdoors, and they reminded me of a Rabindranath Tagore quote, "The butterfly counts not months, but moments, and has time enough." Her version of realism translates the visible world into a system of interpretive marks wherein one has a point of view, decides what is important and what to leave out. The pastel drawings were completed while Wittenberg was visiting islands in the Bahamas and Greece. The quality of her painting is extremely open; forms are not contained, their energy spreads outward, the effect of which is to direct our attention to the sun, to the temperature and time of the day. In preparation for the current group show at Skarstedt, curated by David Salle and on exhibit until February 1, 2020, GARAGE visited Wittenberg's studio.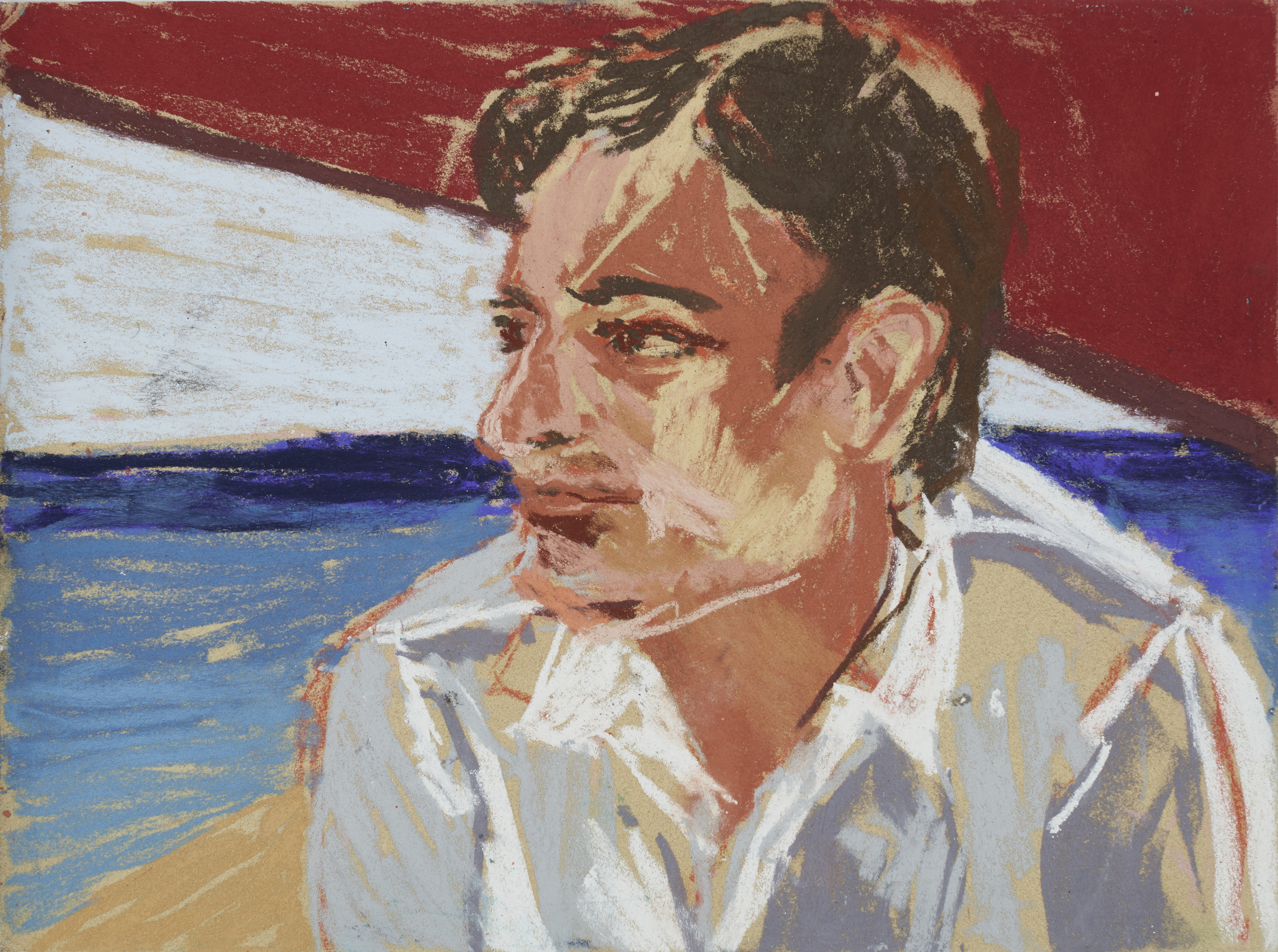 How did you come to this series?
By accident. I had been painting in black ink, and without thinking too much I bought a box of soft pastels and paper and brought them with me to Greece. I had never been to the island of Patmos before, but when a painter friend, Federico de Francesco, told me about the ancient beauty of the old city, the place where St. John wrote the Book of Revelations, I was compelled. I was craving being outdoors, craving color and craving nature. While in Patmos, I made drawings of the sea, the light on the water, and the color of the sky. I connected to myself while doing the sketches and decided to make one or two drawings a day. The sea may have been the pictorial subject but it became a mirror for the inner self. I felt freer to try things I hadn't thought permissible before, being that I had never seen myself as a painter of landscapes. I had felt judgmental about the subject matter: painting seascapes sounded corny. When I think about it now, I laugh, how could I be so restrictive in my thinking?
What are your landscape influences?
I am obsessed with Degas monotypes of landscape, because of the light and open forms—the color seems to emerge from within the paper rather than being applied. They are magical.
You've been termed a 'Plein-air' painter for today.
There are many artists making these images now, from earlier generations, masterful artists like Alex Katz and David Hockney to people of my generation. The net is vast and there is something compelling about seeing the grandness, the intimacy and individuality of the natural world. The natural world gives me an immense amount of energy, the kind that compels me to make art. I am very interested in the idea of things being "lifelike" and I realize that the pastel drawings of the sea explored the experience of seeing water, and that experience was emotional for me.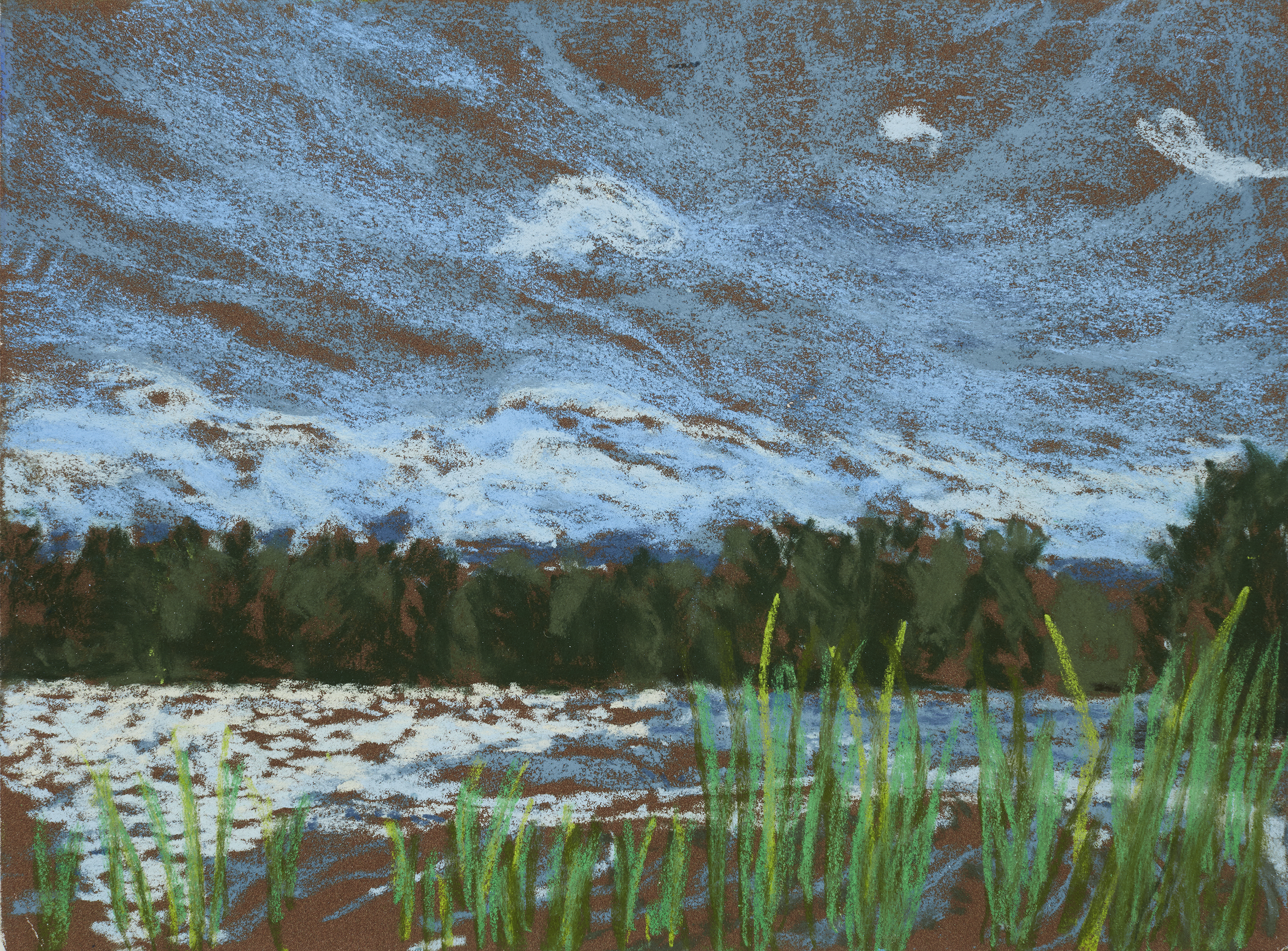 In Windermere 3, 2019, currently uptown at Skarstedt, we see an expanse of tranquil water of a cove, and the drama of bright clouds against a darkening sky.
The translation of the pastel drawings, made en Plein-air, was not as straightforward as I would have liked, there was a lot of trial and error. The drawing for "Windermere 3" was made in about 25 minutes sitting on the shore of the savannah sound. It was a particularly beautiful strip of water between two islands and was behind the house belonging to Jacque Cousteau. I realized back in the studio that the chroma of pastel is much more intense than oil paint which is relatively transparent by comparison. I was able to get the intense colors in the pastels into the painting by using brightly colored grounds. In the case of "Windermere 3," I used a very saturated lemon yellow, it raised the saturation of the greens and blues in that painting, making it closer in feel to the drawing.
Painting nature now, is different in meaning, than hundreds of years ago. Socrates wrote, "He is richest who is content with the least, for content is the wealth of nature."
There is a political dimension to this work as nature is under threat from climate change and pollution. There is sadness sometimes while I am drawing, the blue sea is fading which intensifies my desire to represent it... though I wouldn't say that is the primary focus of these paintings. The fear of losing our natural world gives me a sense of urgency as I see how carelessly people treat our greatest resource.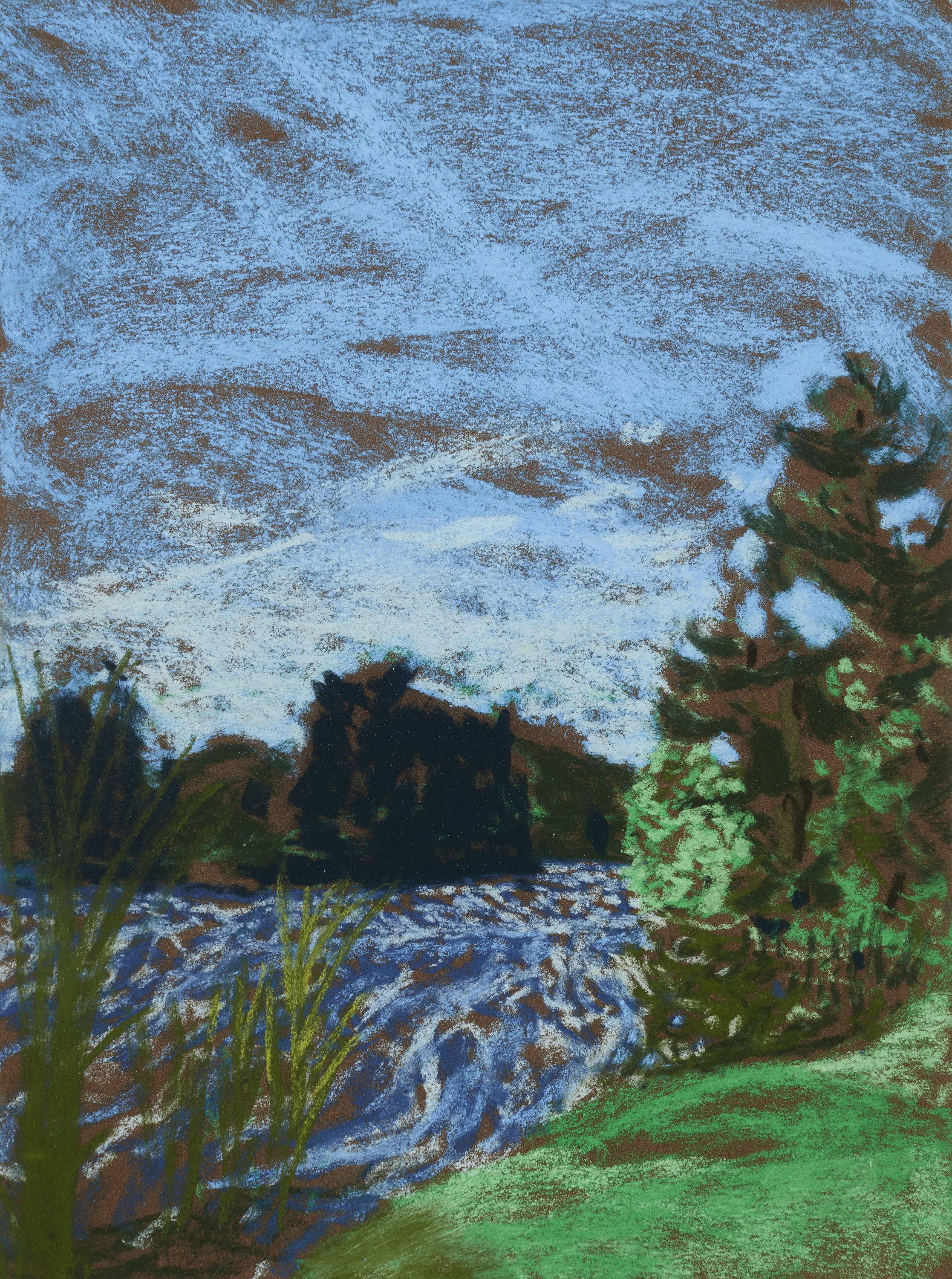 What are the challenges for you in making observation-based work?
The biggest challenge is to trust what I see, even when it conflicts with what I think I see. I suppose everyone has a certain expectation when looking at a landscape of how it should look. I suppose the challenge is to rely on what is really there. Often, reality contrasts to how I think things should look.
In the release for the exhibition at Skarstedt, it states that you are "making artistic choices that are tested against one's own experience."
I can say for myself it took 20 years of painting to make this new body of paintings and drawings. The experience, the arrival at this particular place, took time for me to make choices both formal and personal to make these pictures. The two other painters in the show make incredibly personal work. It is clear their images come from experience and knowledge of their own inner worlds, their nature and character. I think every artist needs to connect to their inner self and mine has pushed me in this particular direction. While I do love sharing my paintings with others I think I make them for myself first. I would say painting is about connecting to one's inner knowledge and that can only be discovered by testing one's ideas against personal experience.
David Salle curated the show—fortunate to work with a curator who is a lauded painter!
"Art first" was the mindset David Salle brought to this show. As a painter and writer, he considers the plight of the artist before anything else. He wanted Martha Diamond, Chantal Joffe and myself to show the work we were passionate about and he arranged for these works to speak together in the exhibition. It is a rare moment when the art and the artist don't compromise values to adhere to any ideas or needs outside of the work. To pick the paintings you love and leave the rest to the curator knowing you are in good hands is a privilege.