A detail of one of the 8,500 different covers to Laura Owens's Whitney Museum catalogue, featuring an e-mail exchange between the artist and curator Scott Rothkopf
The Whitney's Laura Owens Book Comes in 8,500 Different Covers
Scott Rothkopf, curator of the Whitney's Laura Owens retrospective, talks to GARAGE about the extraordinary publication—truly an artwork in its own right—that accompanies the LA painter's show.
A detail of one of the 8,500 different covers to Laura Owens's Whitney Museum catalogue, featuring an e-mail exchange between the artist and curator Scott Rothkopf
The catalogue to LA painter Laura Owens's Whitney retrospective is no slim volume, going well beyond the standard fare for even such a major exhibition to weigh in at over 600 pages. Produced in close and lengthy collaboration with the artist, it features not only the expected introductory essay, but also a slew of other texts including off-the-cuff commentaries from Owens's colleagues, friends, and relatives. And as if more than a thousand images from her personal archives weren't enough, there's also a very special cover. GARAGE talked to the exhibition's curator, Scott Rothkopf, about putting the pieces together.
GARAGE: The book is a beautiful object and must have been a mammoth undertaking. How did it come about?
Scott Rothkopf: Originally I thought we'd make a conventional monographic catalogue for the show—a mid-career survey book with a few curatorial essays followed by plates of the work—but it turned out that Skira Rizzoli had already made a book quite similar to that. At first I was a bit annoyed because I felt like they had essentially made our catalogue for us. But the more I thought about it, the more it became this liberating situation where we could think from scratch about what such a book might be.

I spent a lot of time in Laura's studio going through her archives, and we came up with a variety of ideas. One was a kind of miscellany of essays around topics related to her work—like the history of wallpaper, or of landscape paintings with animals—but eventually we settled on this idea that we would use her archive as a base of contextual material into which we would weave her work, and the whole book would be a tour through her life and her art and the connections between them.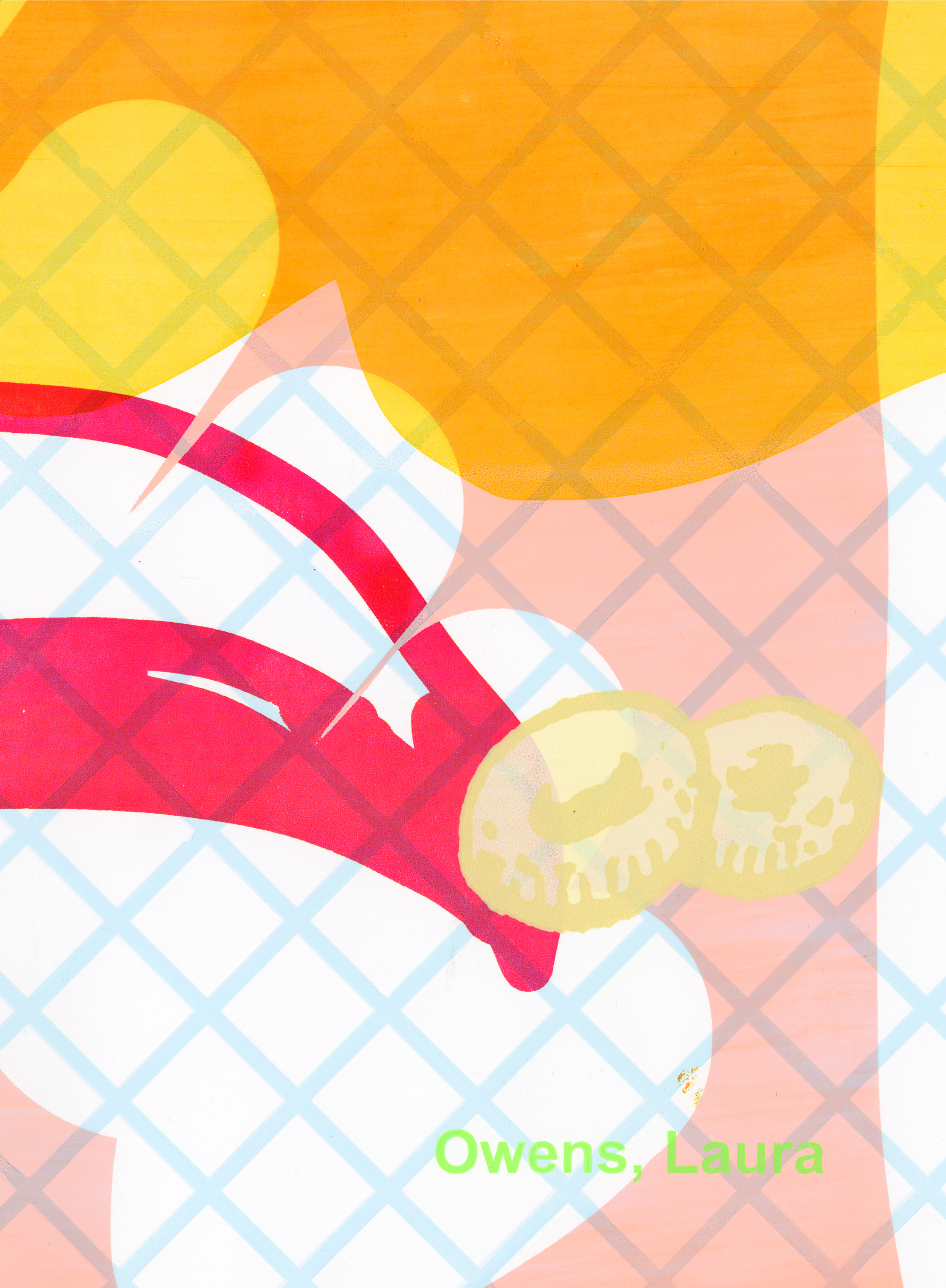 You've reproduced letters, faxes, press releases, notes, and other ephemera alongside the work itself.
Yes, much more so than most people are used to seeing. The first image is of her childhood home. You see her bedroom, and her report card from grad school, and her letters to dealers and employers asking for more money, and the seating plan for her MoCA survey, and her price lists . . .
It's very revealing then. Quite brave.
Yes, Laura's made herself very vulnerable—she's kind of running through the streets naked here—and there's a there's a tremendous amount of bravery and generosity about doing so because she hopes this book will be an inspiration for younger artists, a peek behind the curtain of what an artist's life can be: What does a loan letter look like? What do pregnant women do when they want to paint? (They wear a mask!) She was very insistent that her kids be in the book—there's an image of her painting pregnant in the book to show that she was going to carry on her career and also be a mom. There's a brutal honesty in the images and the materials that is quite rare.
For an artist of that stature to be so open about finances as well as details of family life is very unusual.
Right, and she had to bring a lot of people along with her. One of our criteria for the book was that is we chose something that was very personal, but we didn't want it to be too narcissistic—though some people may still imagine that it is. Each document in the book had to have some interest whether or not the reader knows who Laura Owens is, in the sense that they provide a glimpse, in a typological sense, at what certain things are like—what it's like to be a teacher, what it's like to be a student, to have a show, to fight with your gallery, to break up with your husband, and how all these things relate to your work.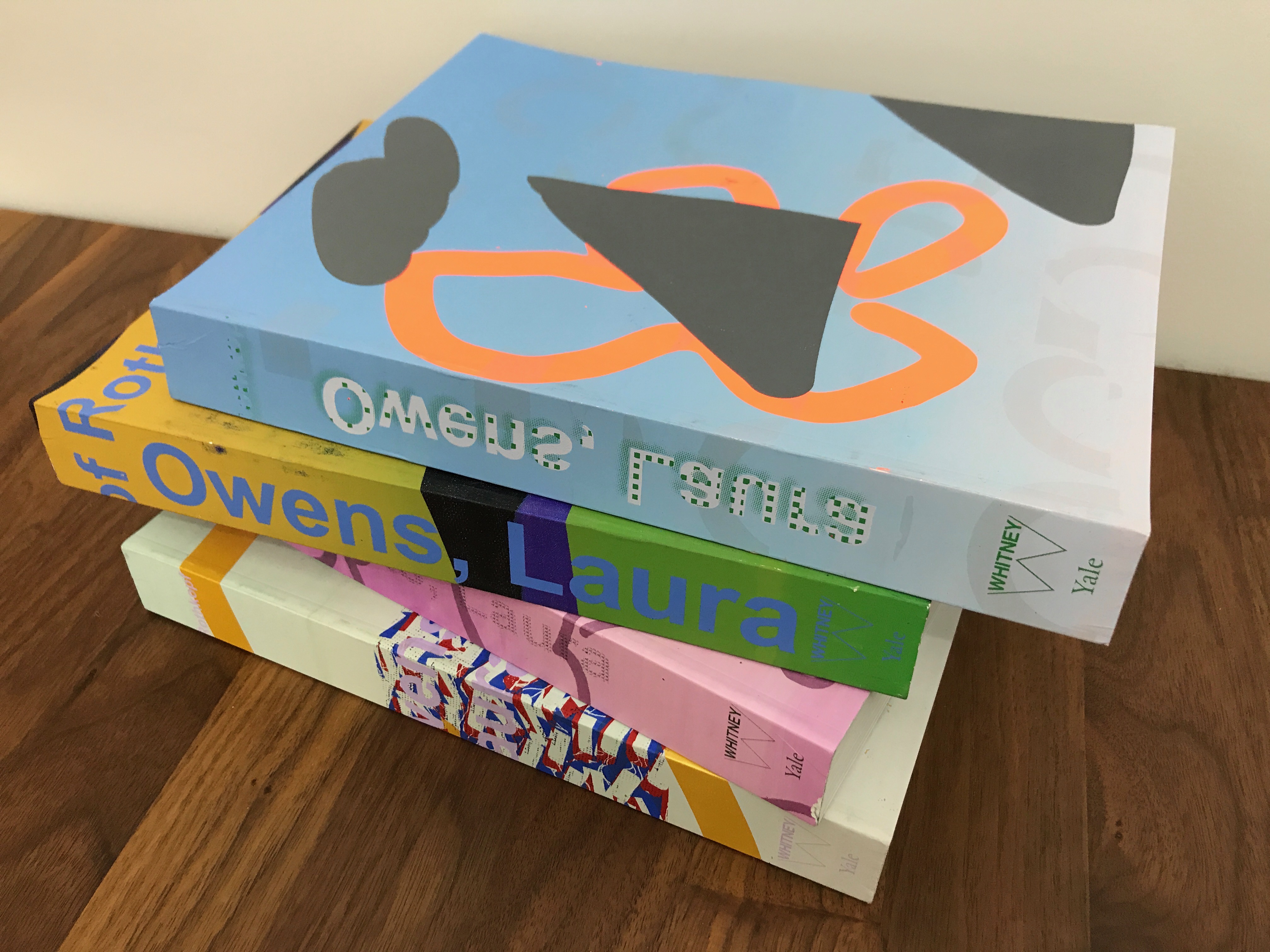 But there's also a lot about the art. You see a tremendous amount of source material and working drawings. The book is animated by oral histories from everyone from me as curator of the show to Laura's 11-year-old son talking about having his mom use his work. You have testimony from studio assistants, collaborators, ex-husbands, teachers, all organized in a very specific way. There are over a thousand pictures. It's 664 pages long!
Can you tell me about the unique covers for the book? What processes were involved in making that very ambitious project happen?
That was truly down to Laura's mind-boggling creative urge. She decided at some point that she wanted to custom hand print all of the covers in her studio. So there are 8,500 books and she screen-printed each cover on both sides, some with five or six of more different screens, with different colors pulled in different directions, so no two books are identical. It's not a case of collect-them-all because you can't; it's not a set. I'm looking at them in my office now—when we were opening up the boxes we couldn't get over the variety of them. And the feeling of them in your hand is great because you're really coming into contact with the artist's work. You feel that intimacy.

The scheduling must have been rough.
In the beginning we didn't understand how challenging it would be. We thought it would look a bit more like a scrapbook—you've seen books like that, like Urs Fischer's—but in the end it was incredibly tightly put together. So although it has that casual feeling, every spread is a mini-argument. So instead of me writing a big essay like I would normally do, my time went into helping create this argument through the arrangement of pages. We had a designer move to LA for four months, and she was in Laura's studio almost four days a week. And I would go out for four days at a time and be in the studio sometimes ten or twelve hours a day, sitting side by side with Laura and the designer, Tiffany Malatooki, and Asha Schechter, the photo researcher, and we would try every spread each different way; there was no template.

Will you attempt to reproduce or represent the book online, or is it important that it remains a physical object and a print production?
In Laura's madcap universe, she's hoping to produce 15 short videos, between 30 and 90 seconds long, the first of which is on our website, that put the book into another context. But it's more about the cover and sharing that with the world. Since the show includes a lot of older work, all the energy and creative drive that she would normally put into making new work for an exhibition, she's put into this book.

We've never at this museum made anything like. It's truly unique.
Laura Owens is on view at the Whitney Museum of American Art, New York, from November 10, 2017, to February 4, 2018. The catalogue is available for sale now from the Whitney Museum Store.