Chloe Wise, Bill Powers, and More Play "Fuck Marry Kill" with the Art at Art Basel Miami Beach
The blue-chippers exhibiting at Art Basel Miami Beach get subjected to the game as old as time.
The closest I've ever come to experiencing Stendhal syndrome has been at Art Basel Miami Beach. In the past, there's so much work on view that my mind first boggles, then glazes over, and ultimately shuts down before even making it through 20% of the fair that shows just short of 200 exhibitors. My coping mechanism, and the only way I've been able to begin to parse through the amount of work on view at an event like Art Basel, is the storied and sacred slumber party game, "Fuck, Marry, Kill."
Typically the game is played by blushing pre-teens who choose three celebrity dreamboats, and then meekly self-select which is worthy of a short-lived fling, who they'd make an honest man out of, and finally, who gets sent to the guillotine. But when applied to inanimate objects and fine art, the game really boils down to "what do I like to look at, what do I love enough to hang in my house, and what isn't my taste?"
This year at the Miami Beach Convention Center, I approached some fellow art lovers to see if they'd play along with me. Here's what I found.
Erin Riley, artist, at Perrotin's Booth
Fuck: Paola Pivi, Snowfall, 2019
Marry: Takashi Murakami, Untitled, 2019
Kill: Daniel Arsham, Blue Calcite Eroded Venus of Milo, 2019
"This is kind of like, bro-y art, right?" She said looking at the booth from afar. It's true at least that one piece on the French gallerists display was simply a banana duct-taped to the wall, a piece so simple and absurd that it almost acted as a calling card for the artist behind it, the notorious prankster Maurizio Cattelan. The piece had been making waves inside the convention center, polarizing those who looked at it with laughter or an eye roll. ("It's really just a banana?" I asked Emmnanuel Perrotin. "It's really just a Cattelan!" He rebuffed.)
As I stood before the piece, feeling equally as though I would fuck, marry, or kill it, Riley gravitated towards an opulent, textural wall piece by Italian artist Paola Pivi. "I think I'd choose this for the fuck option." The sculpture saw a decadent cascade of pearls stack on top of each other. As for marriage, she gestured towards a Superflat canvas by Takashi Murakami, "Because that's like, a stable life!" The piece was a swirling collage of vibrantly colored cartoonish skulls. Across the way was the piece Riley gave the axe: a sculpture of a woman in classical Grecian style by Daniel Arsham, with his signature bejeweled corrosion. It's true, the woman in the sculpture did look like she had lived a long and meaningful life.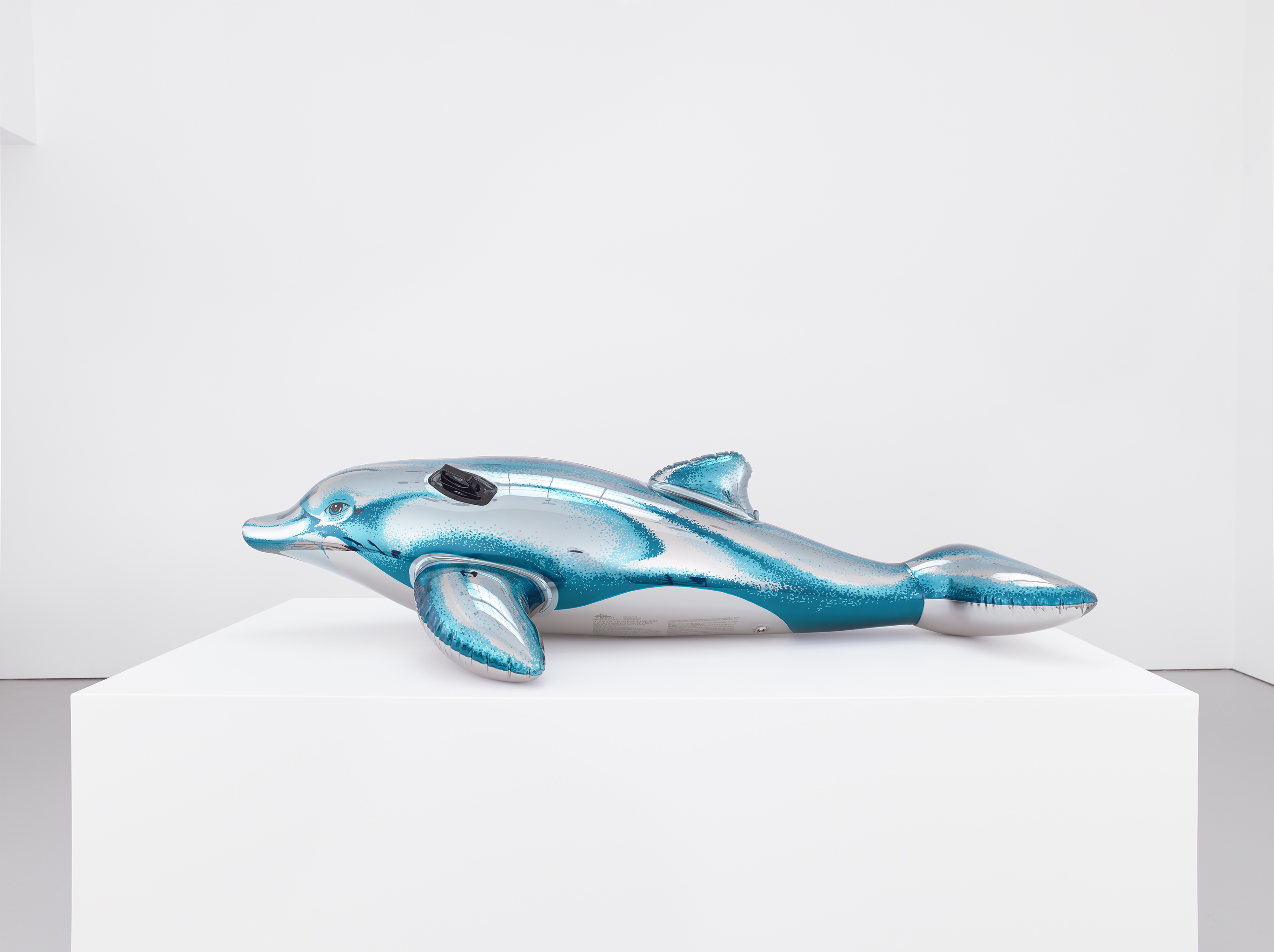 Eric Doeringer, artist, at Gagosian's Booth
Fuck: Jeff Koons, Dolphin, 2007-2013
Marry: Ed Ruscha, Ruby, 1968
Kill: Mary Weatherford, August, 2018
Exiting the Perrotin camp, I ran into Eric Doeringer, a New York artist notorious for his "bootleg" paintings of famous works which he hawks on the street for a significantly cheaper price outside of lauded institutions such as the Whitney. Already a satirist of the blue-chip art world, I figured he'd be game.
"Sure, let's go to the Gagosian booth. I'll probably want to fuck them all!"
Seduction was indeed abound in Gagosian's offering. A large-scale Tom Wesselman work showed a pair of lips smoking a cigarette, and four inverted Marilyn's by Andy Warhol gazed at attendees through laughing eyes. Doeringer immediately expressed affection for Jeff Koons' blow-up Dolphin pool toy, and chose an understated, richly colored Ed Ruscha painting to go to the chapel with. As for his kill choice though, a large multi-media canvas by Mary Weatherford was his pick. "It has everything that I don't like about fair art," he explained. "It has the neon element, and the painting is so gestural." To each their own.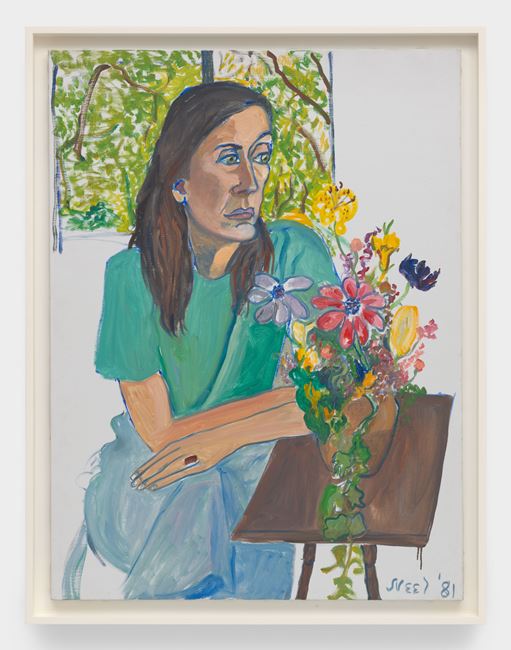 Chloe Wise, artist, at David Zwirner's Booth
Fuck: Alice Neel, Nancy With Flowers, 1981
Marry: Lisa Yuskavage, Knitter, 2019
Kill: Nate Lowman, Collection, 2018
I spotted the artist, showing with Almine Rech, on her last browse through the fair as she called an Uber to take her to the next event. "Ooh, let's play, but let's go to Zwirner really quick. My cars about to be here," she offered.
Immediately drawn to two youthful, detailed portraits by Lisa Yuskavage, Wise immediately asserted that these would be her "fuck" option, then quickly rescinded, "No, marriage. I don't want to sexualize these pieces." Instead, she opted for a figurative portrait by Alice Neel of a woman gazing over a bouquet of flowers for the quick romp. When confronted with who might get the kill switch, Wise nonchalantly motioned to a Nate Lowman piece, Collection, which features several abstracted guns, its violence already implicit.
Kenny Schachter, collector/writer, at Pace Gallery's Booth:
Fuck: Loie Hollowell, Standing In Water, 2019
Marry: Loie Hollowell, Standing In Water, 2019
Kill: Loie Hollowell, Standing In Water, 2019
Among Pace's offering of Lynda Benglis sculptures, Fred Wilson chandeliers, and a John Chamberlain sculpture that stacked old car parts to appear as fluid as pulled taffy, Kenny Schachter, noted writer, artist, art dealer, collector, and general curmudgeon honed in on one artist specifically: Loie Hollowell. The 36-year old artist has notably become a market superstar, and her abstract, geometric piece at Pace's booth had Schachter's ears perked up. "I would fuck, marry and kill that piece," he said. "I would kill it because it's overrated in the market sense. I think she's talented, but when young artists get put into this trajectory… When the money gets so intertwined with the art, it changes the perception of what the work actually looks like."
Bill Powers, art dealer, at Hauser & Wirth's Booth:
Fuck: Philip Guston, Looking, 1964
Marry: Nicole Eisenman, Sun In My Eye On The Beach, 2019
Kill: Paul McCarthy, NV DEADDHELL, Worth, 2019
Powers immediately went to the Nicole Eisenman piece, a more abstract painting by comparison to the still-life depictions of modern life the artist is known for, to marry. He noted that it would be a good marriage too, as she is the latest artist to join the Hauser & Wirth stable.
The gallerist then mentioned of the McCarthy piece that sees the word "death" scrawled over a sparse yet chaotic canvas, "I'm going to upgrade it from kill and say I assassinate this piece. Because if you assassinate someone, it means they're a person of significant historical significance. So that's the consolation prize in death."
Directly across from it was the Guston piece he selected for the fuck option, a warm, sun-drenched vista painted in rich reds and pale blues. "I mean, look, he already set up this beautiful sunset for us. He set the mood!"