In-process studio view of The Horses (detail), 2019, Courtesy of the artist, C L E A R I N G, New York/Brussels and Galerie Eva Presenhuber Zurich/New York Photo: Raphaël Fanelli
Unbridled: The Wild Equestrian Statues of Jean-Marie Appriou
The young French sculptor brings his aluminum stable to Central Park.
In-process studio view of The Horses (detail), 2019, Courtesy of the artist, C L E A R I N G, New York/Brussels and Galerie Eva Presenhuber Zurich/New York Photo: Raphaël Fanelli
The 33-year-old French artist Jean-Marie Appriou, whose larger-than-life sculptural works throb with wild, animalistic energy, has a habit of finding his own way with materials. When he began working with bronze, he did so at home in Paris; then, he says, "I built my own fusion kilns to be free and autonomous in the production of artworks, with little financial means." Using materials like bronze, poured glass, or aluminum to create his strange, anthropometric creatures, Appriou follows his own rules. A work like 2018's Nose, for example, swirls feminine bronze faces atop abstract aluminum-scaled bodies in an unconventional but affecting mixture: "The fusion of different metals feeds my intellectual practice, like the alchemist in his process."
Speaking at his cavernous studio by the train tracks in Aubervilliers, a suburb of the Parisian banlieue, Appriou surveys his artistic domain, where blocks of fresh blue foam stand to attention alongside plaster horse heads, discarded silicon molds, and tests for a thorny metallic labyrinth he'll show at this year's Lyon Biennale. But taking pride of place is the foam mold of his new sculpture Le Joueur, a giant sphinx-like horse seated with its legs crossed, almost ready to be cast in aluminum. The material has dominated Appriou's practice of late. "I like aluminum as a material; it interests me for its modernity. It allows me to work on a monumental scale," he says, referring to pieces like the haunted cornfields, sunflowers, writhing swans, and snakes that have populated recent shows at the Château de Versailles and the Fondation Louis Vuitton.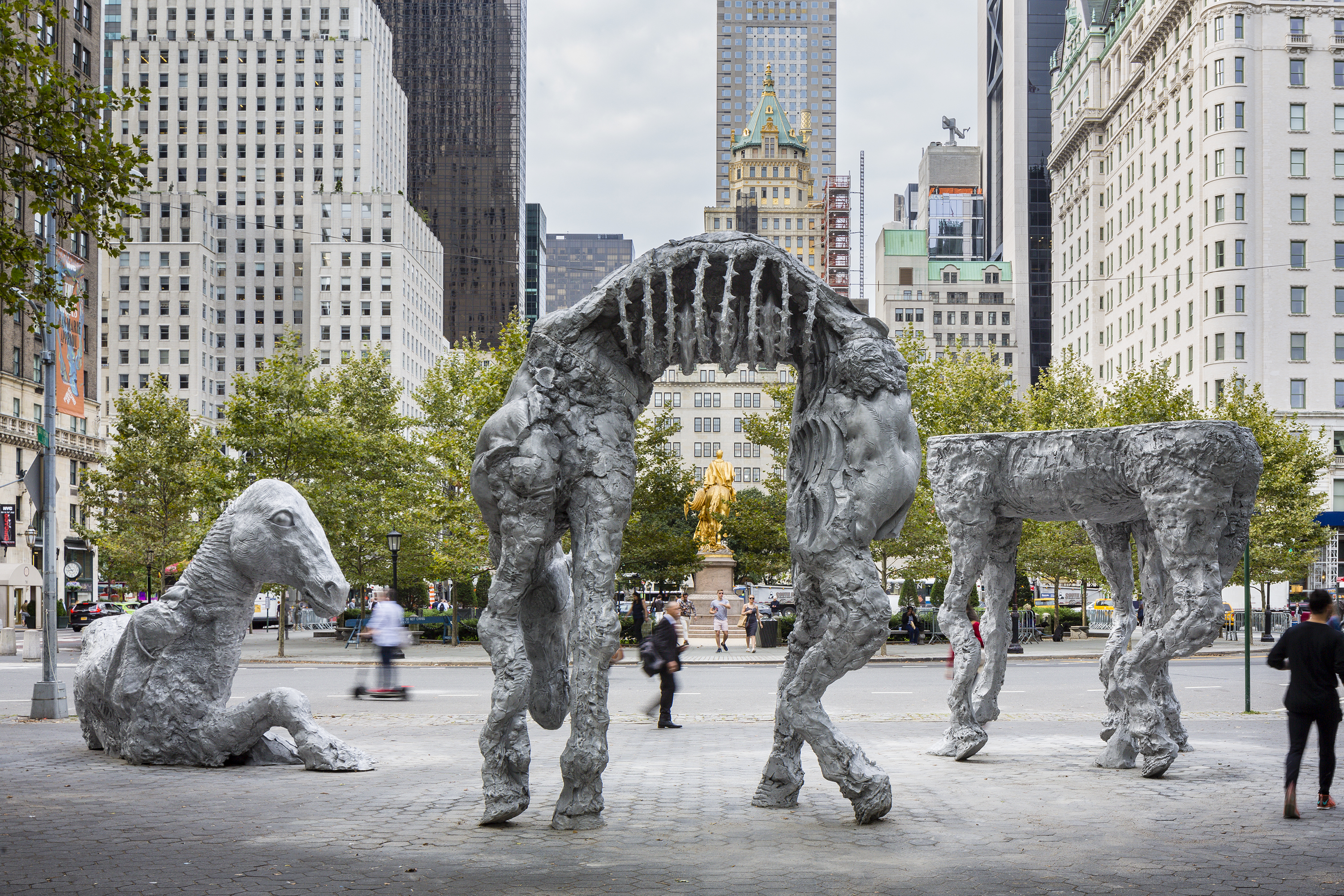 Brushing the horse's surface, Appriou pointed out a series of etched scarf shapes ( carreaux, he calls them) draped across its rump, their patterns revealing a trail of larger-than-life ants being chased by anteaters. Measuring 16 feet in length, the tranquil giant is one of three sculptures commissioned by New York–based nonprofit organization Public Art Fund, and is destined to cross the Atlantic in its finished form to take up a yearlong vigil in the Doris C. Freedman Plaza on the southeastern corner of New York City's Central Park beginning on September 11, 2019. It will soon leave Appriou's atelier to join Le Guerrier and Les Amants au Bois, the other pieces of his Central Park puzzle already being cast in aluminum off-site. The former depicts an arching equine gateway, the latter a tangle of legs rising 11 feet tall and finished as a flat tabletop.
Tasked with a commission for one of New York's most-used public spaces, Appriou became interested in indirectly approaching the human as a sculptural subject. So, he tells GARAGE, "by working with an equestrian theme, I was able to integrate people through another lens. Everyone has a rapport with horses in some way, whether it's the cowboy, the western, or even pony camp as a child. And, of course, Central Park's horse-drawn carriages." His thinking, as such, integrates an interactive gesture into these particular works, imagining the various representations of the horses' limbs as a doorway, a seat, and a shelter from the elements, respectively. "Horses hold a significant place in the history of sculpture," he continues, drawing a parallel between his work and classical traditions, such as the Beaux-Arts era gilded monument to William Tecumseh Sherman (replete with a winged Victory) also found in the park. "There is a rapport with the idea of the plinth—if you think of the sculpture of a general, for example, he is always mounted on a horse as a representation of power. The horse is his plinth, and then the horse itself is also mounted on a plinth." The works signal a considerable evolution of scale from previous aluminum figures, even from the large flora and fauna–inspired pieces shown in the past year, among which further allegories abound: from swans and fertility goddesses to sunflowers and cornfields that reference the paintings of Arnold Böcklin.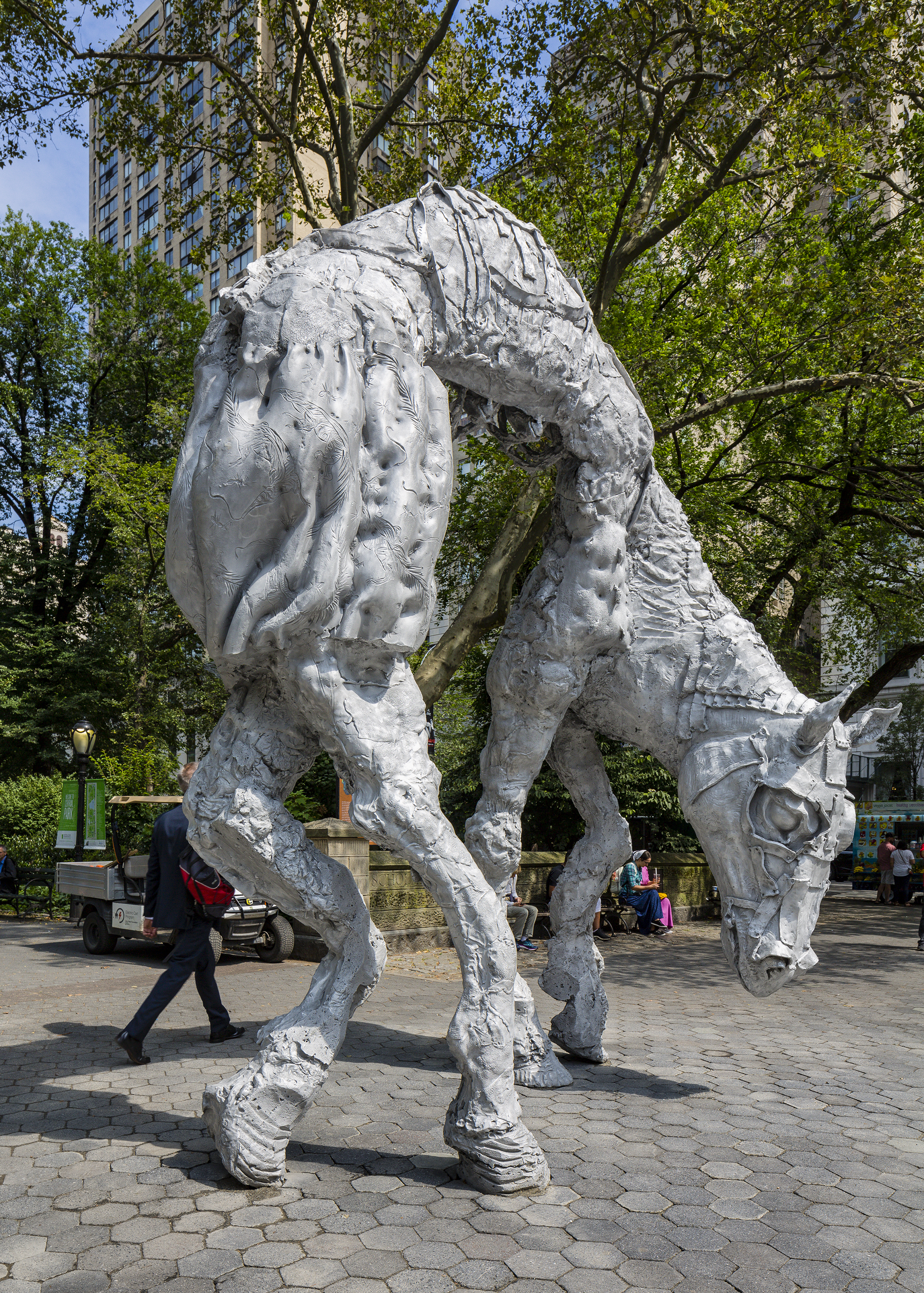 "From references to the Symbolists all the way to the local context of the park, Jean-Marie really understood and explored the equestrian reference in dialogue with the space," says Public Art Fund curator Daniel S. Palmer, who commissioned the Central Park project. While Appriou's previous work often blurred the boundaries between humans and the natural world in the sculptures themselves, The Horses will reflect that concept outwards. "They will encourage an important dimension of public art . The Horses are participatory, they are to be engaged with," Palmer says. And, conveniently, the sculptures are located at the same entrance that leads to the Central Park Zoo.