Sittings Editor: Gaultier Desandre Navarre
Raymond Pettibon's All Over Your Dior
The punk artist talks about his collaboration with Dior Men, and why he just joined Instagram.
Sittings Editor: Gaultier Desandre Navarre
It is difficult to tell the story of a storyteller, and Raymond Pettibon's is the gritty stuff of 20th-century myth. The 62-year-old artist's work spans genres, its genesis in punk-rock show flyers and album covers in Southern California in the 1980s never ceasing to inform its burgeoning scope. In part due to the recent embrace of the art world proper, Pettibon decamped to New York City in 2009, where he now lives and works. Concerned with the union of graphic illustration with sardonic prose, Pettibon's oeuvre consists of tens of thousands of works on paper that, in their candor and scathing critique, align disparate centers of anthropological phenomena. From sports commentary to the darkest corners of political debate and the pulp fiction of modern-day romance, from Gumby to Patty Hearst, Pettibon writes and illustrates a complex strata of human failures, with a refined sense of humor to boot.
In light of his anti-establishment tendencies, a fashion collaboration with a Parisian luxury house may seem like the last thing on Pettibon's creative agenda, yet Dior's menswear artistic director, Kim Jones, revealed exactly that on his fall/winter 2019 runway in January. Consisting of a hand-picked selection of archival drawings as well as exclusive new commissions, Pettibon's pieces were rendered across garments in couture beading, printed silks, and hand-knit textiles by the Dior ateliers—a pointed departure from the band T-shirts that carried Pettibon's earliest illustrations, but an honest exchange when seen in the context of Jones' obsessive temperament for collecting vast quantities of original ephemera linked to punk America. A quick scan of Jones' Parisian home, after all, would reveal both original Pettibon sketches and Charles Manson memorabilia, as well as countless nods to comic book culture, suggesting this pairing—unlikely as it may seem—may well be a subversive, and highly collectible, match made in heaven. Dan Thawley spoke with Pettibon about his drawing habits, art's relationship to current events, and, yes, fashion.
GARAGE: What body of work are you currently engaged with?
Raymond Pettibon: More of the same, I suppose. Micro-econ. I come from UCLA economics, and that's an inside joke meaning the economy of the least told, or describing blossoms [turning) into flowers. I have limited means: a brush or a pen, black and white or in-between and paper, but it expands in your mind if you get it. It's a kaleidoscope. I am on coffee; you are on acid. Micro dots—macro thoughts.
Your next exhibition will open David Zwirner's first Paris gallery in October. Do you like Paris? What do you like to do and see there?
Wherever I do shows I am worked like a beast. I spend most, if not all of my time in airports, airplanes, in transit, and hotels. Do I know Paris in the springtime? Damn, I am a walk-on at best. That's the facts, ma'am! I would love to spend some quality time in Paris.
My art is more about what happens in the mind than in the feet.
And how do you currently feel about the state of New York City? Do you plan to stay?
I'd prefer my life back in Venice, California. NYC is ok. My studio is between my apartment at the Gehry building and a 10-minute walk across Broadway.
Is that where you make art?
My art is more about what happens in the mind than in the feet. I make a lot of work in transit: that's the most congenial. It's my favorite and most effective way to make art, although that's the writing part rather than drawing.
Are you a doodler?
No, I don't doodle. I am not good at that. If I am going to draw on paper or canvas, it's for keeps.
Who are your favorite writers?
Proust, James, Ruskin, in no particular order.
What is your idea of a holiday?
I spend my holidays in Port Charles watching General Hospital. I miss Jessie.
Do you surf in Port Charles?
South Bay surf is fair to Midland at best. New York is worse. Can't drive 55 min for a lame surf break. It's not worth it.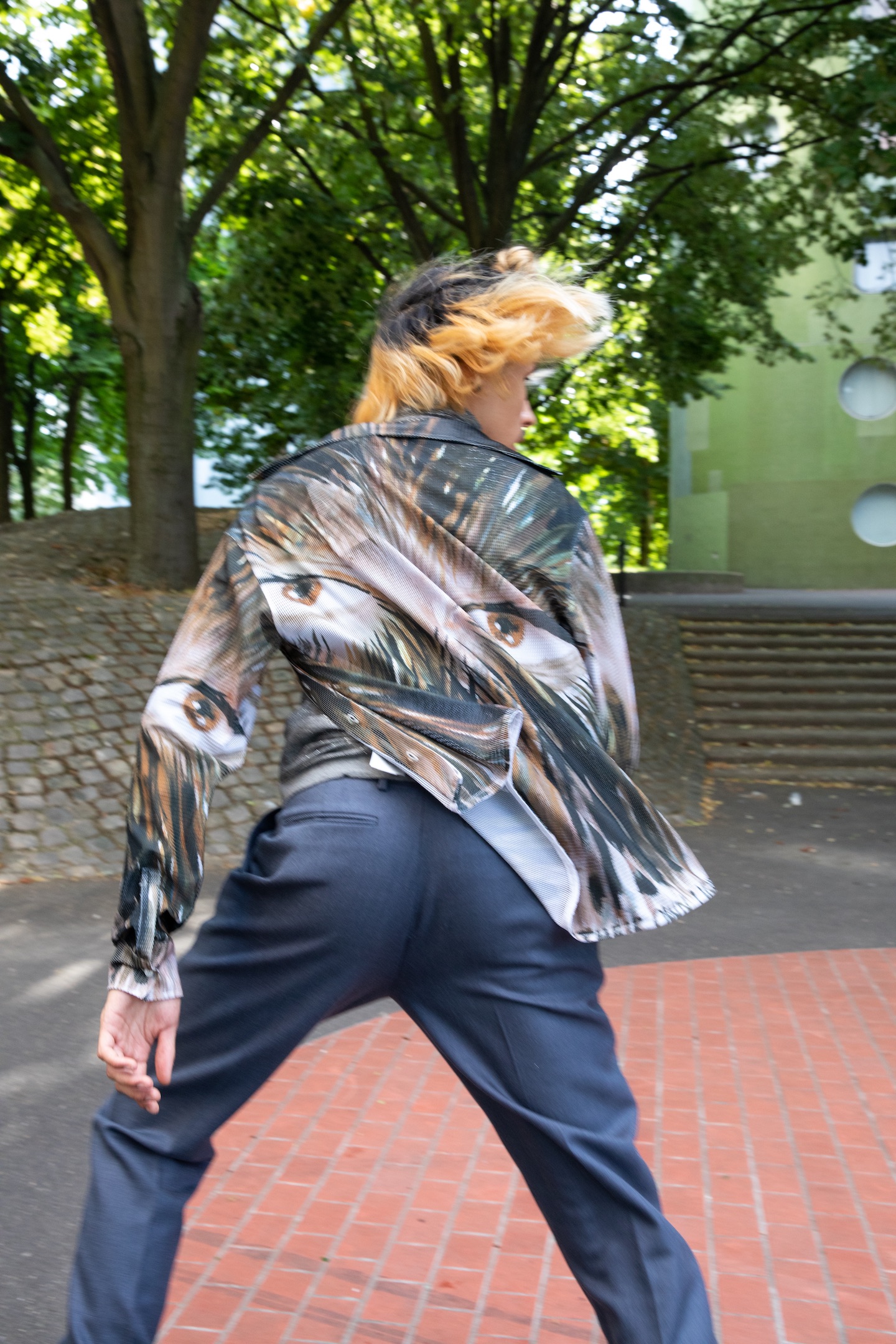 Do you keep a diary?
No. If I wrote down everything I do I would be busted. It would be state evidence and I don't need any reminders.
What is your relationship to music and musicians these days?
Walter Pater said that "at best every art form aspires to music." Well, sir, I believe the opposite!
In its most iconic form, your work has been seen on T-shirts for decades. How does it feel to see it embellished in Kim Jones' designs in beads and luxurious materials?
I don't particularly suppress or separate High Art/Low Art, nor High Fashion/Street Fashion. Perhaps they complement each other.
Free speech is not for the children!
I am curious about the way you reconcile your illustrations and paintings with the written word. Is the poetry that you integrate into your works the result of drafts and drafts? Or is it more a stream of consciousness?
It's all and none of the above. The mind works with mysterious motives. I don't premeditate anything. No, I take that back; I do count on spontaneity and improvisation, but on the other hand there is a lot of back work. There are voluminous notes. I do my homework even if at the last minute I scuttle all of that and improvise.
I noticed you recently joined Instagram, @raydog699. What prompted this decision now in 2019?
Court order/Judge Dragonian and cop sucker/Little Jim.
Why did you stop Tweeting last August?
I am not allowed on that platform. Free speech is not for the children!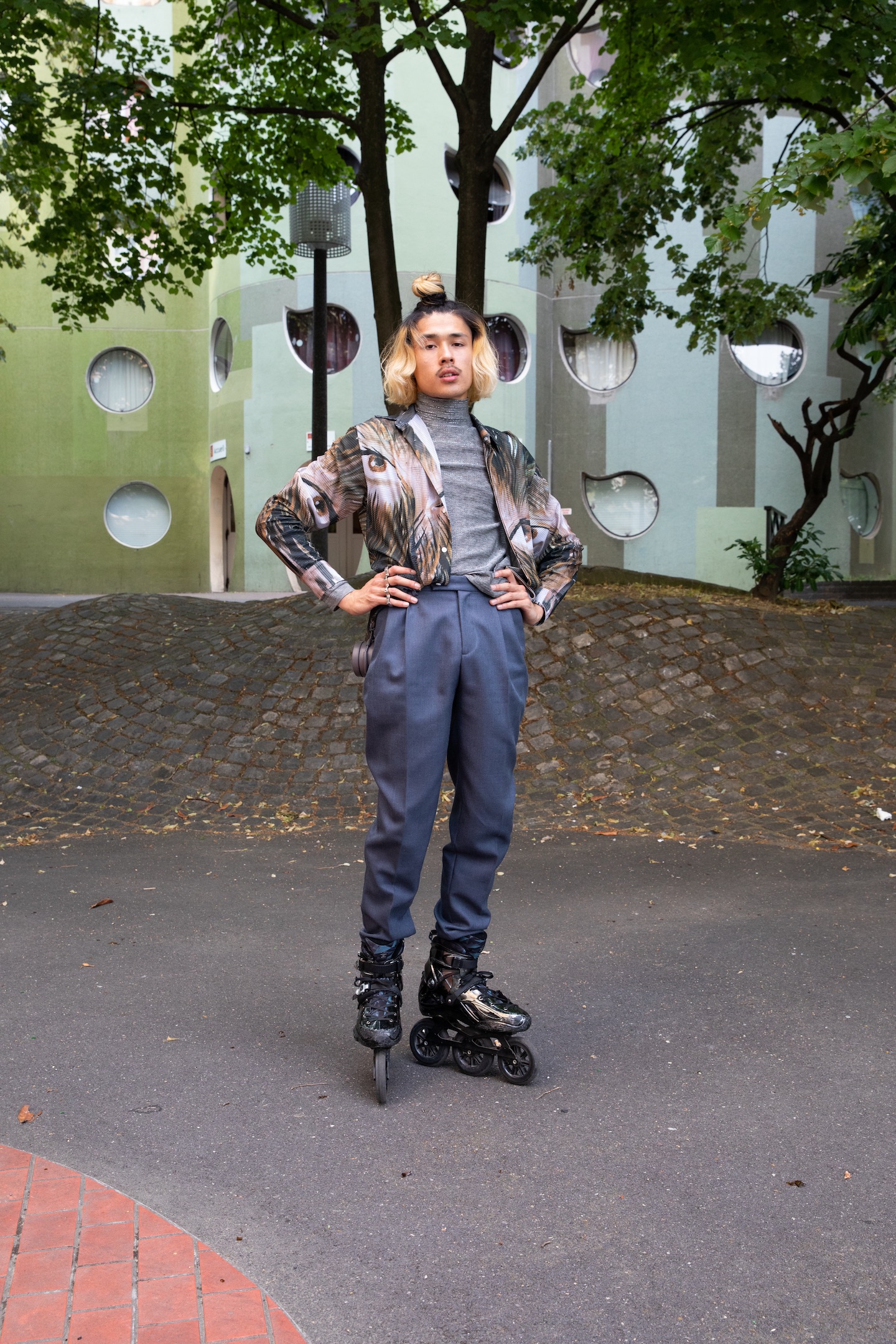 What did you think of the way Kim Jones interpreted your archival pieces for the Dior men's Fall Winter 2019 show?
I am not against interpretation, I rather encourage it, especially with Kim. Collaboration means give and take, pick n' roll.
And the new works, like the leopard?
That was Kim. He had the originating idea which I thought was brilliant, graphically—dubs, not dashes. My work is in line, in crosshatches for the most part, rather than sponge and spots. I think with Kim it was a challenge to go out of my lane.

The 2010 work No Title (She Must Know) , so reminiscent of the Mona Lisa , closed the Dior men's show as a fully-embroidered shirt. Was there any subtext here?
Give that credit to Kim Jones. Is Paris burning? Then it's a long fuse from 2010 to 2019.
As far as I know, subcultures are mainstreamed: look it up on Google or the dark web.
I can imagine that your tastes and Jones' would collide in certain areas, not least of all in terms of documenting 20th century subcultures.
My generation was on the cause of the hippies, Manson, Children of God, the Beatles cult, but I came of age during Punk Rock: the Germs, Black Flag, Screamers et. al. Fashion meant Goodwill.
Do subcultures still inform your work today?
Nowhere near as much as they do Anna Wintour's.
Do you think subcultures even exist in 2019?
Not that I know of, but then I am 39. As far as I know, subcultures are mainstreamed: look it up on Google or the dark web.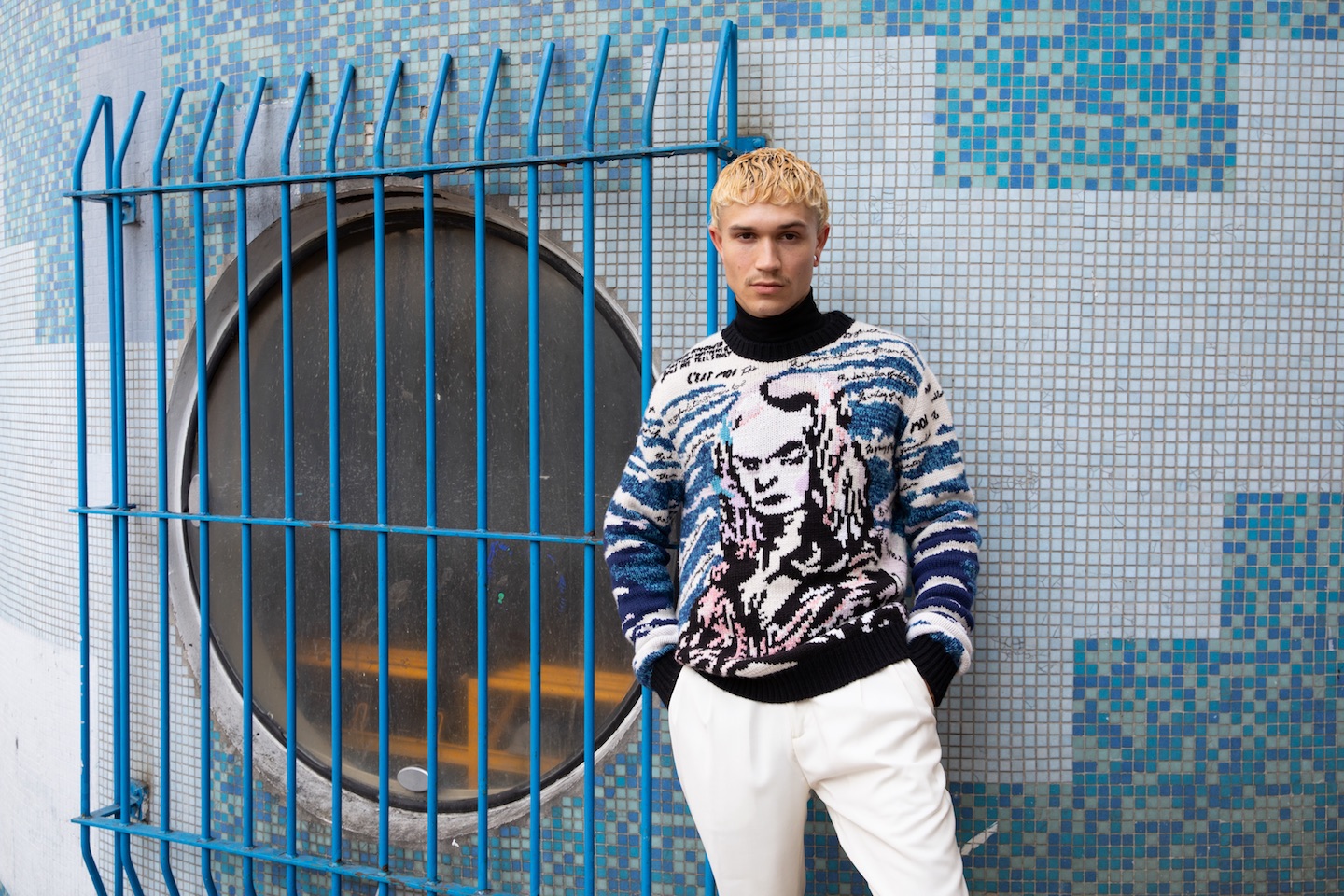 In what ways could or would you define your work as being American?
Yes, I am an American, I am also Californian. But against borders, walls.
Do you enjoy working in tandem with other artists or creatives?
Yes, of course. Marcel Dzama [with whom Pettibon created a joint exhibition for David Zwirner in 2016] is one of my favorite artists and I am humbled working next to him as a collaborator. It's like Shawn Michael vs. Brett Hart. My latest exhibition, at the Kunst Museum Winterthur in Switzerland, was with the work of Honoré Daumier who was one of my formative influences. Collaborations are great when they work.
Have you ever made work about Donald Trump?
I've done a few works on Donald Trump, though it's hardly worth the breath or ink, he is a caricature of a caricature. How do you make the case about Donald Trump? It's a lost cause. It's beneath me.
What other political satire do you admire?
Herblock, Low, Valtman. I started as a political cartoonist. It's a decrepit medium now—shameful.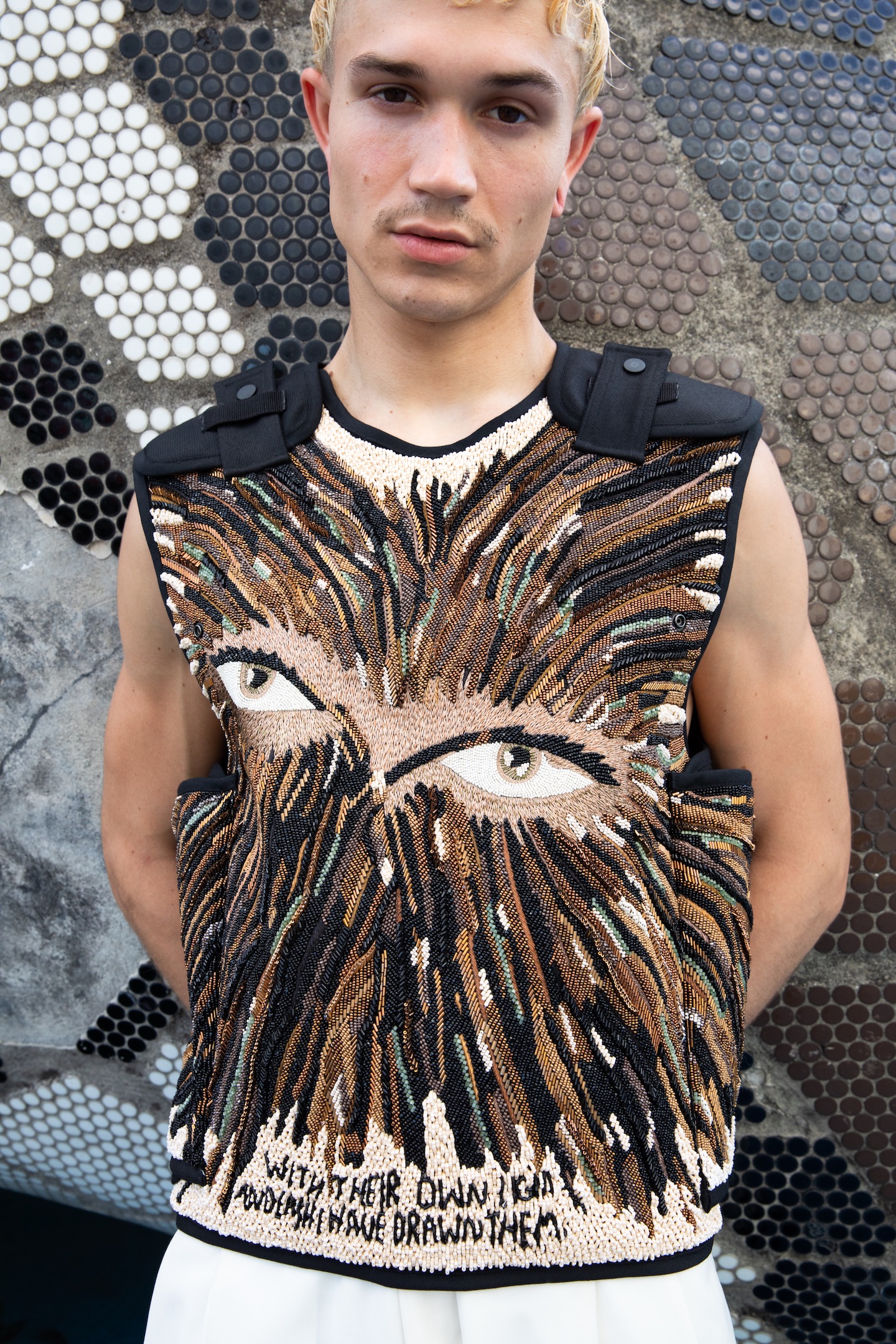 For you, what does it mean to be a political artist in 2019?
Most political artists should claim it, because they just invigorate the other side. Robert Mapplethorpe and Andres Serrano started the religious right Reagan revolution. Art is sus.
Citations: Grooming Giulio Panciera, Models Alexander Mordvinoff, Johnathan Fiotti and Pablo Egerland, Casting Conan Laurendot and Dourane Fall, Lighting Assistant Aurélien Nobe, Production Arnaud Cognard, Production Assistants Iviu and Elie at Kitten Production