Sitting Pretty: A Marcel Breuer Chair to Drive the Hypebeasts Wild
From Bauhaus to Jawnz-haus.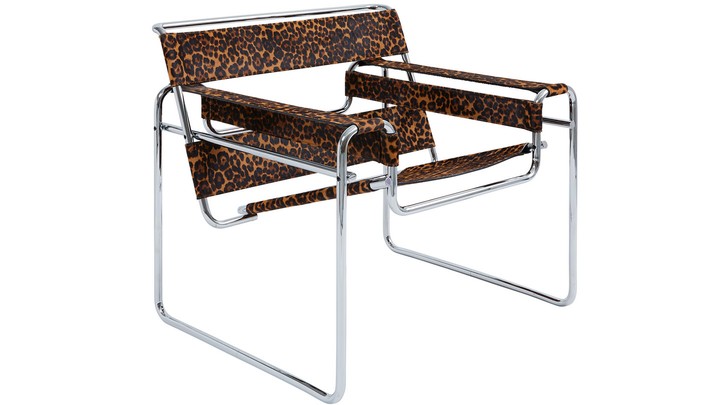 Earlier this week, the global streetwear juggernaut Supreme released the official lookbook and photo preview for the brand's forthcoming collection. As always, there is an eccentric array of loudly colored outerwear, bewildering graphic tees, and logo-heavy wares. This season, however, brings something new and unexpected—even by Supreme's outlandish standards—a leopard-print version of designer Marcel Breuer's iconic Wassily chair. It's the rare Supreme collaboration that is sure to appeal to both teenage hypebeasts and middle-aged rich dudes, not unlike a KAWS painting or Jeff Koons sculpture.
Even without a co-sign from the world's biggest streetwear brand, the Wassily chair has been in high demand for decades. It was designed in 1925 when Breuer was just 23 years old and one of the first and youngest students at the Bauhaus. Taking inspiration from the handlebars of a bicycle, he reduced a classic club chair until only its elemental lines and planes remained. The result was a striking silhouette of tubular steel and leather that feels like it is floating in space when it is merely sitting in the corner of a room. Even almost 100 years later, the Wassily chair still manages to feel just as futuristic and forward-thinking as when the design debuted.
The loud leopard print, a signature motif of sorts for Supreme, surprisingly, only adds to the chair's allure. When Supreme does this—adding its eccentric touch to a beloved product—it's hard to tell if the driving force is loud gimmick or love for the original object. (Or perhaps a bit of both, contrivance and great design are not mutually exclusive.) Historically, the Wassily chair has never shied from bold materials; Knoll offers the model in options such as cherry red leather or tri-color hair hide. The Supreme-ified version doesn't feel blasphemous from an aesthetic sense, but it is difficult to get a sense of who exactly Supreme is making this chair for. A brand-new original Wassily chair sells for nearly $3,000, a price tag that will put the product out of the range for the brand's target demographic.
Supreme usually has a way of making high art and design more accessible to its customers. I think of the George Condo skate decks from 2010 or the Raymond Pettibon apparel from 2014, either of which could be purchased for under $200. The usual frustration of shopping for Supreme is caused by simple supply and demand; the products sell out within minutes (often seconds) before many can actually complete the transaction. This time, only the wealthier Supreme fans will be able to afford this collaboration. I'm keeping my fingers crossed one shows up in the near-future, somewhere in William Strobeck's now-famous living room.