View of Michel Parmentier: Paintings & Works on Paper, Ortuzar Projects, New York. Courtesy of Ortuzar Projects, New York. Photo: Christopher Burke Studios
A New Gallery in Tribeca is Showing Paintings That Aren't Paintings
The inaugural show at Ortuzar Projects focuses on contrarian French artist Michel Parmentier.
View of Michel Parmentier: Paintings & Works on Paper, Ortuzar Projects, New York. Courtesy of Ortuzar Projects, New York. Photo: Christopher Burke Studios
With a pragmatic plan that, at least for now, looks no farther than two years into the future, the cosmopolitan, slightly raw new Tribeca art space Ortuzar Projects aims to focus on 20th- and 21st-century work by international artists who, while they may be unfamiliar to US audiences, have nonetheless established indelible influence elsewhere, especially in Europe. The gallery's founder, Ales Ortuzar, a former partner at David Zwirner aptly described in the New Yorker as a "dapper Spaniard," will flex his expertise to mount shows in collaboration with artists' estates, foundations, and representing galleries—though the gallery won't cultivate its own roster of artists for the time being.
The gallery's 2,600-square-foot space, with its tin ceilings and cast-iron Corinthian columns, expands Ortuzar's business considerably from his existing Upper East Side appointment-only showroom, where for the past three years he's operated as an art adviser to clients whose taste has expanded from high-end contemporary to embrace a bit more historical depth. About his selection of Tribeca as a home for his latest projects, Ortuzar told GARAGE, "Tribeca offers a rich cultural and architectural history, but it is not overdetermined as a 'destination.'"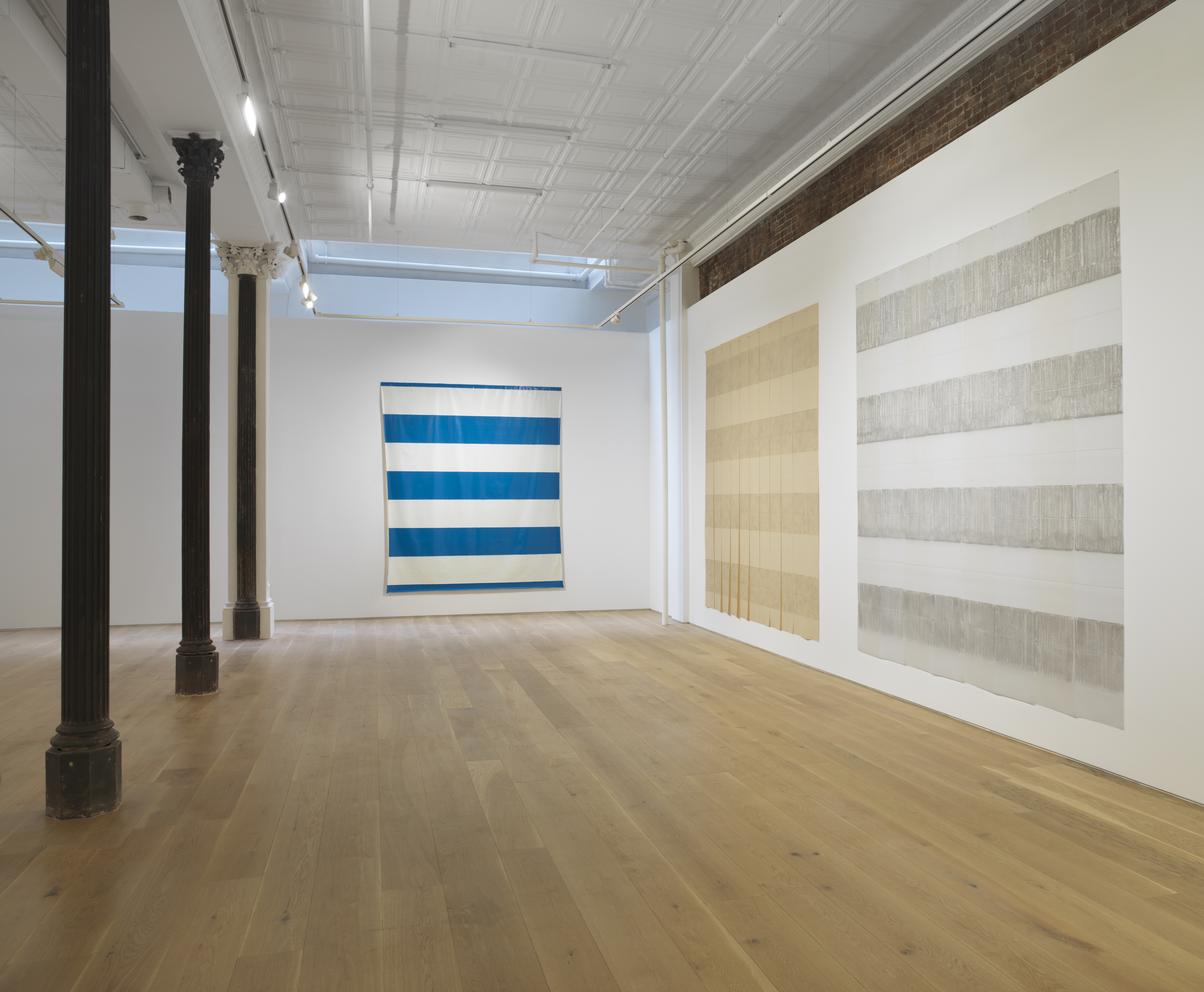 For the gallery's inaugural exhibition this month, Ortuzar is presenting the elegant Michel Parmentier: Paintings & Works on Paper. The show consists of four large-scale paintings and four works on paper, all of them with Parnentier's trademark 38-inch-wide horizontal stripes. The work on view here, made between 1966 and 1993, constitutes the first US solo exhibition of the Paris-born artist (1938–2000), who was part of the contrarian BMPT group that also included Daniel Buren, Olivier Mosset, and Niele Toroni (the name is derived from the first letter of each artist's last name, alphabetically).
BMPT's works were highly structured, with each of the artists having his own motif, essentially functioning as an individual brand. Buren worked solely in vertical stripes; Mossett created black circles against a white ground; Parmentier's stripes are, of course, horizontal; and, for his part, Toroni made brush marks at 30-centimeter intervals. Each artist made his own type of mark, and while each had his signature style, they all made sport out of claiming to have physically made one another's paintings. The artists, who were all painters, also stated emphatically in a 1967 manifesto that "Nous ne sommes pas peintres" (we are not painters), defying the absolute reality that they were all, if not demonstrably painters, then perhaps outright liars.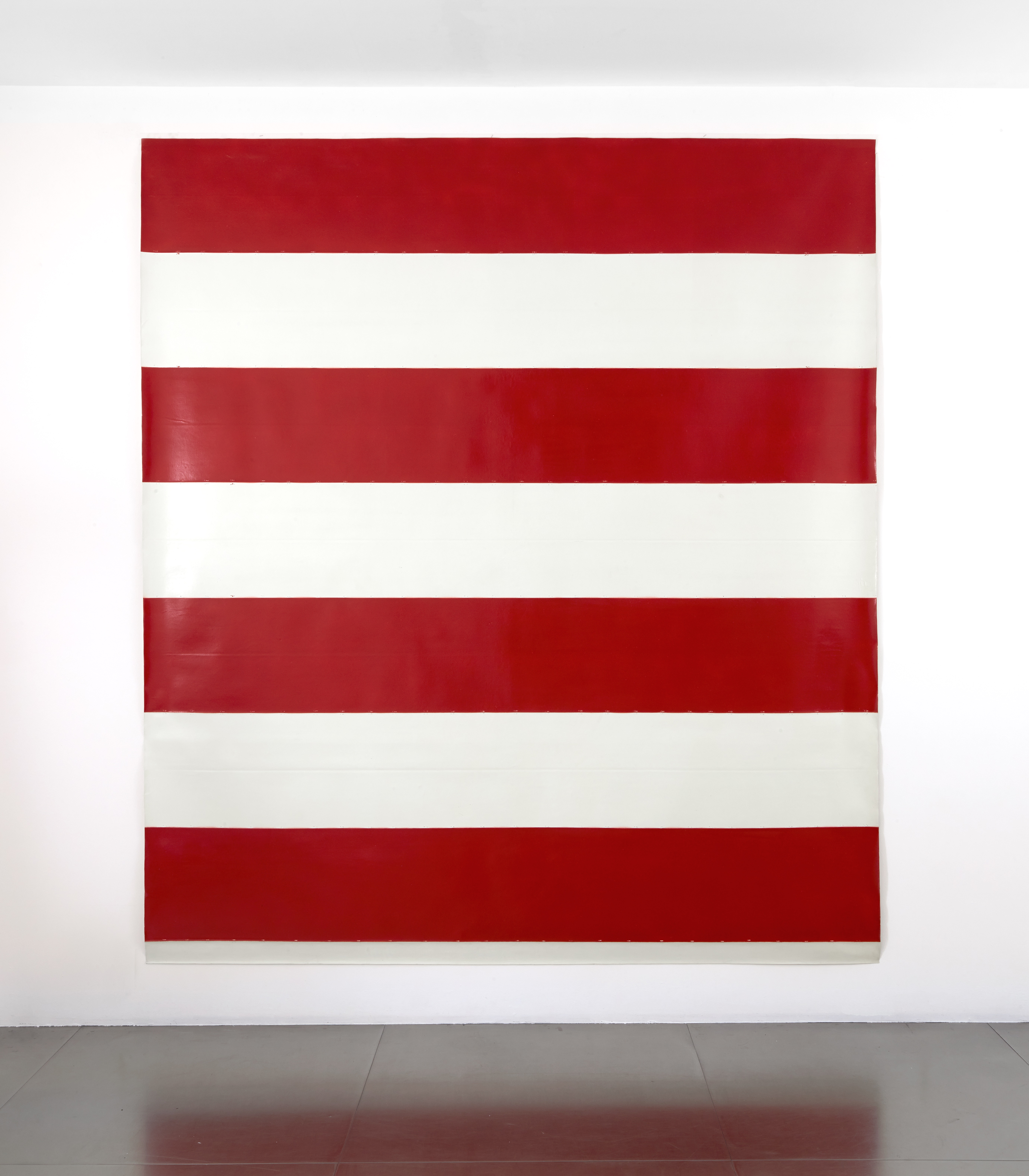 The work of BMPT, according to the obstinate gang of creatives, also functioned as a denial of gesture and narrative. The claim was similarly absurd, because their work was almost entirely created by obvious gestures, if not of their particular way of making paintings, then in their creation of lore around their activities. In one instance, BMPT invited the public to attend a demonstration at the 18th Salon de la Jeune Peinture in Paris, promising dramatically: "For the first time, on January 3, 1967, something will happen." What happened was a bunch of people waiting around to find out what was going to happen. That event became the first in a series of "Manifestations"—events critical of art as spectacle, as well as the public's passive role as viewers. The underlying idea was to encourage critical engagement that defied outdated exhibition models.
Parmentier's stripes, fine examples of which are on view in the Ortuzar show, are laid down according to precise guidelines but are never exactly the same. They're made by pliage (folding), a process inspired by abstract artist Simon Hantaï. Parmentier made horizontal strips in a single color, exactly 38 centimeters wide, alternating them with 38-centimeter strips of blank canvas produced by making a fanlike structure out of the support. When the canvas was unfolded, it revealed alternately painted and unpainted strips. Parmentier pursued this method tirelessly, right up to his last work, on transparent polyester, dated November 20, 1999 (the dates of the works are also their titles). For three years, Parmentier varied his chosen color annually: blue in 1966, gray in 1967, and red in 1968. After 1983, he worked only in black. An example of each is included at Ortuzar.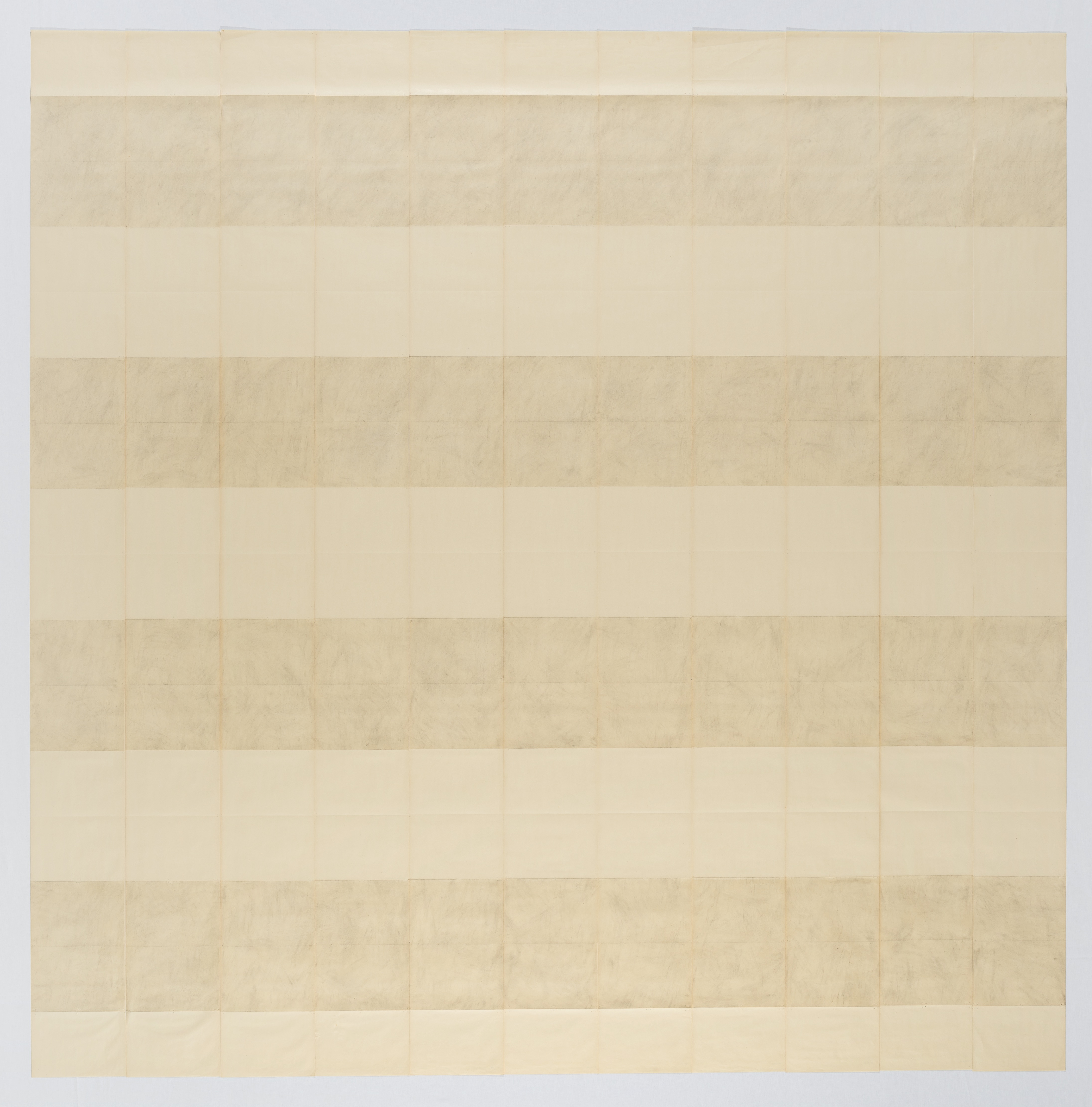 Even more impressive in their subtlety and restraint are Parmentier's works on paper. These, featuring—what else?—more horizontal stripes, are made with neutral-toned pastel, graphite, or oil stick, and the delicacy of three works on tracing paper is especially beguiling. "I have been interested in Parmentier's work for a number of years," explained Ortuzar. "He only made approximately 75 paintings, and he took a 15-year hiatus from making artworks—in part as an active protest against the art market. I found this radical practice fascinating, and felt that it would resonate in New York."
Looking beyond this spring, Ortuzar has scheduled a show of work by Peter Roehr, a German artist whose work combined Pop, Conceptualism, and Minimalism. Roehr died at 24 but, according to Ortuzar, "developed a distinct voice and cohesive body of work despite his young age and brief life. It is a deep interest in these perspectival shifts that will continue to guide the program. Although the focus will remain historical, it is ultimately with a deep interest in the future."

Michel Parmentier: Paintings & Works on Paper is on view at Ortuzar Projects, New York, through March 31.