Photograph by Peter White for Getty Images.
At Dior: Why Is Everyone in Fashion Wearing Masks?
Plus: Marina Abramović sits front row at Iris Van Herpen. The artist is present!
Photograph by Peter White for Getty Images.
Masks allow a woman to be duplicitous; to fall in love with the wrong man; to kill evil men. They simultaneously hide your identity and create a new one. And they can prevent some of the worst kinds of trouble, like love at first sight.

It was Surrealism that inspired Dior's Maria Grazia Chiuri's use of masks in her Spring 2018 Couture collection Monday afternoon in Paris, and Peggy Guggenheim in particular. A champion of the Surrealists (and any freaks of art and culture, really), Guggenheim wore insane glasses that functioned, essentially, as masks, both distracting from a botched nose job and asserting her role, aesthetically, as the conduit between difficult art and the patrons who would champion it with her encouragement.
Chiuri worked with the maestro Stephen Jones to create the masks, which were exquisite. A frame of netting set against the face, askew as if blown by the wind. A piece of mesh tied around the head and speckled with flies, as if the wearer were a piece of too-ripe fruit. Buzzy tulle oblongs and solid black rectangles with harlequin cutouts that brought laser-focus to the model's eyes. Dior capped the theme off with a masked ball later that night.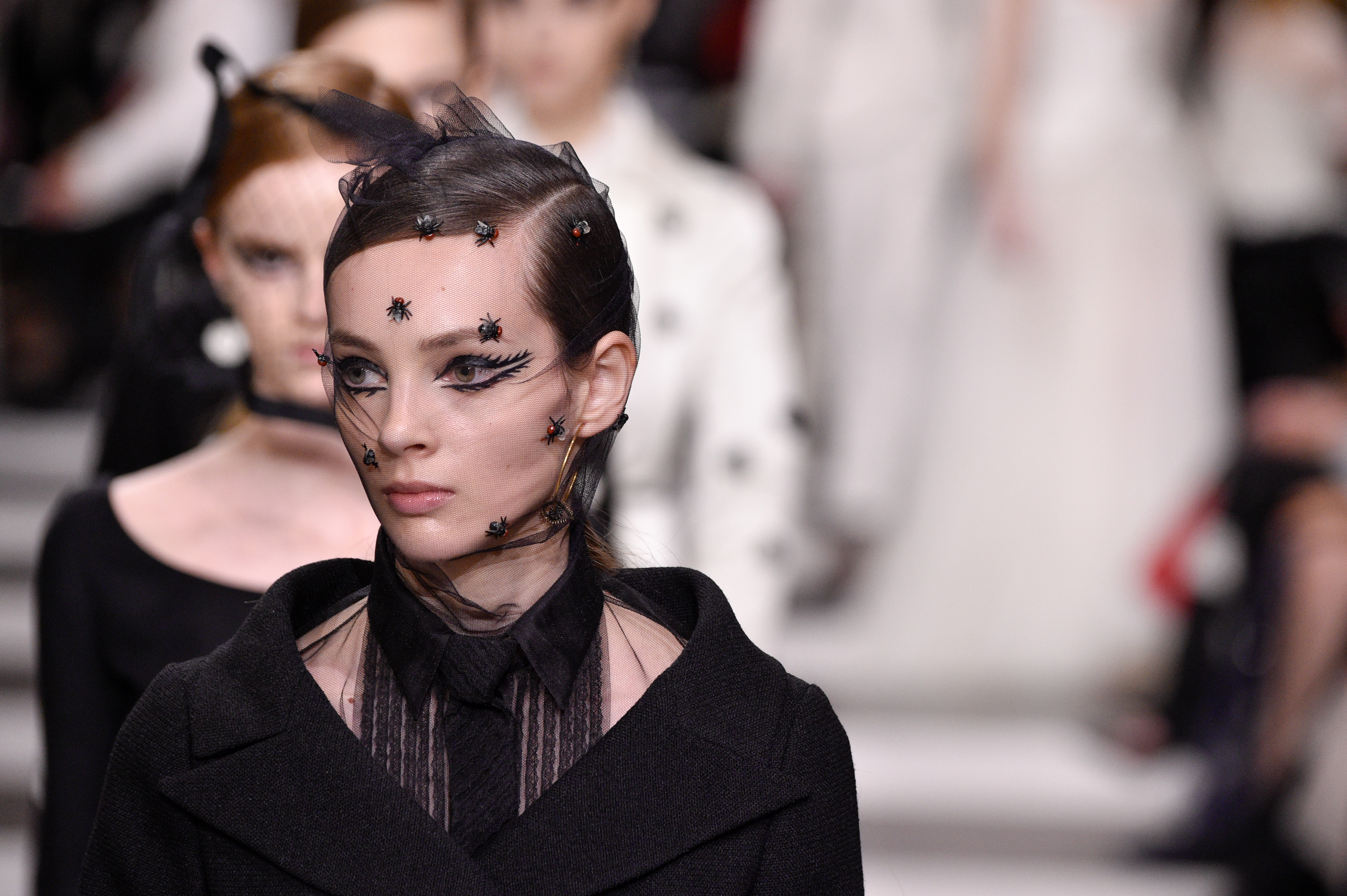 Despite the sobriety of Chiuri's clothing, her Dior does terrific and inspired accessories—the cowboy hats from the Resort 2018 collection were awesome. (I also saw a woman at Proenza Schouler yesterday in the horse dress, under a brown mink car coat with a Peter Pan collar, and it looked fabulous.) As for handbags: it-bags, if you can believe it, are a men's thing now. (Though Proenza showed a fantastic oversized bag, slung across the back, with galloping fringe, that seems like something everyone will want.) Women care about shoes and, I think, the piece that can elevate their ensemble to another level of cool, whether that be a coat, a slogan t-shirt, a Céline blanket, or, apparently, a mask.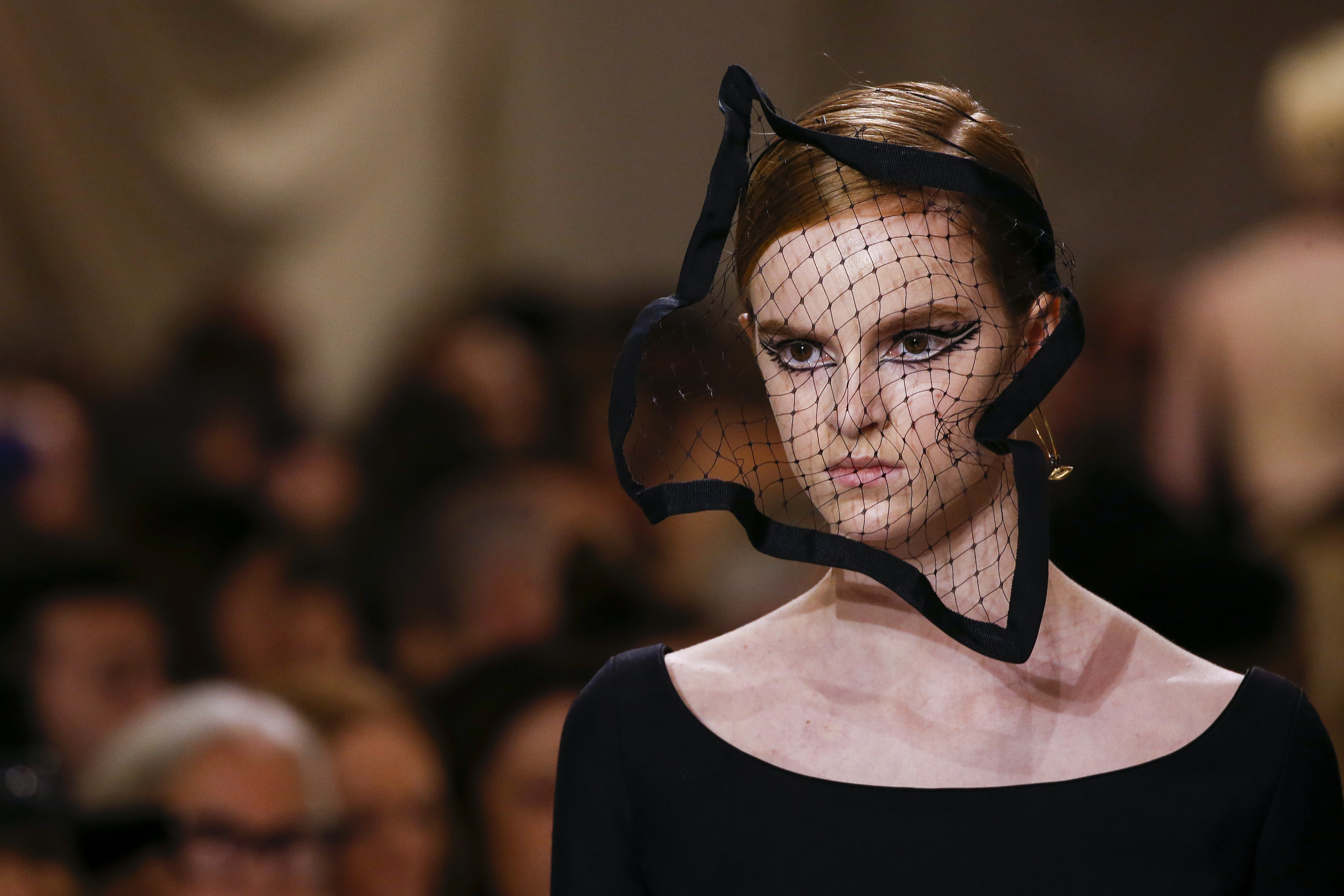 Masks were on men's runways, too: there were hospital-white, almost abstracted dinosaur masks at Comme des Garçons, while Julien David put all his models in dog masks. It might explain, in part, the fashion world's revived obsession with Cindy Sherman, the maestra of disguise. There is also a bizarre micro-trend of wearing masks of fashion figures' faces at parties. At a V Magazine party in New York in October, guests were given masks of Lagerfeld's face (this photo of Kris Jenner has kept me up at night), and WWD reported in November that the British Fashion Council held a goodbye party for Natalie Massenet at which they distributed masks of the organization's former chairman.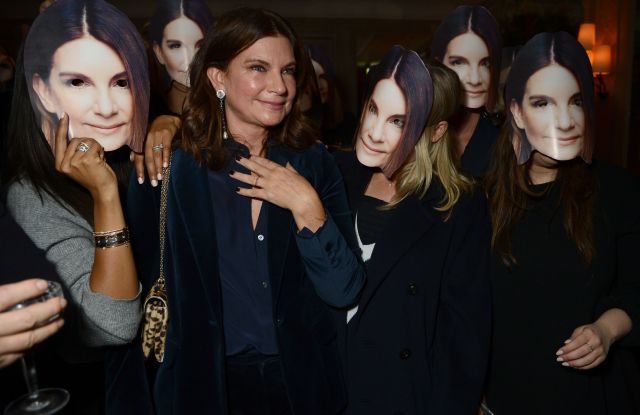 Only in fashion would a group of people assume that seeing a room full of yous would make you feel great.
Masks are a strange trend for an era in which identity politics are one of the defining values. Social media is, at its core, a tool for self-definition, for declaring that what you believe is who you are. Masks are more about asserting who we think we are or wish we were—about manipulating identity. But in fact identity politics are about that too; it is often what we assert about ourselves ("I'm the kind of person who…") that offers the least about who we are. The way we say it, and what we don't say, often reveals more.
But then there are people who need no mask at all: like Marina Abramović, front row at Iris Van Herpen! Plunking a celebrity front row at your show is a tale as old as time, but Iris Van Herpen is probably the weirdest genius on the Couture calendar, and photographers in a throng to photograph an artist seemed like a small victory for aesthetes worldwide.
I had the pleasure of sitting across from her, meaning I got to witness both Van Herpen's gorgeous oddities and Abramović's reaction to them, which seems like the sort of thing MoMA should make people wait in line for hours to do. Sometimes, in the midst of a show, I will glance at the person next to me (or worse, in front of me), and see them thumbing through Instagram or texting their evil ex-boyfriend, and my heart sinks a little. Especially at a show like Van Herpen's, where you will actually gasp at the seeming impossibility of her work. Van Herpen, who is just 33 but whose work arguably made the Metropolitan Museum of Art's 2016 Costume Institute exhibition on fashion and technology possible, is the future of couture. Abramović was rapt, of course. Perhaps a Met Gala dress could be in the cards?