Dominique Fung

"Jade Dragon Bathhouse and Spa", 2017, Oil on canvas, 72 x 60 inches
Dominique Fung Flips the Script on Orientalism
The second-generation Chinese-Canadian artist's new solo show, 'Wash your Corners,' closes this month at Ross+Kramer Gallery.
Dominique Fung
"Jade Dragon Bathhouse and Spa", 2017, Oil on canvas, 72 x 60 inches
In 2015, when Dominique Fung visited an exhibition at Montreal's Musée des Beaux-Arts titled Marvels and Mirages of Orientalism, she felt only unease. The artist recalls seeing portraits by French painter Jean-Léon Gérôme of women in the Middle East and North Africa, nude and surrounded by meticulously rendered carpets and other decor that romanticized distant lands. "I was like, this is not what it looks like there, although people at the time thought these were factual," Fung tells GARAGE. "It really hit home, like holy shit."
That recognition of bodies being observed and objectified was nothing new for Fung, a second-generation Chinese Canadian woman. But reading up on Orientalism—a critique of Western exoticizing attitudes of the East, propounded by Edward Said—she became increasingly interested in flipping the script in her own practice. At Wash Your Corners, her solo show at Ross+Kramer Gallery curated by Ché Morales, recent paintings bring together traditional Chinese objects from her family home and memories, such as foo dogs, gourd-shaped vases, porcelain plates, and teapots. Delicately rendered, like specters floated in from an antique store, they populate dream-like scenes that continue the legacy of Surrealism in their play with scale, time, and gravity. In these, the decorative language on which Orientalism relies is more than just ornamental; these ancient vessels and sculptures are animate protagonists in their own right.
"It's my way of reclaiming space that feels like it's been taken away from me," Fung says. "There's this anxiety of being fetishized running through me, and feeling like I have more to give than that."
The trauma of the othering gaze sneaks into her work in subtle ways. You might not notice it initially, but these paintings are looking back at you, refusing to remain mere objects. A couple of canines glance in our direction; there's a mirror here, a lone eye there. "It's a way for me to say, I see you looking at me in a different way, and I'm looking back at you looking at me," Fung says. The most unnerving stare appears in Jade Dragon Bathhouse and Spa, in which a faceless, nude woman soaks her legs in a tub that glows cool blue. A feast of dim sum, a martini, and a mermaid's tale suggest this is some unearthly paradise, but violating the serenity is a shadowy figure who peeks through the window—jolting us into awareness of our own voyeurism. "I often think about how you're able to claim these spaces for a minute and somehow it gets violated," Fung says. "It's never really yours."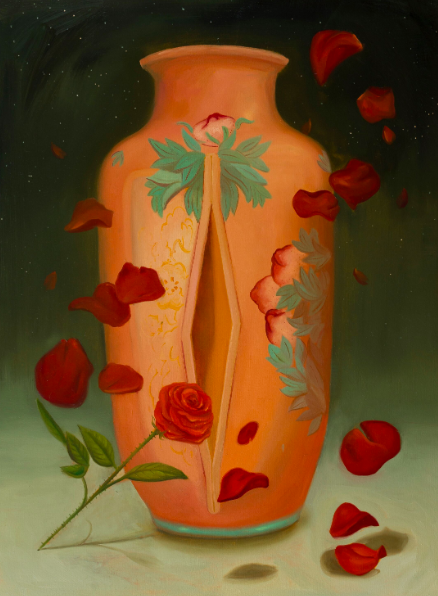 Fung began a series of spa paintings in 2017, shortly after moving to Brooklyn from Toronto. King Spa in New Jersey provided an escape from the chaos of the city; a similar haven is recreated in the gallery's back room, now covered in white tiles. Visitors are invited to remove their shoes, sit on a wooden stool, and soak in the ambient music by Pearl Crush as well as an animation of swimming fish (created in collaboration with Kelly Xi). The installation is guarded by statues of motherly dogs. It feels safe in here. And yet, that feeling of security is tenuous. For Fung, it was ruptured during her opening, when someone approached her and told her she looked like a doll.
Lounging nude women feature in Fung's work, as they do in 19th-century Orientalist paintings. But her figures reject the eroticization and infantilization of East Asian women; their bodies carry visible weight, they sag, they grow bubblegum pink pubic hair. In Ultra-Realism, headless, fragmented bodies sway from hangers like meat at a factory, an abject representation of flesh otherwise fetishized as smooth, delicate, feminine.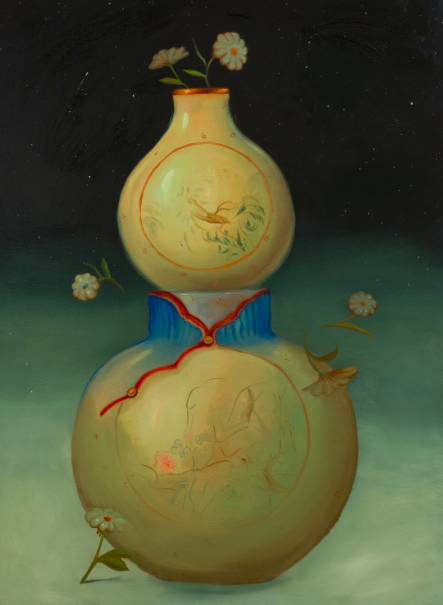 Fung, in a brilliant gesture, depicts porcelain dishes and vases in the background, which effectively remind of these stereotypes. More than responding to Orientalism, her work captures the essence of Ornamentalism, a feminist theory of personhood laid out by the scholar Anne Anlin Cheng. As Cheng argues, the yellow woman lives as an aesthetic being; she is a "figure that emerges as and through ornament." In other words, people can be objectified, but ornaments—silk, a porcelain cup, a Ming vase, and so forth—can in turn signify skin and flesh.
Fung's series of vase paintings exemplifies this seamless alchemy of ornamentalism: her vessels wear Chinese dresses and bows, their curved forms transforming them into hybrids—Asiatic women-objects. Inspired by the qipao, An Alluring Vase illustrates how, as Cheng argues, Orientalized femininity relies on "the spectacularization not of naked skin but of ornament." The body of an orange vase is disrupted by a crack, a reference to the traditional slit in the form-fitting dress that "has been reappropriated by the Western fashion market, but also fetishized," Fung says. "I'm reclaiming it and representing it so people actually pay attention to it."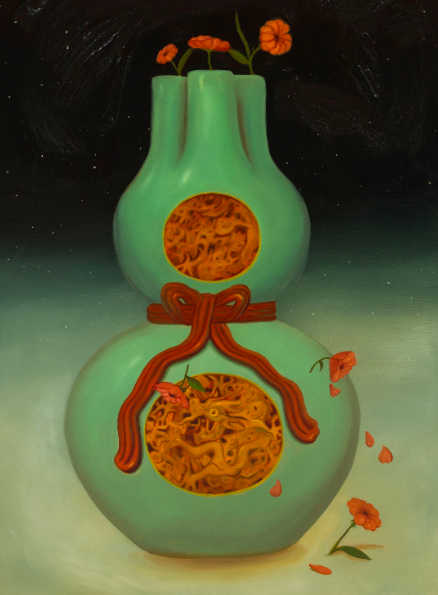 The vase paintings, measuring 40 by 30 inches, are the smallest works in the show. For Fung, large paintings, "are the only way for me to be heard. I constantly feel that my voice is being taken away. These are my way of saying, I'm here, and you can't ignore me." They are fittingly grand, depicting otherworlds of pleasure, limitless realms for her own fantasies.