Photograph via Getty Images.
I Watched a Rick Owens Funeral Pyre While America Burned
The Rick Owens show took place during the Ford-Kavanaugh hearing.
Photograph via Getty Images.
It felt more than little surreal and even stupid to be at a fashion show while Christine Blasey Ford was testifying before the Senate on Thursday. I sat in the front row waiting for the Rick Owens show to start, listening to the livestream but trying to tune out Senator Chuck Grassley, who thinks sex is the same thing as a Dairy Queen Blizzard (which explains so much and nothing at all). I watched the Owens acolytes filter in, which I normally find incredibly bewitching—their hair chopped into chaos, their faces painted like a cold oil change—but can sometimes feel worlds away from anything else.

As Rachel Mitchell questioned Dr. Ford about her fear of flying, I put the phone down for a second and take in the beautiful Rick Owens swans, who really are swans in their own bad-ass gorgeous goth way. "She is brilliant and brave," said a woman wearing one of Owens long black jackets, peeling off to reveal a smudge-gray Owens tank dress. She was wearing a big black hat, like a goth sheriff. "And Kavanaugh is screwed."
Owens has been doing "a blob thing for a while now," as he told GQ in a recent interview. "Bulges and blobs." Indeed, Michele Làmy, his wife and guardian angel of all that is weird, was greeting friends in one of those blobby bulgy things, a kind of smock of upholstery gaping with holes. I thought about how they looked less like protection than poise; other avant-garde designers can hide you behind silhouettes that sketch another vision onto you, but Owens requires self-confidence.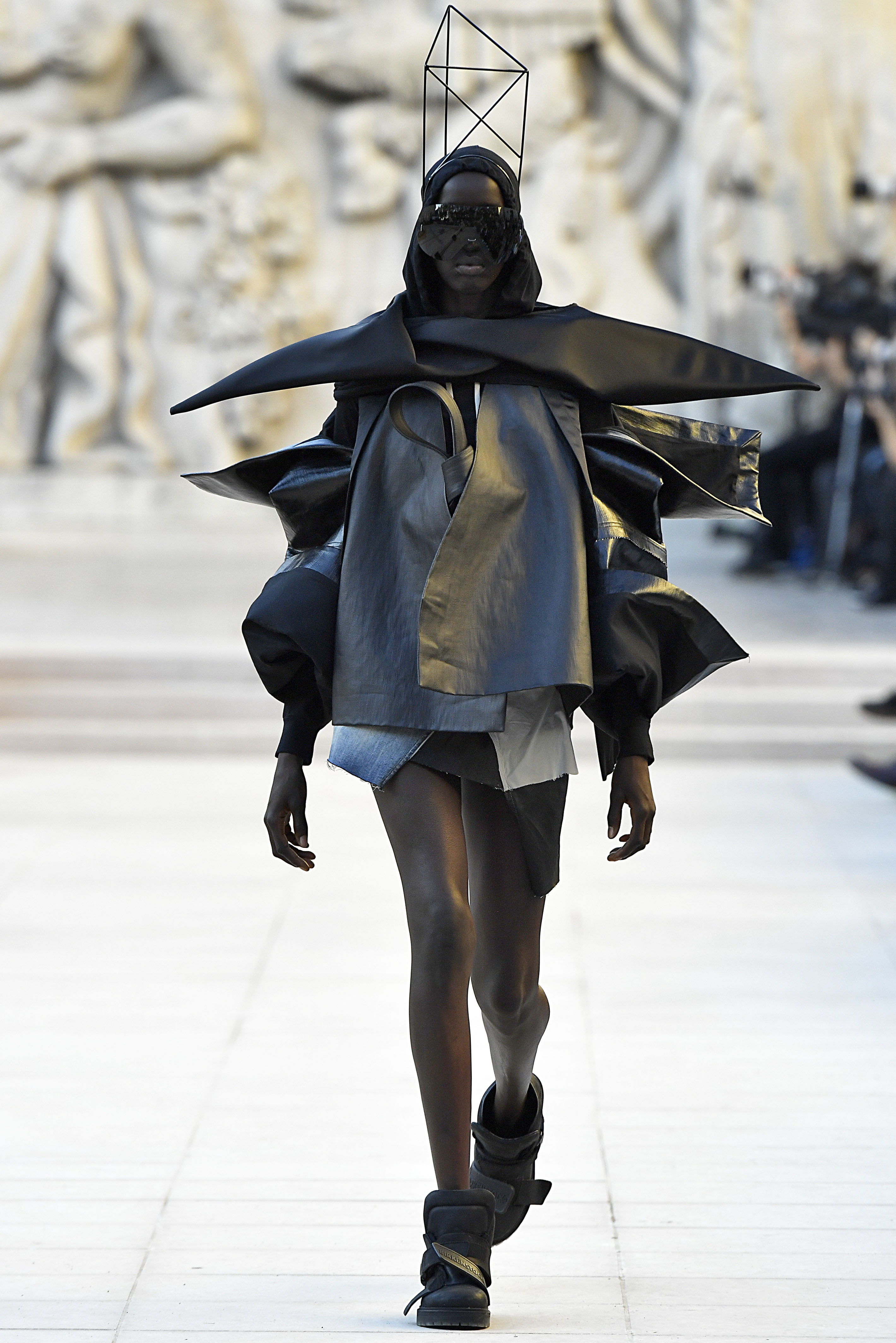 This collection was much crisper and leaner. There were steampunk flies with bug-eye glasses and wire cubes like antenna; the garments beat against the air like wings. One fabric, an open-weave, if you can call it that, of silver and black, looked like it was made of soft metal or even duct-tape—materials you use to fix stuff when resources and time are low. A gray and black striped fabric looked like the flag of a country descended into chaos. A giant A-frame pyre stood in front of us, and halfway through the show, it began to burn, and I mean really burn. (Owens, who is the most considerate goth, had placed fans in bags on everyone's seats; a year ago, he gave us all ponchos for a show that featured a ravenously splashing fountain.) A few of the models carried torches, which sent a different message than the funeral pyre flaming in front of us, and the music, by the Moscow electronica band IC3PEAK, was more upbeat than some of those more apocalyptic looks might suggest.
It can be such a fool's errand to try to connect a fashion show to other, larger world events; designers make their collections weeks or even months in advance of when they are shown, in countries with different politics, often while reading different news or looking at different art or thinking about other things altogether (perhaps a close friend or family member just died, and fashion is their exegesis). Still, fashion reveals the interiors and unspoken realities of the world as much as any pop song tells us how we want to party or any rom-com tells us how we currently fall in love. Lots of designers have been trying to force optimism or empowerment with their collections, trying to divine how a woman could and should feel today. I didn't feel optimistic or empowered at Owens show, but I'm also aware of how empty the call for those feelings can be. Instead, a huge fire burned before us. But a few women were there to carry torches.