Hunter's Point courtesy of Bill Tatham.
Weiss/Manfredi Architects Help New York Rediscover Its Watery Roots
Here are two shining examples of how to enhance the waterfront while protecting against floods.
Hunter's Point courtesy of Bill Tatham.
Parks and leafy promenades are replacing the industrial zones that blocked New Yorkers from the waterways flanking their shoreline. Coastal cities around the world are going through the same transformation as docks are relocated to deeper water and their sites are redeveloped for recreation and profit. But, as sea levels rise, the risk of flooding grows, and planners have to choose between heightening barriers and restoring the natural ecology to absorb storm surges.
In New York, the architecture firm Bjarke Ingels Group has proposed The BIG U, a flood control zone of berms, greenery, and demountable barriers extending in a 10-mile loop from West 57th Street, around lower Manhattan, and up to East 42nd Street. It is designed to be built in discrete sections with community input—an inclusive strategy that is sure to take years, if not decades to realize. In the meantime, there are two shining examples of how to enhance the waterfront while protecting against floods: Hunter's Point in Queens and the southern half of Roosevelt Island. Weiss/Manfredi, a New York architecture firm established by Marion Weiss and Michael Manfredi in 1993, has played a leading role in both.
Formerly occupied by a prison, an insane asylum, and a chronic care facility, Roosevelt Island has been transformed over the past 40 years into a planned community, with apartments at the north end and Louis Kahn's Four Freedoms Park at the southern tip. Below the Queensborough Bridge and across from the United Nations, all but the picturesque ruin of one hospital is being replaced by Cornell Tech: half academic powerhouse, half public park.

The landscaped campus was master-planned by Skidmore, Owings & Merrill to include ten buildings on a site that offers stunning views of water and city. The first three have been completed: a slender residential tower by Handel Architects, Morphosis's Bloomberg Center, and The Bridge by Weiss/Manfredi. Over the next 25 years, seven more will be added on an undulating expanse of lawn.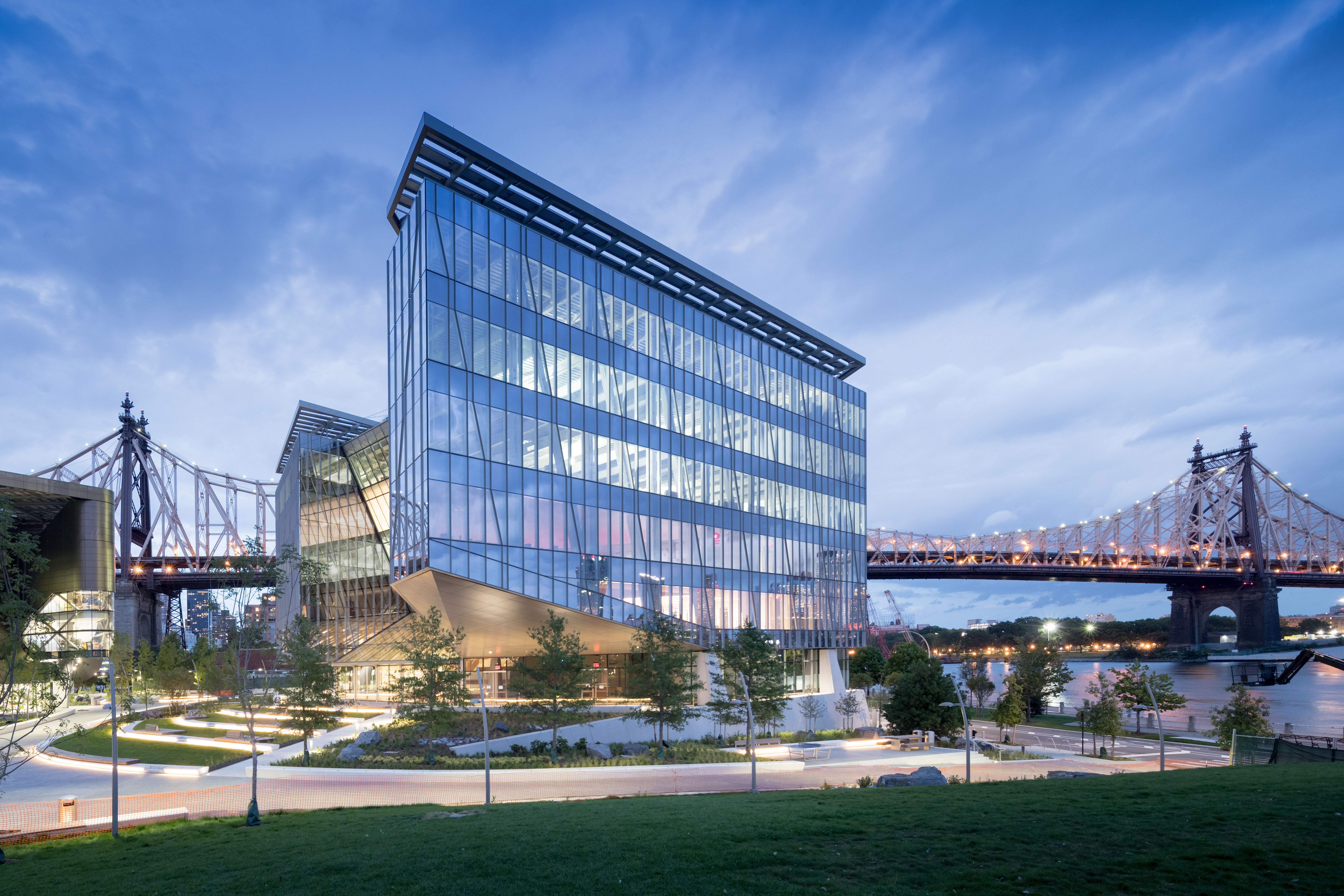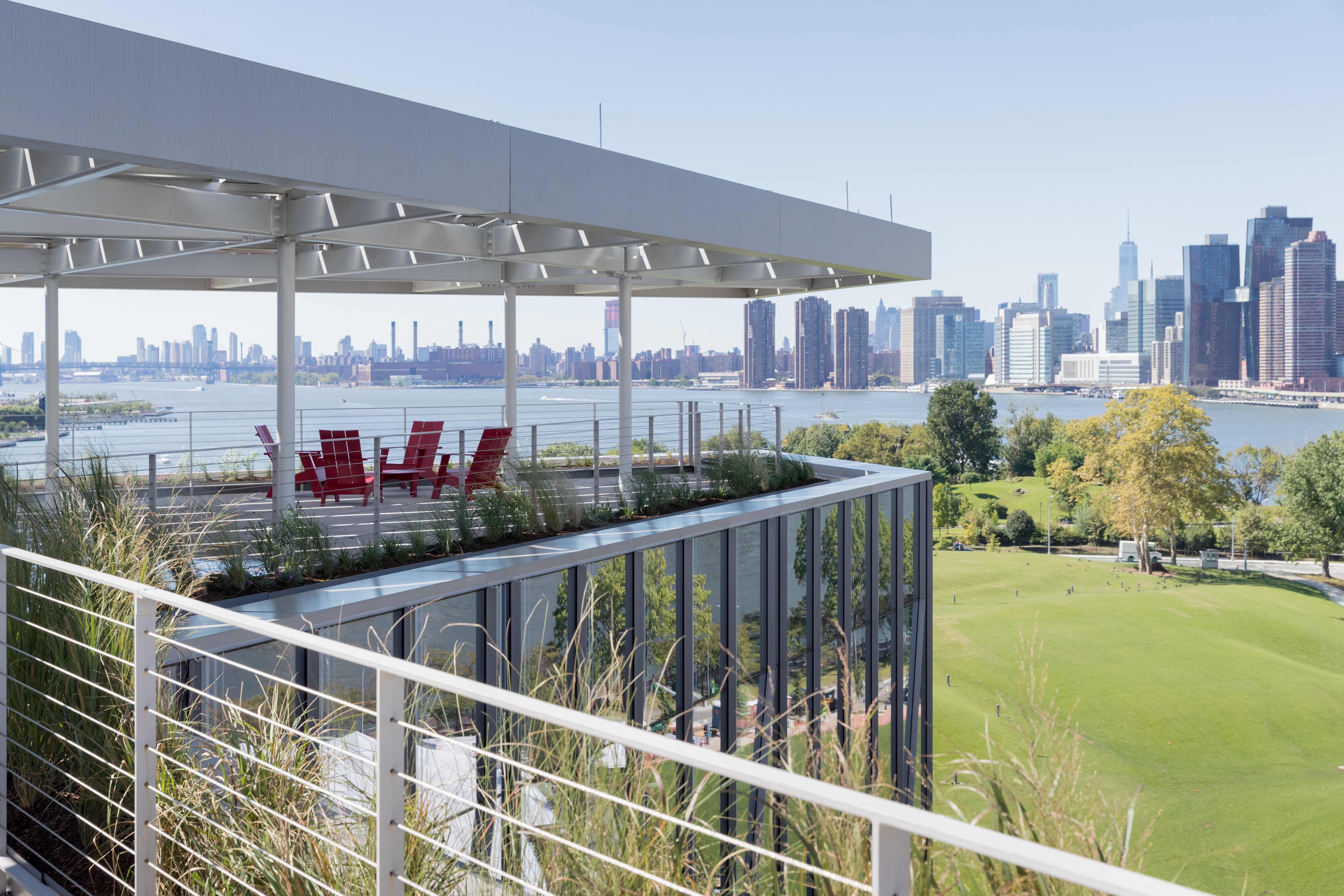 For Cornell University, this joint venture with Technion-Israel Institute of Technology is a showcase of postgraduate research on the most prominent site imaginable—a contrast to its main campus in the remote north of New York State. It was important to make an impressive debut, and Morphosis and Weiss/Manfredi have risen to the challenge, creating boldly modeled buildings that conduct a dialogue with each other and the bridge. Following Hurricane Sandy, the design was revised; the buildings were raised eight feet, and mechanical equipment was moved from the basement to the roof.
Transparency is the hallmark of The Bridge, a six-story crystalline block with cantilevered wings that seems to hover over the site like a butterfly. First impressions are deceptive: clear glass, coated to reduce glare and heat gain, comprises only 40 percent of the skin, and is alternated with opaque glass. A canopy of solar panels shade a roof terrace and generate enough energy to make Bloomberg net zero. Cornell is the anchor tenant, occupying the first three floors; the upper three will be leased out to small technology firms. That will create an interplay of research and entrepreneurial activity, benefiting both, and provide an incubator for startups.
To exploit the views and maximize exposure, Weiss/Manfredi broke the block into two sharply angled volumes linked by an expansive core that is expressed in the folded planes of glass above the entry. That configuration yielded eight corners, giving each tenant a well-defined workspace and abundant natural light. The clear glass is fritted with vertical and diagonal lines. The latter trace the diagonal steel trusses around the perimeter, spaced roughy 20 feet apart, from which the column-free floors are suspended. A sharp-edged prow is cantilevered out to the south, over shallow terraces that ascend to the entry and are echoed within by a grand staircase that rises through the double-height lobby and incorporates stepped seating areas. This is flanked by retail and a café at ground level, and a master studio and workshop at the next level, animating the staircase and providing a bridge between public and private areas.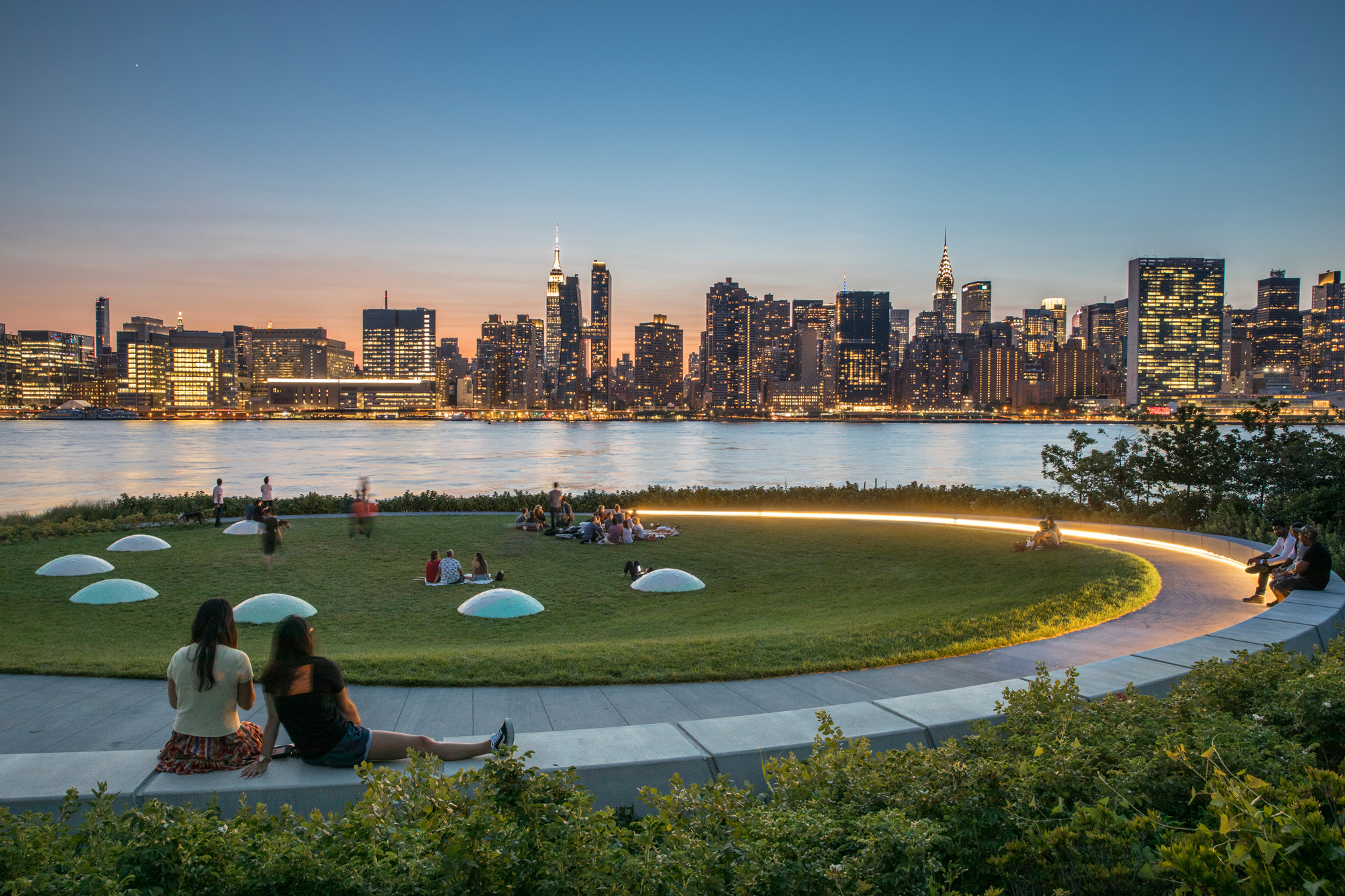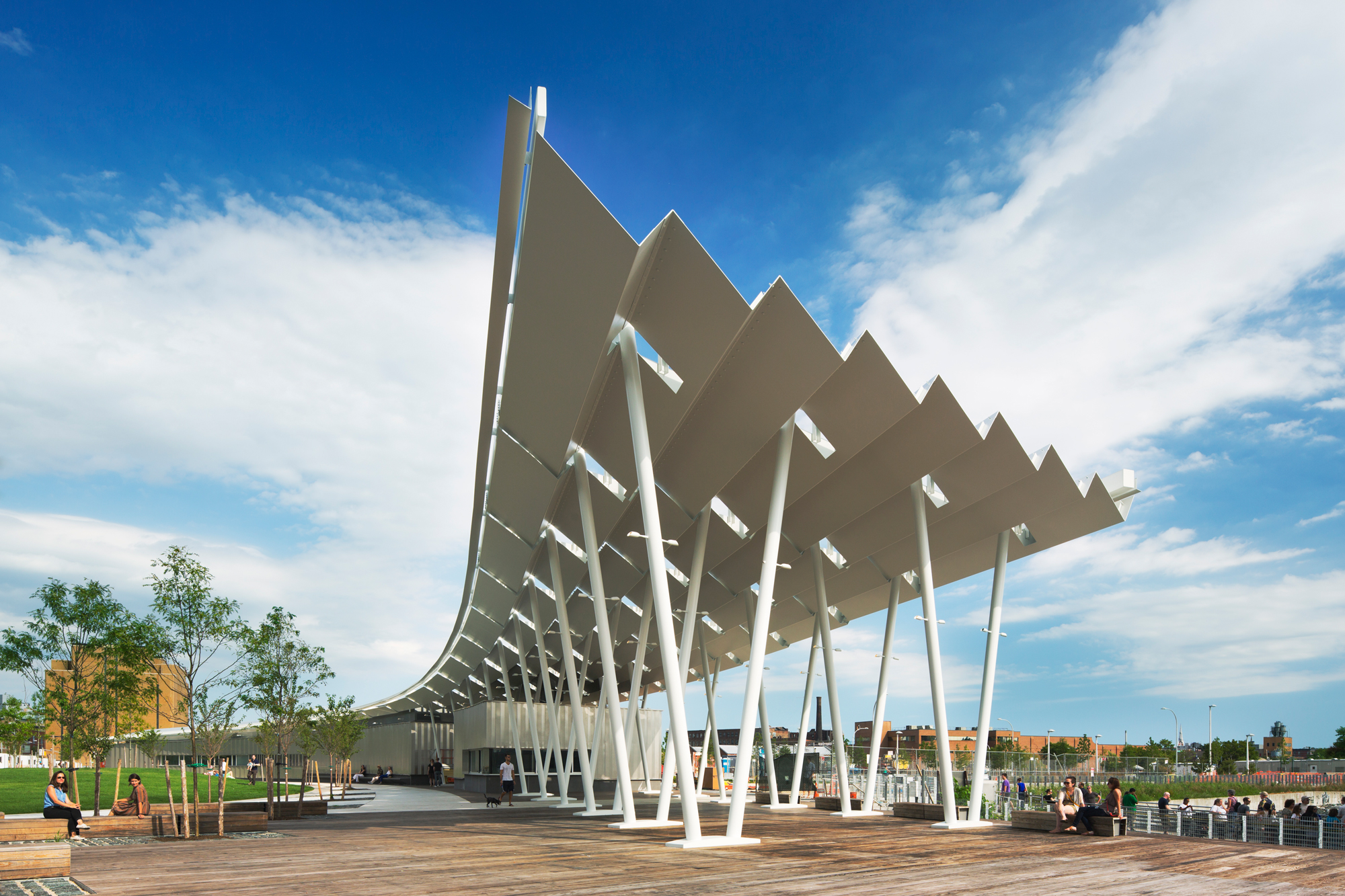 A short ferry ride across the East River is Hunter's Point Park, where Weiss/Manfredi and SWA/Balsley headed a team effort to transform a decayed industrial zone into a green waterfront oasis. The challenge of designing urban parks, particularly in a city as hungry for open space as New York, is to anticipate heavy and varied use while minimizing maintenance and simulating a natural landscape.
Hunter's Point provides a diversity of experiences, from a contemplative stroll through wetlands to team sports and a playground for dogs. An oval of grass doubles as a playing field and a flood control basin, with gutters for drainage and gabions to slow the runoff. Arching around the oval is a multipurpose pavilion with a pleated metal canopy, supported by slender poles and angled to accommodate solar panels that power the structure. It marks a boarding point for the East River ferry and a raised belvedere that commands a spectacular view of mid-Manhattan. Green fingers extend back between apartment towers to mediate between city and park, and an old gantry is a reminder of the industrial past. Weiss/Manfredi call this park the Low Line, a joking reference to the fragmentary railway tracks that emerge from long grasses as they do in the elevated High Line on the far side of Manhattan.