Photography by @bananas_clarke. Johanna wears: Corset + earring/ Paolina Russo Shoes/ Charlotte Diercks Gabriella wears: Top + underwear + bag/ Paulino Russo Shoes/ Hinako Nakazawa Bonnet/ Gregory France Gloves/ Jessica Ann Richardson
This Stylist Is Sidestepping the Thirst Trap to Show You A Glimpse of Her Soul
Jamie Maree-Shipton is using her Instagram powers for good: to put on London's most promising emerging designers.
Photography by @bananas_clarke. Johanna wears: Corset + earring/ Paolina Russo Shoes/ Charlotte Diercks Gabriella wears: Top + underwear + bag/ Paulino Russo Shoes/ Hinako Nakazawa Bonnet/ Gregory France Gloves/ Jessica Ann Richardson
If you love to follow @AirToMyEarth, chances are you're not much of a selfie queen. The London-based stylist and creative director has made a name for herself with minimal glimpses of her body but maximal flashes of her singular point of view. "It's my work, and my aesthetic that's gotten me to where I am, not my ability to take a good selfie or booty shot—which I'm actually pretty adequate at!" Her projects for titles like i-D, Interview, Novembre, and Vogue Italia typically showcase designers on the cusp of industry attention, and advocate for greater inclusivity and visibility in the fashion world at large. She's committed to giving a platform to some of the most exciting design students from the best fashion institutions in the world, six of whom—Florence Lamy, Paolina Russo, Charlotte Diercks, Hinako Nakazawa, Jessica Ann Richardson, and Gregory France—she selected to create pieces for a digital editorial shown below, which they created between classes at Central Saint Martins. "Established voices are always filtered, they are required to be tame. New creatives aren't. There is no fear. I vibe on that."
GARAGE: What inspired the "grandma/bag lady/rubbish" vibe, as you called it, for this shoot?
Jamie Maree-Shipton: I was thinking some of these materials are one person's trash and another's treasure. This is the story of the girl who got sick of the charity store and competing for the "it" vintage, and decided to dumpster dive instead. She pulled out these gems and constructed some killer looks. It's really about not taking fashion so seriously. Every one of these designers created something out of nothing, and their small budgets also play a part—they have to be truly creative, and they nailed that. "Rubbish, but make it fashion. " a part—they have to be truly creative, and they nailed that. "Rubbish, but make it fashion. "
How did you become AirToMyEarth?
The name originally came from when I had a small jewellery label, which developed into a blog and then a platform on Instagram. I was thinking about what being a creative soul meant to me. I felt it and saw it in everything I did. It was the the moon to my sun, the stars to my sky—and thus, the Air To My Earth. So corny I know!
What is your background and how did you find your way to creativity, styling, editorial, and visuals?
My focus was always fashion growing up; I was always dressed extra and took any excuse to style my little brother in costumes and do runway shows. Then I began writing for i-D whilst I was still in university. I wanted something styled and directed by me, that reflected the subject. So, I began styling editorials alongside writing and my editor really went for it. From there I just kept getting more experimental and it became more about styling and less about writing. It was also about creating a memory and a moment. I feel the visuals I'm creating to my core, it's not about the labels, it's about the outcome of the work.
How do you get inspired?
I spend a lot of time on Instagram, Tumblr and cutting into old magazines. I also go to the library to look at scans and posters of art. I'm a visual person, little details in an image can trigger something in my brain that then leads me into a rabbit hole of ideas (usually at odd hours of the night) and eventually I end up with a big folder of collated imagery that I then breakdown and use to put my concept boards together.
There is never a time where my iPhone isn't attached to my hand. I have galleries, screenshots, Instagram archives. I move everything from my phone to my computer at the end of every week and catalogue it all that way.
Is your personal style related to what we see in your photographs?

My personal style, lol. I'm pretty incognito. I buy up a lot of samples from new designers simply to keep, I never wear them. I'm always in black and usually an oversized tshirt. I spend so much time thinking about clothes that I rarely want to think about what I wear. I like to be relaxed and comfortable. I do however have a weakness for bags and shoes though—my LV Archlights have been giving me life on set.
What made you choose these particular designers?

These designers all study together, but unlike a phenomenon I have written about before, where often designers working in close proximity tend to vibe off similar things, or create homogeneous work. These guys don't do that. Every single one has created an epic vision through their designs, the majority of which have crazy fabrications. This is why their designs spoke to me. From Florence's leather laser cuts, to Charlotte's Dulux painted foil and of course Paolina's deconstructed then reconstructed sneaker and soccer ball wonders, every thing these designers did blew creativity out of the water. It's next level shit.
Why do you like to work with new talent?
Often it's these new emerging talents that also steer clear of the norm and produce new trains of thought and altered perceptions.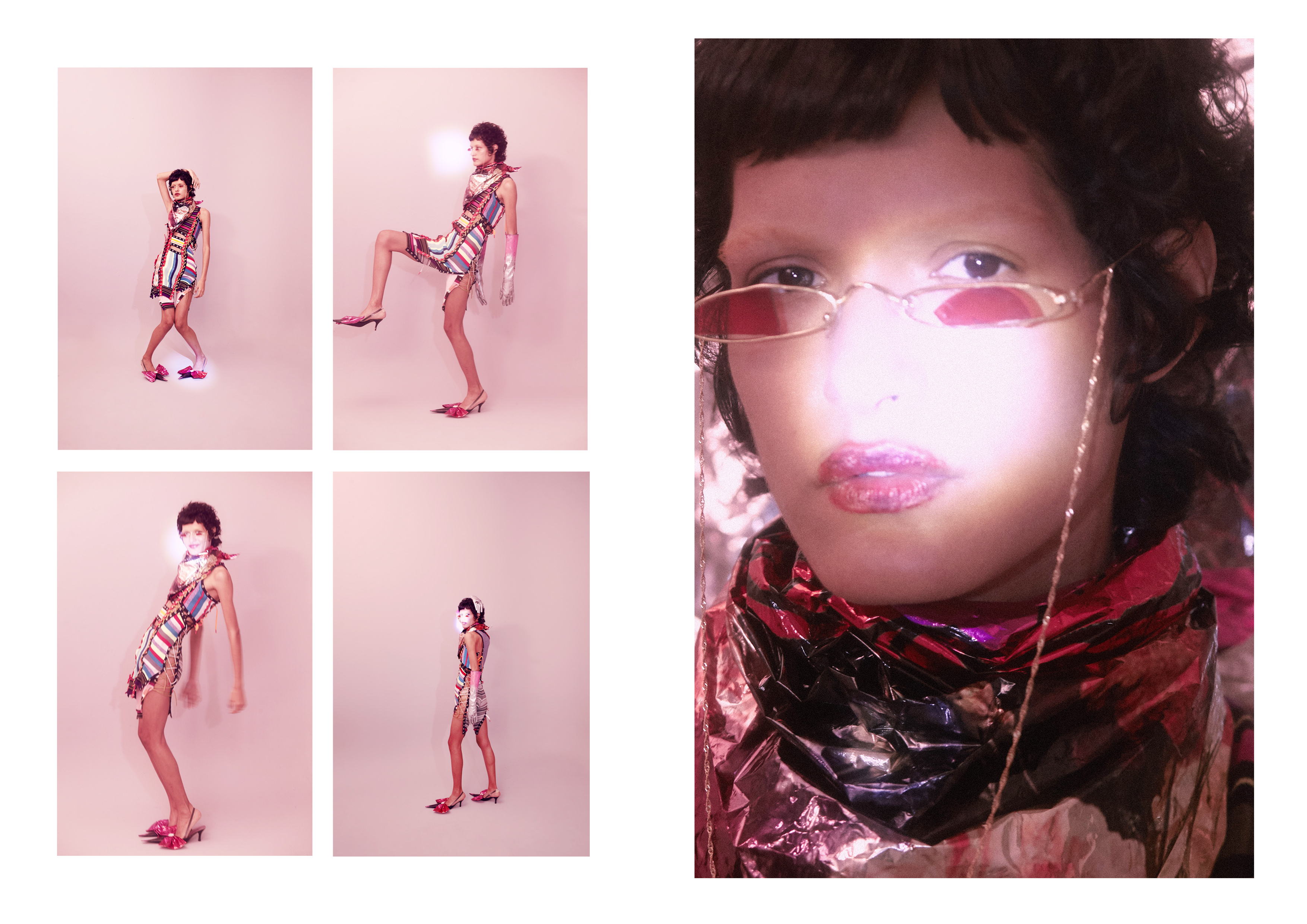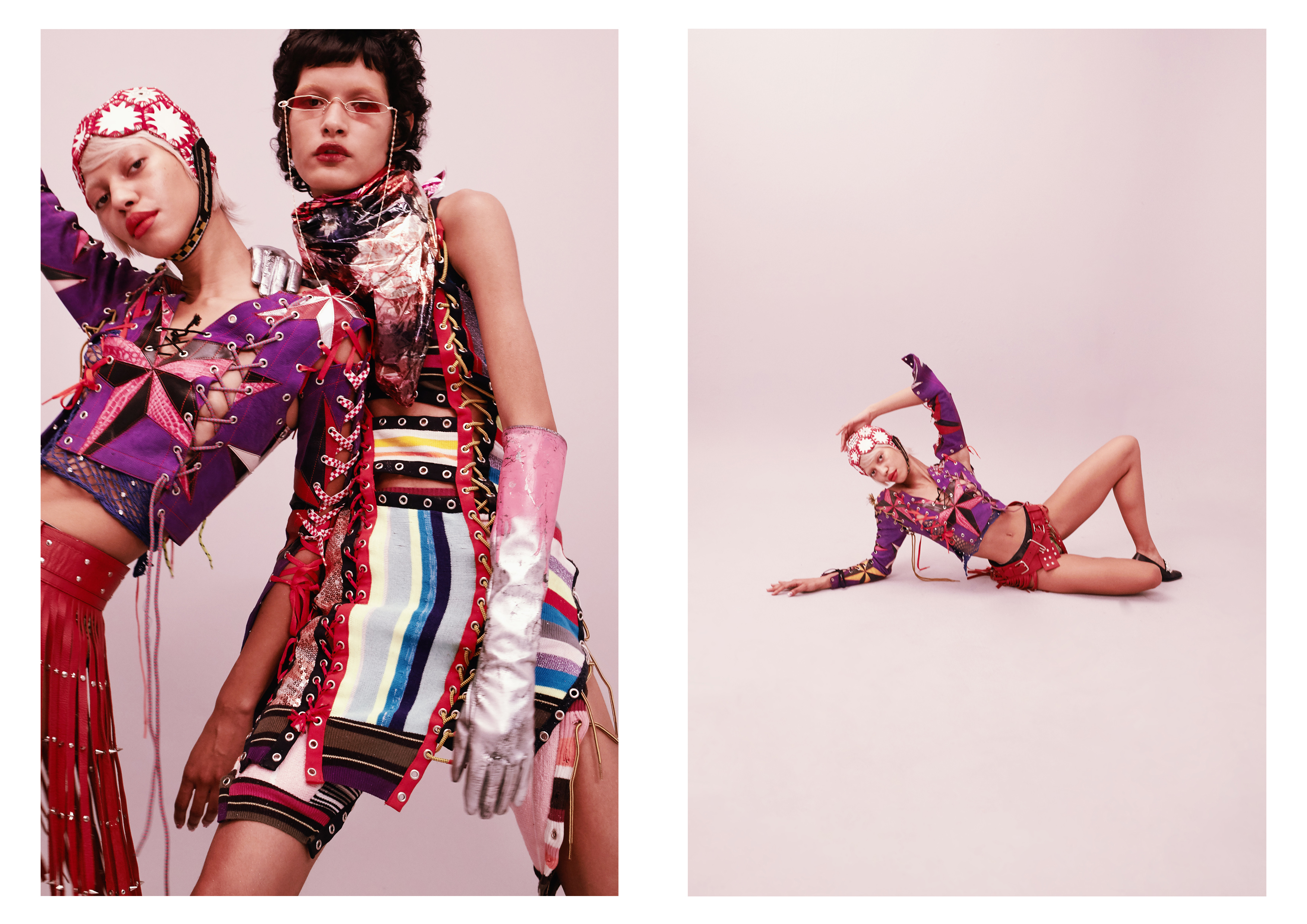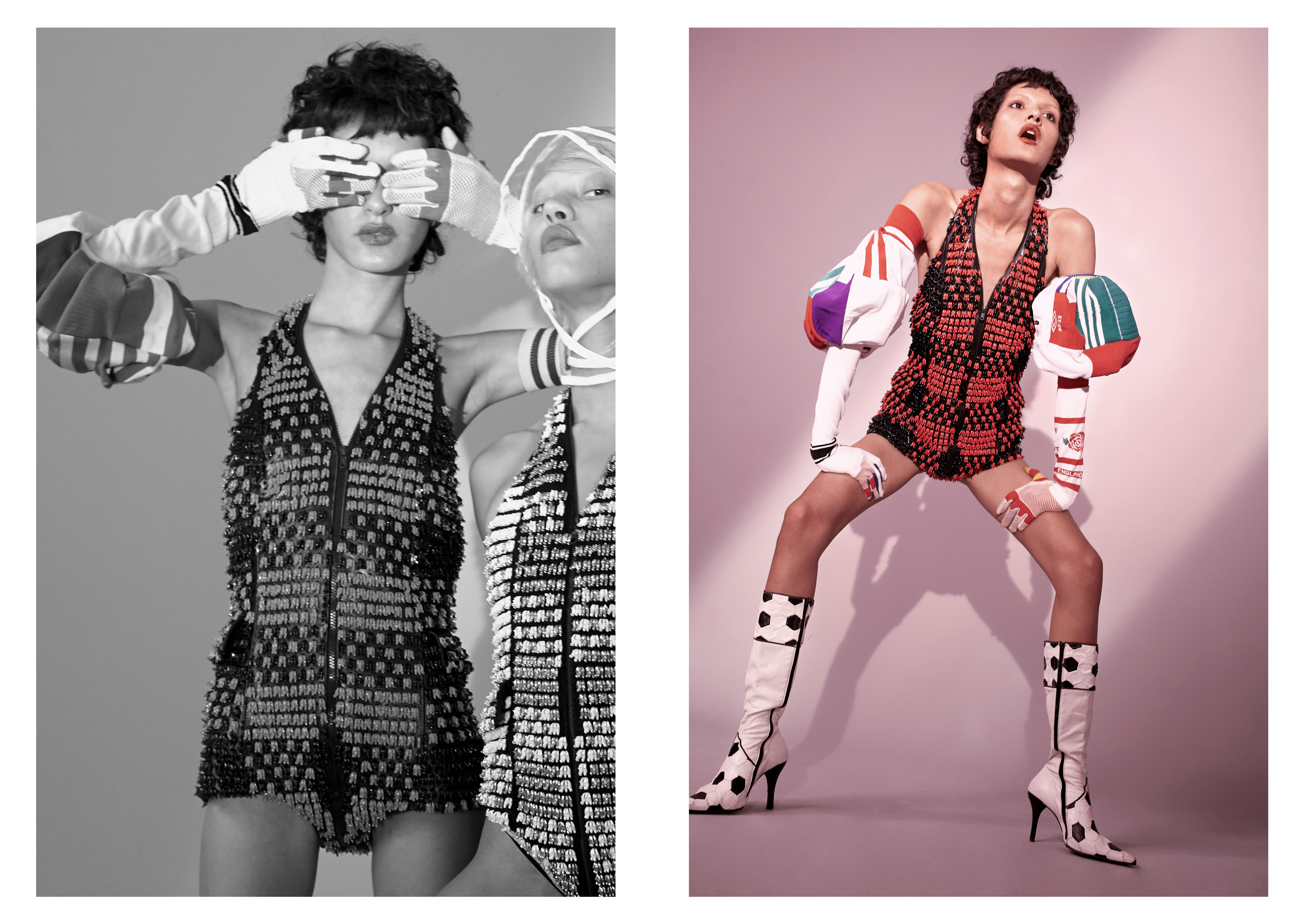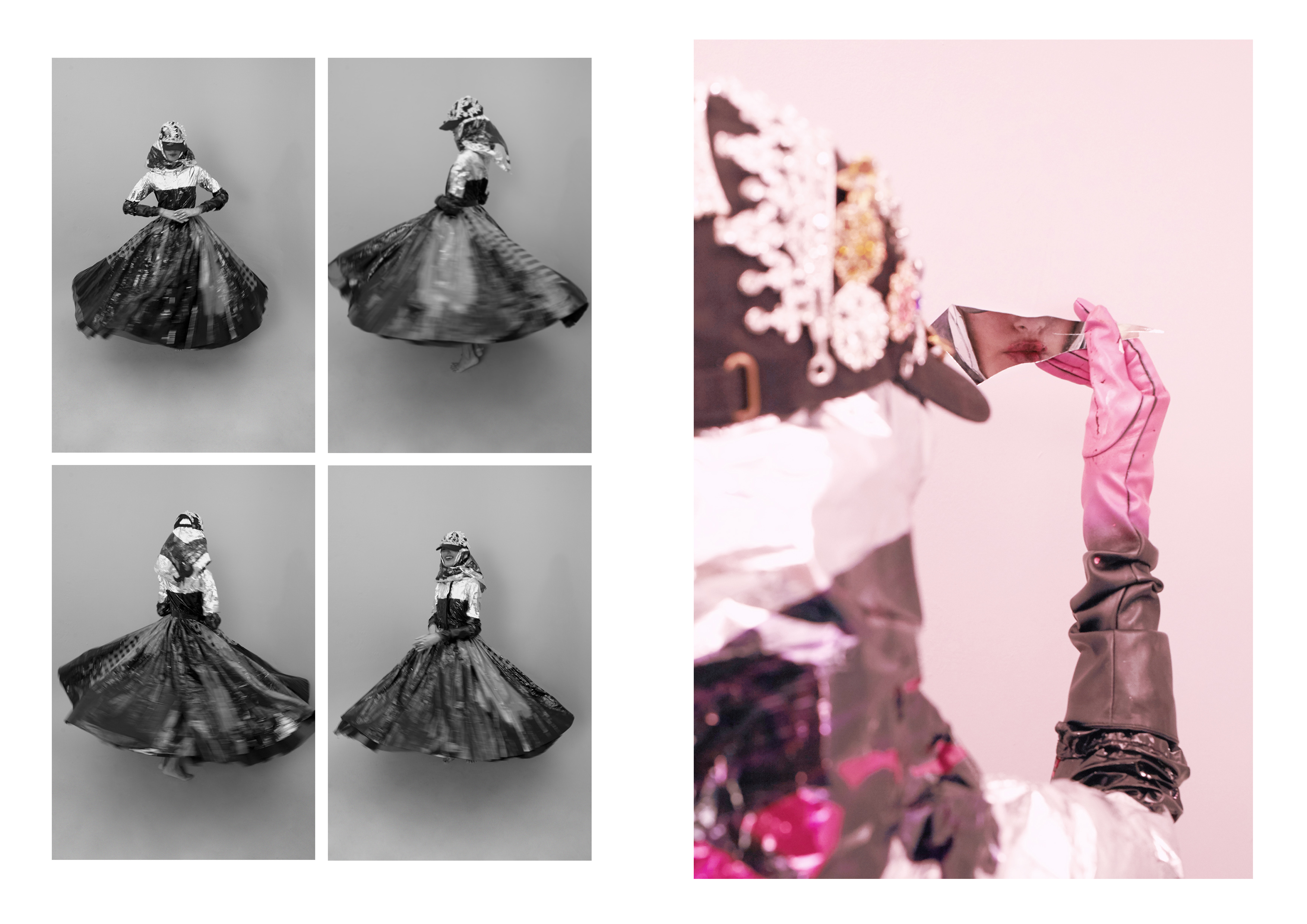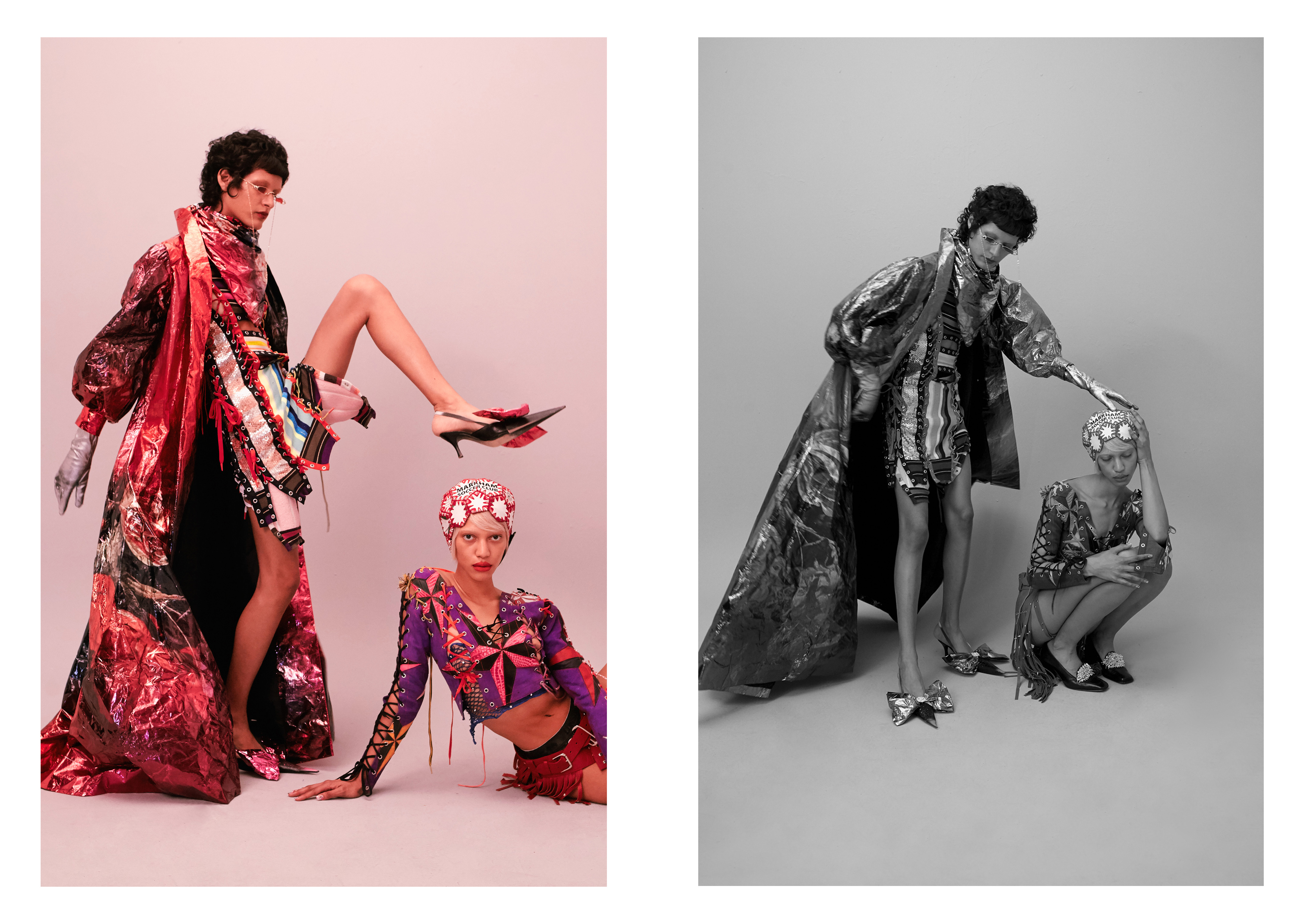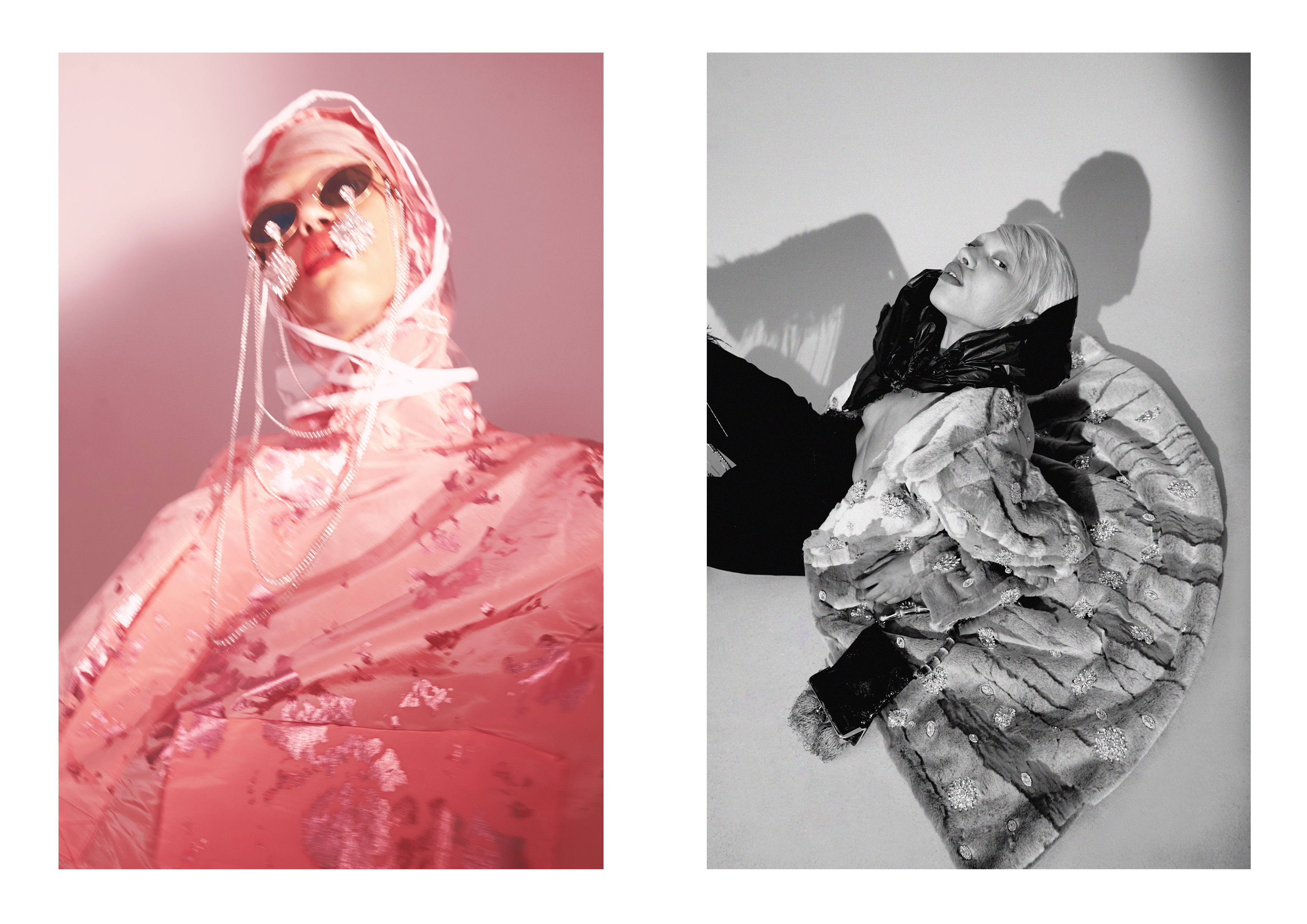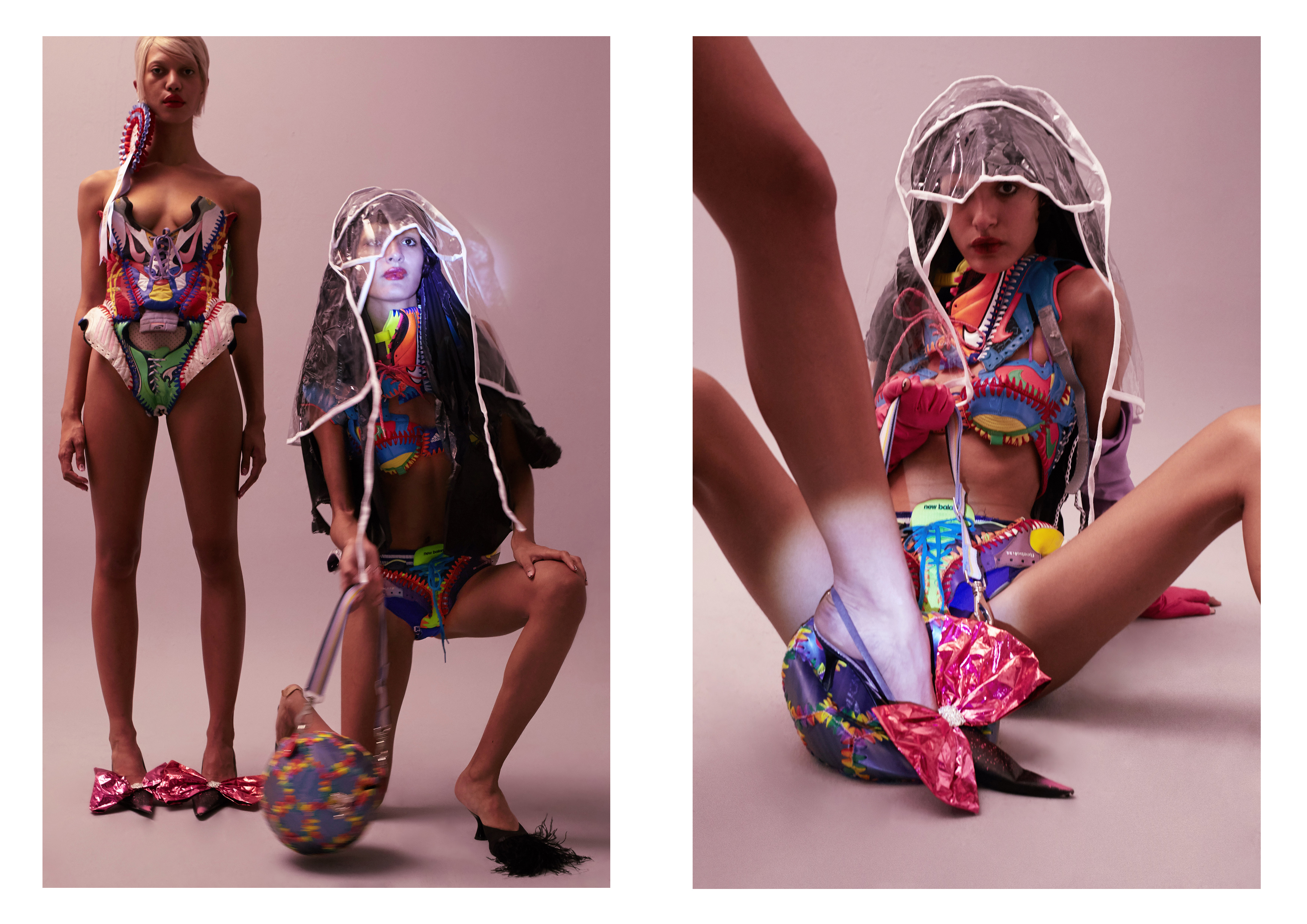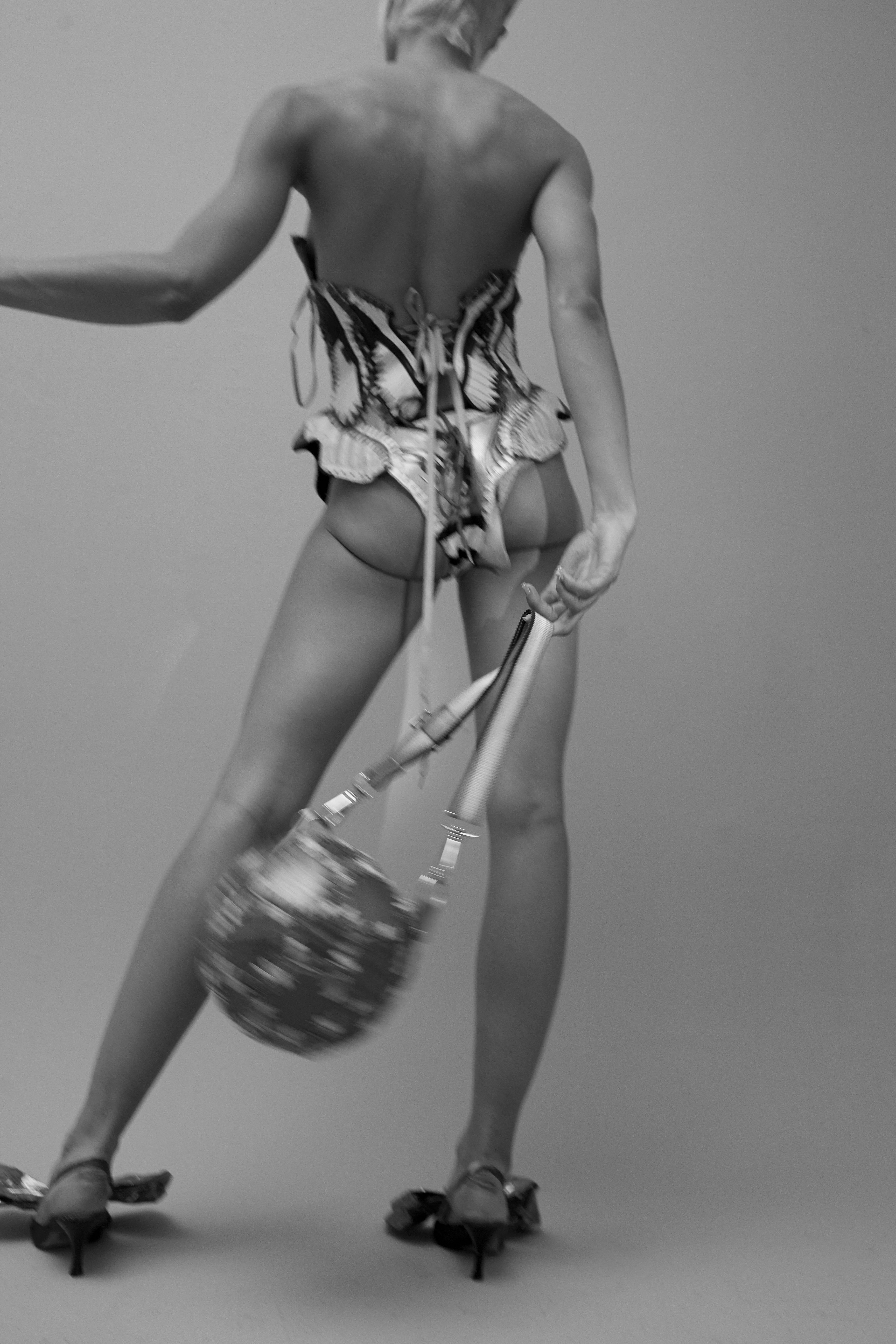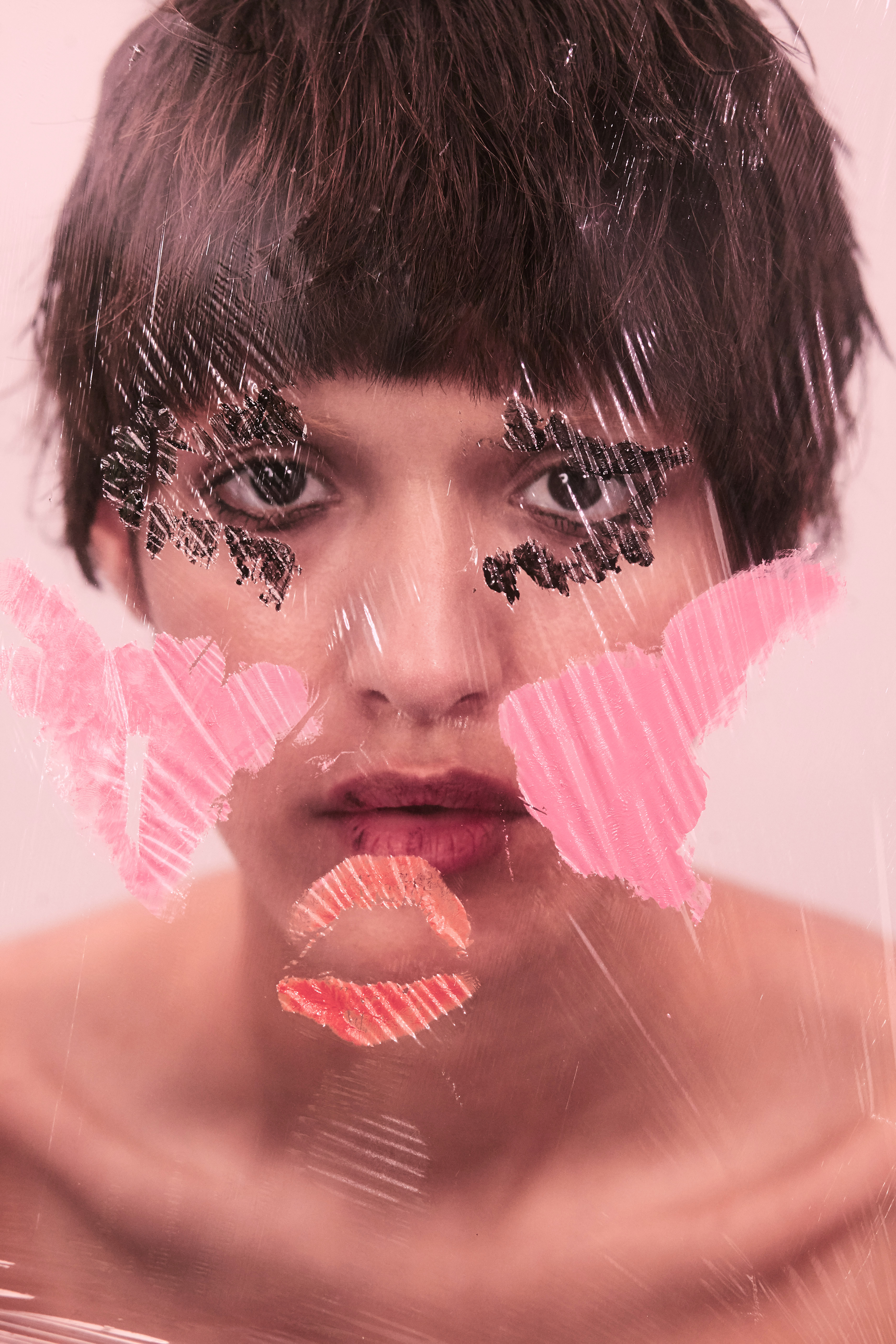 PHOTOGRAPHY: BANANAS (@bananas_clarke) STYLING + DIRECTION: JAMIE-MAREE SHIPTON (@airtomyearth) MUA: EMILY PORTER (@emilyportermakeup) using MAC cosmetics HAIR: RONNIE WOODWARD (@ronniewoodhair) NAILS: TYLER PHOENIX (@_tylerphoenix) FASHION ASSISTANT: AISHA NOVA (@aishanova) MODELS: GABRIELLA @ PREMIER (@gcods), JOHANNA (@selfiegod)