@afrolion. Photograph by Dee Williams.
At Afropunk: Black Expression Is Inherently Punk
A history of the festival's hardcore roots, and words from some of the festival's attendees about how its punk spirit has changed and endured.
@afrolion. Photograph by Dee Williams.
Afropunk is no longer explicitly a punk festival, though it did begin that way in 2005. But there is a common understanding, as filmmaker Sacha Jenkins puts it, that "when you're black, you're punk all the time." Decades after the late '70s heyday of the punk scene, Afropunk fosters a community for the other outcasts and outliers, the folks whose very existence opposes the system.
Afropunk grew out of a need for punk spaces that were inclusive of black people when there were virtually none, spurred in part by James Spooner's 2003 documentary Afro-Punk, otherwise known as "the movie that sparked the movement." Aside from post-Watts Riot L.A.'s Wattstax—a 1973 festival without the features like skate ramps and Activism Row that help define Afropunk—and a few smaller festivals, Afropunk is the only music and culture festival created by and for black people. Other large music festivals cater to a different audience: in 2013, only 4.9% of Coachella's attendees were black. (Perhaps that number increased this year, with Beyoncé as the first black female headliner.)
The festival launched in 2005, starting with shows at the Brooklyn Academy of Music and legendary punk club CBGB, and now takes place in Fort Greene's Commodore Barry Park, with headliners like Solange, Erykah Badu, Janelle Monáe, and Tyler, the Creator. The festival only began charging for admission three years ago ($60 for single day tickets and $110 for weekend passes, though the organizers still offer a limited number of free tickets through a volunteer program). This year, for the first time, the festival sold out completely. Afropunk's staging in Brooklyn, the festival's birthplace, continues to draw the largest crowd (the crowd estimate for 2015 was 90,000), but Afropunk has since spread to Atlanta, London, Paris, and Johannesburg, with its most recent additions, Dakar and Brixton, focusing on smaller workshops and live shows.
When admission was free, Afropunk's location, adjacent to the Ingersoll and Farragut public housing projects, was intentional: access for low-income black attendees was a priority. Many ticket buyers have called for a location change in recent years—perhaps to Governors Island or Prospect Park—but that would mean moving even further away from the community the festival aimed to serve in the first place. Then again, as writer Tahirah Hairston pointed out on Twitter, why should we expect Coachella to charge over $300 for tickets but Afropunk to be free?
One of Afropunk's many distinctions is its focus on activism. To cater to those who exist on the margins is an act of resistance in and of itself. Afropunk has also garnered attention in recent years from many media outlets, specifically in the more fashion-focused titles, looking to the festival for street style inspiration. But at Afropunk, there is an important distinction between fashion and style. Style is individual, it is self-reliant, and while fashion norms and trends, it often thrives by operating outside of that bubble. Afropunk is not a place where Balenciaga shoes, Gucci handbags, or a full Versace dress will be worn. Many attendees create their own outfits, merging together thrifted acid wash jackets decorated with hand-painted designs, West African prints passed down from family members, and jewelry collected from street artisans in Harlem.
"It shouldn't be the only black festival—we should have more, but Afropunk is the one that could compete with Coachella."
In her 2016 book The Birth of Cool: Style Narratives of the African Diaspora, Carol Tulloch defines style "as agency—in the construction of self through the assemblage of garments and accessories, hairstyles and beauty regimes that may, or may not, be 'in fashion' at the time of use." There is an identity construction that takes place at Afropunk that is not restricted by the social norms and discrimination that black people face everyday. They can embody queer, femme, trans, fat, disabled, punk, and black all at the same time.

One common consensus among festival goers as well as performers: they've never seen anything this black before.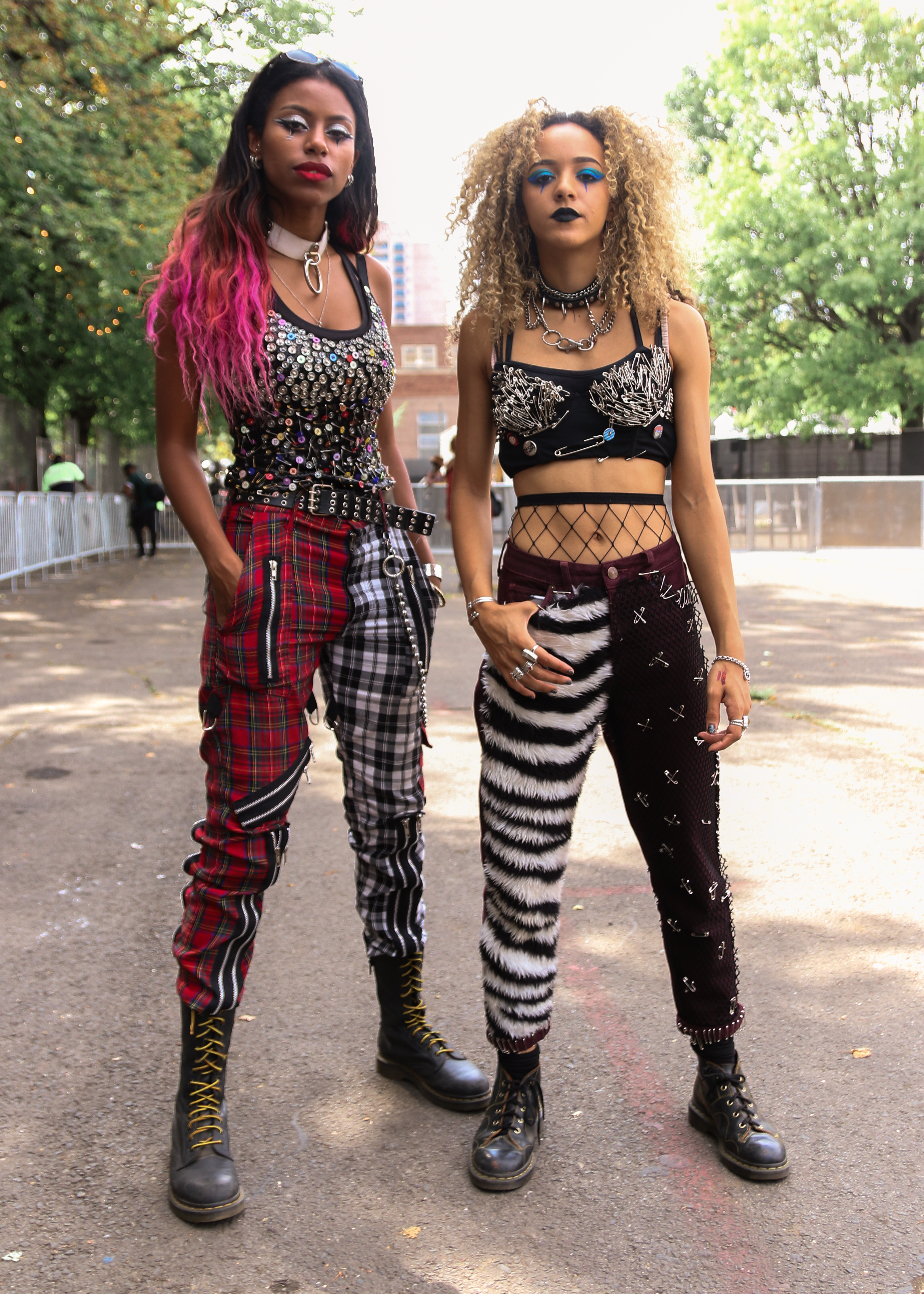 The Nova Twins hail from South London and have performed at Afropunk Paris and London. Their DIY punk aesthetic is a reflection of their music: they're unmanaged, independent from a record label, and handle all of their music videos and bookings. Afropunk Brooklyn is the band's first show in America, and they said it was meant to be. "Afropunk responded to us straight away when people didn't at first," Amy Love, one of the twins, told GARAGE. "It was like, 'This is a bit unusual' you don't look or sound like rock musicians that are shown in the mainstream.' We wanted to challenge that concept because it's a false reflection of rock culture. It stems from rhythm and blues. Rock is in our culture as well—it just never got showcased. We only hope to inspire other people to feel that they don't have to stay in the box that society has created for them."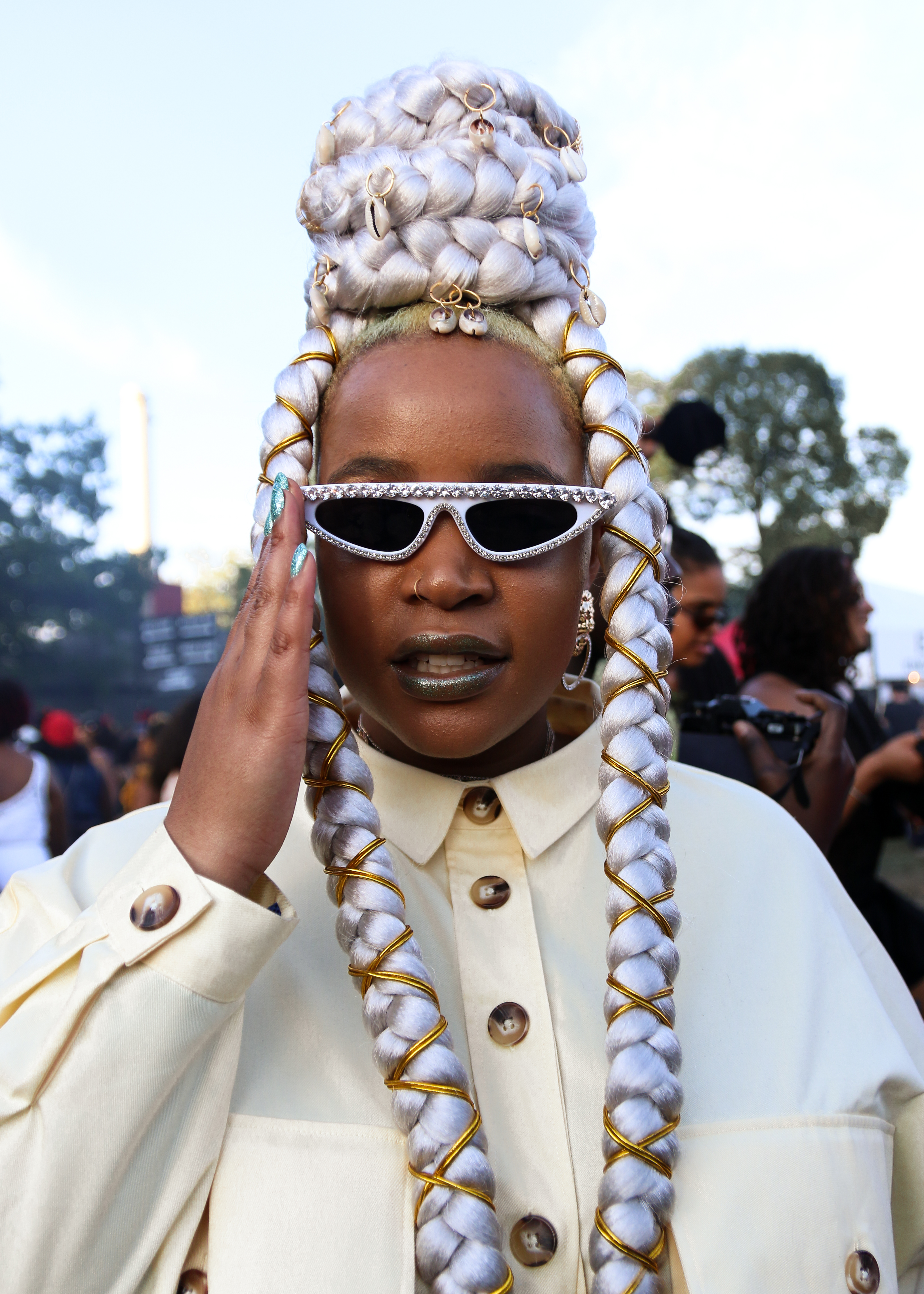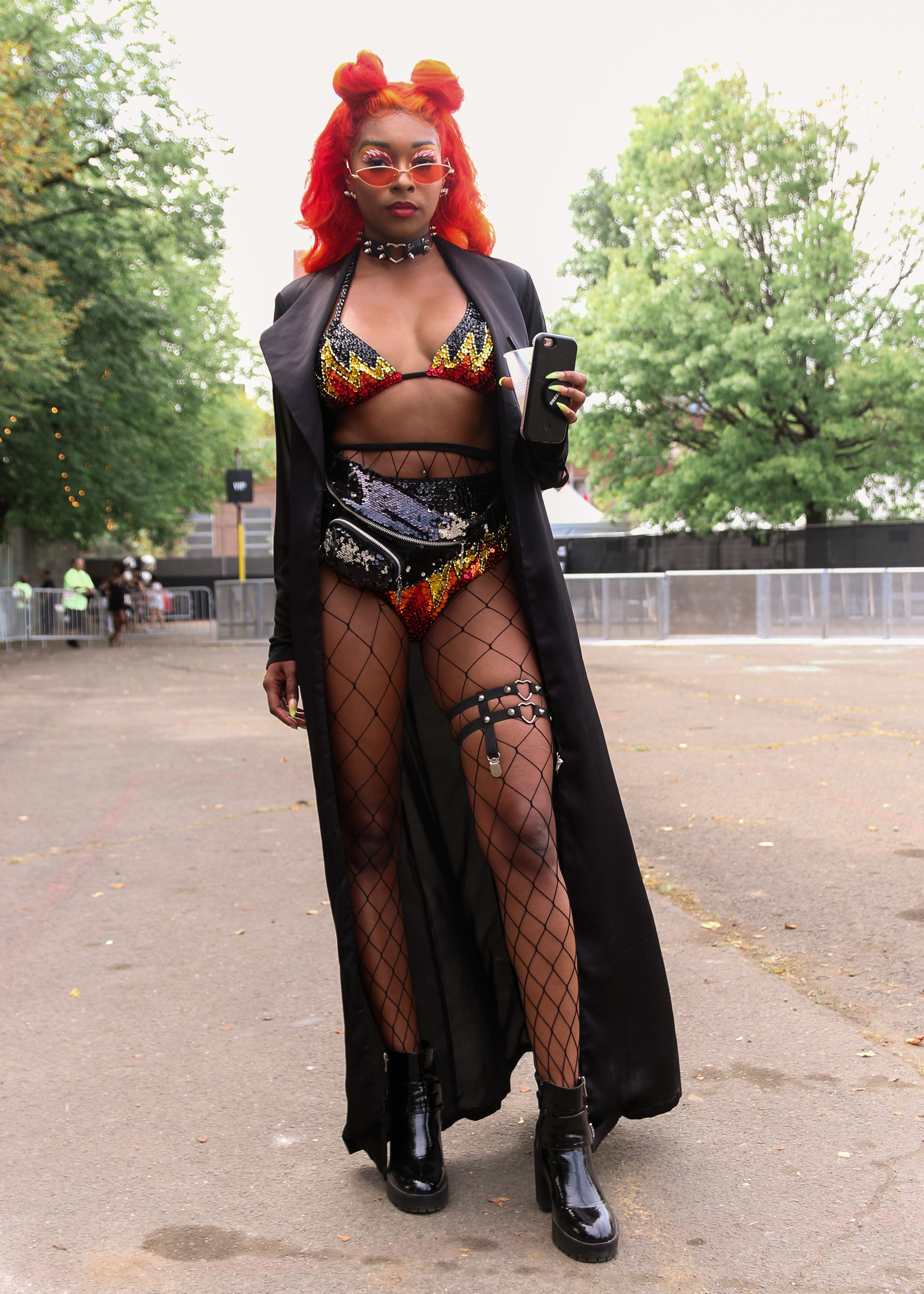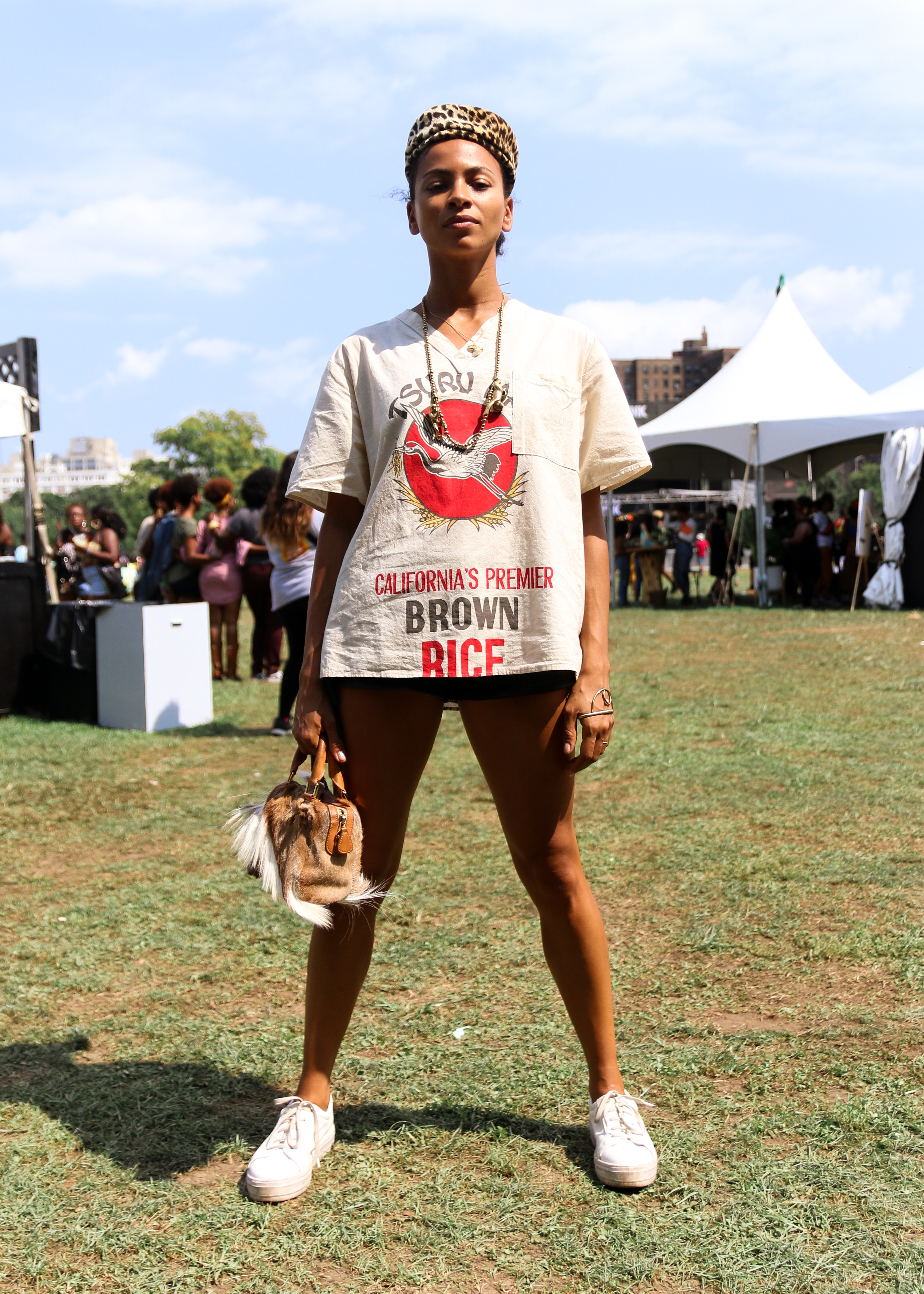 Adeline first performed at Afropunk two years ago, playing bass for CeeLo Green. This year was her first performing her own music. "I admire punk culture on so many levels," she said. "Some of the coolest outfits came from a punk way [of] putting it together. Some of my most fun outfits came from finding a $2 shirt on a rack in a vintage store, or putting together stuff from my own wardrobe. That's punk in a way, like doing it your own way and coming from resources that are more raw and more real."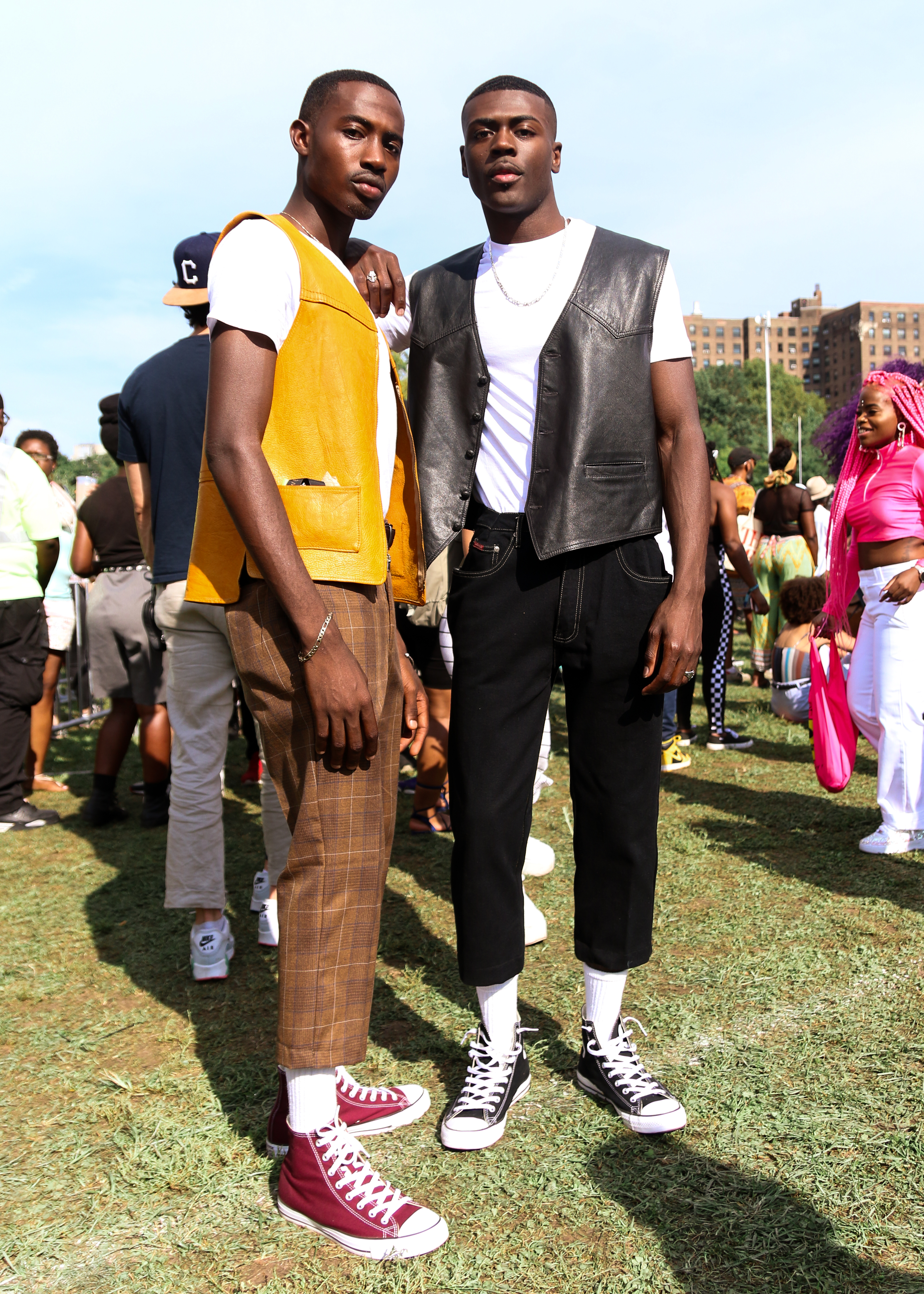 Tevin and Ahmad channeled the '70s, with one brother taking on the punk vibe and the other taking on the Western vibe. For style inspiration, they look to Malcolm X, and push to challenge masculinity through style.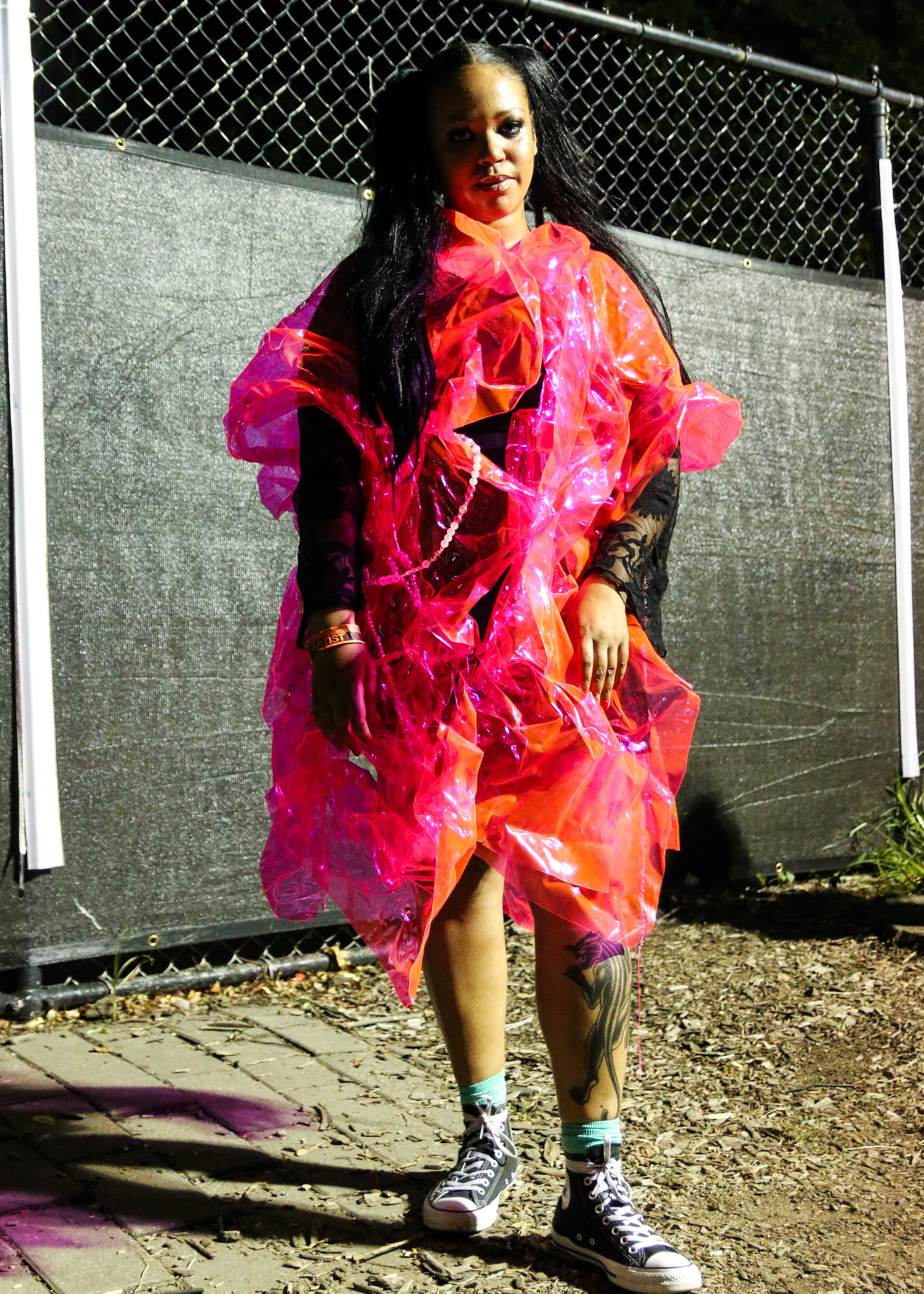 BEARCAT first made her appearance at Afropunk 10 years ago doing backing vocals. This year she's back DJing her own set at both the festival and the after party. She states that black people are "punk within their own right. Black as an identity is like wearing a suit of armor, creating your own way in how you walk in the world. There's something very punk about that, the survival of black people. Everyday is a struggle, everyday is a fight. It doesn't matter what class level you're at, how much money you have in the bank; when you're black, you're black. The resilience to that, just getting up everyday, just getting out in the world, is very punk to me." We also discussed the expansion of the festival, and stated that even though it is a commercialized festival, "it is important to be able to make it on this level—that we're up there with other festivals. This is the beginning, and it shouldn't be the only black festival—we should have more, but it's the one that could compete with Coachella. So even though it is completely commercialized and capitalized, it's still there and existing. It's important that we're there and we exist."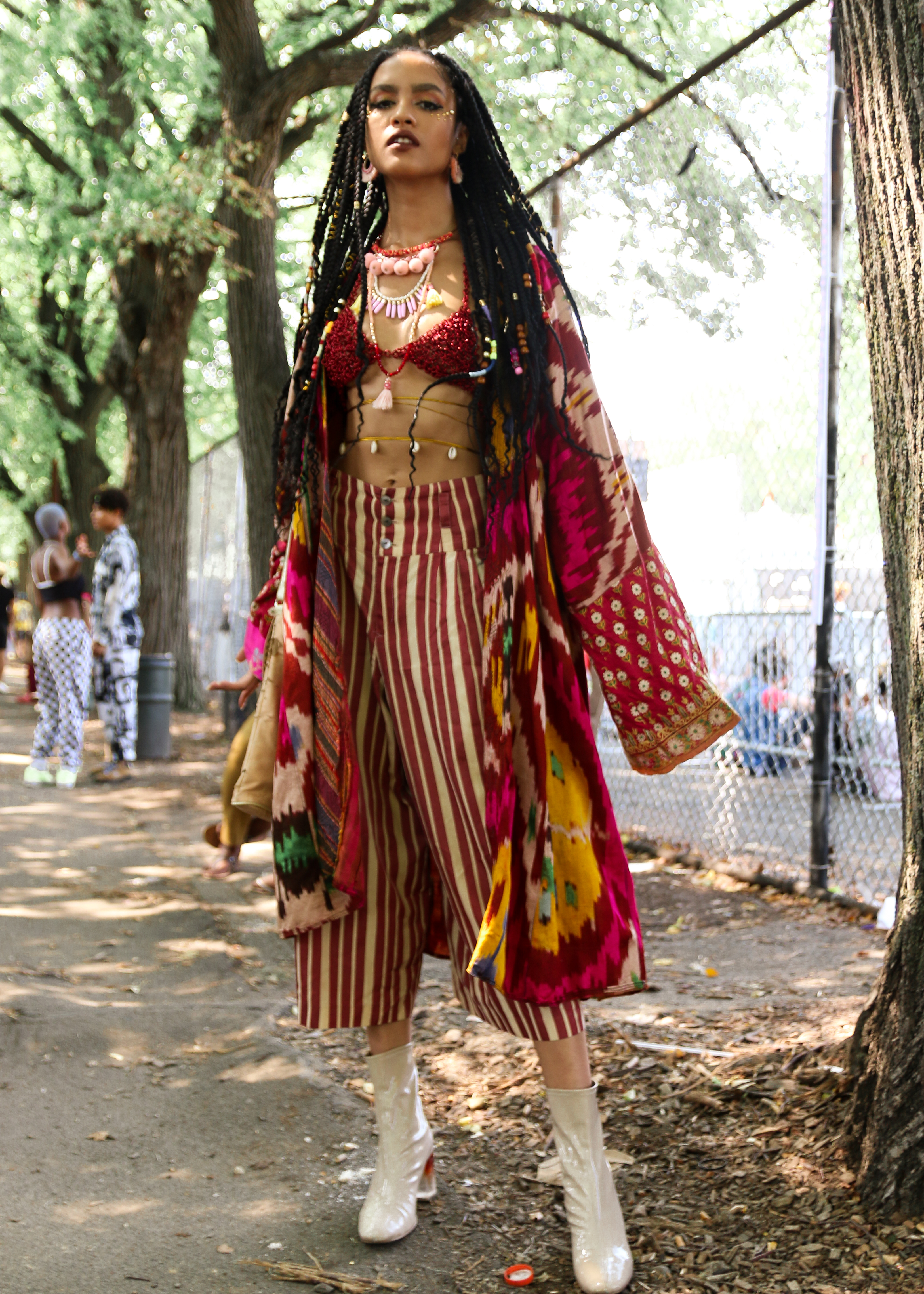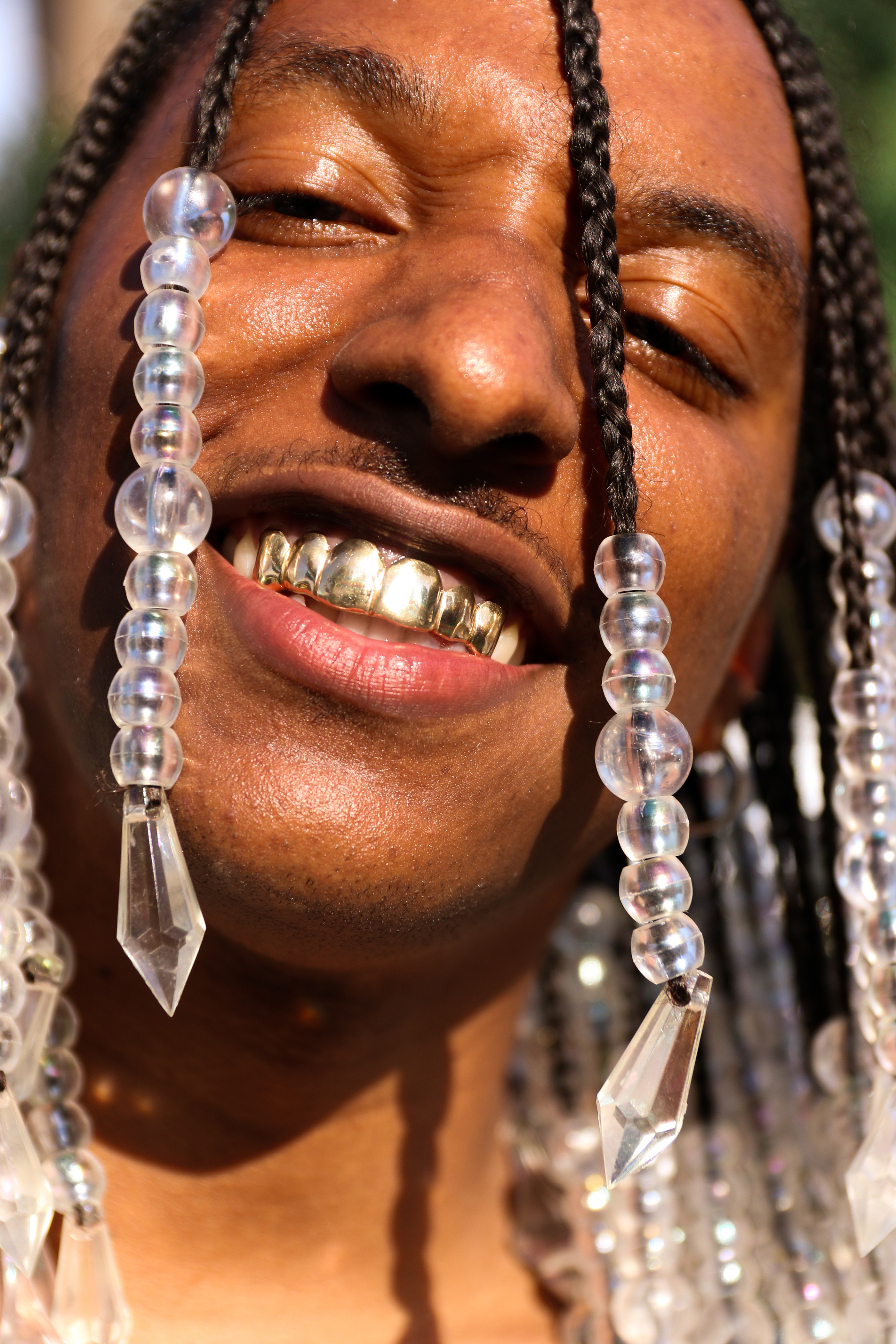 On Instagram, Magnus documents his experimental hairstyles, from using Legos, pearls, and feathers in his braids to multi-colored braids that turn him into a walking rainbow. "I want to represent the future here at Afropunk, the culture we see, the past, the present, and let it be known that we will survive and we will be in the future."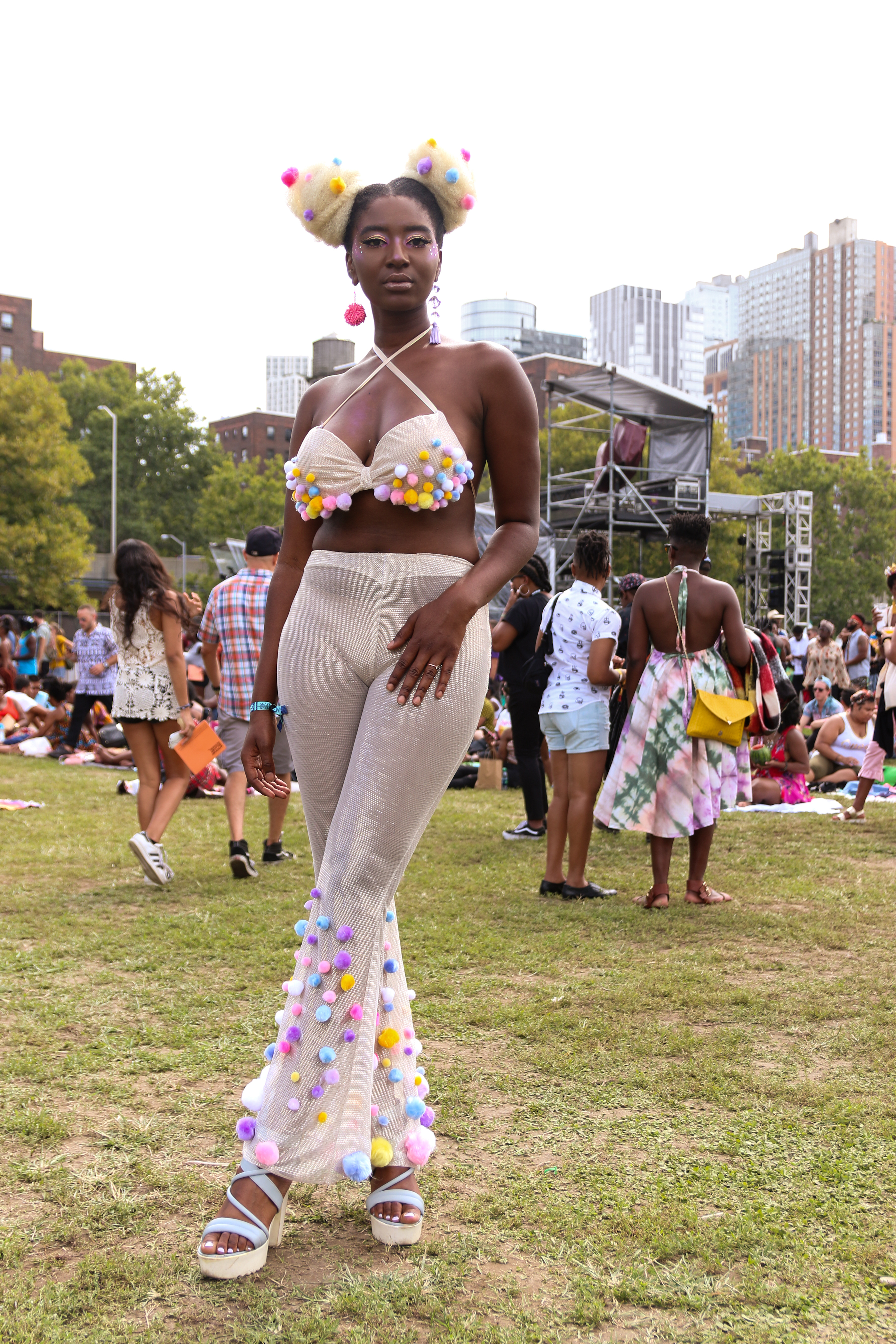 Nicole was inspired by her mother and the DIY aspect of the festival: her mother helped make her outfit. "She's a very integral aspect of me, she made me, she makes my clothes. I get a lot of my artsy vibes from her. I just want to have the grace that she has. Having her make this [outfit] was really special."
Thaddeus described his outfit as Victorian-meets-sailor-meets-The Roots. He told us about his flower beard and mint-colored hair, saying that "flowers are usually associated with being feminine, but I want to break society's standard and I always go against the grain, so I just pop a few flowers up in here and I feel mad beautiful."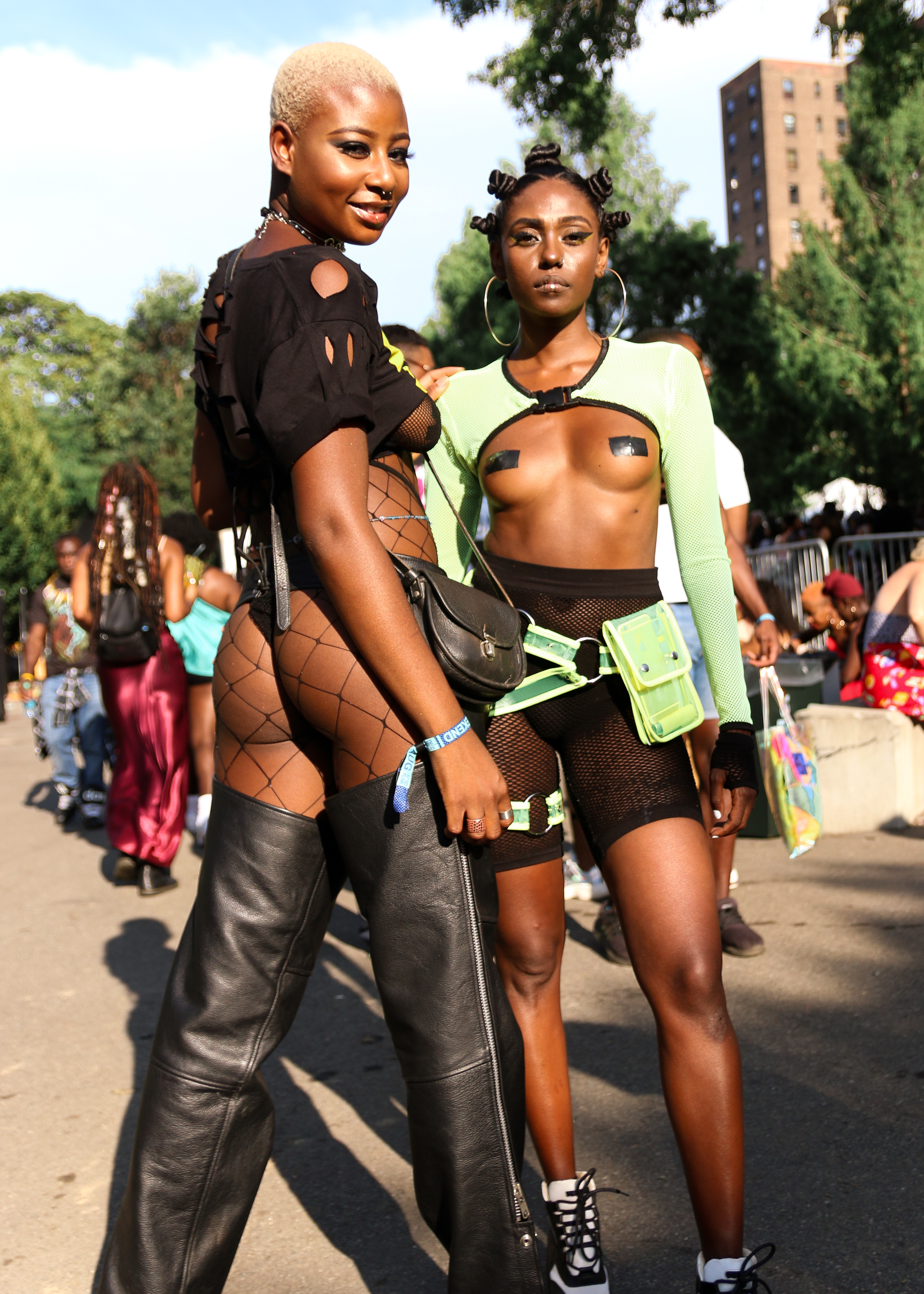 Chanelle and Jennille styled each other, embodying what they described as Afrofuturistic punk superheroes. Chanelle spoke about what Afropunk means to hera:"It's so important to be in a space where you see yourself reflected. How could I not want to be here? Being validated by people who look like you is important. There's power in that." Jennille describes Afropunk as a "chosen family reunion."
Chicago-based singer Jamila Woods began her relationship with Afropunk last year at the Atlanta edition. She describes performing at Afropunk as being in a space "that feels very celebrated and understood. There's nothing more that an artist could ask for." She describes her aesthetic as "something grounded and something ethereal." Though she wouldn't describe herself as punk, she notes the array of genres that the event showcases: "What I love about Afropunk is that it highlights the black lineage of all musical genres. Coming up in the hip-hop generation, my music always samples. I sample Incubus, Paula Cole, I sample The Cure in one of my songs. I just like the idea of containing multitudes and not being narrowed into one category, which I think is the spirit of Afropunk."