Tracee Ellis Ross attends the 70th Emmy Awards at Microsoft Theater on September 17, 2018 in Los Angeles, California. (Photo by Dan MacMedan/Getty Images)
Is Hot Pink the Defining Color of 2018?
According to Pantone, it's "Living Coral," but Rihanna, Tracee Ellis Ross and Tilda Swinton humbly beg to differ.
Tracee Ellis Ross attends the 70th Emmy Awards at Microsoft Theater on September 17, 2018 in Los Angeles, California. (Photo by Dan MacMedan/Getty Images)
Pink like the inside of your, baby
Pink behind all of the doors, crazy
Pink like the tongue that goes down, maybe
Pink like the paradise found
Pink when you're blushing inside, baby
Pink is the truth you can't hide, maybe
Pink like the folds of your brain, crazy
Pink as we all go insane
-Janelle Monae, "Pynk"
Pantone just announced that its color of the year for 2018 is "living coral," but with all due respect to Pantone's admirable attempt to draw attention to the disappearance of coral reefs from the world's oceans: what!? about!? hot!? pink!?
When Janelle Monae released the video for "Pynk," arguably the best song on her 2018 album Dirty Computer, lesbians 'round the world were captivated—and men were confused—by the sight of Monae and her rumored love interest Tessa Thompson pairing up in hot pink, satin ruffles as backup dancers swayed alongside them in—let's just say it—vagina pants. "Pink is the truth you can't hide," Monae sang, a lyric that serves as a functional thru-line for some of the year's best outfits.
Pink obviously didn't spring to fruition in 2018, as Barbie, Cam'ron and Gwen Stefani's signature looks remind us. In fact, the color pink has taken on myriad connotations throughout its history, Artsy explains, serving as a favorite of the 18th-century "pastel-loving European bourgeoisie" and receiving a "fuchsia facelift during the 1960s Pop Art movement."
Pink inspired an ode from a Diana Vreeland type in the 1957 musical Funny Face (the real Diana Vreeland famously called pink "the navy blue of India") before getting reclaimed as a gay rights symbol and reaching its inevitable millennial-pink apotheosis (the color pink alone even has millennials reaching for Himalayan pink salt, despite its lack of superior health benefits or actual Himalayan origins.)
Despite the enduring gender ubiquity of pink, hot pink—the chrome's cool, vulgar, rebellious big sister, the Debbie Thornberry to regular pink's Eliza, the Daria to its Quinn—enjoyed a renaissance this year, thanks in no small part to (who else?) Rihanna.
Rihanna, no stranger to the virtues of hot pink, sparked a trend in September when she attended the one-year anniversary of Fenty Beauty wearing a Calvin Klein by Appointment gown in a hue of retina-shocking rose. She may be a Barbie girl, but we're all living in a Rihanna world.

Just a few days after Rihanna's hottest of hot-pink moments, the preternaturally fashionable Tracee Ellis Ross showed up at the 70th annual Emmy Awards in a, well, equally hot (no need to pit powerful dresses against each other!), puffy, full-skirted off-shoulder Valentino gown.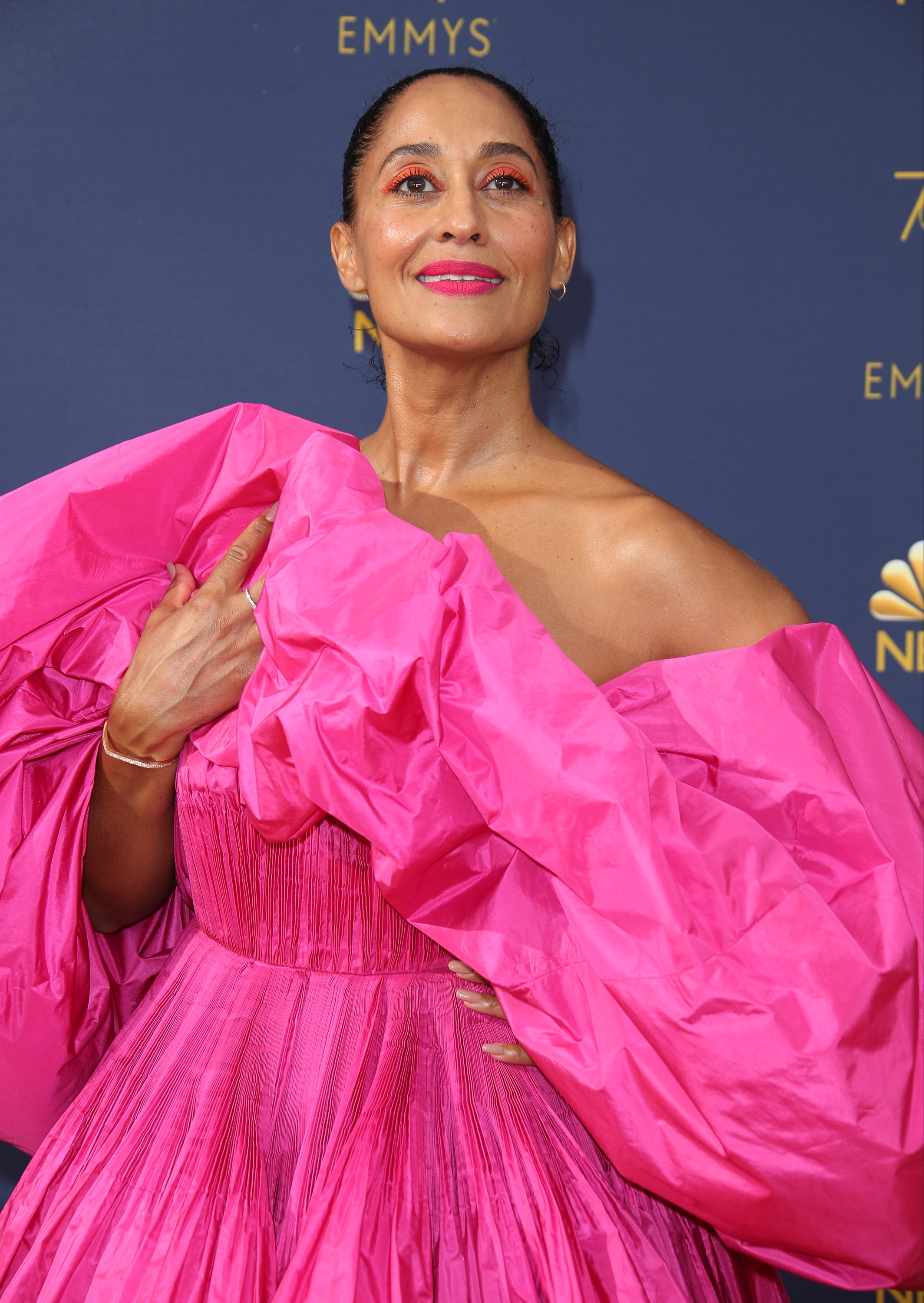 In October, Tilda Swinton brought her signature, slightly bizarre style to the L.A. premiere of Luca Guadagnino's Suspiria, wearing a full Schiaparelli look of a hand-buttoned blazer with billowing pants and heels in Elsa Schiaparelli's signature shade of shocking pink.
Schiaparelli creative director Jerry Stafford and Swinton had "wanted for a while to have a shocking pink moment in a nod to Schiaparelli's signature color," Stafford told GARAGE.
Never content to let a trend pass her by, Kim Kardashian made hot pink her very own this holiday season when she and Kourtney stepped out for some Christmas shopping and fragrance-promoting in Van Nuys on Thursday.

The reality TV star sported bubblegum-pink locks way back in February and has taken mirror selfies in a "sporty pink" bikini, perhaps prefiguring the bold hue of Rihanna, Tracee and Tilda's special-occasion dresses. Hey, who's to say for sure where stars draw their fashion inspiration from?