GARAGE's Senior Superlatives of the 2010's
Because the art world is just like high school!
Congratulations to the whole art world! For the past ten years, you've worked tirelessly to change societal norms, pushed the boundaries of what we consider art to be, and some of you even managed to avoid cancellation, so cheers! Below are some of the standout artists, dealers, and otherwise personalities of the decade that we'll be thinking about for years to come. But just remember, even if you're not included, you're all special.

Best Eyes: Marina Abramovic
Who could look away from and who could forget the heavy-weighted gaze between the red-clad artist and her former partner Ulay during her blowout performance, The Artist Is Present at MoMA back in 2010? You'd need something stronger than a knife to cut that tension. The only thing I can imagine that could possibly be more powerful is to have been one of the 1,545 sitters who also locked eyes with her during the show's run. "Five hours waiting for 20 minutes, and it was worth everything," one attendee told the New York Times after he stole a glance back in 2010. "The minute you sit in the chair, you enter her world." Anyone worthy of waiting five hours for a staring contest deserves the title.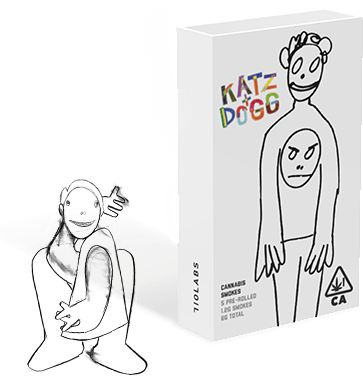 Biggest Stoner: Richard Prince
The artist who set the modern standard for artist copyright law has also toyed with something else that's barely legal: commercialized marijuana. His brand "Katz + Dogg" launched in 2019, hawking vape pens and branded joints in deliciously cartoonish packaging. "Everybody seems to be piling into pot," Larry Gagosian remarked of the stuff to the New York Times. But don't worry kids, he didn't inhale.
Honorable Mention: Harmony Korine. (Or maybe he should be in the hall of fame?)
Most Likely to Win a Marathon: Inigo Philbrick
The now-disgraced art dealer who is being sued for millions of dollars from falsified art deals has been on the run for over a month now, rumored to have been in Thailand, Australia, South America, and Cuba, among others. As of now, he still has not yet been located.
Most Likely to Start a Revolution: Nan Goldin, PAIN Group
In January of 2018, the beloved photographer revealed how her own struggle with prescription pill addiction nearly took her life, and announced the formation of P.A.I.N.(Prescription Addiction Intervention Now). The group has targeted Purdue Pharma, the medical group owned by the Sackler family which has produced Oxycontin since 1996. As the opioid epidemic rages around the world, Goldin and members of the group have hosted protests on the footsteps of institutions that accept money from the Sacklers, such as the Guggenheim, the Serpentine Gallery, the Louvre, and the Harvard Art Museums. A few protests sites such as the Tate in London, the National Portrait Gallery in Washington DC, and The Met in New York have since cut off funding from the Sacklers.
Most Likely to be a Cop: Alec Baldwin
Nobody likes a tattle, but that's exactly what Baldwin did to Mary Boone. Back in 2010, the actor purchased a Ross Bleckner painting off the now-incarcerated art dealer, and smelled something a bit fishy about it. "The brushstrokes were less feathery, and the paint smelled, well, fresh," He told The New Yorker in 2017. He turned out to be right, the painting was a reproduction, and Baldwin was written a fat check to make up for the deception. "Maybe I'll have Ross paint a picture of the seven-figure check that Mary paid me to settle," he joked.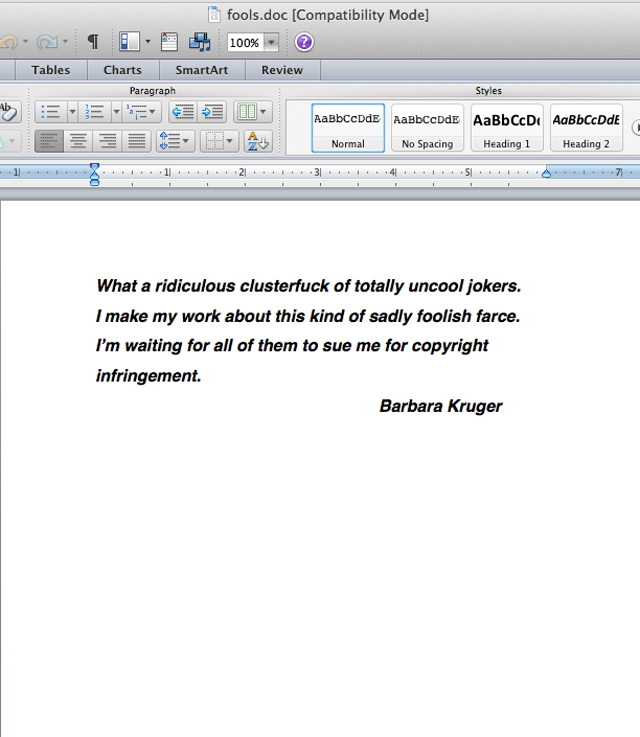 Best Letter Writer: Barbara Kruger
The 74 year-old artist has been overlaying anti-capitalist, renegade expressions in white Futura font over a bright red backsplash for decades, and in recent years, a certain hypebeast brand *cough*Supreme*cough* co-opted her style to design their own logo. In 2013, Supreme sued another company for copyright infringement (ha!), and a writer at Complex reached out to Kruger for comment. In return, they received a blank email, with a Word attachment (titled fools.doc) that has now become as iconic as her artworks. "A ridiculous clusterfuck of totally uncool jokers," she called them. And that, folks, is a burn.
Most Popular: Avery Singer
After three years at Gavin Brown's Enterprise, Singer left the gallery earlier this year and was then involved in an almost year-long courtship with New York's biggest to take over representation. It was rumored that Gagosian, David Zwirner, and Hauser & Wirth were all vying for the artist. After months of speculation, last week it was finally announced that Hauser & Wirth will be her new home.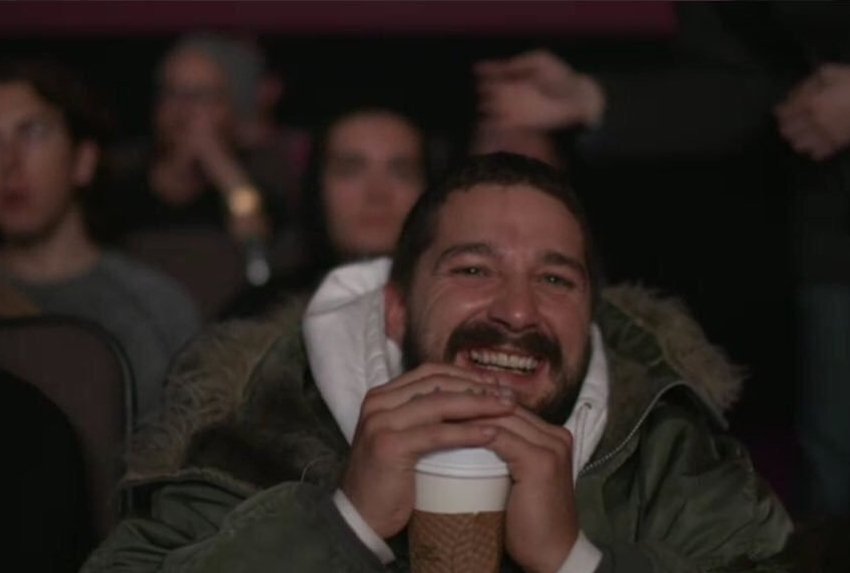 Most Changed Since Freshman Year: Shia LaBoeuf
After starting his career as gawky teen Louis in Even Stevens, LaBoeuf kicked off the decade by with a leading role in Wall Street: Money Never Sleeps—thus securing his transition from child star to capital-A Actor. Except four years after that, he pivoted to...performance art. Together with the author Luke Turner, and the artist Nastja Sade Ronkko, he has performed in numerous performances throughout the years, all of them with names like #ALLMYMOVIES, #TOUCHMYSOUL, and #IAMSORRY. He has since also become a style icon and a filmmaker, with the release of Honey Boy, which he wrote and stars in, now out in theaters. Shine on, Shia.