Fennel, salad greens, and Japanese bellflowers can all be found in the garden. "I was so fortunate to get this angel of a gardener. The only thing I tell her is we need to have some Asian herbs."
Danh Vo's German Pastoral
At a renovated farm house in rural Germany, the conceptual artist embraces the simple life. Photographed by Nick Ash.
Fennel, salad greens, and Japanese bellflowers can all be found in the garden. "I was so fortunate to get this angel of a gardener. The only thing I tell her is we need to have some Asian herbs."
A couple of years ago, if you had suggested to the famously peripatetic conceptual artist Danh Vo that he might be happy settling down in a farmhouse in rural Germany, he would have laughed. Today, it's a cool summer day in Brandenburg, and the artist is sitting on his heels, pulling weeds out of the dirt in his garden. He's being careful not to disturb the sprouts of purple asters and verbena that grow wild there. Nearby, a stack of marble blocks the size of compact cars (which Vo recently exhibited as part of a museum installation in Bordeaux) stand guard. The air is filled with the sound of carpenters sawing through massive slabs of wood. Elsewhere on the property, an art student rests in a patch of sunflowers, birds relieve themselves on a pair of undulating, red Isamu Noguchi play sculptures under the trees behind a greenhouse filled with potatoes, and his studio manager gathers eggs for lunch. "It's so fantastic. I'm so happy," Vo says.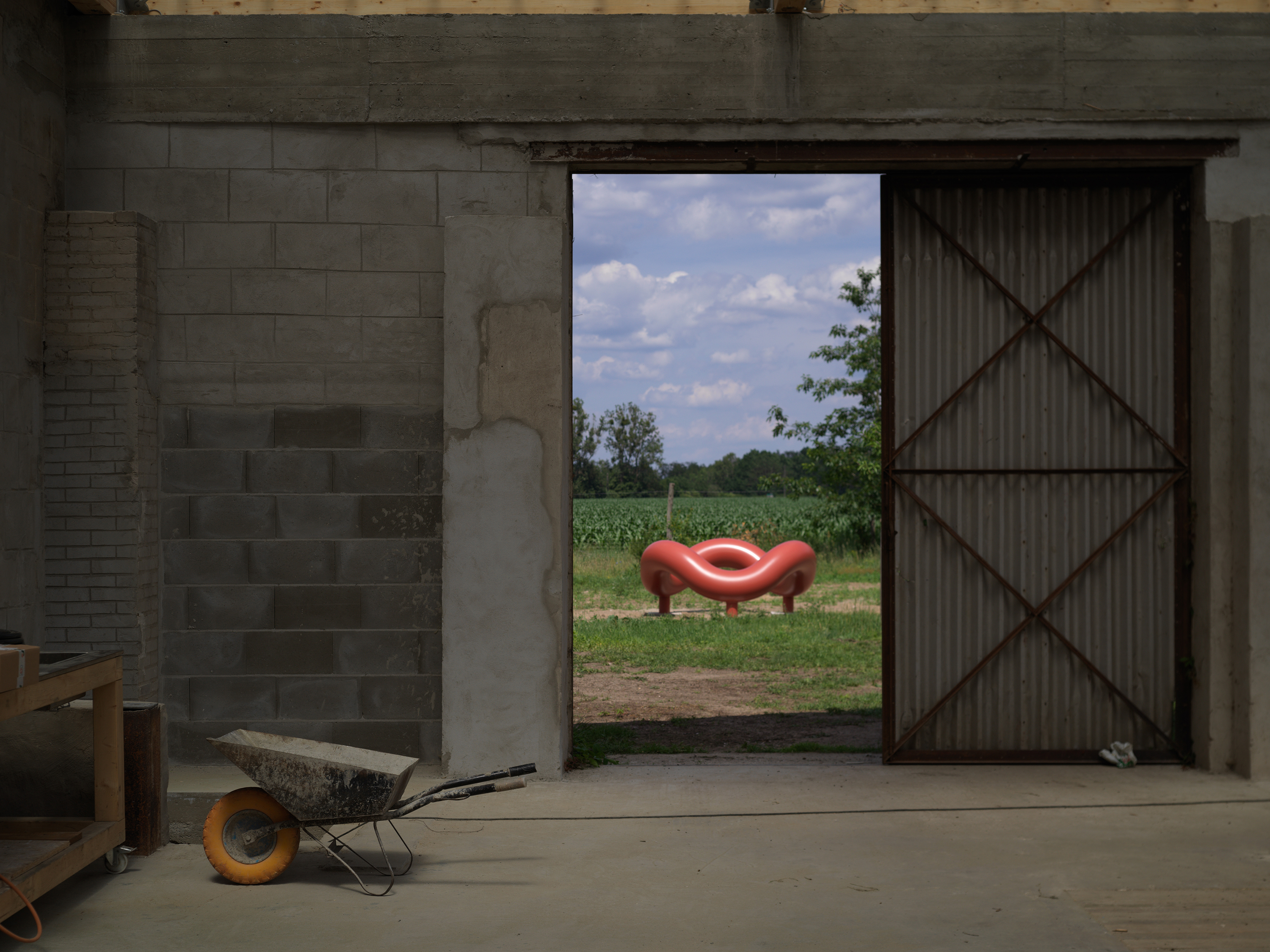 In 2016, rankled by rising rents in Berlin, Vo and a group of friends, including the artists Rirkrit Tiravanija, Nairy Baghramian, and Haegue Yang, went in search of studio and storage space outside the city and found a former pig farm with a set of stone barns that had remained intact since the eighteenth century. Originally meant to be a collaborative compound, the property eventually fell to Vo, who has spent the past few years transforming it into his working headquarters.
Vo worked with Pietro Balp of Berlin-based architecture firm Heim Balp to build a modern wooden house on the compound, with private rooms for him and his long-term boyfriend, the photographer Heinz Peter Knes, plus working and living space for a rotating cast of studio assistants, carpenters, friends, gallerists, and other assorted art-world people. The exterior walls are washed with matte black paint—the first clue that this isn't your typical rural setup.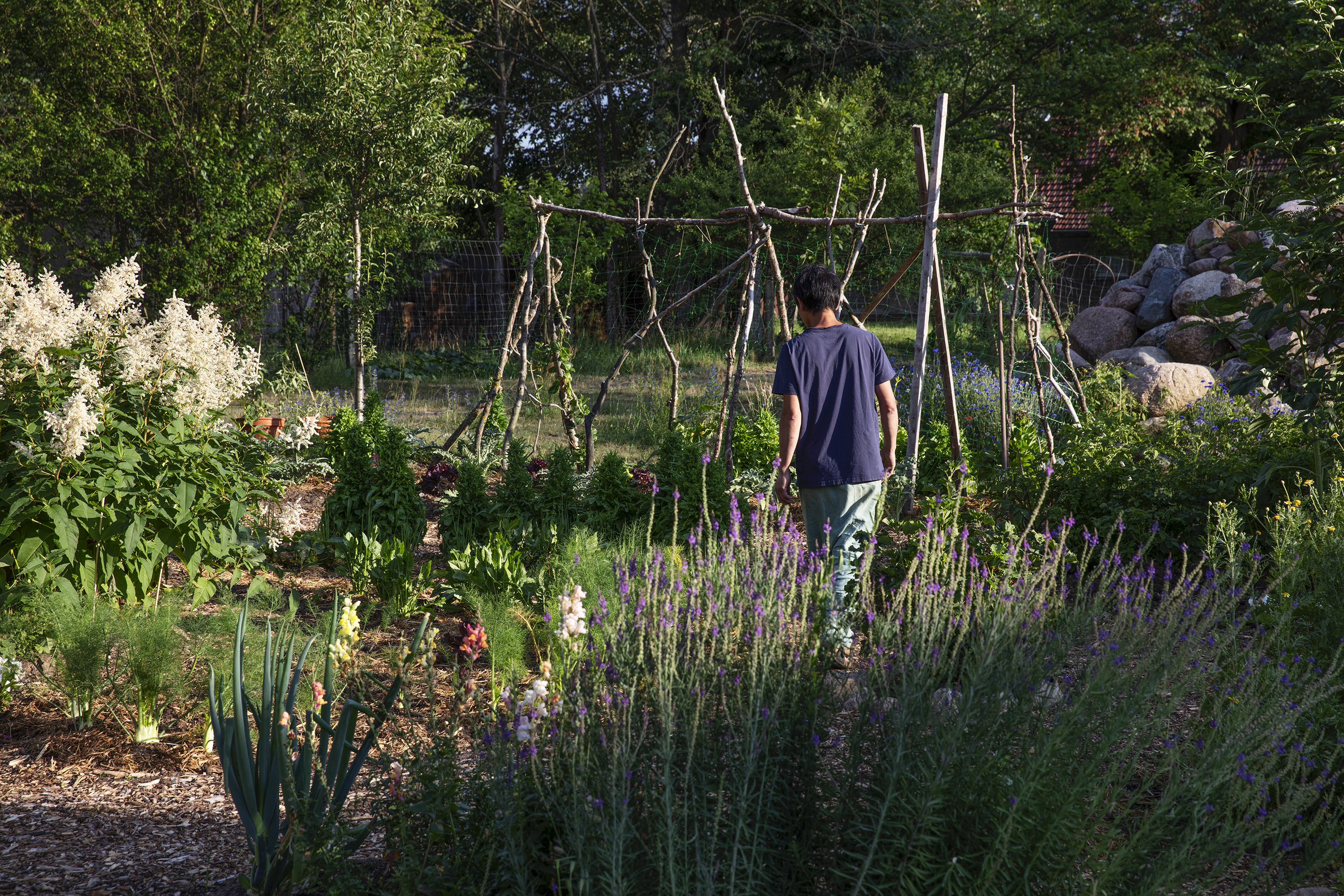 The heart of the house is an airy, Nordic-feeling kitchen with poured concrete floors, bundles of herbs and flowers hung up to dry on nails in the wall, and a table big enough to seat everyone who passes through. Upstairs, there's an office, bedrooms, and a lofted library that you reach by climbing a stairway beneath a polygonal archway. It's uncluttered and peaceful; every piece of furniture, straw basket, and storage area serves a purpose for life on the farm. Everyone leaves their mud-caked shoes and work boots by the doors when they come in, and pads around in socks and slippers. In the small yard behind the house, there are large campaign-style tents in case bigger groups of visitors show up.
"I've built all these fancy homes around," Vo says. In addition to this farmhouse and an apartment in Berlin, he also renovated a century-old home in Mexico City's Roma Norte neighborhood in 2014, paving the floors in volcanic stone and outfitting the spare, contemplative whitewashed spaces with art and local antiques. But he finds it hard to get work done when he's there—it's more of a place of rest and a base for trips he takes to the wilderness of Oaxaca.
Compared to Mexico, Vo says, Germany "has a totally other feeling. I feel that in the end I really just need to work. And that's what makes this place so attractive. I've never had a working studio in my life." He left the barns mostly untouched (aside from replacing some windows), using the ground-floor spaces for storage and production and the light-filled attics for displaying his work in the same type of spare, elegant arrangements seen in his 2018 exhibition at the Guggenheim.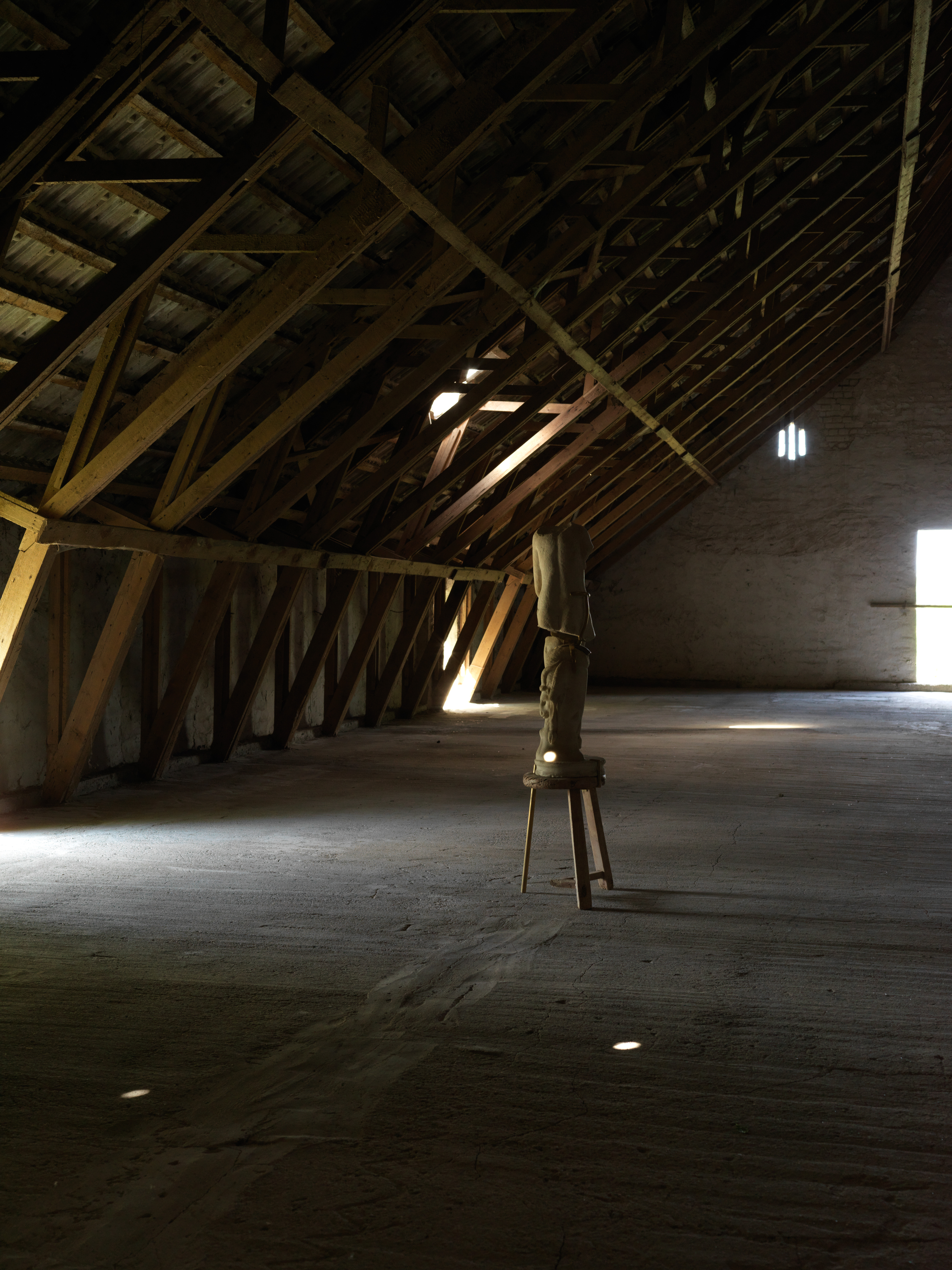 The farmhouse has allowed him to make decisions based on practicality rather than aesthetics. Because there were so many people around, both working and crashing (friends have referred to it as "a train station"), making it into a swank gallery-like space wasn't an option. "You have to not think of yourself, which is also liberating," says Vo. When asked if he thought about the compound as a sort of continuous artwork in itself, he says he doesn't differentiate between living and creating. "As an artist, you develop a certain way of working or thinking, and that just manifests itself wherever you are."
Vo's story is a remarkable one, often cited in analyses of his work: Born three months after the end of the Vietnam War, he boarded a small wooden boat with his family and more than 100 others and set out to sea, eventually getting picked up by a Danish container ship. They settled outside Copenhagen, where Vo lived until he transferred to the Städelschule in Frankfurt to finish his art studies. When I ask him if there was one place in the world he considers home, his response is an emphatic no. "I just do things and then I'm here and then I'm there," he says. "I think this idea of home is imposed on me," he adds. "It's also a constructed idea that fits to certain people. It just never fitted to me."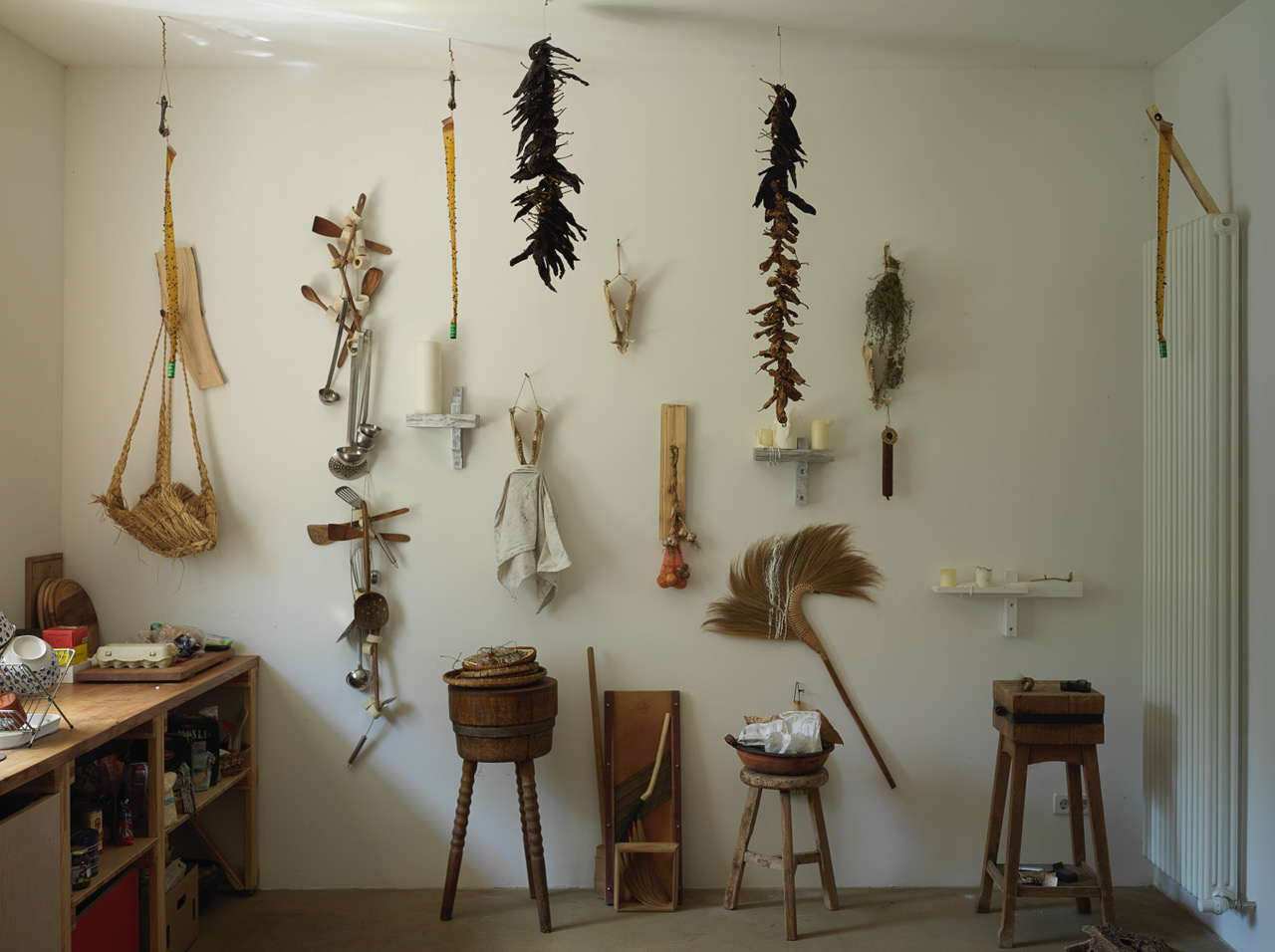 Much of Vo's work addresses broad political and cultural themes, as well as his own personal narrative, often utilizing found objects—his father's watch, appliances given to his grandmother as part of a German immigrant-relief program, a chandelier from the hotel ballroom where the Paris Peace Accords were signed in 1973—that weave the two together.
The impetus behind some of his more recent projects, Vo said, was to emphasize the collaborative nature of his work, and the "fantastic minds" that surround him. "The problem with art careers is that it's always focused on the singular position of the artist," he says. "You have to have an army of good people around you. And you have to be honest with it too." At 2019's Venice Biennale and this past fall at the South London Gallery, Vo displayed his own sculptures and installations alongside work by Knes, his nephew, his father, and his former art-school professor, as well as by artists Félix González-Torres, Roni Horn, and his mentor Julie Ault. "I think there are very few geniuses in the world," he says. "And I'm not one of them." Concurrent with the South London show, Vo filled Marian Goodman's London location with stacks of walnut wood imported from a farm owned by Craig McNamara, son of former secretary of defense Robert McNamara, one of the U.S. government officials who pushed the country to get involved in the Vietnam War. It's one of his most explicitly political gestures yet. On the side of his house that faces a dirt road, a large block of limestone with an eagle carved into it has been set into the façade. For his Guggenheim show, Vo incorporated a matching fragment into his work, cut into two pieces and combined with other found objects in two untitled sculptures. On a walk through the property, his studio manager noted that the block of limestone was from the former Prussian Ministry of Public Works headquarters (known as the Reich Ministry of Transport from the end of World War I to the end of World War II) in Berlin. I ask Vo why he decided to put it there. He laughs and says, "I thought I should have a symbol of, like—if there's some angry neighbors around that don't like foreigners, they should know that I'm also one of them."