via @basilicahudson Instagram
A Guide to Bandcamp Day
Musicians and music industry pros share their favorite music on Bandcamp—and talk about why the platform is so important.
via @basilicahudson Instagram
This past week, following the murder of George Floyd in Minneapolis, there have been protests against the brutal and violent systemic racism and police brutality that Black people face all over the country. So much of the legacy of fashion, music, and art, has been built by Black people, and right now you might be wondering where to put your resources, financially and otherwise, to be a good ally, support protestors, and give back to your community. One such way is buying music this Friday, June 5, on Bandcamp Day, when 100% of sales will go directly to artists. This is an excellent way to directly support Black musicians. Additionally, many record labels and artists will be donating the money they make on this day to bail funds, and other anti-racist organizations.
Out of all of the ways to consume music online, Bandcamp's model is the most artist friendly. Spotify, which the cultural critic Liz Pelly referred to in The Baffler as having an "Uber like model for independent artists," offers artists notoriously meager royalties (as of 2019 artists made $0.00437 per stream). Additionally, instead of making any real promise to financially support Black artists of which the platform has greatly profited off of, Spotify published a statement mostly containing platitudes, and said that "select participating playlists and podcasts will include an eight-minute, 46-second track of silence as a solemn acknowledgement for the length of time that George Floyd was suffocated." Spotify made a hollow promise to "amplify Black creators," without providing any clear information on how they plan to achieve this. Bandcamp on the other hand, outside of promising artists 100% of the sales they get on June 5, has stated that it will donate 100% of sales to civil right organizations on June 19—otherwise known as Juneteenth—and also announced an additional yearly donation of $30,000 to racial justice organizations.
To give you some ideas of what to buy on Bandcamp day, I spoke to nearly a dozen musicians and people who work in the music industry about what they're buying. I also asked why the platform was important to them. I've participated in the last two Bandcamp Fridays, and plan to do so on June 5. On Friday, I'll be buying a compilation put out by the small DC-based label Babe City, that will be donating profits to COVID Bailout NYC, and features music by some of my favorite artists like Water From Your Eyes, Joanna Sternberg, and Margaux. I'm also planning on buying the beautiful new live album by Moor Mother and Nicole Mitchell, and the most recent Spellling record on vinyl. Another friend, Lyris Faron, who fronts the band Talulah Paisley, suggests buying an album by a ritualistic punk band from Western Massachusetts called Nemesister, and also recommends music by Chicago's NNAMDÏ and the band Dehd. What's really important right now, in addition to financially supporting artists by buying music on Bandcamp, is to continue to support your local bail funds, and mutual aid funds. A comprehensive list can be found here.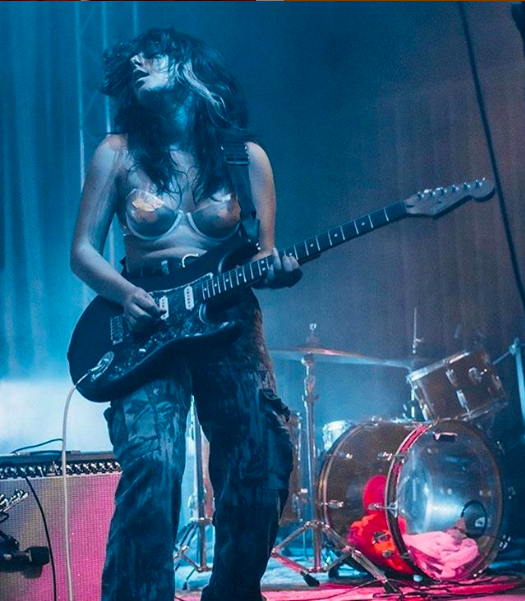 Marisa Dabice, frontperson of Mannequin Pussy
Since the touring industry collapsed, there has been no music centered platform that has stepped up for artists in the way that Bandcamp has. These days highlight just how powerful fandom and independent music communities can be when they show up to support each other. I think I'll finally be picking up a few albums I've been wanting. Including Kississippi's brilliant cover of Soulja Boy's "Kiss Me Thru The Phone." Some releases from Gully Boys and Kitten Forever two bands from my favorite punk city in America: Minneapolis. NNAMDÏ's new album BRAT - which I've loved but haven't purchased yet. A Giant Dog's brilliant album Pile. And lastly, the album tears of joy from the NYC rapper, MIKE.
Hether Fortune, musician
I love Bandcamp and have been an avid supporter/user for many years now. they were one of the first and remain one of the only truly artist friendly/focused music streaming platforms, even before they started doing these 100% of sales-to-artist days during COVID. Bandcamp Daily pays freelancers very generously in comparison to most online publications as well and have given me the space to highlight some incredible underground artists in the past. In the last few months I've purchased releases from Moor Mother, Foie Gras, Cremation Lily, Cowboy Cold, Moses Sumney, Lydia Ainsworth, Houses of Heaven, and more. It's the only digital place i buy music these days aside from Ampled, which is a new artist co-op platform.
Sadie Dupuis, frontperson of Sad13 and Speedy Ortiz
As a fan, I'm consolidating all of my new music purchases to Bandcamp days. And since mail is obviously somewhat staggered right now, I'll get a record in the mail every few days, and it's a nice motivational treat. Some recent purchases: Lily Koningsberg's new 7", Wednesday's cassette, and recent LPs by NNAMDÏ, Anna Burch, and Yves Tumor. Waiving their revenue share, even for a day, is a huge gesture at a moment when every dollar counts for music workers. And whether you're buying something that supports an artist directly or a charity they're supporting, it's nice to know that all your money is going exactly where you want it to go.
As a musician, Bandcamp already gives a fairer profit share than other online retailers, so we've used them exclusively for fundraising songs and albums since 2014. Early this month Speedy Ortiz was able to raise over $3000 for National Bail Out off sales from seven live tracks. There's no other outlet we could make that happen with, much less in a single weekend. The month before I made enough off some Sad13 home recordings to make donations to Releasing Aging People in Prison Projectand also launch a poetry journal that pays its contributors. In June, I'm organizing or appearing on a couple other great compilations, all of which support necessary charitable organizations. For musicians who want to support their communities while stuck at home, these revenue waiver days are really empowering.
Greta Kline, frontperson of Frankie Cosmos
I think it's great that Bandcamp is doing days where they waive fees so that people can directly support artists. I think last "Bandcamp Day" I bought Heavy By Earthwyrmm. Next time I will buy Sword by Ian Sweet (a song I already love which came out recently and I haven't bought it yet), and maybe I'll buy some music I already own and love as a gift for a friend, like It Gets Darker by 100%.
Nandi Rose Plunkett, frontperson of Half Waif
It feels like avenues for making money as a musician are getting increasingly narrower and harder to find, especially in light of the pandemic. Bandcamp has consistently used its platform to advocate for artists, whether that's bringing attention to lesser-known artists around the world, or waiving their fee on days like today. It's an important gesture towards keeping the community together and keeping it alive during this time. Today I'm going to be supporting experimental artists who have had recent releases - like NNAMDÏ , Ian Chang, and Nnux - as well as small labels like MANA Records, which is run by a friend of mine and recently put out an amazing compilation with all proceeds going to its artists.
Abbie Jones and Amy Garlesky, Co-founders of Slumber Mag
We feel like Bandcamp's revenue-sharing days are the perfect opportunity to support non-binary and female-identifying musicians.
Garlesky: I'm personally planning to go back and revisit some favorites - such as picking up LA-based Mamalarky's past catalog in anticipation of their debut album later this year, which will likely be stunning. I'm also hoping to grab some new releases such as Momma's sophomore LP, Two of Me out on Bandcamp day, and pre-ordering Becca Mancari's upcoming solo album on Captured Tracks, The Greatest Part.
Jones: I've been gravitating towards Frankie Cosmos early discography. Affirms Glistening is simultaneously hilarious and heartbreaking, like all of Greta's releases, and I'll forever love it to pieces. I've also been listening to Umfang's new record Riven. It's become my go to soundtrack for dancing around my living room (isolation chamber) in a restless frenzy. Similarly, Porridge Radio's debut record Every Bad has been on heavy rotation. I'd recommend picking up a digital copy of the album to support Secretly Canadian, a label promoting an incredible roster of artists.
Katie Alice Greer, musician and co-founder of Sister Polygon Records
Bandcamp is by leaps and bounds the most artist-supportive, visible and audience-friendly platform that exists for music. I feel like if somebody huge took their music off the streaming services that are bigger but pay artists less, don't care about centering music and have partnerships with surveillance companies that make them complicit in stuff like ICE raids—if a big enough pop star did that and others followed suit, I feel like we could really build some momentum for changing the way we expect artists to be compensated for their work.
Everybody I know who works on a small scale, independently or with a more niche audience tends to understand and see first hand how the existing landscape works against artists. Money is always going elsewhere first— tech companies, industry administrators, the people who write and produce the music are always the last to get a slice of the pie they literally made. Bandcamp is one of the few platforms that largely works in reverse. Besides the PayPal and Bandcamp fee, the rest of the money is going directly to the artist or the label. This should be commonplace but the music landscape is so screwed up, a lot of people don't even realize how unusual Bandcamp is!
Emilie Friedlander, culture writer and contributing editor to VICE's culture desk
Over the past few days, I've noticed a lot of the dance-music heads on my Instagram feed sharing memories from Detroit's Movement, a Memorial-Day-Weekend techno extravaganza and city institution that I had the honor of attending back in 2016—and that, like pretty much every other music festival in America, got cancelled this year due to the coronavirus. Indefatigable nightlife reporter Michelle Lhooq, who I used to work with at THUMP (RIP), posted a photo of the time she ended up wandering into Moodyman's home that year, which the legendary producer had converted into a shrine to Prince, purple curtains and all! Which got me wondering what the Moodymann—who has been known to host his long-running all-ages roller-skate party during Movement—was up to. Lo and behold, I logged onto bandcamp earlier this week to check out the new releases, and saw he had dropped a new record called Taken Away in late May, full of gut-wrenching soul samples and futuristic synth lines. So in honor of Moodymann and all the fun times that weren't had at Movement this year, I'm going to be buying that record on 100% commission day.
Something I've been exploring in my writing lately is how the coronavirus crisis making people keenly aware of just how little money artists actually make from streaming royalties—and how the best way we can support our favorite musicians is by purchasing music directly, rather than just shelling out for a monthly streaming subscription and expecting our money to trickle down to them in any meaningful way. Bandcamp's commission-free days aren't just meaningful because they offer fans an opportunity to funnel millions of dollars directly to artists and small record labels; they're meaningful because they promote awareness of the idea of purchasing music, which is something that we are going to have to normalize again if artists are going to get through this.
Brandon Stousy, co-founder of The Creative Independent, Basilica Soundscape, and Zone 6 Artist Management
I manage a bunch of artists, all solo artists or duos, and it's incredible to see how much impact Bandcamp days have. If every business approached this moment with as much consideration, ethics, and actual support outside of empty statements in press releases, the world could be a much better place for working artists. It's one thing to get platitudes from Sweetgreen or Taco Bell or an insurance company about 'being there with you' during COVID-19, and an entirely different thing for a business to say 'ok, we're waiving profits today in an act of direct support.' I'll buy music from a ton of people on the next one—people I manage, but also people I've never heard of, and people who are recommended, and people I stumble across. It's a fun time to wander and discover. It's a time to put money where it actually matters and can make real difference. It also feels like the closest I can get at the moment to walking up to a merch table in a club to buy some records and saying: "That was an incredible show. Thanks so much."