Ella Emhoff wears a Miu Miu coat to the 2021 Presidential Inauguration. Photo by Win McNamee/Getty Images
Finally, a Slow Fashion King at the White House
Ella Emhoff, stepdaughter of Vice President Kamala Harris, is a Parsons senior who likes giving herself tattoos and knitting Rainbow Brite-inspired pants.
Ella Emhoff wears a Miu Miu coat to the 2021 Presidential Inauguration. Photo by Win McNamee/Getty Images
Ella Emhoff is a 21-year-old Parsons student who lives in Brooklyn and gives herself stick-and-poke tattoos. She just started watching Naruto, and she has a thing for East Village-based cool person clothing spot Café Forgot. She's a textile student who specializes in knitwear, and when I ask her why, she tells me it was initially because it relieved her anxiety. The clothing she makes is brightly colored, inspired by her tween years spent being watching The Simpsons and being a bit of an emo kid. In the past, she's also worked in painting and ceramics, painting pictures of Pop Tarts and making the occasional tiny cowboy hat or Hello Kitty bowl. Emhoff is an art school kid; someone you could see yourself running into at a DIY punk show or at a zine fair. Last week, her stepmother Kamala Harris became vice president-elect of the United States. Emhoff was there for that, alongside her brother Cole and her dad Doug. She was wearing a pinstripe Frankie Shop suit, and if you went on Twitter or TikTok and searched her name, you'd find dozens of young people freaking out about how good she looked.
Emhoff acknowledges how weird her life has gotten the past few weeks (when I ask her about her plans for the inauguration, she laughs a little and mentions that she's well aware that people were kind of losing it over the suit she wore the other week) but is trying to focus on school more than anything. She has her thesis to work on, and plenty of friends, fellow slow fashion designers, and tattoo artists to see and meet. She's also working on opening up commissions for her budding knitwear line, and is currently hosting a raffle for a pair of her Rainbow Brite-inspired knit pants, with proceeds going to For The Gworls, a mutual aid fund that raises money for rent and gender affirmation surgery for Black trans people. GARAGE spoke to Emhoff on the phone about what kinds of things she's up to in the aftermath of the election, and the merits of giving yourself a tattoo of a fish with a flower in its mouth during quarantine.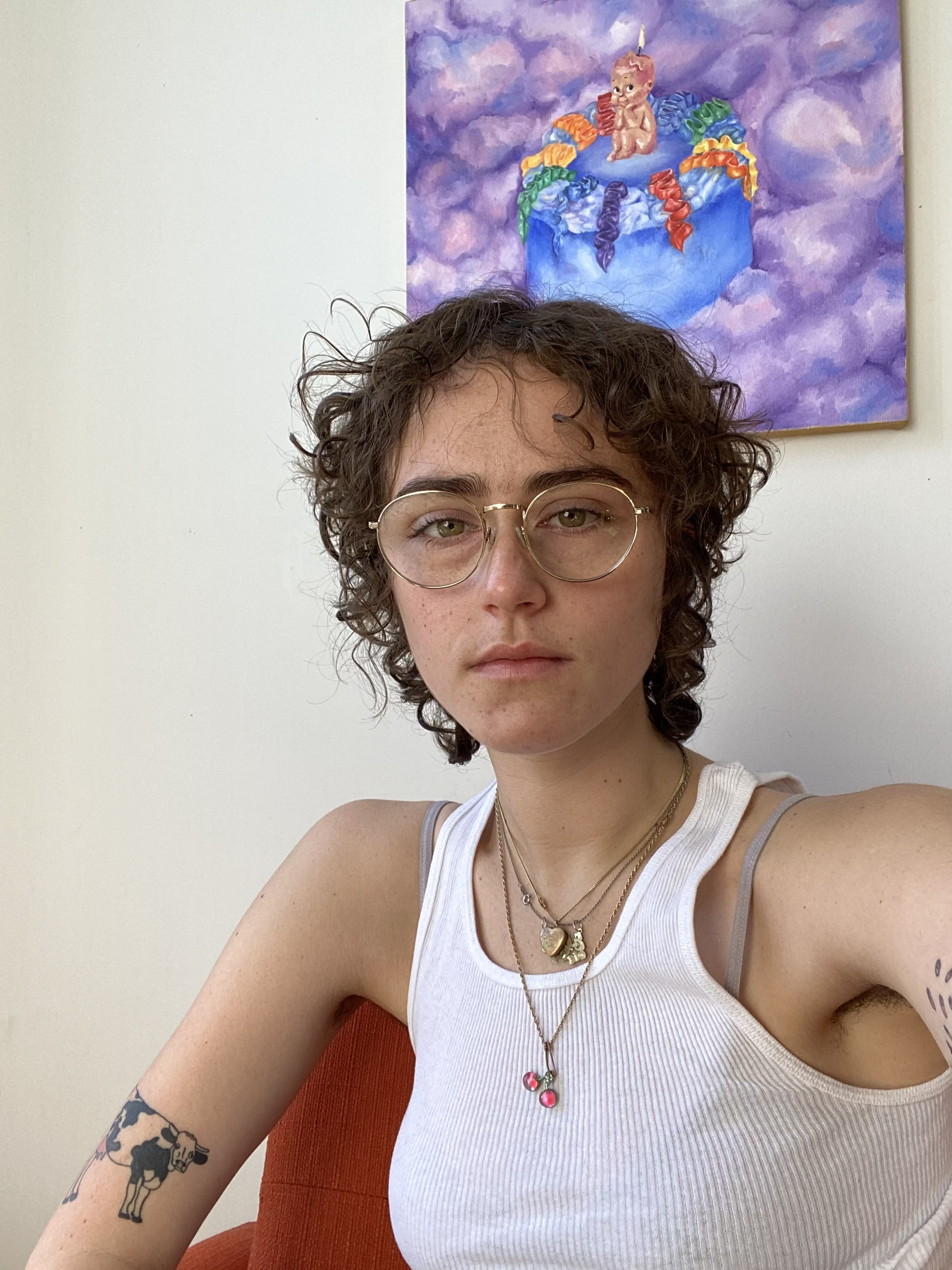 What's it been like navigating being an art school student in the city and also having your stepmother elected vice president?
I think honestly being in this city has allowed me to really focus on school because I would say my first job right now is to be a student and to finish that, and then worry about those other things. So I haven't let that interject [that part of my life] so much, but when I went to see [my family], it broke that bubble. It's harder to hide. I think for a while New York was a good solace and escape, but now I've embraced [this new life] and I'm trying to let them commingle.
What was your experience like being in Delaware for the election?
It was crazy. It was the first time I'd seen both Doug and Kamala in almost a year due to COVID, me being in school, and scheduling. It was very emotional because we just hadn't seen each other, but also interesting because we're seeing each other under crazy circumstances. And like everyone, we were just waiting. We had no idea. Every night, we'd be like, "Oh," then we'd be like, "No, we don't know." So, it was a lot of waiting, but I think it was really good for us to be able to spend that time together as a family and go through the initial shock and transition together rather than us being separated and going through it on our own.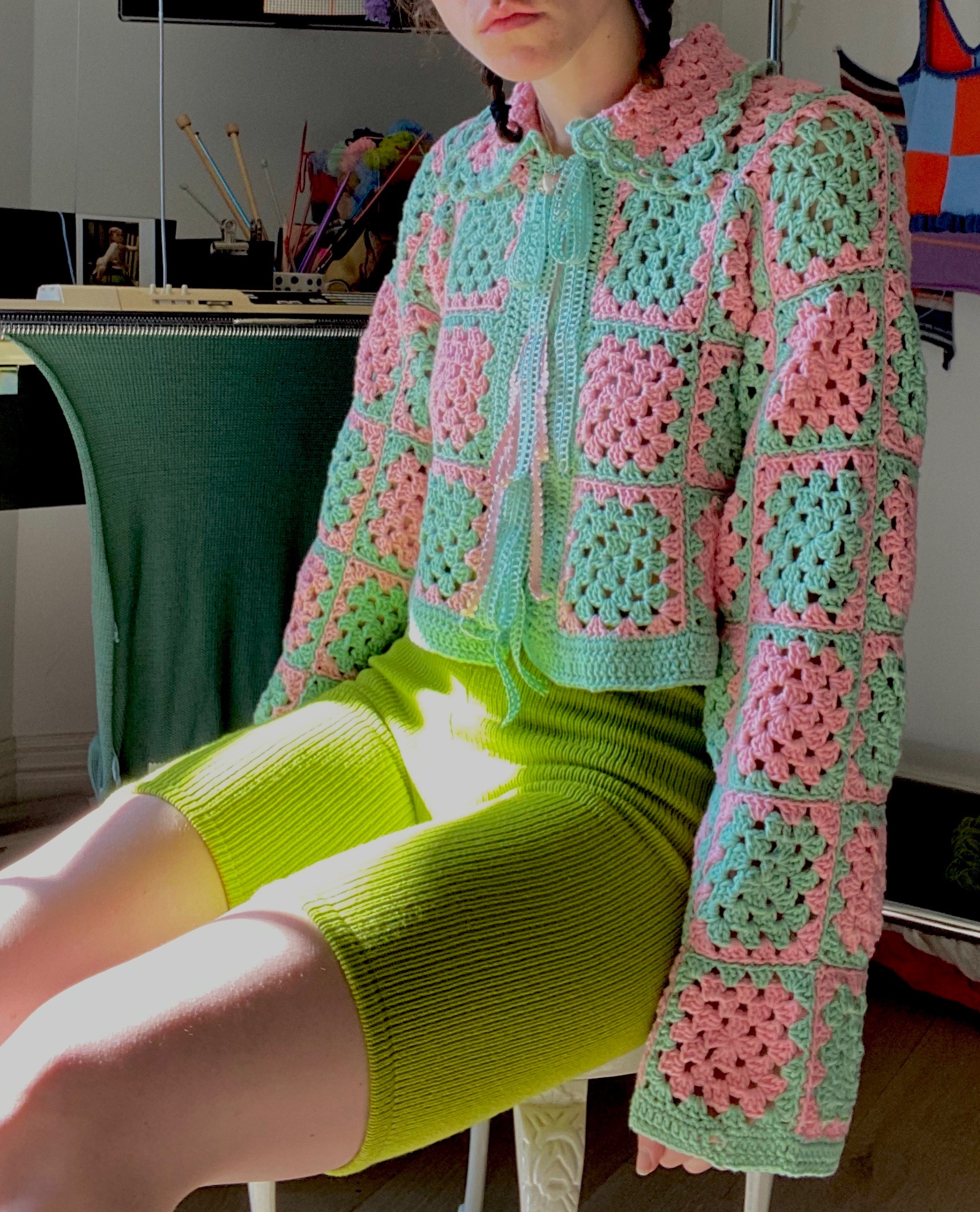 Who are some of your favorite artists in the city right now ?
I've been really into tattoo artists and I've also been into some really cool fashion designers out here. I really, really love Tyler McGillivary's work, I think she's been doing some really cool stuff. I love the people who are doing curated shops right now. Café Forgot is really cool, they're highlighting so many artists that I had no idea about, like Kristin Mallison, who makes corsets out of recycled tapestry. And tattoo artists, there's Ella, she does really cool hand drawn work, and [I also love] Meaty World on Instagram.
Have you gotten any new tattoos? Bought anything cool during quarantine?
The coolest thing I bought during quarantine was a knitting machine. That was my big purchase. But I also just got a tattoo from Ella. I got two tattoos from her recently. One is a cow on a birthday cake. I've also started tattooing myself a lot—I did the classic: I did my dog's name, and I did a little flower. [Then] I recently did my first big boy: [a] salmon fish with a flower hanging out of its mouth. It's super fun. I don't think it's something I would ever want to pursue [professionally], but it's fun to just do it to yourself or do it to a friend. And if you can do it, definitely go for it.
What other media are you consuming right now? Are you listening to any music, watching anything good?
I just started watching Naruto. I'm usually not a person who watches anime, but my friend recommended it and they were saying it's just very sweet and very friendship-centered and good action, and I think for right now it's the perfect escape. But before that I was watching The Walking Dead and Mad Men. I watch a lot of TV when I knit, so I have to stick to these shows that are a little mindless in a sense, that I can just passively watch. A lot of people have been telling me to watch The Queen's Gambit and The Haunting of Hill House. I think those may be next. In terms of music, I've been listening to a lot of disco and funk.
What are your goals for your own work right now? What's the dream for the next, I don't know, whatever amount of time of your life?
I think the goal is definitely to have my own knitwear brand, label, whatever you call it. Setting up a shop, most likely online of where I can just have a bunch of different pieces that I'm constantly creating and doing my commission-based work and having that all be in a shop. I'd like to try and stay a one-woman show, but I think as stuff has started ramping up with my knitwear, it's been harder. I'm only one woman, I can only make so many commissions while I'm also trying to just enjoy life.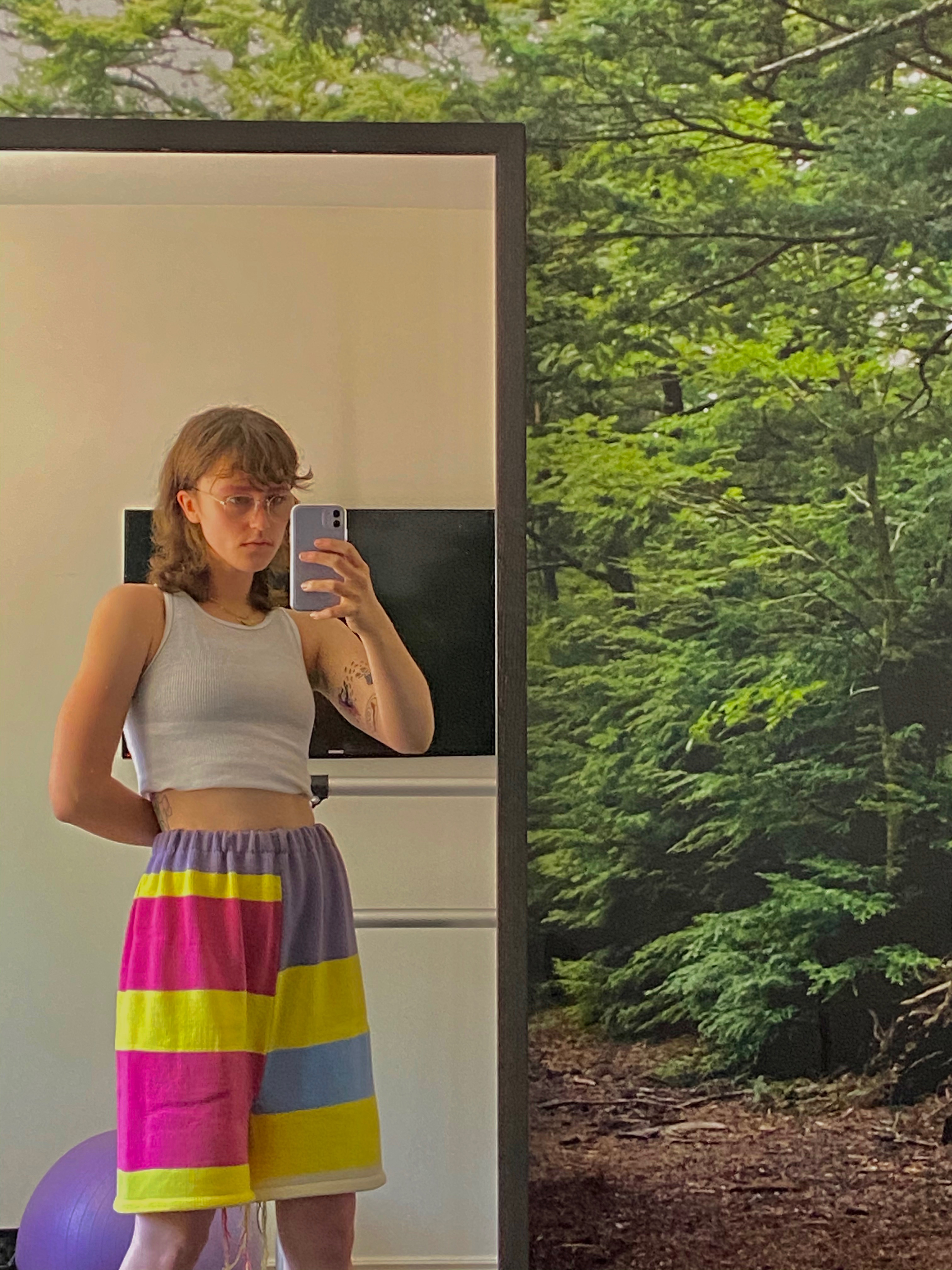 What are you working on right now? What's the mood board look like for your work right now?
I've been working on my thesis, which is a patchwork jacket that includes a lot of different knitting and textile techniques and a lot of different script from old diaries. I've been focusing a lot on bringing back certain aspects of my childhood—a lot of tween nostalgia, and a lot of old diaries. So it's been very reflective of that. I was a little emo as a kid. I was really into Kandi, raver bracelets. I was really into '80s cartoons, like Rainbow Brite and Care Bears. I watched a lot of The Simpsons growing up, so I'm really drawn to that iconography from cartoons and different aspects of pop culture. I'm also just really attracted to pastel colors, even though a lot of people look at me and [are] like, "You dress very neutral and pretty cool," or not cool, but like, cool-toned. A lot of my work is super vibrant and a lot of color clashing. So my mood board is very chaotic. I'd describe it as like Hot Topic, but if it was in pastel pink and blue and purple.
Do you ever feel like you want to embrace some of those more vivid color palettes in your personal style or is your practice as a knitter something that's totally separate from the way you dress?
I think for a while I felt a lot of pressure to have that be in my style. So when I was creating my own personal style, I wore a lot of crazier, more colorful, more fur-based, a lot more fun clothing, but I think as I've gotten older a little bit and understood what my personal style is, it's nice to have that kind of separation because then I can put all that, I guess, creative energy into my work and have my style and dress via a go-to uniform.
Would you knit something that you would wear to the inauguration?
I want to, but like I was saying before, my style and my practice are so different, but I think I might have to just make an exception because for such a momentous occasion, I think it does require a pretty momentous outfit.
Yeah. Leak the fit. What's it going to be? What are you thinking?
I think I might have to do another suit. I think the suit at the speech went really well and I think I might have to do another one, maybe a knit one.